High Rollers
Meet the Champions Club, an elite group of bike-crazy execs who are richer than Croesus, can hammer with Lance, and are donating millions to ensure a gold-plated future for U.S. cycling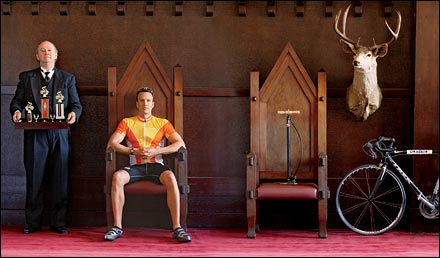 Heading out the door? Read this article on the new Outside+ app available now on iOS devices for members! Download the app.
As the peloton drops into a Southern California canyon, picking up speed through corkscrew bends, I sense another rider hovering just over my right shoulder, waiting to pass. Could it be George Hincapie, Lance Armstrong's longtime lieutenant, whom I'd spotted a moment ago on the climb? Or am I holding up the great Paolo Savoldelli, the fearless descender known as "Il Falco," who won the 2005 Giro d'Italia?
Champions Club

WE ARE THE CHAMPIONS: Left, Club members Skip Battle and Mick Hellman; right, USA Cycling Foundation CEO Steve Johnson.
Champions Club

BIG WHEELS: Left, Rich Silverstein; right, Ed McCall.
Matt Barger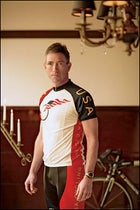 ALPHA IN TRAINING: Matt Barger.
Champions Club

THE POWER PELOTON: Thom Weisel (front) and, from left, Mick Hellman, Skip Battle, Steve Johnson, Rich Silverstein, Matt Barger, and Ed McCall.
I ease over and the mystery rider shoots past. To my surprise, it's an unknown named Michael Patterson, a man more than two decades older than me. Tall and hawkish, with a sharp, patrician profile, Patterson looks like he ought to be enjoying a round of golf back at the Ojai Valley Inn and Spa, the posh retreat where we're all staying. But here he is, wind jacket flapping, white socks peeking out of ancient Carnacs, leaning his handmade steel bike into the curves at 30 miles per hour.
It's the last weekend in January, and the Discovery Channel Pro Cycling Team is hosting its annual invitation-only Sponsor Ride in Ojai, a gemlike mountain town two hours north of Los Angeles. When we left the inn this morning, our 100-strong pack displayed the full range of cycling abilities, from wobbly Discovery Channel execs all the way up to Armstrong himself. Most years, the 50-mile ride is "social" for the first hour, after which Lance and the Discovery boys crank the throttle, mercilessly shedding the suits.
But the twisty climbs—and last night's wine-soaked Sponsor Dinner, which merged sloppily into a late-night bacchanal at Jimmy's, the hotel bar—have already taken their toll. Yesterday the Discovery team finished a two-week training camp in the wine country near Santa Barbara, and they were ready to cut loose. The retired Armstrong and his former teammates Bode Millered late into the night. Earlier this morning, after just an hour of riding, we spotted the Tour de France king drifting back through the pack, shaking his woozy head.
"There's your glimpse of greatness," my riding partner joked.
Lance wasn't the only one needing a hot tub. The remaining 40-odd cyclists now constitute the world's highest-powered hangover ride. Police cars whoosh past the group, blocking traffic. And as we speed toward the last big climb of the day, the long-limbed Hincapie, 32, is giving a helping push to Jim Ochowicz, the 54-year-old former Olympian who ran the legendary Motorola team that, in the mid-nineties, gave Hincapie and Armstrong their professional start. Kozo Shimano, 44, is here—representing the huge Japanese bike-component manufacturer that bears his family name—as is Armstrong's longtime coach, 46-year-old Chris Carmichael. Chatting away behind me is rising Discovery star Tom Danielson, 28, who finished eighth at last year's Vuelta a España, thanks mainly to his stellar climbing abilities. All around him, exhausted riders are praying that he keeps talking and forgets to attack.
No such luck. As the grade steepens, Danielson and a few teammates get serious, and soon they're gone, leaving the rest of us to suffer in their wake.
AT DINNER LAST NIGHT, the buzz was all about Danielson, who won the excruciatingly difficult Tour de Georgia in April 2005, prompting Lance to dub him "the Great White Hope." But the future of American cycling may depend less on Danielson than on an elite group of wealthy cycling enthusiasts who, for years now, have funded key development programs for USA Cycling, the sport's national governing body. Known as the Champions Club, the 27-member organization ranges from bike buff and sometime member Robin Williams to devout cyclist Robson Walton, who helps run his family business, Wal-Mart.
Four members of the Champions Club made Forbes's list of the 400 wealthiest Americans in 2005: the 61-year-old Walton; pioneering Silicon Valley venture capitalist John Doerr, 54; shopping-mall magnate John Bucksbaum, 49; and Campbell Soup heir Bennett Dorrance, 60. The others are merely multimillionaires; they include Rich Silverstein, 56, whose San Francisco ad agency, Goodby, Silverstein & Partners, came up with the "Got Milk?" campaign; Bob Stapleton, 48, who cofounded T-Mobile; Matt Barger, 49, a senior adviser at San Francisco private-equity investment firm Hellman & Friedman; George "Skip" Battle, 62, the retired executive chairman of Internet search engine Ask Jeeves; and 64-year-old Michael Patterson, who's probably the only Lycra-wearing vice chairman JPMorgan has ever had.
The most prominent member of the Champions Club—the alpha of alphas, as it were—couldn't make it to Ojai this weekend, but he had a good excuse: His company, Thomas Weisel Partners, is about to go public. Everybody in the club—and most people in cycling, for that matter—knows all about Weisel. Without the 64-year-old investment banker from San Francisco, Lance Armstrong might not have won a single Tour de France, let alone seven.
"Thom gave Lance a chance," Chris Carmichael says. "If it hadn't been for him, I don't think Lance would have raced a bike after cancer."
In the late eighties, Weisel founded the team that became U.S. Postal, the history-making squad that won six Tours in a row with Lance at the helm. The team changed sponsors in 2005, becoming the Discovery Channel Pro Cycling Team, but Weisel's Tailwind Sports marketing company still co-owns it, along with a handful of private investors.
In 2000, Weisel engineered a takeover of USA Cycling, which had been floundering with an annual budget deficit of $1.4 million. His bailout was complicated and messy, but it led to some meaningful upgrades in how the foundation performs its role—and its programs have begun to groom a whole new crop of American riders, who have their sights set on the Tour de France in 2010 and beyond.
Through the USA Cycling Development Foundation—for which Weisel serves as chairman—the Champions Club has poured at least $1 million per year (a substantial chunk of the USAC's $7.8 million annual budget) into training young American bike racers. A portion of their donations flow to the Under-23 U.S. National Team, an elite crew of up to 30 young riders who spend several weeks each season based out of a group house in Belgium while they race all over Europe. The team has already produced one star, 26-year-old Dave Zabriskie, who won the prologue of last year's Tour de France. Several other U23 products are just showing up on the radar, including 24-year-old Patrick McCarty, now in his first season riding for Phonak, and Taylor Tolleson, a 20-year-old former triathlete who's already being compared to another ex-triathlete named Lance.
The Champions Club member list rivals that of elite golf clubs like Augusta National. Full-ride members, who must be unanimously voted in, donate $100,000 in their first year and $25,000 annually after that. Some give more—in the case of David "Tiger" Williams, a hard-charging former Yale hockey player who now runs his own boutique financial-services company, quite a bit more. In 2005, when an excited cycling fan pledged $100,000 to the Lance Armstrong Foundation, the 44-year-old Williams—who lost his mother to cancer—matched it on the spot. He also funds a track-cycling program to the tune of $25,000 per year for underprivileged kids in New York City.
Once the entry fee is taken care of, what really matters to members is how hard you ride. "We check our success at the door," says Williams. "Nobody cares if you're the eighth-richest man in the world." Like rowing, cycling seems to attract a certain breed of high achiever for whom the work ethic—the harder you train, the better you ride—has obvious appeal. Member Mick Hellman, 45, even quit his 60-hour-per-week job at a private-equity firm in San Francisco in order to devote more time to his goal of breaking the national time-trial record in the 40K for his age group.
"Every day in business, you're challenged," says member John Bucksbaum, the 49-year-old CEO of General Growth Properties, one of the largest shopping-mall developers in the world. "You can't stop, you can't take a day off; you just keep putting forth that effort to keep producing good results. It's the same thing you find in athletes."
The Discovery Team co-sponsors USA Cycling, so Champions Club members get inside access to the riders, and more than one Champion let me know that he'd spent time in a chase car or had personally ridden with Lance. "I had to call in sick the next day," one guy bragged about his roll with the icon.
Among the first to get hooked was Ed McCall, a 38-year-old Los Angeles–based private-equity investor. Friends had dragged him to the 1999 Tour for the Stage 8 time trial, at Metz, which was the first bike race he'd ever seen. Lance won that day, shocking the field, himself, and the European press, who swarmed U.S. Postal's team camper van. The six-foot-five McCall was pressed into service as a bodyguard, escorting the stage winner to doping control and, as he puts it, "knocking these French photographers on their ass. It was a blast."
Another small perk is the Sponsor Ride, which was certainly an eye-opener for me. I expected overweight plutocrats twiddling $8,000 carbon bikes. Instead, I watched people like Tench Coxe—a 48-year-old Palo Alto venture capitalist—sprinting off the front on a scruffy Trek that he obviously rides more often than he cleans. I realized that when it comes to cycling, the rich really are different from you and me. They're faster.
I'D HOPED TO INTERVIEW Thomas Weisel during a bike ride, since there's not much else to do besides talk. "I wouldn't recommend that," warned Steve Johnson, athletics director for USA Cycling. "When he rides, he puts his head down and goes." Weisel's friends say that's his approach to life in general. "God help you if you stand in his way," one told me. "The road is littered with carcasses."
In the end I'll be spared anyway—"I'm 20 pounds overweight and buried in business," Weisel said over the phone. We'll meet for lunch in early March at San Pietro, a swank Italian restaurant in Midtown Manhattan. Standing almost six feet, the barrel-chested Weisel still looks like the track athlete he used to be. His silver hair sweeps back from his forehead as though it's permanently windblown from all the high-velocity sports he's done in his life: speed skating, alpine skiing, sprinting, and racing bikes.
"I'm chemically dependent on exercise," he tells me as we sit down. "It doesn't really matter what sport it is, but cycling has been my great savior. It keeps me competitive and active.
"But in this country it's under the radar, underappreciated, and underfunded," Weisel adds. "Lance has set off a grassroots movement that is sustainable. But we've got to get more races in the U.S.—and the Champions Club is the absolute crux. We're just getting started."
The next morning, Weisel will fly out of New York in time to have lunch in San Francisco, then go on to dinner in Sun Valley, Idaho, where his two youngest children, ages seven and 11, compete on the local ski team. Weisel lives in Marin County, California, with his kids and his third wife, Emily Carroll, 40; the family flies his private jet up to Sun Valley on weekends. "It's one of the few luxuries I've afforded myself," he says. Another is a beach home in Maui, where he surfs with his kids and occasionally paddles out with Lance, who, Weisel confides, "is an amazing surfer."
Weisel grew up speed-skating in Milwaukee, which helps explain his competitive drive. In the fall of 1959, when he was a Stanford freshman, he had one goal: to win speed-skating gold at the 1960 Winter Olympics in Squaw Valley. He'd placed third at the Olympic Trials in 1959. Then he spent that fall living the fun-filled life of a freshman instead of training, and he ultimately lost his spot on the team.
"I was ready for the next phase of my life," he says, shrugging off the disappointment. But Weisel's actions tell another story. He returned to California after graduating from Harvard Business School in 1966, and channeled his ambition into business. By 1982, at age 40, he was CEO of his own investment bank, Montgomery Securities. "The competitive fires were still burning," he says, and he had plenty of excess energy to channel into sports.
Weisel started ski-racing at 35, hiring the best racing instructor in Sun Valley. In 1982, he placed third in the Masters National Championships; the next year he became president of the U.S. Ski Team. When bad knees forced him to switch to cycling three years after that, he once again hired the best help he could find—Eddie Borysewicz, the Polish-born coach of the U.S. Olympic cycling team, which had won nine medals in Los Angeles in 1984.
With advice from the legendary Eddie B., Weisel began training seriously to win a world championship in his age group. Twice a week, he flew down to San Diego to train on the velodrome with the U.S. national track-cycling team. Their brutal interval workouts started at 10 a.m. and lasted until 5 p.m. On "off" days, Weisel sometimes worked out two or three times, rising before six to ride or lift weights and finishing late at night.
Weisel was accustomed to pain. In his 2003 autobiography Capital Instincts, he writes that his father—a Harvard-trained surgeon—"kept a stick handy for the purpose of beating the shit" out of him and his brother, Richard. Next to that, the rigors of training were almost cathartic. Between 1989 and 1991, Weisel won three masters world championships and five national titles on the road and track.
When it was all over, a friend asked if it had been worth it. His reply: Yeah, but only because I won.
THERE WAS STILL ONE cycling prize Weisel wanted: the Tour de France. He couldn't ride it, of course, but he could create a team that might eventually triumph. In 1988 he formed a pro-am squad, sponsored by Montgomery Securities and Subaru and coached by Eddie B. The riders ranged in age from Weisel, a masters amateur then in his late forties, down to 18-year-old Lance Armstrong, who joined the team in 1990 and won the U.S. National Amateur Championships in 1991. That same year, the 50-year-old Weisel set a world masters record in the one-kilometer time trial.
But in 1992, Subaru-Montgomery suffered a setback: Armstrong quit and went to ride for Motorola. For five years, Weisel patiently strategized, testing out new riders and pumping more than $5 million of his own money into the effort. In 1996, Subaru-Montgomery became U.S. Postal—Weisel's company still owned the team, but the Postal Service brand sponsorship infused more than $3.5 million into the coffers, leading to better riders and, most important, an invitation to the Tour in 1997. Postal had a sprinter in George Hincapie and a good time-trial rider in Tyler Hamilton, but neither appeared to be a threat to win the Tour.
A year later, Armstrong came calling. The former Subaru-Montgomery standout was in a bad way: After being diagnosed with testicular cancer in 1996, Armstrong took the 1997 season off to undergo chemotherapy. By the time he announced his readiness to return, in 1998, his new French team, Cofidis, had dropped him, and no other pro team was interested. At first Weisel turned Lance down, too, remembering him as an obnoxious prima donna. "He hadn't been enough of a leader," Weisel says today. "He was not very respectful of other riders and the support system around him." Armstrong, a man who has since fired some of his own friends, wrote in the foreword to Weisel's autobiography that this dressing-down by Weisel was "probably the most brutal conversation I've ever had."
But after Weisel spent more time with the "new" Armstrong, he changed his mind and signed him up for the 1998 season, sweetening the deal with a $1 million performance-based bonus. After a shaky start—Armstrong dropped out of a wet and miserable Paris–Nice race in March—he went on to finish an impressive fourth in the Vuelta a España, one of the big three stage races in cycling. A year later, Weisel was sitting in a Postal team car, following his star rider up a steep mountain road, as Armstrong dropped the peloton and won the stage to Sestriere. A week after that, he won the Tour de France for the first time.
But even as Armstrong started winning, American cycling was in the midst of a crisis. By early 2000, USA Cycling was running more than a million-dollar annual deficit. Membership numbers were declining, and hoped-for sponsorships had simply disappeared. The only development-program sponsor, the computer firm EDS, had pulled out altogether.
A bigger problem than money was talent. "We were at a transition point," says Jim Ochowicz, who serves as both president of USA Cycling and a principal for Thomas Weisel Partners. "Lance was racing, and other racers were riding on elite teams in Europe, but we weren't developing the next generation of riders."
Weisel rounded up his wealthy cycling friends, convinced them to bail out the federation, and established the USA Cycling Foundation to support rider development. In return, his group got three seats on the 12-member USA Cycling board, which oversees the organization. Longtime USAC board member Les Earnest, a Stanford professor, filed a lawsuit aimed at stopping Weisel's group, which he accused of manipulating the USA Cycling bylaws, but the case was settled out of court.
"It was an ego trip," Earnest says of the takeover. "I guess Weisel gets off on it." Whatever Weisel's motive, the ex-athletes and volunteer enthusiasts who traditionally populated the board were no match for him and his friends, who revamped the whole organization. "We had to bring in a new management team, redo the strategy, and raise a substantial amount of money," Weisel says.
Old-time USA Cycling hands resisted the change. Between 2000 and 2003, most of the staff quit or was dismissed. The management was streamlined, and Weisel installed trusted associates in important positions, starting with Steve Johnson, a former professor of sports physiology at the University of Utah.
But the takeover also put Weisel in an awkward position. He owned the largest U.S.-based pro cycling team, while also serving as a director (and major funder) of the sport's national governing body. As an article in SF Weekly noted last year, this created a potential conflict of interest, because USA Cycling is responsible for enforcing the rules, including those pertaining to doping. Last summer, when the French newspaper L'Équipe published a report alleging that Armstrong had used the banned performance-enhancing drug EPO at the 1999 Tour, USA Cycling officials stepped up—to denounce it.
Earnest argues that this sort of web- tangling is inevitable with Weisel. "USA Cycling oversees his operations," he says. "By controlling it, he eliminates any problems for himself."
Weisel calls that claim absurd. "I've never made a nickel off this sport," he says. "Cycling has been a deficit-spending activity for me."
Only belatedly did Weisel realize that cycling—and Armstrong—might get his buddies to open their wallets as well. "Lance is a magnet for successful business people," he says. "All the traits you need for success, Lance possesses: He's a deep thinker, he gets to the heart of issues, and he's a great motivator."
THE FRIDAY NIGHT BEFORE the Sponsor Ride, Lance was motivating the likes of George Hincapie and teammate Michael Barry to down Coronas. The smarter riders had a beer in one hand and a San Pellegrino in the other. "They know how to hydrate," one of the Champions observed.
Across the room, the Australians (only three of the 27 Discovery riders are American) banged the tables with supersize Kirins, while Discovery's lone Japanese rider, Fumiyuki Beppu, was downing shots amid general hilarity. Tiger Williams told a story about partying in Vegas with Hincapie for three days, then catching a flight to Greenville, South Carolina, Hincapie's hometown, just in time for the start of a race. "They'll be fine tomorrow," he said. "They're amazing."
Most of them looked like they were too young to drink. (The youngest, Aussie Trent Lowe, is 21.) When the riders assembled on stage for a special team presentation, lean and tan-cheeked and slightly gawky, they looked like a high school soccer team. At the center of it all, gliding through the crowd, was Lance. "They're remarkable specimens," said Rich Silverstein, the guy behind the "Got Milk?" ad. "They just look better than us."
In July, both groups are headed for the Tour de France. The riders will face three weeks of grueling work: more than a hundred miles of racing each day, over mountain passes and long, windy plains. The Champions Club guys will ride some of the big passes, too, several hours before the pros come through. It won't be a race, but they'll put the hurt on each other and everybody will know who reached the top first.
"There are a lot of Type A personalities in this group," says John Bucksbaum. "The competitive juices come out and nobody wants to be embarrassed."
Least of all him. Before you woke up this morning, Bucksbaum was probably in the basement of his home in Chicago, churning away on his CompuTrainer, a $1,500 computer-controlled cycling simulator that can be programmed to replicate famous races from the Tour of Flanders to L'Alpe d'Huez. Bucksbaum also does interval workouts prescribed by his coach, former Postal rider Robbie Ventura.
In San Francisco, John Doerr is a regular on Palo Alto's Morning Ride, a hammerfest featuring some current and former pros. In New York, when the weather's decent, Tiger Williams and Michael Patterson will be making their 6 a.m. circuit around Central Park. "Those guys are doing 25 just like that," says Weisel, who recently installed a Velotron, a $5,000 item that's the Bentley of cycling simulators, in his Sun Valley home, just so he can get his daily fix. Rich Silverstein rides 16 miles each way to work—and tells his staff not to bother him if he decides to spend a morning riding his mountain bike in Marin rather than returning calls. He's preparing for the Tour.
And when the climbing is finished and the race passes through, "we'll be jumping up and down like little kids," says Silverstein. "And then we'll go and eat dinner at a castle."