The Birdman vs. the Flying Tomato
How does a goofy-looking snowboarder become America's most coveted corporate pitchman? If you're Shaun White, you win Olympic gold, stick to your guns, and seek career advice from the king of crossover, Tony Hawk.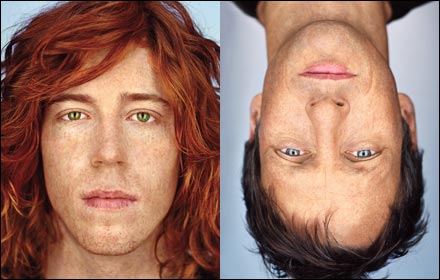 Heading out the door? Read this article on the new Outside+ app available now on iOS devices for members! Download the app.
Here's Tony Hawk, opening the door of the Original Pancake House on a warm November morning in Encinitas, California. He's wearing loose-fitting jeans, skater shoes, a brown T-shirt with QUIKSILVER screaming across the chest, and mirrored aviator shades. His gait is athletic with a dose of Shaggy, because he's tall and lanky, and, it appears, a bit tired. When he approaches to shake my hand, I see that he's got a day's worth of stubble and a lot of the whiskers are gray. No way, I say to myself. The Birdman has gray hair.
Shaun White and Tony Hawk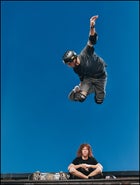 Hawk soars over White at the Magdalena Ecke Family YMCA Skate Park, in Encinitas, California, October 20, 2006.
Tony Hawk

The Birdman and a pint-size gawker
Shaun White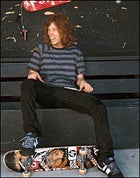 The Flying Tomato at rest
We take a seat at one of the many empty tables and Hawk points out that the waitresses are staring at him not because they recognize him as a skateboarding god but because they're confused. He comes here all the time, but always much earlier and "wreaking havoc" with his kids Riley, 14, Spencer, seven, and Keegan, four when he wants to get them out of the house. He sounds hoarse and keeps clearing his throat. He is tired. He should be: He spent all day yesterday, Sunday, in Beverly Hills skating with Shaun White, Bucky Lasek, Andy McDonald, and other pros at a fundraiser for his foundation, which builds public skate parks. They raised $900,000, of which $7,000 came from actor Michael Rapaport, who won a bidding war for Hawk's board by doubling the previous price as long as White's board was thrown in.
Today, White's late meeting us. At 11:20 a.m., he texts Hawk to ask when he's supposed to be here: 11 or 11:30? It was 11. "This is so Shaun," says Hawk. "I was telling him yesterday, 'We're on for tomorrow, right?' And he says, 'Tomorrow? Oh, are we gonna skate tomorrow?' 'No, Shaun, we have an interview at 11. Remember?' 'Oh, yeah. Yeah, yeah. Pancake House. I'll be there.' "
I almost hug Hawk. It's been hard enough to schedule a sit-down with the 38-year-old grand master of action sports and the lovable champion who, at just 20, seems destined to be the freckled face of the ascendant industry for the next, well, it could be a really long time. If White had blown this meeting, I might have given up.
But… here's Shaun White. I can tell because Hawk is looking past me and smiling and shaking his head, and because I can hear hyper chuckling from behind my shoulder. Then the kid is upon us and he's grabbing at the menu and the vibration of the whole room kicks up five notches. Now Hawk and I are laughing because White is laughing, and because the Olympic gold medalist has a shocking case of nuclear-orange bed head. He just got up. He's in a white printed T-shirt and skinny black cords, both from Volcom, one of his sponsors. His white Adio signature shoes are spray-painted a glossy red, because he recently shot a cell-phone commercial with Motorola, a partner in the Red campaign, the charitable business venture launched by Bono that has companies donating a percentage of sales to buy AIDS drugs for impoverished Africans.
Of course, Motorola plucked White to be a spokesman for Red partly because of his iconic mop. But the role is one more indication of the Flying Tomato's transcendent commercial allure. As he heads into the Winter X Games in Aspen, in late January, White is a marquee attraction, a rare two-sport superstar who's one of the world's best snowboarders and vert skaters, winning a silver medal on the halfpipe at the 2005 Summer X Games. Rarer still, he's an action-sports icon with the crossover marketing appeal attained thus far by only Hawk and Laird Hamilton.
White is certainly lucky. He took center stage in Turin while Americans like Bode Miller were fizzling. He's hitting his stride as skate, snowboard, and surf labels flood shopping malls, racking up annual sales of more than $11 billion. But he's also a remarkable athlete, having swept the five Grand Prix snowboard events leading up to Turin. He's smart, too, and with guidance from Hawk, whom he's known for more than a decade (they met when White was a snowboard prodigy and have skated together since he was nine), is astutely managing his public image and commercial partnerships to build himself into an enduring brand.
Right now, though, he's just hungry. So, after some initial hesitation about ordering the giant German Pancake, he decides to go for it, but only if I promise to try some. Nice kid.
OUTSIDE: So how does your relationship work?
WHITE: Well, I pretty much pull out the loofah and
HAWK: We like to skate together, but there are also things in terms of Shaun's career that he isn't familiar with, where I can give him my opinions. Here's a perfect example. Recently, Six Flags came to me because they wanted to do a themed roller coaster. And we're doing it it's going to be called the Big Spin. But I found out that they actually came to Shaun as well, saying, "We want to do the Flying Tomato roller coaster." For him, it just wouldn't be appropriate. He shouldn't be resting on his previous accolades already. I still skate, but I'm done with my competitive life. Shaun is still establishing himself. He could be competing for at least ten years to come and still be reaching his potential.
WHITE: Yeah, a roller coaster wouldn't have been the wisest move at this point.
---
Our food arrives. In front of White is something resembling a denuded large pizza. He spirals a slab of butter across its surface from the center out, artfully spoons powdered sugar over that, squeezes a lemon wedge on top, then submerges it all in syrup, to Hawk's disgust. "Dude, they leave the ingredients for you," White explains. "They pre-game you!"
It's about ten minutes later when White starts to hit me. Not punches, just quick, twitching backhands to my biceps, right before he speaks, that say, Dude, listen to this. Sugar is to blame, but so is Hawk, who, since finishing a cup of coffee, has been answering every question.
Shaun, how much do you really think about the business side of your career?
WHITE: I think about it a lot. It was really important after the Olympics for me not to just go, Boom I'm on this, I'm on that. So we held back for a couple of months and let stuff settle and then really did the right deals instead of right away I'm on cereal boxes and have my own line of dish towels.
How do you know what the right deals are?
WHITE: For me it's a function of, OK, do I like the product? Do I like the ads? Do I like the management I'm working with? And pretty much from day one, I don't do a contract unless I get final approval over ads.
HAWK: But you have to earn that right of approval. It's something I've got, too, and we didn't use to have it, because we didn't have the clout. Ten or 15 years ago, it was just, You're gonna put me in a commercial? OK. You want me to wear spandex? Whatever it takes.
---
Mention the term sellout to Hawk and he'll deliver a variant of a practiced line that goes something like, "The only time people call you a sellout is when your stuff actually sells out." Hawk's stuff does sell out these days Tony Hawk Inc., which licenses and markets skateboards, apparel, shoes, videos, and more, grosses $400 million annually but he's suffered through lean times, too. In the late eighties and early nineties, when skating's popularity plummeted, he would travel the country doing demos in skate-shop parking lots, working out of a van loaded with five other skaters. They'd share a hotel room and take the double beds apart, with two guys to each mattress and two sleeping on the box springs. The rise of the X Games in 1995 changed all that.
If you could go back and advise the young Tony Hawk the way you do Shaun now, what would you tell him to do differently?
HAWK: There are endorsements I regret taking when I was younger and didn't know any better. But I didn't have options then. People weren't knocking on my door. I got lucky, though, and survived a second generation of skating's popularity. I learned what not to do, and now the stakes are so much higher. Had I not made those mistakes then, maybe I'd make them now and the consequences would be much worse. Today, marketing companies will send me something and I'll say, No, you can't put it out like that.
WHITE: It's so funny. Corporate America doesn't really understand our world, so they have to come to us. People from these huge corporations come to me and ask, "How can we make this cool?"
HAWK: Start by firing all of these guys.
WHITE: Right. Get these guys outta here, then do this. But I think companies are evolving and getting smarter.
HAWK: There's definitely a better appreciation for the people in our industries. The last three commercials I've done, the directors got their start doing skate videos. Now they each have their own production agency. The marketing companies are coming to them.
---
White struggled in his grom days, too. His family parents Roger and Cathy, older brother Jesse, and older sister Kari lived in Carmel Valley, outside San Diego, and traveled to the slopes in a beat-up van. They cooked in hotel rooms, and White's parents took out a second mortgage to pay for travel, equipment, and lift tickets. Then, after his mom made a promotional video of White snowboarding, he got what he calls a "lifeline" from Burton, his first sponsor, at age seven. In 2002, he was the first athlete signed by venerable talent agency IMG to its new action-sports division.
Before the Turin Olympics, White had deals with Target, Mountain Dew, and PlayStation, among others. He's since signed with Hewlett-Packard, starring in one of its lauded "hands" TV spots for personal computers, as well as Motorola, and as of late 2006 he was negotiating with several other big-name companies. Industry insiders estimate White's income is now $6 million a year. His trajectory is markedly higher than that of the last American to win snowboarding gold, Ross Powers, who in 2002 stood atop the podium at Salt Lake City flanked by countrymen Danny Kass (silver) and J.J. Thomas (bronze). Those guys clung to snowboarding's bad-boy image, then, according to White, stumbled badly in their first post-Games commercial choice.
WHITE: Right after, they did a commercial for iced tea. Those were the first dollars that came their way, and they just jumped on them. "Yeah, dude! Love the tea, bro!" Everybody was just like, "You guys suck. What are you thinking?" It was horrible.
HAWK: Instant cred killer. But that also shows how far snowboarding has come. In Nagano, the first time snowboarding was in the Olympics, it was the bastard child. They showed some highlights, and then the only thing you heard about was that snowboard racer testing positive for weed. Then at Salt Lake, they're showing mosh-pit highlights on NBC. "This punk band played! These kids got crazy!" And all of a sudden we go to Italy and all eyes are on Shaun.
How do you work with big companies and not get branded a sellout?
WHITE: I think of selling out as saying, Thanks for the check, here's my name, do whatever you want. But I'm so involved with every sponsor. I do a clothing line with Burton and I'm in there looking at fabric and coming up with names. We've got a new puffy jacket for next year that we're calling Puff the Magic Jacket. Sweet. That puts a little personal touch on it. If you're a kid and you're shopping on the Web site, that stuff goes a long way. That's why I won't even start with a company unless I can do my own thing.
But you did a TV commercial with Hewlett-Packard and you have their stickers on your boards. How can you get away with that?
WHITE: My joining with HP was rad because, besides laptops, they make all this other crazy stuff, like TVs that you can Airport all your information to. And then I saw the commercial material before I signed with them, and it was awesome.
HAWK: Look at the company he keeps with those ads. Pharrell was in one.
WHITE: Exactly. And Jay-Z. Where's the downside to that? Same with Motorola. I just shot a commercial with them for the Red campaign. They sell a phone and $17 goes to fight AIDS in Africa. Bono's involved, other people are joining, it's a good cause, and I love the Razrs. That's a home run.
HAWK: A lot of these choices are intuitive. You know right away whether something will work or if there is gonna be such a compromise that it's not worth it. I've definitely had my share of calls where I just laugh. Someone came to me once and wanted to do a signature Hawk cologne. I was like, "Of what? Sweaty pads? Am I wringing out my pads into a little perfume bottle?"
WHITE: I've been sent like 20 movie scripts. And the first lines are always "What up, brah?" Nope, nope, nope.
Shaun, say Tony hires you to be his brand manager. What should be his next move?
WHITE: Grow out the hair and dye it red.
HAWK: Oh, God.
---
Among the many film clips of White you can find on YouTube, my favorite is from an interview he did with CNN shortly after the Olympics. He's on a live satellite video feed, propped in front of what appears to be a green-screen backdrop of downtown L.A., holding his gold medal in front of him like a delicate pastry. The in-studio female anchor is asking about his newfound fame, and he starts telling her about a recent plane ride: "I had unlimited service. I was getting drinks, and I was getting snacks. I was taking photos in the back with all the stewardesses "
"Wait a minute," the anchor interrupts. "Drinks? You're 19 years old."
White pauses a beat, glances at his medal as if it has the answer, then delivers his retort (and sponsor plug) with a faint, coy smile: "I'm talking about Mountain Dews, baby." It's not obnoxious; it's charming, which is exactly how millions of Americans judged White's off-snow performances at Turin, where he was a favorite on the Today show. He's such a magnetic performer that you can be lulled into thinking that winning doesn't even matter all that much, that he could just go on giving interviews and filming commercials just because people adore the Flying Tomato. Hawk and White know better.
What is it about Shaun that's attracted so much attention?
HAWK: He absolutely dominated for a year. He won almost every single event. Still, going into Turin, Bode Miller was on every cover, while some big magazines didn't even mention Shaun. It's because there's still this slight uncertainty out there about snowboarding being legitimate. The only advantage to it was that Shaun didn't get built up to be the ultimate disappointment. Bode certainly did, though.
WHITE: But it's going to be that way for me next time. It's going to be that huge Bode thing I can see it coming.
HAWK: Yeah. You better not fuck that one up.