Cyclocross Brings its World Championships to U.S. Shores
And U.S. fans have made the sport's culture of booze, brats, and revelry all their own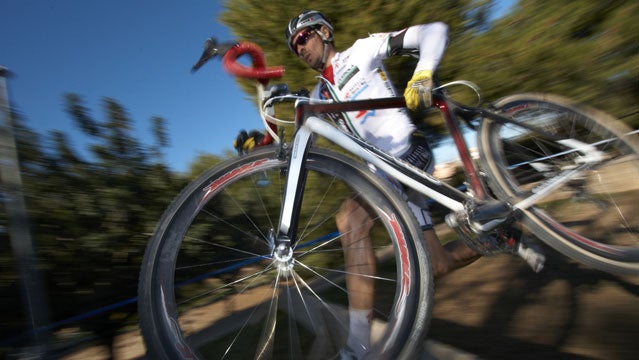 Heading out the door? Read this article on the new Outside+ app available now on iOS devices for members! Download the app.
Think of Cyclocross as Tough Mudder on wheels—a mashup of road and mountain biking wherein riders must dismount at full speed and carry their bikes over barriers and stairs. The century-old sport has earned a dedicated following in Europe (Belgium is the primary hub), and now a growing appetite for masochistic competition is fueling a stateside surge. According to USA Cycling, participation in cyclocross has tripled over the past six years, to 100,000 racers. And U.S. cross fans have made the sport's culture of booze, brats, and revelry all their own: costumes abound, and heckling, always popular, has become a mainstay. In February, the raucous Cyclocross World Championships leave the old continent for the first time, touching down in the heart of bourbon country: Louisville, Kentucky.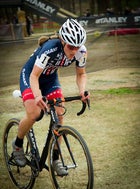 Katie Compton.
THE OBJECTIVE: Roughly 200 riders complete as many laps as possible on the 1.5-mile course in the allotted time: 60 minutes for men, 40 for women.
THE VENUE: The race begins with a mass sprint starting near downtown Louisville to Eva Bandman Park, a permanent cyclocross track on the banks of the Ohio River.
THE OBSTACLES: Louisville has the maximum number allowed by International Cycling Union guidelines: six. These include foot-high berms, wood stairs, a sand pit, and a ramped bridge. The race will be won or lost at the most difficult obstacles: a 20-foot-high hill with steps and a limestone stairway, which riders must slow down considerably to negotiate. These areas will also be the most popular staging grounds for serious hecklers.
THE TECHNIQUE: Most obstacles require a full-speed running dismount and on-the-fly remount. Racers sling their bike over a shoulder or hold it at one side when running.
THE PIT: Like Indy car with bikes, racers ride through pit row, where broken or mud-caked bikes can be swapped out.
AMONG THE THUGS
Up to 20,000 fans will be in attendance, but one is sure to raise his voice above the rest: cyclocross' most infamous heckler, a Louisville native who goes by the name Superious Fannington (Super Fan, for short) and has been known to lead group serenades of "All By Myself" for straggling racers. "Heckling is the heart and soul of cyclocross," he says. "It is to racing what beer is to spectating: necessary." His advice for getting underneath a competitor's skin? "Do your research, get creative, and be personal," he says. "It doesn't have to be rude or mean-spirited, it's just more fun that way."
THE FAVORITE
By the age of 21, Delaware native Katie Compton had already spent a decade as a top road, track, and mountain-bike racer. But she was also plagued by searing leg pain that left her incapacitated for weeks at a time and that doctors were powerless to diagnose. So in 2000, she quit riding and focused on school. But a month later, while out drinking with friends, Compton was convinced to sign up for her first cyclocross race—the next day. "I'm pretty sure I threw up after the race," she says. "But I had a blast." She also finished secon.
Compton has since won eight consecutive cyclocross National Championships and scored three World Championship medals, along with a coveted sponsorship from Trek Bicycles. At this season's second World Cup race in the Czech Republic, in October, she recovered from a late-race crash to take the victory and the World Cup lead. She'll arrive in Louisville an overwhelming favorite. The only thing holding Compton back is her still undiagnosed leg pain. "It's in the back of mind every day," she says. "But I try to stay positive. A glass of wine helps, too."