The Daily Rally
Annijke Wade Feels Confidence in Uncertainty
After a devastating accident, the mountain biker realized that getting back on the trail meant accepting discomfort and unpredictability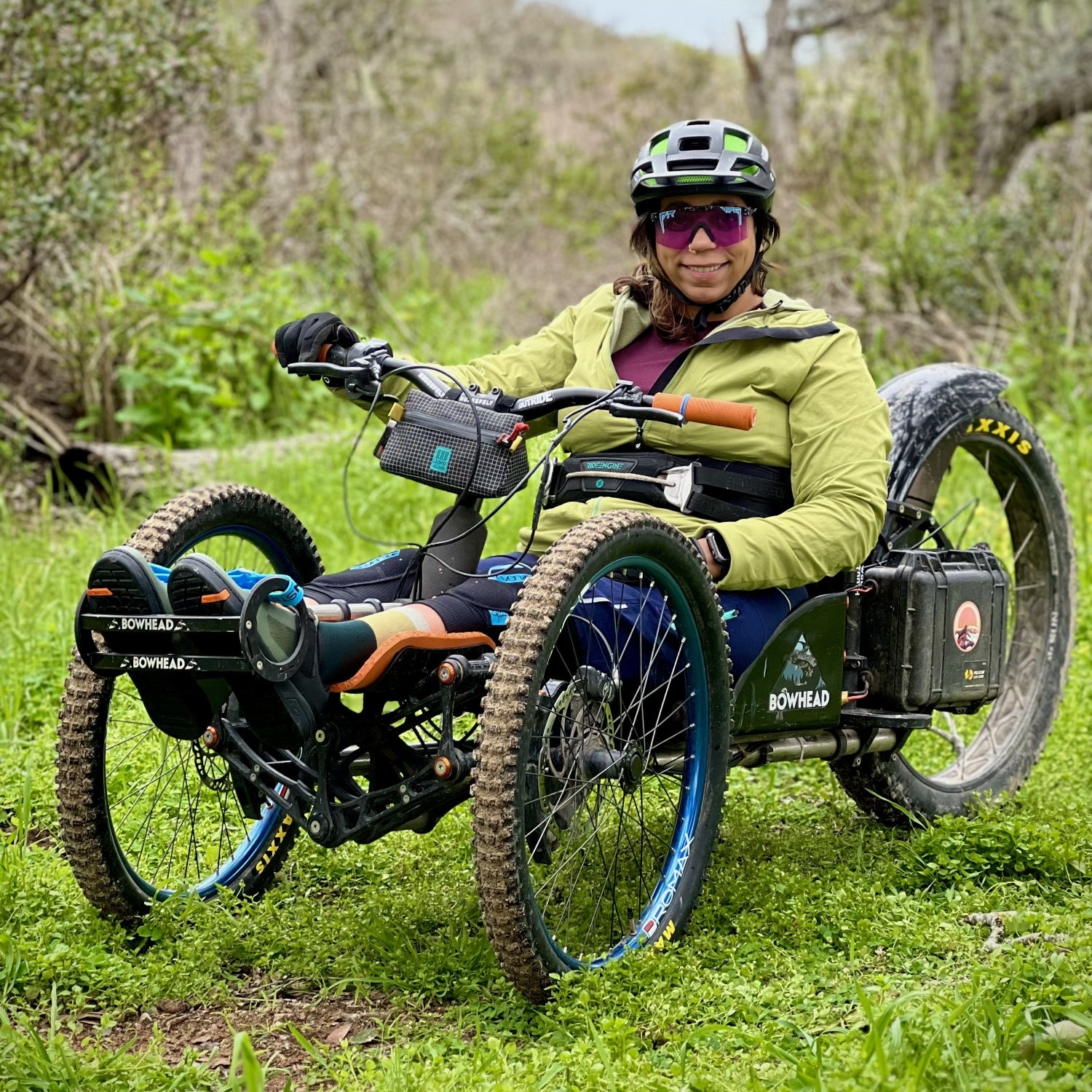 Heading out the door? Read this article on the new Outside+ app available now on iOS devices for members! Download the app.
Annijke Wade shared her story with producer Tanvi Kumar for an episode of The Daily Rally podcast. It was edited for length and clarity.
The next thing I know I'm floating through the air. And then my next memory is me being in the middle of the trail. At that moment, I instantly knew something was terribly wrong.
My name is Annijke Wade, and I am an adaptive athlete. Specifically, an adaptive mountain biker. I also do a lot of advocacy work within the mountain biking space, making sure that mountain biking and the communities around mountain biking are safe spaces for BIPOC individuals as well as adaptive athletes.
It was July 17th, 2021. I was mountain biking at my favorite downhill mountain biking resort, on my favorite trail with some wonderful people. It was the first run of the day. And I hit a jump just a little bit wonky. I tried to dump as much speed as I could. Unfortunately, I wasn't able to, and ended up hitting the next feature.
I could no longer feel anything below my chest, and no longer move anything below my chest. I knew at that point I was paralyzed.
I spent the next better half of the day getting to various hospitals, and eventually got a Flight for Life to Albuquerque. In Albuquerque, I stayed at the University of New Mexico Hospital for 17 days, unable to move 75 percent of my body.
I've spent the better part of the last few years really ingrained in the mountain biking community and really enjoy all aspects of it. For me, showing up on the trail is really important for my mental health. I love being able to take in nature in that particular mode. I like to be able to disconnect. One of the things that's been really appealing to me about mountain biking is oftentimes when I'm on the trail, I really can't think about other things. It's this moment that offers me kind of a piece of solitude in Zen. So after the accident, I knew I wanted to be back on the trail.
Going through this challenging period of now facing lifelong paralysis, being a full-time wheelchair user, and all of the complications that came with having a spinal cord injury, it became really important for me to focus my energy and efforts into building my identity around adaptive mountain biking and being able to get outdoors. Three to five days after my accident, I picked out the type of adaptive mountain bike I wanted to use, and started to pour all of my time and energy into researching the sport of adaptive mountain biking.
Anybody that would come to the hospital to visit me was berated with all of these videos of adaptive athletes, shredding on adaptive mountain bikes. And I would tell folks, "That's going to be me in less than a year. I'm gonna be back out there." I had no idea how I was gonna get there or what that would look like, but I knew that's what I wanted to do.
I thought, OK, well I know of a few adaptive athletes, and it's time for me to start to figure out what my life is gonna look like after. I knew that there was gonna be a life for me in the outdoors and hopefully mountain biking.
The experience of learning how to mountain bike again has been very interesting, fun, and rewarding in so many ways. When I first got my bike, there was just this initial excitement that came along with it. Then I suddenly realized, Oh, I'm gonna have to learn how to ride this.
One of the things for me that's been really important has been that natural, safe progression of skills. I'm having to remember that although it is mountain biking and although I might be visiting the same locations and trails, I have a different body. I have a different lived experience at this point. And I have different equipment. Being really patient with myself has been really important throughout this process. Really just reminding myself that this is my first season as an adaptive athlete. My first season using this new piece of equipment.
It's my first mountain bike season after my spinal cord injury and my accident. Taking that step back has allowed me to really still feel confident even in those moments of extreme uncertainty and being uncomfortable as I approach these features and trails.
Each day there's gonna be tons of issues and complications. But, focusing on what I'm able to do in a specific moment and being present has helped me navigate all of the things that are associated with acquiring a disability. For instance, putting pants on used to be something that took less than 30 seconds, and now it can take ten minutes depending on what kind of pants I'm putting on. So as I'm engaging in that particular task, especially tasks that are really challenging, I'm just trying to stay in the moment and trying not to think about how frustrating the task is or how so much has changed, and how maybe I wish it could be different. Instead, I'm really just trying to give attention to the task.
Every single day you have the opportunity to choose to accept your situation and the reality of it or not. Some days that acceptance is going to be easier than others. Some days it's really a struggle. That's where being present and accepting on a minute-by-minute basis comes in. I really do think it is a choice in a lot of ways. Coming to terms with my accident, for me in particular, has been really critical in allowing me to get back outdoors and reenter mountain biking as an adaptive athlete.
Annijke Wade is an adaptive athlete who is passionate about making the outdoors and mountain biking a safe space for all. You can follow her on her journey on Instagram. She's @geodesicdome.
You can follow The Daily Rally on Spotify, Apple Podcasts, Stitcher, or wherever you like to listen, and nominate someone to be featured on the show here.
Lead Photo: Annijke Wade