The Daily Rally
Marley Blonsky Believes in the Power of Her Body
Finding biking after her divorce put the size-inclusive cycling advocate on a course to falling in love with herself again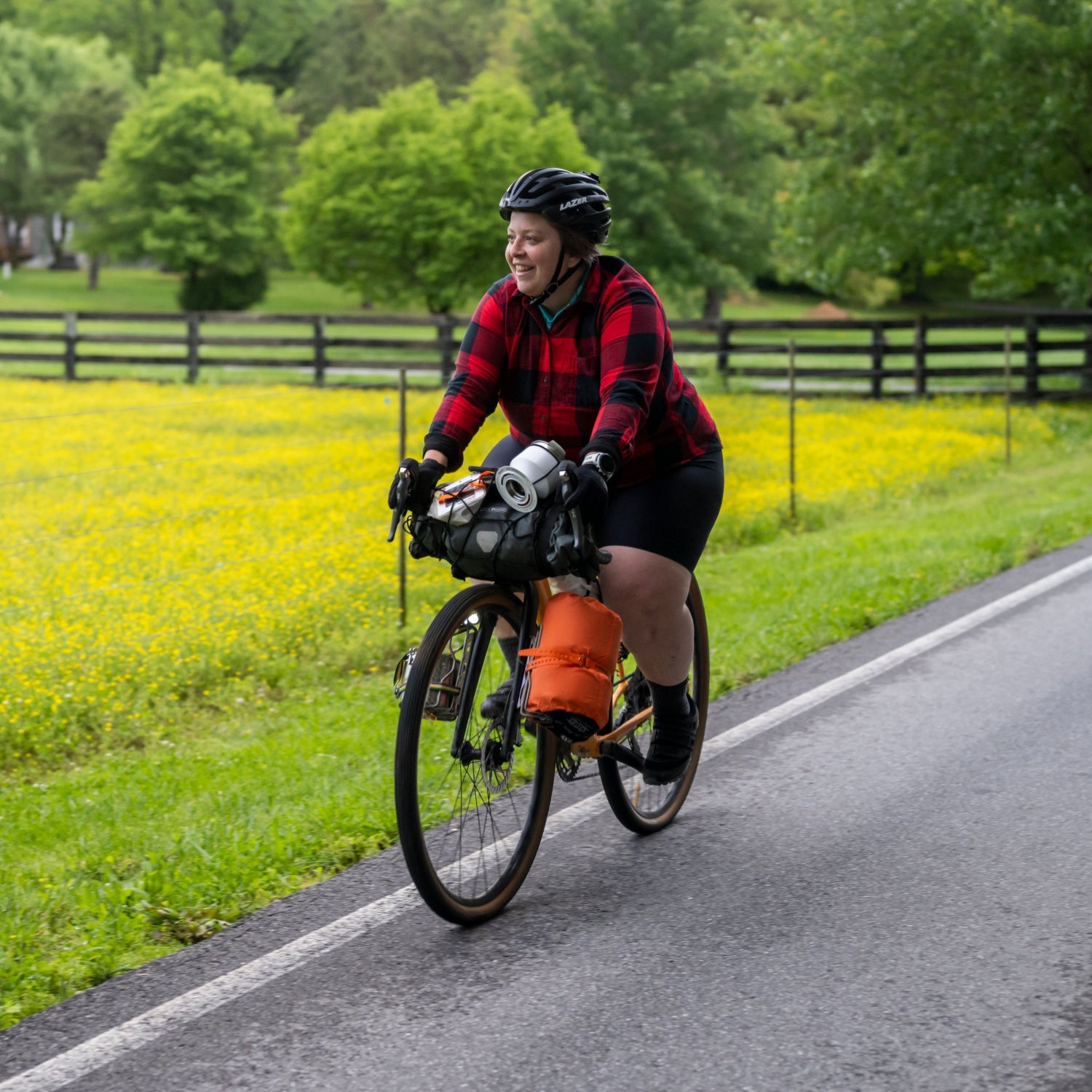 Patty Valencia
Heading out the door? Read this article on the new Outside+ app available now on iOS devices for members! Download the app.
Marley Blonsky told her story to producer Shweta Watwe for an episode of The Daily Rally podcast. It has been edited for length and clarity.
I don't know if you've ever had your heart broken, but it really makes you question everything about you. Am I valuable? Am I worthy? Do I even have a purpose?
My full name is actually Marlena Blonsky, but everybody knows me as Marley Blonsky.
Currently I am in Bentonville, Arkansas. I moved here about a year ago after spending the last 18 years in Seattle. The bike industry is absolutely blowing up in Arkansas, and I came down here for a big race last year and fell in love.
My full-time job is running All Bodies on Bikes. We are getting incorporated as a nonprofit as we speak. We do advocacy consulting and community building to make the bike industry more welcoming and inclusive to people who fall outside the norms of what you think a cyclist looks like.
Somebody asked me the other day, "Do you have any other interests besides biking?" And I was like, Oh God. Reality check. Yes, I do. But cycling is really what makes me excited and when I'm feeling down about the world, going for a ride picks me up.
We got married in front of our friends and family in this beautiful ceremony in September 2012. But it didn't mean anything in the eyes of the law. There was this big referendum that we volunteered for, and helped get marriage equality passed in Washington State. Then we legally got married in December, so we had a second wedding ceremony, and we were in the Seattle Times, and there were all these pictures of us. So it was fairly public as well.
I found out about the affair in March. It was St. Patrick's Day. I think we were officially separated in April. I was still getting emails from people saying, "Congratulations, I saw your story in the Seattle Times," or, "I saw it in the West Seattle blog." And how do you say, "Well actually it fell apart?"
We were married, we were looking to have kids, it really felt like my life was going in a certain direction. And I had based a lot of my self-worth and my personality on our relationship. So when that no longer existed, I didn't know who I was.
It was very shortly after that I found the bike. Thank God I did.
I was trying to figure out, How do I make new friends? How do I meet people? I kept seeing all these people on bikes, and they looked like people I wanted to hang out with and people I wanted to date. I was living in West Seattle, which is kind of a car-dependent part of town. So I moved to Capitol Hill, which is not a very car-friendly place in Seattle, and I kept seeing all these people riding bikes, and I wanted to be like them.
This was also when Tinder had first come onto the scene and, like any good 26-year-old, in addition to going to therapy, I got on Tinder. I rode my bike to a first date.
It was June. This was one of those perfect, bright blue, sunny skies. It was uphill to the park. So I remember getting there and feeling sweaty. The grass was just starting to turn green, and I just felt alive. I felt so badass and so proud of myself when I rode to the date, and this guy was like, "You rode your bike here. That's so cool. Tell me about that."
I think everything started to click of, OK, people think that this is cool and I do this. I'm not gonna lie, that's part of the reason I still ride bikes, is people think it's cool. You don't expect somebody who weighs 250 pounds to ride 100 miles and enjoy doing it.
It really opened the doors. Like, Aha, not only can this be transportation, but it can become part of my personality or my identity. I just had this feeling that a whole world was gonna be unlocked.
I was experiencing all these really deep emotions and deep sadness and just grief over the demise of my marriage. So getting on the bike and feeling the physical manifestation of working hard gave me something else to focus on as well. There were many rides when I would find myself crying and working through feelings, because I'm also really good at ignoring my feelings and just being like, No, I'm fine.
I think every time I got on the bike, it soothed my anxiety, because it made me be present in the moment. I had to think about the pothole in front of me, or I had to think about, What am I going to eat to make sure I can ride this eight miles from my house to where I'm going? So instead of worrying about the future and what's gonna happen, or asking, Am I ever gonna fall in love again? Am I lovable? What is my self worth? I was instead focused on OK, how am I gonna make it from point A to point B on my bicycle?
The thing that I love about cycling is it takes a long time and it forces you to get in tune with your body. Finding the bicycle and finding my power on the bicycle really allowed me to be OK with who I am. It just makes me feel connected to the earth, and reminds me that I do have a lot of power in this fat, soft body.
I love the phrase, "With these thighs." Oftentimes as a kid, my sister would say thunder thighs, or make fun of the size of my body. And I've learned to reframe how I talk to myself, how I take care of myself, and how I appreciate myself.
I learned that I am so much stronger than I ever thought possible, both physically and emotionally. That my body is capable of really, really amazing things, even if it doesn't look or perform the same way as other people.
With those thighs, I climbed that hill or I rode there, or, I did that thing.
Marley Blonsky is a co-founder of All Bodies On Bikes, a nonprofit that advocates for size inclusivity in the cycling community. In March of 2023, she completed the Mid-South Gravel 100 Race, which was her fourth 100-mile ride in the past year. You can find her on Twitter @MarleyBlonsky.
You can follow The Daily Rally on Spotify, Apple Podcasts, Stitcher, or wherever you like to listen. Subscribe to our newsletter and nominate someone to be featured on the show.
Lead Photo: Patty Valencia
Trending on Outside Online