The Daily Rally
Moses Amira Embraces the Tears
Facing the loss of a close friend, the Kenyan cyclist and road-safety advocate found refuge in his community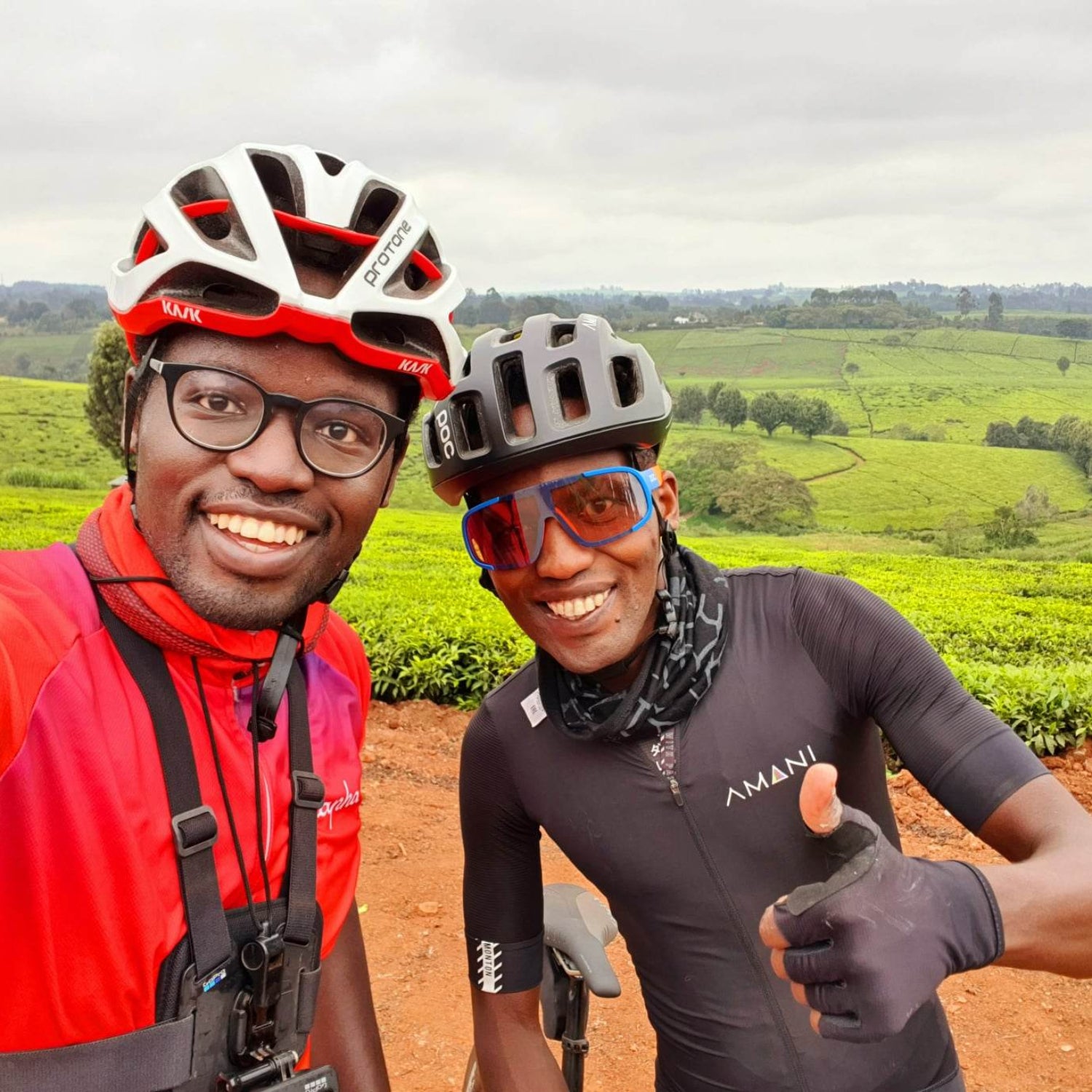 Courtesy Moses Amira
Heading out the door? Read this article on the new Outside+ app available now on iOS devices for members! Download the app.
Moses Amira told his story to producer Caro Rolando for an episode of The Daily Rally podcast. It has been edited for length and clarity.
I learned of his death at the airport in Dubai. I had a two-hour layover, and another six hours of flying to come after that. I'm with my son, who I was carrying on my chest. That evening immediately got really tough, because I had this little bundle of joy who was making me smile, and I have these emotions inside me that are making me cry.
My name is Moses Amira, some people have called me Mkubwa, which means "the big one" in Swahili slang. I am currently in Manila, Philippines, with my wife and our one-year-old son. I'm Kenyan, and my wife is German.
One of my biggest passions in life is cycling. It has brought me a lot of joy and friendship and connection. I got into the cycling community in Kenya, thinking that I was giving back to the community and being there for whoever needed help, in just small ways that I could manage. At some point while doing this, my cycling friend, Caleb, was cycling on a road in Nairobi, Kenya, called Thika Road. He rammed into a stationary bus parked in the middle of the road on the highway. Without reflection, without anything. It was the dark of night and he was going fast. He died.
It became a big deal in the cycling community. So we organized to go cycle the same road and let our voices be heard, that we are not happy with the situation of the roads in Kenya and the way things worked there.
One person came up next to me, and told me he had just driven 500 kilometers to come and be with us, and he was going to drive back immediately after. The empathy really touched me. I asked this person who they were. And said he's called Suleiman Kangangi.
The name rang the bell. I knew he was a cyclist who has been representing the country in many races abroad. The empathy to have traveled just to attend this bike ride and go back got me. I told him, "Hey man, as long as you are in Nairobi, my house is your house from today, henceforth." So I was thinking, Oh, OK, I'm helping this young man here. He started coming to my house, and he became regular until he joined the household. Every week he would be living with me at some point. We would go out cycling together. Slowly, I started noticing, Oh, this guy is not the same as other people that I have met.
He had a fire in him. You could see it was a very mature fire, like somebody who has really found himself. So I started taking notes of the way he talked, the things he was doing, and his story. His story was extremely touching.
He didn't know who his father was; he had a single parent upbringing. His mother had a terminal illness. He just fought for everything.
He started training to do a thousand-kilometer bike ride from Nairobi to Mombasa and back to Nairobi. Most people were trying to do Nairobi to Mombasa at the time, and you were like royalty if you were able to do that one in a day. So he decided he wanted to do Nairobi to Mombasa and back to Nairobi in three days.
I somehow started looking up to him. You are really sure you are helping someone, but then you take time to be with this person, and slowly you realize the person is actually the one helping you. It's not like they're doing anything that is giving you any financial gain, it's just an enrichment from within. And you start finding peace. You also become better, because you get motivated to be better at something. He became my best friend.
I don't understand how he managed to live a life so full. Even in the one year that I was with him and I thought I was empowering him, he empowered and enriched me.
I was on the way to Manila from Brussels, I was traveling with my wife and my son. At the airport, my phone would not stop. I was receiving a ton of messages, and people trying to call or whatever to ask me what was wrong. I have a close friend from the cycling community. When I saw his call, I was like, OK, there's a problem. He said, "Moses, it's not good." Then he told me that unfortunately, Sule has passed on.
He was in a cycling race in the US. It was a gravel race, one of the biggest in the world. All of us will deal with grief at some point, because nobody came into this world alone. But, it's never something you can be ready for, I feel. As much as we all know it's going to happen.
As an African man, it's seen as a weakness to cry. You're scolded as a boy, and you grow up with the fear of seeing your own tears or tasting any salt from upwards of your mouth. You have to allow yourself to cry, to let it out.
We organized a sendoff in Nairobi, where the cyclists could get to say goodbye to an icon. So many people came through; the cycling community in Kenya was amazing.
We went to Nyayo Stadium in a procession, the team that he was cycling with when he passed on at the front. We ended up with around a hundred of us. The cyclists put their bicycles up on the sides of the road, and they were singing and crying and whistling, and it was so beautiful. I was looking at it and I was thinking, I'm very sure Sule must be happy, at least, where he is.
Moses Amira is a cyclist, computer scientist, and videographer. He continues to honor Sule's life and legacy by advocating for better biking conditions in Kenya and around the world. You can watch videos about Sule and much more on Moses' YouTube page.
You can follow The Daily Rally on Spotify, Apple Podcasts, Stitcher, or wherever you like to listen. Subscribe to our newsletter and nominate someone to be featured on the show.
Lead Photo: Courtesy Moses Amira