Biking Across America on a Diet of Fast Food
Fueled by Pop-Tarts and Little Debbies, 52-year-old software engineer Kurt Searvogel is out to break the record for the greatest distance pedaled in a year. What motivates a man to ride more than 200 miles a day—every day, rain or shine, hot or cold, sunrise to sunset?
Heading out the door? Read this article on the new Outside+ app available now on iOS devices for members! Download the app.
"Is the grill still open?" asks Kurt "Tarzan" Searvogel, sitting down at a table late one rain-lashed July night in Mike's Port Pub and Grill in Jacksonport, a small hamlet in the scenic peninsular thumb of Door County, Wisconsin.The waitress affirms. Searvogel, who has already downed a heaping open-faced rib-eye sandwich with French fries, requests an order of fish tacos, another round of fries, and what I take to be his third beer.
"Carb load," he says impishly. Too late we notice, in a corner of the menu, Mike's Belly Bustin' Challenge. Eat three regular burgers, get a T-shirt and your photo on the wall.
No challenge for Searvogel—more like an appetizer. But the 52-year-old software engineer, who grew up a few hours away in Waupun but now calls Little Rock, Arkansas, home, has more urgent claims to lionization than a place among the Packers calendars in this amiable tavern. 
Searvogel is trying to set the record for the most miles ridden in a year on a bike, a rather obscure, now revived mark that has held since 1939, when an amateur British cyclist named Tommy Godwin notched more than 75,000 miles—all on English roads—from New Year's Day to New Year's Eve.
Since January 10, when Searvogel set out on a 300K randonnée in Florida, he has ridden over 200 miles a day. Rain or shine, hot or cold, whether he is feeling it or not, he has been out on the roads of various American states. Apart from some free tires and cases of energy drink given to him by his few sponsors, his effort is self-funded.
But he is not alone in his pursuit. A 41-year-old Englishman named Steven "Teethgrinder" Abraham was the first to announce an attempt, and a late dark-horse entry, an Australian appropriately named Miles Smith, joined the quest in April. The Ultra-Marathon Cycling Association, an international organization that recognizes long-distance performance in the sport, has dubbed this modern attempt on Godwin's record the HAM'R, for Highest Annual Mileage Record, and will certify the results.* As testament to its difficulty, Abraham was struck by an errant moped driver in March, breaking his leg; Smith suffered a collapsed lung in May. Since the modern competition need not hew to a strict calendar year, both men have launched new, "concurrent" 12-month campaigns—meaning, in essence, two clocks are running for each man, one that ends a year after his original start and a second that ends a year after he resumed riding post-injury. 
Even by the standards of ultracycling, with its 24-, 48-, and even 72-hour endurance events, the notion of spending nearly half the day, every day, on a bike confounds the imagination. When Searvogel is not riding, he is eating (replenishing some of the 8,000 or so daily calories he burns). When he's not eating, he is either sleeping (about six hours a night), fixing his bike, uploading his rides to Strava, or plotting the next day with Alicia Snyder, his 53-year-old girlfriend and crew chief (actually, his entire crew). Snyder unflaggingly pilots the Dodge Pleasure Way RV that serves as mobile aid station and occasional home and monitors Searvogel's progress via SPOT tracker. As you read this, there is a good chance Searvogel is on his bike. 
In endurance sports, miles are an endlessly elastic currency. A weekend cyclist might be challenged by a medio fondo ride (60 miles or so). For others, a century, or 100 miles, stands as a benchmark. While there is no exact definition, ultracyclists like to think of 200 miles as a good conversational opener: it's where you go from there that gets interesting. 
But what does it mean to ride 75,000 miles in one year? The most arresting way to characterize it is that it's like riding around the earth three times. But how many of us have ridden around the earth even once? Another way to put it is that it's like biking across the U.S. not once, which for most would be a life-defining achievement, but more than 20 times in a year. Hell, the average American of Searvogel's age drives only about 19,000 miles annually. By the end of 2015, Searvogel will have biked more miles than most cyclists do in their lives. 
---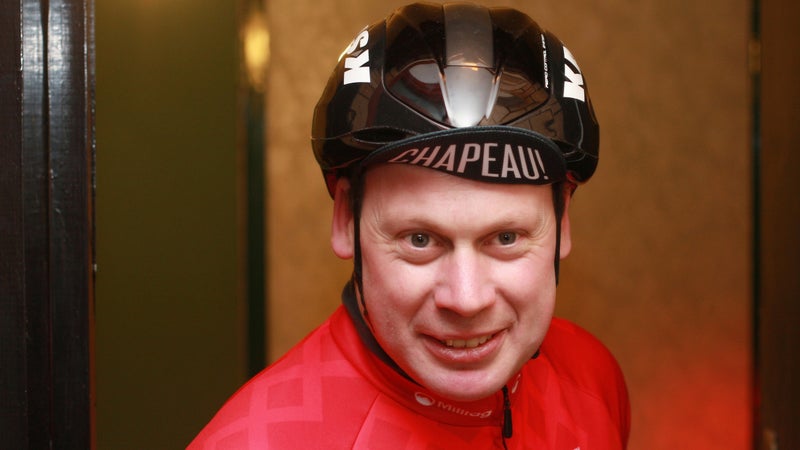 In a heavy predawn rain on New Year's Day, 1939, with the temperature just above freezing, 27-year-old cyclist Thomas Edward Godwin pushed off from Hemel Hempstead, a town northwest of London. 
For the next year, looking to outpace the 1937 year record of 62,657 miles—set by an Australian rider named Ossie Nicholson—Tommy Godwin would be a familiar, if fleeting, sight on English roads. As Godfrey Barlow notes in his 2012 book Unsurpassed, "On many a night when the wind was howling and the snow driving across the roads, Tommy was a solitary figure in sweater and woolen tights, pedaling along some lonely country road." During one 200-mile day, the conditions were so treacherous, he fell off his bike some 20 times. He lost a day's riding to have four teeth pulled, then sacrificed another recovering. With two other English cyclists after the same record, he could spare little time off the saddle.
Godwin, as Barlow recounts, had begun riding a heavy shop bike as a boy, doing odd delivery jobs to help support his family. At 14, he entered an amateur race—on that very bike—and won, following it with a string of national time-trial records. (A strict teetotaler, Godwin raced for the Vegetarian Cycling and Athletic Club.) 
He began to think about the year record, which had evolved from a contest launched in 1911 by the English magazine Cycling to see who could complete the most centuries in a year. Over the next few decades, any number of riders from various countries took aim. They were, needless to say, a hardy lot. Walter Greaves, a prickly character (also vegetarian, and communist to boot), returned the record to England in 1936 after suffering frostbite on his ear and losing 13 days to blood poisoning when he was struck by a car in July. Despite this—and despite having only three gears and half of his left arm (the result of a childhood accident)—he managed to make up the miles by New Year's Eve. The next day three more riders, including the Australian Nicholson, set out to beat his time.
Two years later, as Godwin hurtled toward Nicholson's record on a four-geared Raleigh Record Ace—high-tech for its era, though with a frame roughly twice as heavy as today's top bikes—a new challenge loomed. On September 3, Germany declared war on England. Riding through nightly blackouts, Godwin pedaled into Trafalgar Square on New Year's Eve with 75,065 miles under his belt.
The wartime interruption seemed to put an end to the year record as a public sensation. It faded from view, remembered by only a few, mostly English, cycling boffins. It was not until 1972 that a UK rider named Ken Webb claimed to have beaten Godwin's record by 5,600 miles, earning a spot in the Guinness Book of World Records. But his attempt was "almost definitely a fraud," says Dave Barter, author of the forthcoming book The Year: Reawakening the Legend of Cycling's Hardest Endurance Record. Webb's mileage figures did not add up, his statements to the press were contradictory, and his rides were seldom verified. There was one final, rather glaring, inconsistency: for much of the year, Webb held a full-time job. Guinness returned the record to Godwin.
---
The morning after our meal at Mike's, Searvogel and I are riding toward the fishing village of Gills Rock, pushing into a cold rain shower driven by a moderate headwind. I have pulled ahead of Searvogel, who is hunched over on the aerobars of his Cervélo P2 time-trial bike, and my six-foot-two frame is providing him with a momentary—and no doubt novel—draft. 
Searvogel is as haunted by the wind as any sailor. He tracks it obsessively on the website WindFinder.com, charting his course around prevailing patterns. Like a game of geophysical chess, it is about not simply that day's winds but also the next. "You've got to know what's going to happen tomorrow," he told me. "If you ride yourself into a corner, the next day's going to be hell. It's probably about 5:30 or 6 p.m. before we know where we'll be tomorrow."
But Searvogel knew this morning's inconvenience would only be temporary. "You always want to hit the easy button," he says. A mileage record is a mileage record: there is no added distinction for feet climbed, watts burned, state lines crossed. Once we reached land's end in Door County, we would turn around and catch a great big southerly express train of atmospheric disturbance projected for later that morning that would take us all the way down near Madison. "Tomorrow's probably going to be a 250-mile day," were his last words the night before, which rang in my ears like a threat.
Riding 75,000 miles is like biking across the U.S. not once, which for most would be a life-defining achievement, but more than 20 times in a year.
As we hit the first few climbs, I find that I am dropping him. "You might want to ease up a bit," he tells me. "It's going to be a long day." I am probably riding hard to try and impress him, but I am also riding like someone who goes strong for six or seven hours and then flops onto the couch, not someone facing another double century the next morning.
As one might expect for a software engineer, Searvogel has rigorously calibrated every aspect of his ride. He studies his handlebar-mounted Garmin more intently than a Tour de France rider, making sure his heart rate rarely gets into the three digits. His record quest began with an exhaustive spreadsheet, which he has had to adjust on the fly. "My original projection was that I would get faster as I went along," he says. "I was already fast, and I'm getting slower." He says his body is breaking down. "You don't have enough time for your muscles to recover." Still, he is able to maintain an aggressive 17-mile-per-hour pace, faster than his rivals. 
Simply finding 220 miles of good cycling roads can be a challenge, even in Wisconsin. Searvogel stays away from cities, less for the traffic than the traffic lights. (Stopping is a no-no.) "Lots of days are experimental days," he says. "Once you figure it out, you can go from 17 miles per hour to 18 or 19 miles per hour. My rides are getting faster and faster in Wisconsin, because I know which roads to take." While Snyder protests, he will ride on state highways, despite the prospect of heavy trucks thundering past a few feet away. "You can make speed," he says, "because every state road has a certain grade that they're built to." When the winds are unforgiving, he retreats to safe harbors, like an 18-mile stretch on Door County's eastern side that, adjacent to a bluff, is "sort of protected."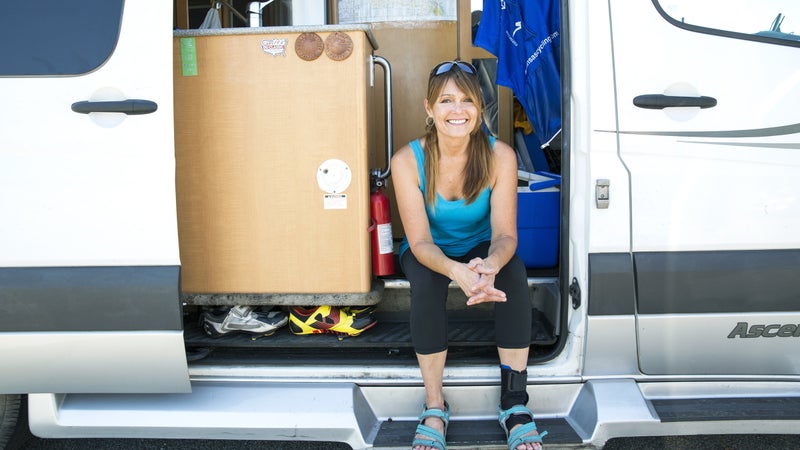 Earlier in the year, before it began to get hot, he was riding in Little Rock, Arkansas, when floods hit the city, cutting him off from all but a few roads. "I was basically riding a five-mile stretch, back and forth, all day long," he says. "One day I did it 24 times."
Like Godwin, Searvogel began working on a bike at a young age, as a paperboy in Waupun. "You're getting up at 5 a.m. when it's minus 20," he says. After competing as an all-American wrestler at nearby Ripon College and serving a stint in the National Guard, he spent his twenties and thirties "completely focused" on his company, Applied Computer Solutions, which produces software for auto dealers to help streamline the sales process. "It's not a glory business," he says, "but I wanted to do something that makes money." He had sublimated his competitive urge into business. "I'd always been an athlete," he says, "and I completely forgot about it." 
Eventually, like so many men approaching middle age, he felt the pull of fitness. As a self-admitted 240-pound "Clydesdale" in his early forties, with three kids and a job, he began reascending the ladder: a sprint triathlon, a mountain-bike race. In 2005, he attended a cycling camp run by Lon Haldeman, one of the founders of the annual coast-to-coast Race Across America (RAAM). The world of ultracycling beckoned, and he unleashed a string of achievements, culminating in a record-setting 2014 ride in RAAM itself: he and a partner, Joel Southern, rode coast-to-coast in six days, ten hours, and eight minutes. Searvogel's approach to business and sports is summed up, he says, in an article by the former pro basketball player M. L. Carr, who advised, "Find your seam and take your shot." In other words, identify your niche and exploit it. "I'm an OK triathlete, and I was an all-American in duathlon," he says, "but in ultracycling, in 12-hour cycling, there's maybe three or four people who can beat me."
That competitiveness made the HAM'R a natural target when Searvogel learned of it last year through the intensely narrow channels of ultracycling. Still, as with RAAM, he was initially reluctant to compete—"I kept telling myself, You're too smart to do that kind of thing"—and the whole project came together at the last moment, as he and his wife prepared to divorce. "I decided to do this two months before it started," he says. 
---
A few years ago, says Ultra-Marathon Cycling Association (UMCA) president Paul Carpenter, the organization started hearing more and more from members interested in chasing records. Steven Abraham, a warehouse operator in Milton Keynes, England, wanted to tackle the biggest of them all. "I had heard about Godwin when I was 15," he told me by phone. "It's always been in the back of me mind what Tommy Godwin did." At least twice, Abraham had ridden 28,000 miles in 12 months. Godwin's record loomed as a possibly achievable goal. There was just one problem: Who would certify such a ride? 
In 2014, the UMCA stepped in. "We felt like this would be a great thing for us to be involved in," says Carpenter, "to try and grow the sport." While even some ultracyclists might consider the attempt "pure insanity," as Carpenter puts it, others might think, "If they can do this, surely I can get my butt out for a 200-miler," he says. 
When the year record was embraced by the UMCA, there was just one problem for Abraham. As in Godwin's day, word of the new challenge, like blood in the water, began to attract other competitors. One of those, of course, was Searvogel. United in riding close to 200 miles a day (casting wary glances over their shoulder as they nightly check the HAM'R leaderboard), the two men are joined by mutual respect. "Steve's a good guy, and he's putting everything he can into this," says Searvogel. "Anybody who can get up and do this every day is fucking amazing."
They are also about as distinct as you can imagine. Where Searvogel is blunt and brash, Abraham is understated. While Abraham has a number of sponsors (from Brooks to Garmin to Raleigh), he generally rides alone. Searvogel is paying for his effort himself (he estimates the cost at about a dollar per mile) but has the invaluable assistance of Snyder. Abraham switches among three identical Raleighs (which he traded for a trike when he was injured); Searvogel uses a carbon-fiber race bike with an aero setup and, when his neck or shoulder are hurting, a recumbent. This is controversial to some but within the rules. 
Searvogel's diet is like a gonzo version of the documentary 'Super Size Me': McDonald's sausage biscuits for breakfast, Hardee's burgers for (the first) dinner, donuts in between, washed down with cans of Mountain Dew Kickstart.
While England's winter this year was not as bad as Godwin's was, it was still an English winter; Searvogel, meanwhile, has ridden in the migratory embrace of largely moderate weather. By dint of geography, Abraham faces more hills (as of this writing, his elevation total was 1.2 million feet, per Strava, a third higher than Searvogel's) and a denser road network. As he puts it, "You can ride 100 miles in Arizona without stopping—try doing that in England." 
These differences have sparked fighting words in the comments sections of the Strava logs of both men. "Some people are arguing that Kurt's miles aren't as valid because they're all flat and they're all tailwind," says Carpenter. "But again, our focus was the mileage record—rules apply to everyone equally. Steve's free to take that approach as well." And indeed, Abraham does when he can. "You don't want to make it harder on yourself," he tells me.
As the cyclists battle it out on the roads, a larger question looms, which is how both riders stack up against Godwin. The key differences, notes the cycling author Barter, come down to weather and technology. Godwin rode during a famously nasty winter, the coldest in nearly five decades, with very little forecasting technology. (Friends would try to steer him to areas with less snow.) Route planning is now easier, and unlike Godwin, riders do not have to stop and have their mileage verified via signed postcards. "This makes a big difference," says Barter, "when ten to twenty are required and each takes five minutes." But of Godwin's heavy Raleigh Record Ace, Barter says, "I'd race that bike today if I had one. It was that good."
When I ask Abraham if he thought he would have company on his quest, he laughs. "No, I thought it would be just me!" But he seems rather tickled by what he has kicked off. "It's the first year, and we already have three people having a go. I wouldn't be surprised if more people came on." Carpenter is already envisioning a new attempt on the women's record, held by an English secretary named Billie Dovey who rode 29,603 miles the year before Godwin. The Rudge Whitworth Keep Fit Girl, as she was billed in the press (after her bike sponsor), was fueled by copious amounts of Cadbury's chocolate. She lived to be 100—a century ride. 
---
When I first met Searvogel, he didn't match my image of a record-setting distance cyclist. For one, his past as a wrestler means he is as muscular in upper body as legs. (The nickname Tarzan comes from a penchant in college for swinging from the dorm staircase.) His hair would be gray were it not for the tousled beach-blond, chin-bearded look (kind of a shorter-haired Patrick Swayze in Point Break) that Snyder, a onetime stylist, has given him. The first morning, he is wearing a loose-fitting Day-Glo jersey that reads Biohazard. As Snyder points out, "His diet goes against every rule, his bike goes against every rule. He duct-tapes his shoes. He doesn't care."
About that diet: if you came looking for some secret raw-paleo-superfood concoction to give you an edge in your next Ironman, move along, there's nothing to see here. "He doesn't eat anything that you think he should eat," Snyder tells me. "Pop Tarts, Little Debbies." Apart from a sports drink called Spiz (one of his few sponsors), Searvogel's diet is like a gonzo version of the documentary Super Size Me: McDonald's sausage biscuits for breakfast, Hardee's burgers for (the first) dinner, donuts in between, washed down with cans of Mountain Dew Kickstart. "It's all about calories," protests Searvogel. "Actually, it's about being happy. You eat what makes you happy. You've got nothing else—why be miserable with what you're eating?"
Surely all this exertion, fueled by the cornucopia of the American drive-through lifestyle, can't be good for you. I put the question to Michael Joyner, a physician at the Mayo Clinic who specializes in exercise physiology, particularly "human limits" (the title of his website). Joyner doesn't have a problem with Searvogel's diet: a calorie is a calorie, he believes (at least in the short term), and he's always wanted to do a study with endurance athletes to prove it. What's more, he points out, many people have persisted at these levels of exertion all day, every day, throughout history: it's called work.
But as long as a rider is not constantly pushing the red zone in terms of heart rate, Joyner says the biggest risks are from injury, overuse, and illnesses that can be worsened by intense physical effort. What these cyclists are doing "sounds incredible, and it is incredible," says Joyner. "But if you do the math behind it—the fuel, the caloric consumption—and make a few assumptions about the individual's maximum oxygen consumption, the fact is that humans can work at about 40 percent of their maximum all day. As long as they don't get dehydrated, they're good to go." 
Which is not to say the road has been clear of obstacles. Searvogel has been hit by cars twice, both times at the intersection of a bike path and a road. Earlier in the year, he was felled by an intestinal illness—he got two IVs, and the next day, in a symbolic gesture, rode one mile. A few weeks after we met, he was having trouble breathing; X-rays revealed an elevated hemidiaphragm, and a later exam uncovered "undiagnosed asthma," he says, possibly a side effect of roadside inhalation. So he added Allegra and inhalers to his jersey pockets. He passed 50,000 miles on day 241, likely the same day Godwin had.
Then, on September 23, as Searvogel was riding back in Arkansas, things got more worrisome. He went into atrial fibrillation, his heart racing an alarming 170 beats per minute. He ended up at the hospital, where he was told that he was dehydrated and, as he wrote on Facebook, "my thyroid is wack." That week, as part of a 211-mile day, he cycled over to see a cardiologist, who gave him the go-ahead to keep riding. "Don't give up!" Snyder says the doctor told him. 
So Searvogel kept cranking out 200-mile days, even as a battery of medical tests loomed. "Everyone keeps saying it's downhill from here," Snyder, a rock climber, told me. "If we are downclimbing, that's the most dangerous part."
---
Early that first afternoon in July, Searvogel, perhaps boosted by having someone to ride with, was Energizer-bunny strong. Meanwhile, I had already eclipsed my longest ride ever and still had 100 miles to go. Staring into the endless pastures of America's Dairyland, riding the endless alphabet soup of Wisconsin's county roads (A, V, E), which were arrayed with the geometric rigor of the Jeffersonian grid, I felt like I was beginning to suffer from some form of calenture, an old delirium reported by sailors who perceived the sea as fields of grass—and jumped in. Out of desperation, I uncharacteristically donned earbuds. When Talking Heads' "Road to Nowhere" popped up on a playlist, it seemed like an omen.
In the town of Kewauscum, my water bottles and spirit depleted, I pulled into a gas station for an emergency Coke. Searvogel, as he usually did, rode laps on the nearby blocks. "Time is miles," is a constant refrain.
The clerk chirpily asked if I was "enjoying my ride today." I grimaced. 
"Where are you traveling from?" 
"Jacksonport," I replied. "In Door County." 
A cloud of incomprehension crossed her face. Still, I was holding my own, at least until we hit Kettle Moraine, where the elevation took a cruel turn. Eventually, Snyder arrived on the side of the highway with a bulging bag of Hardee's, which I gladly huffed. I faced a choice: ride 50 more miles unsupported, or climb into the Dodge, capping the day at 224 miles. Knowing I had a similar ride the next day, I hit the sag wagon. Searvogel pedaled toward the sinking sun. 
An hour later, as I hobbled to the hot tub in the Comfort Inn Suites in Johnson Creek, I got a text from Snyder: "I'm going to hunt Kurt down to give him his night gear." An hour or so after that, the three of us were in his hotel room, eating pizza and drinking beer. I wondered aloud if spending so much time on the bike was affecting his bone density. 
"Do you have any trouble walking?" I wanted to know. 
He looked vaguely irritated. "I'll go run right now," he said. "I've got my running shoes." I opted instead for another beer.
---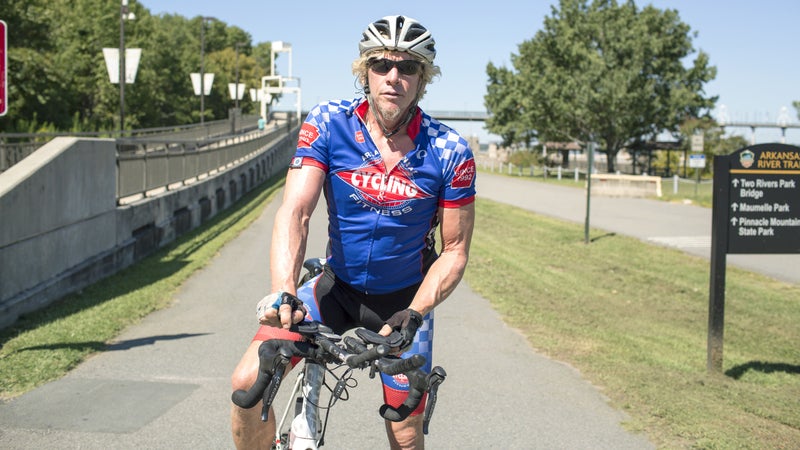 On one of Searvogel's Strava ride logs, someone posted a simple question: "How is it possible to ride almost 350 km each day?"
I was wondering that myself as we pedaled away from the hotel on the second morning. My left knee had a dull ache, and despite fist-size dollops of chamois cream, I was a bit sore down south. We faced another monstrous ride—this time mostly without tailwind. 
When I asked Joyner, he suggested that the bodily aches and pains, while not insubstantial, were, in the end, dwarfed by the mental toll. The challenges of boredom, motivation, and other intangibles start to stack up at the extreme limits. "The physiology is straightforward," he says. "It's these other, multifactorial things that really become definitive. Your margin for error isn't a bunch of additive errors, it's multiplicative errors." 
I had a glimpse of this toward the end of my second day. At around mile 175, I was tired, partially as a result of losing my draft when Searvogel switched to a recumbent in the afternoon. But other things were beginning to break down. My eyes were stinging from sunblock—I almost let my wheel hit Searvogel's—and I suddenly could not stop hacking. "When you started coughing, I knew you were done," Searvogel told me later. Why? "You're not breathing right. You've gotten in too much stuff that you're not used to."
So as long as the engine is kept tuned, the physical part is manageable. What it really comes down to is the thing that cannot be measured in the metrics of sports physiology: having the mental fortitude to sit in the saddle for 13 hours, and to wake up early the next day and do it again. Carpenter, who, in addition to his work with UMCA, chairs the kinesiology department at California State University, East Bay, notes that any number of ultracyclists are physically capable of a record attempt, but he is unsure how many could handle the motivational part, not to mention the sheer logistics. "Clearly, to do this you need to be driven and focused and to some degree self-absorbed," he says. "You need to shut out all distractions." I had gotten a sense of this talking to Abraham, who told me, flatly but poignantly, "I'm on me own. I live on me own. If I wasn't doing this, I'd probably be on me own. I'm quite happy on me own." Searvogel, at one point, joked that he liked that I "didn't talk a lot on the bike." 
That night, back at Mike's in Jacksonport, well into our second order of fried cheese curds and our third beers, I ask Searvogel what he thinks about all day, out there on the roads. He shrugs. "I've got a Garmin. You do mental calculations to keep yourself going—if I do this many laps…" He grows contemplative. There are, he says, "lots of things to think about. Things going on in my life." 
One of those would be his divorce, which I learn about only after a few days with him. He describes it, as people frequently do, as "amicable." His ex-wife, it happens, runs the company that is still paying him while he is riding. That these major life issues come up only after we've talked about tire pressure and lactate-threshold zones speaks to the single-minded nature of the quest: to shut out the world and keep the rubber on the road. Life is complicated, life is what keeps you off the bike; one of Searvogel's few interruptions came earlier in the year when he had to report to a court-mandated, pro forma counseling session with his wife about their three children, two of whom are college aged. 
Suddenly, a man ambles up to the booth. "Hey brother, safe travels, I hope you get your record. You got a Facebook page? Awesome." He shakes Searvogel's hand. "I'm Clancy. They call me Big Irish." 
When Searvogel first considered the record attempt he balked, and he still has moments of doubt. "You're burning a year of your life for this. Why? Because I want to? It's fun? I don't know." There is the simple fact that once you have done the hardest endurance ride in the U.S., the RAAM, what is left? Searvogel is occasionally struck by the pathos of life passing him by, even as he tries to ride his way into history. "I'll see things and think, I should be doing that with my kids. I want to go kayaking."
Toward the end of our ride that day, we passed road markings for the Door County triathlon, which was being held that weekend. "Did you see the signs for that tri?" he said. "I should be doing that damn tri. I wonder if I can still sign up for it?" 
Contributing editor Tom Vanderbilt (@tomvanderbilt) wrote about TripAdvisor in April. 
Update: Searvogel broke the record on January 9.
*This paragraph has been updated to clarify that the Ultra-Marathon Cycling Association does not run the Race Across America.