How Did Evelyn Stevens Become the Fastest Woman on a Bike?
We caught up with the San Francisco-based rider to learn more about her record and the work it took to get there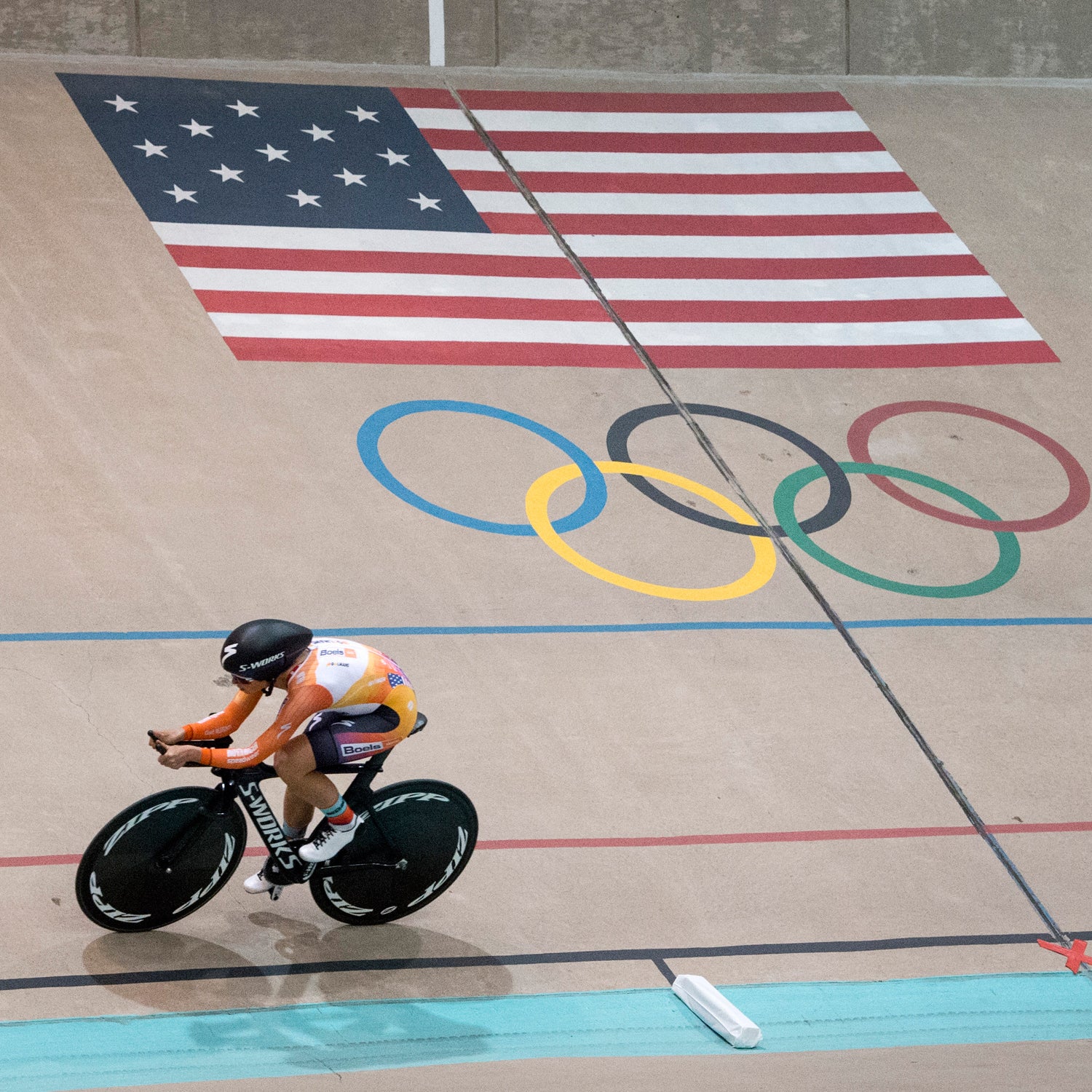 Heading out the door? Read this article on the new Outside+ app available now on iOS devices for members! Download the app.
On February 27, in Colorado Springs, Colorado, Evelyn Stevens became the fastest female cyclist on the planet. Stevens rode a distance of 29.81 miles in one hour, setting a new women's Union Cycliste Internationale (UCI) Record. While Stevens's record is astonishing, it didn't surprise those who know her well. Stevens, who prior to cycling worked as an investment banker on Wall Street, embodies fierce drive and determination. 
We caught up with the San Francisco-based rider, who is currently in Europe racing for the Dutch Boels-Dolmans women's team, to learn more about her record and the work it took to get there.
Favorite Workout: A long (i.e., 4-to-5 hour) ride with lots of climbing.  
Daily Nutrition: I'm a lover of food and eating. I don't follow any specific diet. I eat real, whole foods and avoid processed stuff. I'm a huge fan of farmer's markets, and am spoiled with good ones in California and when I'm on the road in Europe. 
Race Fueling: It's really important to stay on top of your glycogen stores [i.e., the fuel that comes from carbohydrates]. During a stage race, for breakfast, I'll generally have lots of toast, oatmeal, fruit, and almond butter. During the race we are getting calories from gels and sport drinks. I love a soda at the finish line, which gets sugar into the system immediately. Dinner is generally carbohydrate-heavy; think: rice, or, especially in Italy, pasta. 
Typical Training Week: During heavy training I generally put in about 4 to 6 hours a day. I'll start the day with some core and mobilization work before getting on the bike. Then, it's all about saddle time. Lots of long rides with 15 to 20 minute intervals. 
Cross Training: I love Yoga. I think it is a really good supplement to all the cycling-specific work. 
Recovery: I use NormaTec compression boots pretty regularly. I also float in something called a sensory deprivation chamber. It's basically like this small little pod filled with water.
Sleep for the Win: By far the best "recovery" is sleep. I sleep a ton: on average, 9 to 10 hours a night. My best races happen after big blocks of sleep. I sleep a whole lot more now than when I was an investment banker. 
Wall Street and Cycling: Both are all-consuming lifestyles. In investment banking, you are constantly on-edge, glued to your Blackberry. With cycling, everything you do has an impact on your performance. So yeah, in that regard, both are 24-7 pursuits. That said, I think cycling is harder. There is not only a physical risk (i.e., you could crash) but also a psychological one. In investment banking you are on a clear and predetermined path. In cycling, that's not the case. 
The Art of Suffering: I spend a lot of time working on mental fitness. I work with a sport psychologist who gives me helpful pointers on how to be more mindful. For example, during really hard training intervals, instead of thinking "I want these to be over," I try to feel and sit with the pain.  Heck, I even try to embrace it. So much of bike racing is psychological.
During the Hour Record: "Push, Pull. Pedal, Push." Those were my two mantras. Very basic stuff. Outside of my coach yelling splits, I had no data on my bike. It was like a moving meditation, an hour of total presence and awareness. 
After the Record: I took four days off the bike. I enjoyed the accomplishment for a day or two, but then it was back to thinking about what's next, what can I do to get better?  
Art or Science? I'm much more of an artist. Don't get me wrong, during training it is nice to have power and heart-rate data, but the numbers can also hold you back. In a race, none of the numbers matter. 
Favorite Gear: My saddle! I ride the Power Saddle made by Specialized. It's the most important and can be the hardest thing to find: a saddle that is comfortable for you. 
Drive: I am very internally motivated. I feel much better after I've accomplished something. I love pushing myself to get better and I hate finishing a race with anything left in the tank. I guess above all, I love the feeling of completely emptying out. 
What's Next: Right now, I am training and racing in Europe. I am hoping to race the time trial and the road race during the Summer Olympic Games in Rio. 
Lead Photo: Associated Press