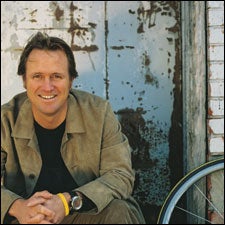 Heading out the door? Read this article on the new Outside+ app available now on iOS devices for members! Download the app.
AS LANCE'S FIVE-HOUR training ride stretches into six and a half, I start getting itchy. I've been following in a car, handing up food, drinks, and clothes; it's for a good cause, but I want to get some exercise, too. It's nearing sunset as we finish, and I have 45 minutes to do something good for myself. I grab my bike, open the throttle, and take off for the Hollywood Hills.
Fitness Q&A
Chris Carmichael answers your questions in our exclusive online Fitness Q&A
Chris Carmichael

Chris Carmichael

A quickie may not be ideal, but it gets the job done. The key is to increase intensity and spend time at 85 to 90 percent of your max sustainable heart rate. (My book Chris Carmichael's Food for Fitness outlines a simple test for determining this.) If you're a moderately trained cyclist (one to three hours per ride), find a hill and power up it at a hard but sustainable pace. Repeat until you accumulate 30 minutes at that intensity. No hills? Flat ground is better than nothing, so get out there.

If you're a runner facing a shorter-than-planned workout, do the first half at your normal pace, then speed up by ten seconds per mile for the remainder.

Quickies won't deliver all the benefits of longer workouts, but they burn through fat and calories—and prevent the deconditioning that comes from forgoing exercise completely.