Vanishing Point
How badly do professional cyclists want to compete in the fast and fabled pelotons of Europe? So badly that even riders without a prayer of winning big still roll with drugs, lies, and mortal danger. It's a life that can ruin more than a career. Just ask Joe Papp, an ex-pro who lives the doper's nightmare.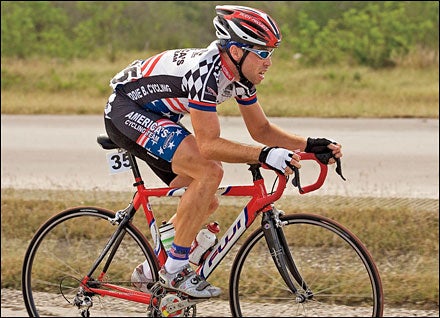 Heading out the door? Read this article on the new Outside+ app available now on iOS devices for members! Download the app.
The picture couldn't have been creepier—there were guns visible in the frame. Joe Papp, a former pro cyclist whom I'd interviewed in person just ten days earlier, had e-mailed me a photo he took in his bedroom, using his BlackBerry. The image showed his desk, an alarm clock, books, a bottle of nail conditioner, and the firearms: a Kalashnikov-style assault rifle and a shiny black 9mm handgun.
Joe Papp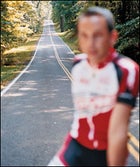 Joe Papp on a road near his hometown, Bethel Park, Pennsylvania
Joe Papp

Since telling all at the Floyd Landis hearing, Papp's life has become a "mash of worlds."
Joe Papp

Papp outside a friend's home in Pennsylvania
Joe Papp

Papp at the 2005 Tour of Cuba
Last September, when I'd flown home from Pennsylvania after spending time with Papp in the Pittsburgh suburbs, it was obvious that the 33-year-old was troubled. He had shown me videos he'd taken in secret, of ex-teammates using performance-enhancing drugs—what he called his "insurance policy." He'd told me about his Cuban wife, herself a talented cyclist, who had just given birth to their son but couldn't escape Cuba and come to the U.S. Banished from cycling, stuck living with his mother, and low on cash, Papp was tortured over the prospect of having to work a mind-numbing job to stay afloat.
"Life is hard," he'd said. "Am I in purgatory right now? Is this where I should've ended up?"
Less than a year before, in 2006, Papp had been living the bike racer's dream: He was part of a solid, second-tier European team that competed in places like Italy, Turkey, and Brazil. To maintain that life, he had taken a witches' brew of performance-enhancing drugs, and the drugs overshadowed everything. They made him faster, but they also nearly killed him. "It was a Faustian bargain," he'd said, "but you saw the pictures of my life in Tuscany."
When Papp got busted, he tried to redeem himself with a bold public confession at a major doping trial—the May 2007 hearing in Malibu, California, concerning Floyd Landis's alleged testosterone use during the 2006 Tour de France. But that turned out to be another catastrophe; it only raised Papp's profile as a cheater.
Then came Papp's e-mail to me, which arrived on a late-September night. He had told me once that he'd "visualized suicide," and events seemed to be pushing him that way. Two days before I heard from him, agents with the Drug Enforcement Administration had served a search warrant at the suburban home of Papp's mother, Marie. Papp claimed he had no idea what the agents wanted. He'd already told law-enforcement officers everything he knew about doping's underhanded world. Apparently the DEA thought he knew more, and it wasn't reluctant to push him.
Which prompted Papp to send his alarming message. "I'm not going to fucking jail," he'd told me over the phone. "Not for cycling."
ONLY TWO YEARS AGO, Joe Papp was a happy journeyman pro, spinning past Italy's cowbell-ringing tifosi. His team, Partizan-Whistle, was based in the Tuscan town of Montecatini Terme, and there was a plan to get his wife, former Cuban-national-team rider Yuliet Rodríguez Jiménez, out of Cuba and by Papp's side.
But then Papp got busted, and he was forced to reckon with various authorities who now held sway over his life. He hoped to clear his conscience and salvage his image by talking. Since then, he has gone far beyond the standard, sparingly worded drug-use confessions voiced by some suspected riders, dishing up deep insider knowledge of performance-enhancing drugs' availability, effects, and dangers.
Though Papp never turned a pedal in the Tour de France, his example is important, because it shows that drugs aren't exclusive to a few alpha athletes hoping to win at racing's highest levels. Perhaps more significant, Papp's story illustrates why cheating cyclists, even in the face of overwhelming evidence, don't often come clean. Confessing almost always brings a rider more problems than it solves, with the truth-tellers losing jobs, victories, reputations, identities, and even friends.
As a result, talkative riders are scarce. Four years after French mountain-bike racer Jerome Chiotti won the World Cross-Country Championships in 1996, he voluntarily admitted to having doped and gave back his title. His reward was condemnation and a suspension. High-profile Scotsman David Millar, while under police pressure in 2004, confessed to doping, lost his world time-trial title, and drank himself into oblivion before coming back to the sport in 2006. Patrik Sinkewitz, a German pro who rode last year for the T-Mobile squad (now called Team High Road), got busted in 2007 and was immediately dumped by his team and peers. "It was as if I didn't even exist anymore," he told the German magazine Der Spiegel.
Contrast such experiences with those of pro cyclists who got busted but have denied everything. American cycling's two biggest accused stars, Tyler Hamilton and Floyd Landis, both mounted extraordinary legal efforts to clear their names despite strong evidence that they cheated. Undoubtedly, they've both suffered major setbacks: Hamilton now rides for the U.S.-based Rock Racing team, a controversial outfit that may never be invited to the Tour. (See "Men in Black," Dispatches, May.) Landis was stripped of his 2006 Tour title by race organizers after arbitrators, siding with the United States Anti-Doping Agency (USADA), upheld the charge that he'd tested positive for using supplemental testosterone during the race. But he will probably ride again as well, even if he loses his current appeal with the Lausanne, Switzerland based Court of Arbitration for Sport. Whether such riders are innocent or guilty, they can continue to proclaim their innocence while enjoying the silent approval of fellow pros, many of whom admire the fact that they never talked.
"That's one of the great ironies of cycling today," says Greg LeMond, a three-time winner of the Tour de France and no friend of Landis, whom he's accused of using performance-enhancing drugs. "Aren't the ones who confess the people with the moral conscience?"
Then there's Papp, who in the wake of his bust told a level of truth under oath that no American cyclist has matched. Granted, he was cornered. But regardless of his reasons for fessing up, the evidence that his statements have ruined his life, both personally and professionally, is overwhelming. His fellow pros don't talk to him, and the chances that he'll ever race professionally again are negligible. As for the little guys, the recreational racers and fans, they may be his most outspoken critics. Months after confessing, Papp still gets e-mails telling him he's despised either for betraying a rider like Landis or, more often, for simply admitting that he juiced up.
"If there's a way to keep reminding you of your wicked ways I'll be doing it whether it's 19 months or 19 years down the road," one person wrote him earlier this year. "Your lack of character will follow you the rest of your life. However shortened that may be due to the shit you put in your body."
WHEN I VISITED PAPP last summer, he wasn't too psyched to show me his current living situation. "Humiliating," he said, giving his mom's prosaic brick house a dull glance before leading me to the garage. "You do what you have to do."The garage was full of closed boxes. Papp, compact and slim with gelled hair, manicured nails, and pressed clothes, still looked sharp and fit, like a preening roadie.
"Here are my trophies," he said, pushing aside a cardboard flap and showing me a third-place cup from some forgotten Latin American race. "This stuff is significant as far as experiences," he added, "but as far as athletic accomplishments? They aren't meaningful anymore." After Papp confessed, he was stripped of all his titles dating back to 2001.
We left, driving to dinner at an expensive Pittsburgh restaurant in Papp's recently purchased jet-black 2004 Audi sedan. Despite the humble job he was holding down as a software salesman, he still liked to roll large, especially when someone else (like me) picked up the tab. "I should've been heir to the Rockefeller fortune," he said on our second night out. "I would've made a great Gatsby."
I could almost identify with Papp's sense of loss. What cycling freak hasn't envisioned himself living the high life of a top European racer? Unlike most of us, though, Papp had the talent to put himself dangerously close to his dream.Growing up in the town of Bethel Park, Papp displayed loads of potential: He won four junior state road-racing titles and built his reputation as a sprinter, specializing in shorter or flatter races. He did it without much family support. His mother was a widow and hoped Joe and his younger brother, David, would stick to simple pursuits like the Boy Scouts.
"Joey was so precocious, and I wondered how he got into cycling at all," she says. "It was so outside of what we did."
Like another Pennsylvania prodigy Floyd Landis Papp started climbing through the ranks. Landis, originally a mountain-bike racer, ultimately caught the attention of the elite European-based road squads. Papp toiled for also-ran teams sponsored by a local hospital chain and Franco Harris, the former Pittsburgh Steelers running back. In 1995 he was invited to a one-race tryout alongside Tyler Hamilton on a rebuilt team that would become the Lance Armstrong led U.S. Postal Service squad. Papp didn't make the cut.
Yet he did well enough a third-place finish at one Pennsylvania road race, a win at the state criterium (short-course) championships to maintain a belief that he could accomplish more. His handlers didn't see that happening.
"Joe wanted to be a Tour de France type rider, but no matter what he did, he wasn't going to be that," says Mike Fraysse, a former Olympic cycling coach who worked on and off with Papp for a decade. "If he would've stuck to what he was doing, he could've been one of the top racers in the U.S."
Papp had delayed college to ride, but he went back, graduating summa cum laude from the University of Pittsburgh in 2000. Soon after, he returned to racing full-time and subsequently got smoked at events in Ireland and Massachusetts. The whippings were brutal. "I thought, This is what it is now?" Papp told me. "I love my sport so much, and yet I'm reduced to crying? Fuck that."Later, a teammate told Papp that bike racing was changing dramatically. Even minor-league riders in the U.S. were following the European lead by taking performance-enhancing drugs. Did he want the number of a rather helpful doctor?
Papp didn't agonize very long. He drove far from Pittsburgh to see the doctor, a woman who concluded, with a wink, that his relatively low red-blood-cell count could use a boost. She had just the thing: recombinant erythropoietin (EPO), a drug designed to fight anemia by bumping up one's red count. Put EPO in a healthy pro cyclist's veins and it works like an afterburner, increasing the amount of oxygen that can be delivered to working muscles.
Papp wanted to mix it up with the world's most talented riders, so he got the drugs, locked himself in his bedroom, and jabbed the needle. About a month later, the benefits kicked in. Racing in a local criterium, Papp dusted a strong field. "I remember thinking, Ha-ha," Papp told me.
Did he remember anything else from his doping debut? Like a sense of guilt or sadness? "That was all conveniently put in a box," he said. "Then the box was thrown up on a shelf."
EPO WAS JUST THE START. Over the next several years, Papp hired himself out to different teams and traveled the world. The races were in countries like Uruguay and Chile, where the drug enforcement was lax. Papp swapped doping recipes with other riders, worked with doctors in both California and Latin America, and consulted the Physicians' Desk Reference for guidance. He claims to have taken more than 100 different pharmaceutical substances during his doping days. Among the more exotic meds were a derivative of calf's blood and a pill-form heart-disease medication that dilates the veins for a supposed boost of energy.
Hard as it might be to fathom, cycling insiders aren't shocked by Papp's roster of abuse. "The drive to succeed makes many of these guys unbalanced," says Dawn Richardson, a doctor for the Team Type 1 cycling squad who's worked separately with confessed dopers. "Their need for approval is the same fatal defect that rock stars have."
In early 2006, Papp called a friend on the Tuscany-based Whistle squad, offering his services for the upcoming Tour of Cuba stage race. Whistle had an opening and gave Papp a chance.
He rode freakishly well. Sprinters never drop the best climbers on climbs, but with his drug program "firing on all cylinders," Papp did just that. Whistle offered him a contract for the remainder of the season.
Despite the fact that Papp was an experienced doper, he was dumbfounded by his initiation at Whistle. Soon after his arrival, he claims, Whistle personnel started him on a serious drug regimen, passing out a potent type of EPO. "I suspected doping would be part of the program, but I didn't know how profound it would be," says Papp.
(Representatives of the Whistle team, which is now called Cinelli OPD, did not respond to repeated requests from Outside to discuss Papp's allegations, which were partially aired during the Landis hearing. According to records from the Union Cycliste Internationale, pro cycling's governing body, no member of Whistle other than Papp tested positive for a banned substance in 2006.)
Papp says he got the standard stuff (EPO and human growth hormone) as well as the extreme: On one occasion, he claims he was given two syringes of "pot Belge," a mix that's said to include amphetamines and heroin. Papp injected some of it before a race and then discreetly injected more into his shoulder during the race. He felt a rush of energy and then needed several days to recover.
Papp says he didn't dare tell his managers that he sometimes felt like a human pincushion refusing drugs was considered untrustworthy. Instead he dwelled on the positives. The Tuscan landscapes were beautiful, the group rides star-studded.
But on a sunny day in May, Papp's European adventure started to sour. He had used his killer sprint to clinch his third stage win of the multi-stage 2006 Presidency Cycling Tour of Turkey. Afterwards, he was told to report to doping control.
The request itself wasn't cause for alarm. Papp didn't think he'd taken anything a test could find, and he was well schooled in the ways of foiling doping cops. Before certain races, he says, the Whistle riders often took "micro-doses" of EPO in order to both maintain their blood's high oxygen-carrying capacity and slide through drug controls undetected. In addition, Papp says some doping officials took bribes, looked the other way while you poured someone else's pee from an energy-gel packet into the cup, or said nothing as you contaminated the sample with slyly placed soap on your fingertips.
On that May day, however, Papp says his managers wanted him to use a different trick. Before Papp arrived at doping control, a Whistle team staffer pulled him aside. He revealed a bladder that was connected to a rubbery tube and contained an unknown concoction. Papp was expected to catheterize himself and fill up his own bladder with synthetic urine.
He shook his head. "It was a feeling of revulsion," he later said. "I couldn't do it."
Papp says his refusal broke an unwritten contract between doper and team. He claims that, soon after his test came back positive for the banned steroid androstenedione, his teammates and managers distanced themselves from him, worried that the test result could cast a shadow over the entire squad.
While he awaited definitive proof from his B sample, Papp's last race for Whistle came in July. Competing in Tuscany's 100-mile Granfondo Michele Bartoli, he crashed with less than a half-mile to go. Papp initially thought he'd only endured a few scrapes. But by the time he lay down in his hotel room, his left buttock had swelled grotesquely. He freaked out and went to the hospital.Surgeons operated on Papp several days later, removing a mass of EPO-damaged sludge that amounted to roughly a fourth of his blood volume. Back in the U.S., doctors would tell him he was lucky to be alive.
When Whistle staffers finally picked Papp up after his weeklong layup, they put him on a plane for the States. Five months after signing, the deal with Whistle was off.
"When they drove me to the airport, they didn't treat me like I was radioactive," says Papp, "but they weren't sorry to see me go."
PAPP DIDN'T EXACTLY COME HOME a changed man. Immediately after returning in August 2006, he thought about fighting his positive result from the Tour of Turkey. He hired a lawyer and, incredibly, had visions of racing in Europe again. "In my twisted worldview, if I could've beat the charges, I would've tried to get back onto Whistle," he says.
But Papp soon realized that the amount he could spend on his defense he would be prosecuted by USADA could never approach the estimated $2 million defense being mounted at that time by Landis.
In early 2007, a wavering Papp met with Travis Tygart, who heads up the Colorado Springs based USADA. Tygart made soothing noises, telling Papp that coming clean promised him relief and redemption.
"Travis was lamenting the situation that I'd gotten myself into," says Papp. "He played good cop."
Ultimately, USADA asked Papp if he would testify at the Landis hearing. USADA hoped that Papp's admission, which would include testimony on the benefits he enjoyed while competing on performance-enhancing drugs, would undermine the Landis camp's defense, which included the argument that testosterone would be of little use in a multi-stage bike race.
Papp bit. He didn't care whether Landis was innocent or guilty. To Papp, Landis was peripheral: He thought the trial would provide an international platform for him to explain his own doping story. He saw something heroic in exposing the world to the horrors of European cycling's institutionalized practices, and he proved to be a bold and effective witness, describing with clarity how testosterone boosts recovery.
"I was excited because I no longer had to protect a system that in the end treated me no better than Michael Vick treated his dogs," Papp later told me.
Prior to the hearing, after conversations with USADA, Papp agreed to speak with lawyers at the U.S. Attorney's office in San Diego. He proceeded to out two crooked doctors, from California and Pennsylvania, who had previously prescribed him doping regimens.
Then, on May 18, Papp took the stand in a courtroom setting at Pepperdine University, in Malibu. USADA attorney Matthew Barnett made Papp recite all the performance-enhancing benefits that he'd experienced while using testosterone. He also asked Papp if he could've stayed on the Whistle team while refusing to take drugs. "No, absolutely not," said Papp. "It was very clear."
But defense attorney Maurice Suh, who got last licks, worked to discredit him. He portrayed Papp as a second-rate rider who would happily raid any medicine cabinet and couldn't possibly assess the performance benefits of a single drug like testosterone.Suh also tried to depict Papp as a drug trafficker. Papp explained that he'd gotten doctors around the world to prescribe his performance-enhancing drugs, and that it was legal to travel with prescription drugs.
"And then you brought it back to the United States?" asked Suh.
"That's correct," said Papp.
"And then did you sell them to other people?" asked Suh.
"Objection!" shouted Barnett.
Suh moved on, but he had landed a few punches. While it took four months for Landis to learn that he'd lost his case, largely due to scientific evidence, Papp's defeat was immediate.
The hate mail from cycling fans cascaded into his inbox. Feeling betrayed by a fellow pro, Landis asked aloud, "Who the fuck is that guy?" Biking bible VeloNews snorted that Papp had "earned his 15 minutes of fame," and the estimate was just about right. After Papp notched a couple of peripheral quotes in national newspapers and made a few comments on National Public Radio, the phone stopped ringing. Nobody called him a hero. Nobody took legal action against Whistle. Even Papp's mom, who was in the dark about her son's drug taking until the trial, looked past his unflinching admission and straight at his doping days.
"I was very sorry that he decided to go that route," says Marie, who acknowledges that she and her son continue to clash. "I must say, Joe makes his own choices."
CAN THE TRUTH STILL WORK in Papp's favor? Can his story motivate cycling's other dopers to step forward, knowing that they're doing the right thing for the sport and for themselves? Based on my last morning with Papp, and events that occurred in the wake of my visit, the answer is an obvious no.
Before I left Pennsylvania, Papp and I sat down at a desk in his mother's house. Papp turned on his laptop and played two short homemade videos.
"Look closely," he said. In one video there were men in a small room, speaking Italian and holding boxes of syringes, along with the glass ampoules that are used to store performance-enhancing drugs. In the second, a cyclist relaxed on his bed you could see his muscular, shaved legs. He was using a syringe to inject something into his arm.
"You can say something isn't happening," Papp said, "but when it's in front of you in video and audio, how can you deny it?"Papp explained that he had secretly filmed his doping teammates back in May 2006 and, in the event he got fired, hoped to sell the incriminating footage to a media outlet. So far, no one had offered a deal. "I want to use the videos to help fund the escapes of Yuliet and my son from Cuba," he said. "There's no betrayal of trust in an inherently corrupt system. No honor among thieves."As it turns out, Papp wasn't the only party with unfinished business. Less than two weeks after our interview, the U.S. Attorney's office in Pittsburgh confirmed that Marie Papp had been served with a sealed search warrant at her home. Two days after that action, Papp sent me the e-mail with its haunting picture of guns. The image was accompanied by a strange caption. "My life would be more easily understood if I trended towards one side or the other," it said. "As it is I am in a mash of worlds."
After the search, Papp wouldn't discuss the events much. I did get an e-mail from him at one point, saying, "I'm still alive."
But people who have gotten close to government snitches and doping cyclists say the storyline is obvious. Federal agents, having heard Papp's earlier confessions, are likely to continue pressuring him for more information. If, as Landis's attorney suggested, Papp had a more complicated level of involvement in his sport's dark side, that's up to law enforcement officials to sort out.
So far, however, Papp hasn't been charged with anything. He takes occasional spins on an old racing bike, searches for another mundane nine-to-five, and, thanks to his decision to come clean about doping, looks over his shoulder. Because who knows when Joe Papp's cheating days will rise up to haunt him again?