There Was an Unusual Drug Bust at the Vuelta Espana
Overhead cameras accidentally caught a marijuana grow operation on a rooftop in Igualada, Spain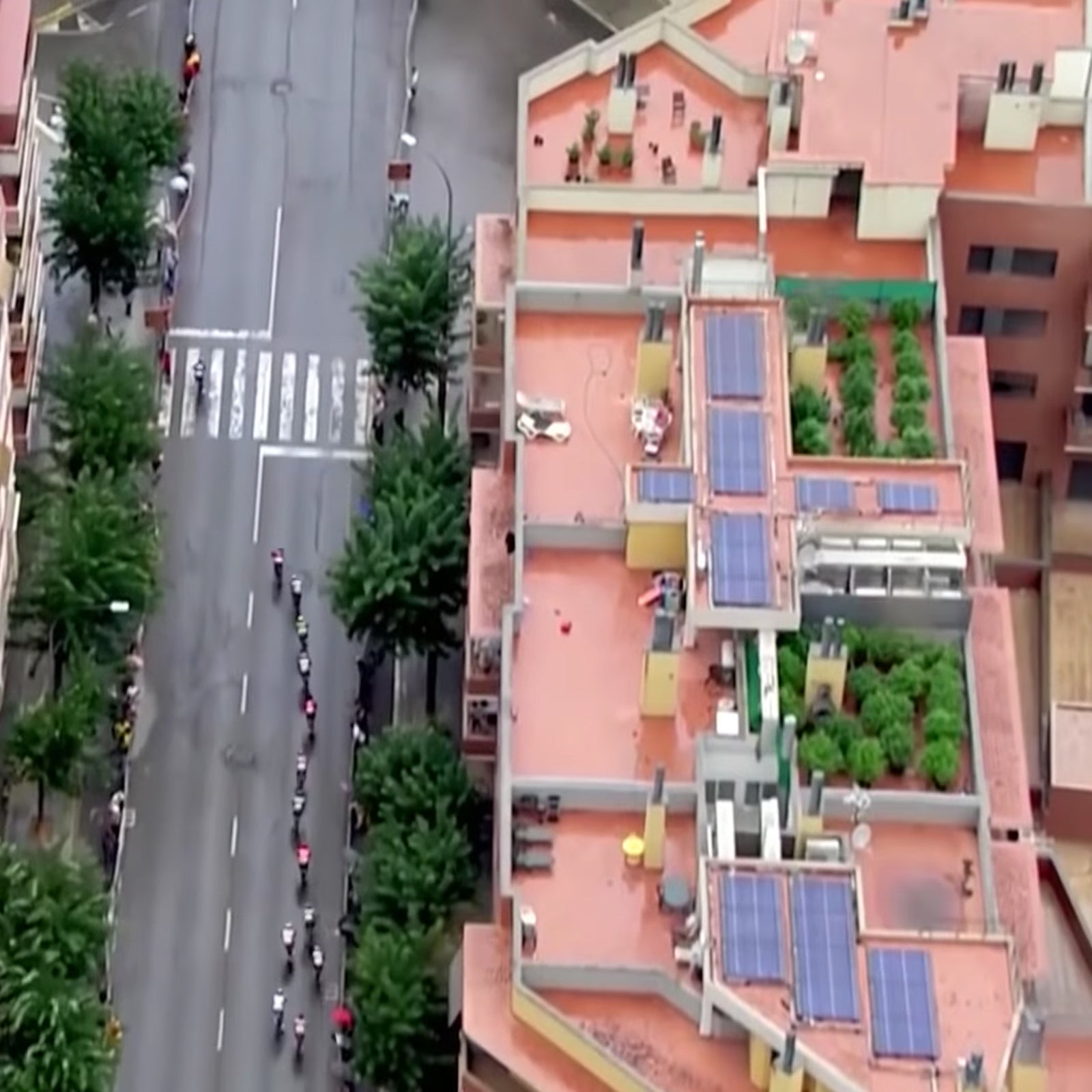 Courtesy La Vuelta(Photo)
Heading out the door? Read this article on the new Outside+ app available now on iOS devices for members! Download the app.
Fairly or not, men's pro road cycling has something of a, shall we say, reputation when it comes to illicit substances. So it wasn't a huge surprise when news popped up Wednesday that a drug bust had gone down at the Vuelta España. But this wasn't a typical episode of pharmacological performance enhancement. In fact, the racers weren't even involved.
As the breakaway sped through the streets of Igualada, the finish town, Stage 8 TV's helicopter-mounted cameras accidentally captured footage of a certain lush, verdant crop growing on a rooftop. The clip caught the attention of the Guardia Civil. "We began an investigation, which is still underway, and we have seized 40 [marijuana] plants," a spokeswoman for the police force told The Guardian.
It's possible the grow is legal. Spain decriminalized marijuana for personal use in 2015, in connection with a law that allowed private cannabis clubs. Even by criminal standards, 40 plants is not a large operation (a raid in Extremadura, Spain, last month yielded 22,000 plants). So far, said the Guardia Civil spokeswoman, no charges have been filed.
But that could change. While personal possession is legal, sales are not, and the arrests hint that the modest grow may not be a simple homeowner's personal stash. Nine Albanian nationals were arrested on suspicion of drug trafficking (that's a lot of growers for 40 plants). More ominously, one Spaniard was arrested on suspicion of human trafficking and violation of employment laws.
So there's a dark undertone to what most media are treating as a light story, even if it doesn't touch on the race. While the coverage might not be what organizers want, they're certainly relieved to be only peripherally involved. Though, the generally lighthearted media response illustrates the way public perception of marijuana is changing—something a sport that struggles financially might want to pay attention to. If pro cycling could allow itself to grow a little less puritanical about sponsors, perhaps they might even find some new (legal) revenue partners.
Lead Photo: Courtesy La Vuelta
Trending on Outside Online