Why Haven't You Heard of Marshall "Major" Taylor?
Though he died in obscurity, the turn-of-the-century cyclist had a pioneering career on par with Jesse Owens and Jackie Robinson. A new documentary and a major ad campaign featuring rap superstar Nas aim to finally make Major a household name.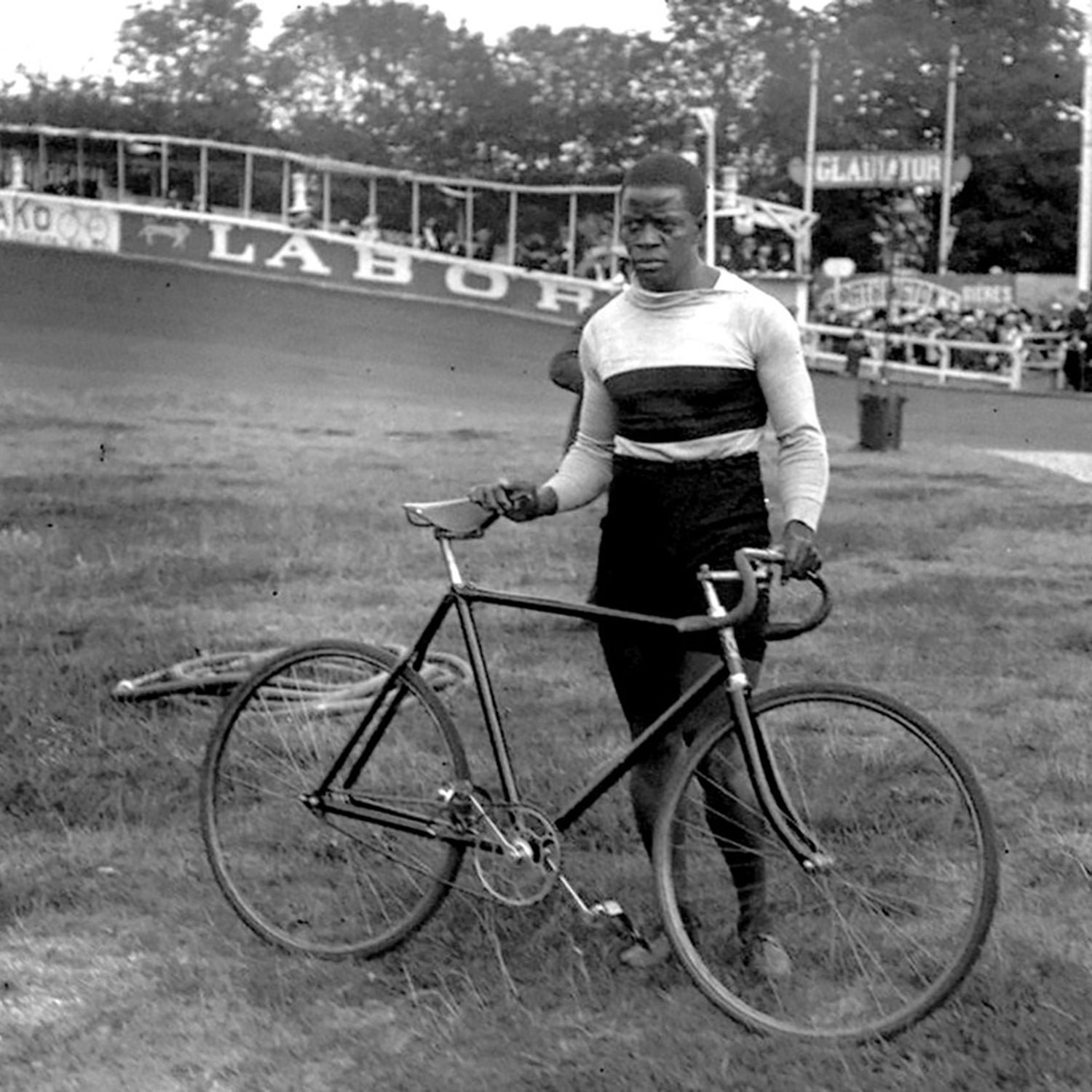 Agence Rol/Wikimedia Commons(Photo)
Heading out the door? Read this article on the new Outside+ app available now on iOS devices for members! Download the app.
In 1896, Marshall "Major" Taylor finished the Six Day Bicycle Race in Madison Square Garden, having completed a record 1,732 miles on the 0.1-mile track. Survival was no small feat. Half the field dropped out because of crashes, exhaustion, or "queer in the head" hallucinations. The New York Times correspondent described Taylor as the "wonder" of the event, in part because of his age and inexperience. He was only 18, and it was his first professional race. He was also the lone African American in the otherwise all-white field.
Bike racing was almost incomprehensibly huge at the time of Taylor's pro debut. Big stadium tracks and a national race circuit brought in rowdy crowds looking to see how long athletes could last or, as Taylor was soon to show, how fast they might go. The best riders were featured on cigarette packs and buttons and lionized in bike ad posters.
Taylor's Garden debut launched an unrivaled career. He became sprint world champion in 1899 and a true international superstar when he traveled to European capitals and later to Australia, winning everything and everywhere. He won in front of tens of thousands at the Parc des Princes in Paris and the Sydney Cricket Ground, two of the world's most iconic sporting venues. Taylor did it all in the face of bigotry and hostility in a then big-time sport where he feared for his life. His attempt to train and race in the American South drew death threats and a rider boycott. Promoters in Louisville, Kentucky, scrambling for a substitute to satisfy the paid gate, had him race a horse.
A sliver of Taylor's pioneering story is now being relayed to a contemporary audience through a high-profile, big-budget Hennessy ad campaign voiced by the rapper and hip-hop artist Nas. The theme: "What is it that you're fighting for?" One of the ads, which portrays Taylor blasting past white competitors on a period-era track, is getting favorable early reviews in the hard-to-please competitive cycling community. "So good," tweeted former professional racer Christian Vande Velde, tagging the ad. A shortform documentary, The Six Day Race: The Story of Marshall "Major" Taylor, also sponsored by Hennessy, is set to debut on ESPN on Sunday, April 22.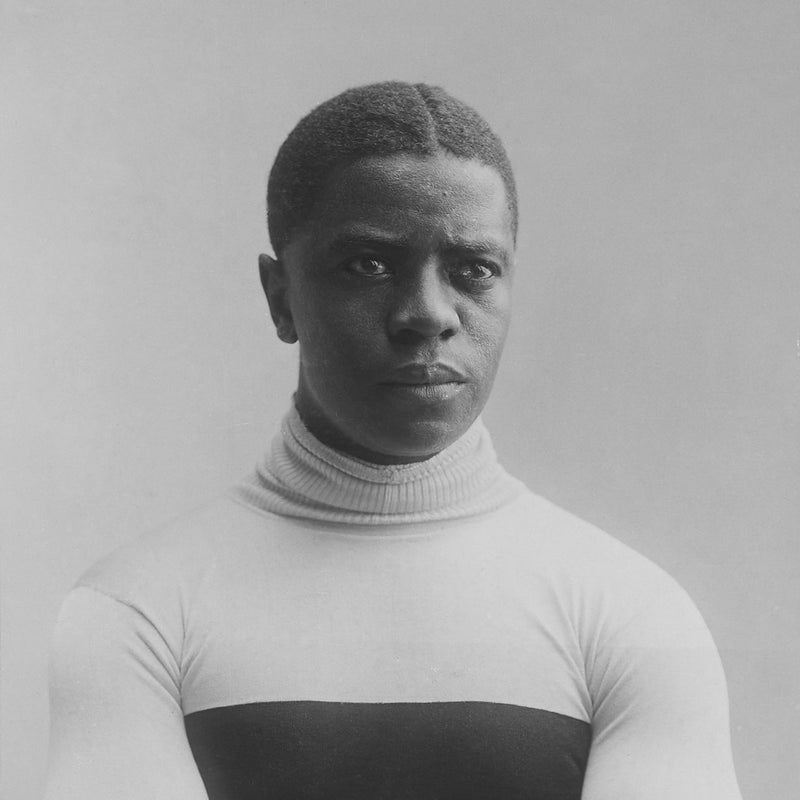 The film, directed by Colin Barnicle of Brooklyn, New York, is framed around Taylor's six-day race, using a mix of archival images and film to animate the long-ago story. A voiceover inspired by Taylor's autobiographical writing adds narrative depth. Several recreated scenes were filmed last month at the new Dale Hughes–designed Lexus Velodrome in Detroit, Michigan. Woven into the telling are the stories of contemporary African American athletes Taylor has influenced, including aspiring pro road bicycle racer Ayesha McGowan and pro BMX rider Nigel Sylvester. "You're talking about 30 years after the abolishment of slavery being in some of these races, where there's no one who looks like him, no one that was from his environment, no one that understood what it was like to be him," Sylvester says in one snippet from the film. "I want to smash through glass ceilings similar to Mr. Marshall Taylor."
There is some irony in Taylor's story being adopted by a cognac maker—he was deeply religious and abstained from alcohol. And yet the company has done its homework and has in place a 2018 campaign that doesn't really have any commercial equal when it comes to popularizing Taylor. Hennessy commissioned a modern bronze sculpture (Kadir Nelson's The Major) and is co-organizing tribute rides around Taylor's November birthday with the National Brotherhood of Cyclists. Apparel designer Kerby Jean-Raymond of Pyer Moss is rolling out a cycling-inspired MMT clothing line in June. "We feel it's important to shine a light on this story and hope it inspires people around the world to push the limits of their own potential," said Giles Woodyer, senior vice president of Hennessy U.S.
Melvyn Akins, an amateur track cyclist from London, doubled as Taylor in the ad campaign, which was filmed over ten days at a velodrome in Lviv, Ukraine, and in a forest outside Kiev. The latter served as a trippy portion of the ad where Taylor gets lost in his imagination mid-race and pounds through dark, gloomy, malevolent surroundings. The metaphor is pretty plain. "I have few sporting idols," Akins said. "But I can say I've now had the honor of getting to portray my number one."
Akins said he was shocked when he got to Ukraine and counted 100 people on the production team. "It suddenly hit me how big a deal this was, and my first thought was, 'It just got real.'"
---
To those who've watched and wondered with exasperation as the Major Taylor story was unjustly ignored—or at least never quite turned the corner—the sudden, rarefied blast of hip exposure feels more than a little unreal. I mean, Nas?
Probably no one can speak to that more than Karen Brown-Donovan, Taylor's great granddaughter. "I'm really jazzed," she told me. Brown-Donovan is featured in the mini doc, and her struggle to get the story its due is itself a marathon drama stretching across decades. She heard firsthand stories about Taylor from her late grandmother Sydney, Taylor's only child, named in honor of the Aussie city where Taylor raced. Brown-Donovan later wondered why he was never included alongside names like Jack Johnson, Jesse Owens, and Jackie Robinson. "It was frustrating his story didn't get the attention [my grandmother] and I thought it deserved," she said.
Bike racing was almost incomprehensibly huge at the time of Taylor's pro debut. Big stadium tracks and a national race circuit brought in rowdy crowds looking to see how long athletes could last or, as Taylor was soon to show, how fast they might go.
Of course, some know the story. There are several books; an Otis Taylor blues song, "He Never Raced on Sunday"; a limited-edition Nike Major Taylor shoe, circa 2007, with a Voltage Yellow swoosh; an SAT reading comprehension passage and question; a handsome monument in Worcester, Massachusetts; and a hardworking advocacy group, the Major Taylor Association. Despite all that, nothing has quite pushed the story into the common collective conscious. (Full disclosure: I wrote a Taylor book, Major, and self-advertised with a T-shirt that teased "Who Is Major Taylor?" Few bothered to stop me for an inquiry. The book barely eked into paperback.)
The Taylor story arc has long seemed like easy movie material. He rose from nothing to stardom, at one time becoming one of the top moneymakers in all of sports. He died penniless in Chicago in 1932 as he attempted to peddle his autobiography, The Fastest Bicycle Rider in the World. In it, he famously listed his "Dozen Don'ts," including "don't be a pie biter" and "don't be a big bluffer" and "don't forget to play the game fair." He might have been forgotten entirely, but 15 years after Taylor's death, a group of 19th-century cyclists and Schwinn bicycle company chief Frank Schwinn paid to get him a proper funeral service and burial site, including a bronze memorial plaque dedicated to the "world's champion bicycle racer who came up the hard way without hatred in his heart."
Film-wise, the only treatment to reach the screen is an Australian-made two-episode TV miniseries, Tracks of Glory, which came out in 1992 and featured Taylor in an imaginative opening sequence keeping pace with a passenger train. He was good, but not that good.
In 1989, Taylor was posthumously inducted into the U.S. Bicycling Hall of Fame. In 1996, he received a USA Cycling lifetime achievement award, an honor Brown-Donovan helped accept on behalf of the family. At the time, she thought widespread recognition and a film might be imminent. There had been rumblings. She was wrong.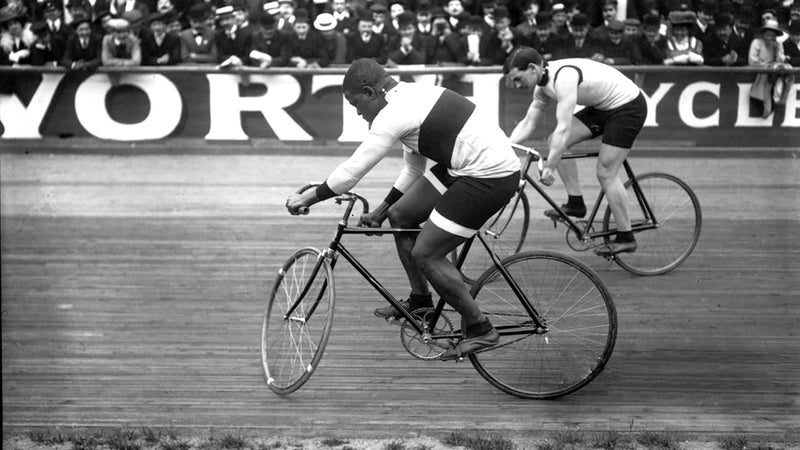 At various times, everyone from Whoopie Goldberg to Spike Lee to Lance Armstrong has been rumored to flirt with the movie idea. The family has seen at least a dozen concepts for film or video. Lynne Tolman, founder of the Major Taylor Association, has long served as a go-between, curating the more credible pitches and passing them on to the family. She recalls one suggesting "some kind of Caddyshack angle."
There are assorted theories for why critical mass hasn't been reached to find a star and studio financing. Recreating an era that nobody can quite believe is part of it, and recreating a sport nobody has familiarity with is another. Track racing and velodromes aren't part of the mainstream sports vernacular—"a niche within a niche" is the sort of thing you hear.
---
According to Barnicle, the idea of focusing on Taylor's Six Day experience was a natural given the Garden's prominence and the easily relatable suffering of the athletes asked to ride day and night through a tobacco-smoke haze. The Six Day was one of the country's biggest sporting events, with a prize purse of almost $5,000 (around $130,000 in today's dollars). Part voyeuristic spectacle, part rolling advertisement for the booming bike business, the race's final 24 hours drew capacity crowds of more than 8,000 strong. Racing journals and the New York Times covered the race with a level of statistical detail that knew no end. Published tables reported the mileage totals every six hours, and scientists charted food intake to see what a man might need to keep going. Taylor proudly recalled in his autobiography a stretch where he rode continuously for 18 hours. Though Taylor was one of several riders who surpassed the 1,600-mile record from 1893, he finished eighth, about 150 miles behind the winner, Irishman Teddy Hale. (The latter was immediately trotted off post-race to a vaudeville show, where he performed for patrons on a home trainer. There might be nothing better that speaks to the popularity of cycling in 1896 than people paying to watch a man ride on a bicycle trainer.)
The more reflective reporting on the solo six-day doomed its future existence. Writers described the latter stages of the race as inhumane suffering, with exhausted riders falling asleep on their bikes and haplessly crashing onto the banked wooden track. There were reports of stimulants like cocaine and strychnine to keep competitors alert. As the film points out, Taylor dangerously crashed multiple times, especially in the closing stages. The Brooklyn Eagle reported that patrons hissed at trainers who were attempting to "get him on his wheel" after a crash a half-hour before the end of the race and applauded when Taylor was mercifully carried off. Fourteen of the 28 starters finished in the one and only year that Taylor raced, but the following year's race was the beginning of the end for the single sixes. The Times opined, "An athletic contest in which the participants go queer in their heads and strain their powers until their faces become hideous with the tortures that rack them is not sport, it is brutality." In 1899, then New York governor Theodore Roosevelt banned the solo six-day, apparently agreeing with the Times and the humane societies. When a Madison Square Garden promoter rebranded the six-day as a tandem event, it took on its contemporary nickname, the Madison.
To those who've watched and wondered with exasperation as the Major Taylor story got unjustly ignored—or at least never quite turned the corner—the sudden, rarefied blast of hip exposure feels more than a little unreal.
Taylor had been the early favorite for the 1897 race, but he wisely backed out. His specialty was never endurance but his explosive, second-to-none sprint. His final race was an old-timers event, in 1917, which neatly bookended his career since he won that, too. "Had he not been a marvel of pluck, speed, and skill, he would not only have been the world's very best, but he would have either been killed outright or disabled years ago," wrote the Referee in a retirement tribute to his career. "For he was hustled and hated as only a colored person can be by the superior men in God's country."
Other groups may still bring forward either a longer documentary or a feature. One recent group speculating on a film is headed by ultra-cycling legend John Howard and Rashid Bahati, the father of former U.S. criterium champion Rahsaan Bahati. Their trailer, "The Black Cyclone," came out last year in an effort to attract funding. Still, whatever comes next, there's something fitting in the underdog Brown- Donovan getting to the finish first. In the ESPN documentary, she's given special acknowledgment in the final credits.
"After the screening in New York last week, I overheard somebody say, 'Why haven't we heard this story before?" Brown-Donovan said. "It summed up how I have always felt. People should know this story."
Lead Photo: Agence Rol/Wikimedia Commons
Trending on Outside Online