Zwift Already Transformed Indoor Training. What's Next?
Five years in, the virtual cycling and running game has acquired massive investment capital, thousands of daily players, and a professional bike-racing league. The platform has changed the way we run and ride.
Heading out the door? Read this article on the new Outside+ app available now on iOS devices for members! Download the app.
In November, Tim "Bacon" Searle, an amateur cyclist based in New South Wales, Australia, reached a considerable milestone: he became the first person to ride more than 100,000 kilometers (62,000 miles) using Zwift, the online cycling platform. That's one and a half times around the earth, without ever leaving his home, since October 2015, when he was laid up after a bad crash. Searle now rides on Zwift so much—around 24 hours a week, often early in the morning—that he sometimes falls asleep on the trainer. "I've never actually fallen off," he wrote to me recently in an e-mail, "but I've banged my nose on the handlebars pretty badly."
Zwift is now in its fifth year, and it's fair to say that things are going pretty well. To date, 1.1 million people have registered for a $15-per-month account, and cyclists like Searle have clocked a total of more than 200 million miles. 
It would be hard to overstate Zwift's impact on cycling. Part social-media platform, part personal trainer, part computer game, Zwift is beloved by recreational riders, who tout its convenience, safety, and community aspects, as well as pros, who have reaped huge benefits using the platform for hard training and injury rehab. In February 2016, just six weeks before the prestigious Paris-Roubaix race, Orica-GreenEdge rider Mathew Hayman crashed and broke his arm. His doctor told him he was done for the season. After 20 hours of spinning a week on Zwift, however, Hayman was fit enough to win the race that April, a peak career achievement. 
And it's not just pros who are apparently reaping the benefits. Last spring, Blair Oliver, 52, a friend of mine from Fort Collins, Colorado, who is a serious masters racer, told me he'd used Zwift for more than half of his training for the Tour of the Gila, a tough, early-season stage race in southern New Mexico. He insisted he could train better using the game than riding on real roads. Workouts were more precise, efficient, and convenient—he only needed to walk downstairs, to his basement pain cave, where his trainer-mounted bike is perched in front of a large TV, to work out. "And when you're done," he said, "you've got a shower and fridge right there."
---
I've been aware of Zwift since its launch in September 2014, though until recently, I considered it a novelty. My competitive bike-racing days are well behind me (I never excelled beyond Cat 4), but I've spent enough time on indoor trainers to know that cyclists will do anything to assuage the boredom: EDM with synced strobes, Tour de France reruns, live-streamed intervals, all of the above. But Zwift has proven to be more than a distraction; it's a destination. You can create detailed training programs, join races and group rides with cyclists from around the world, and compete in a national championship. Or you can just ride and enjoy the wondrous and sometimes weird scenery along its virtual roads. The Guardian has described Zwift as "the arrival of sweaty E-sports."
I can't think of another sport that has been so viably recreated in digital form. Wii tennis? Nah. Virtual golf? Meh.
Fair enough. I can't think of another sport that has been so viably recreated in digital form. Wii tennis? Nah. Virtual golf? Meh. Still, the prospect of a cycling video game taking over real riding made me concerned about the future of the sport, so in 2018, I payed a visit to Zwift's headquarters, in Long Beach, California. It had recently moved its 100-plus employees into an entire floor of a downtown high-rise but was already outgrowing the space. It expects to double the number of employees this year. After a tour—an open floor plan of industrious programmers and bike-filled hallways—I was set up in the ultimate pimped-out training studio: a Stinner road bike fastened to a Wahoo Kickr smart trainer in front of a wall-mounted 105-inch Samsung plasma TV.
Soon I was spinning through a fantastical world: Watopia, the platform's original virtual course. The road contoured a seashore, then curved past a frothing volcano. Other avatars on course whizzed past, their names hovering above them: D. Silvahy, from Germany; S. Carvalho, from Brazil, etc. The temptation to chase was powerful. As a Zwift employee told me, "One of the hardest things to do in the game is a recovery ride."
Zwift teases you along, at first simply, with the colorful landscape and its milieu of international strangers. Then it sets the hook by dishing out incentives—new kit, equipment such as glowing bikes, "power ups" (a speed boost, like turbo), and unseen sections of the course—and bumping your experience levels. For example, Alpe Du Zwift, a facsimile of the famous Tour de France climb Alpe d'Huez, gets unlocked at experience level 12. With its rewards for playing longer, Zwift can at times feel like Dungeons and Dragons for endurance junkies. You move up fast; I was at level three (it goes as high as 50) by the end of my hourlong debut ride. 
There are now six virtual worlds—Watopia; New York City; London; Innsbruck, Austria; and Richmond, Virginia—plus some additional dedicated routes for runners. That may not seem like a lot, but they offer 138 miles of beautifully rendered virtual roads, with dozens of segments and circuits for sprinting, climbing, or longer rides. And on May 11, Zwift unveiled its latest addition: a replica of the 2019 Giro d'Italia prologue course, allowing amateurs to test themselves against the pros on an identical five-mile ride. 
---
Zwift was founded by Eric Min, a cyclist and tech entrepreneur, after he relocated to London from New York City. He missed the vibrant cycling community in Manhattan, where he could find riding buddies and race around Central Park almost any time. Instead, he had to adjust to the time constraints of family and work and London's discouraging weather. "I thought, Rather than struggling to find people to ride with, I'll just bring people to me," Min told me. "I want the same thing from fitness that I get from other services, whether it's packages from Amazon, movies from Netflix, or music from Spotify. I want it available 24/7, conveniently delivered to my home."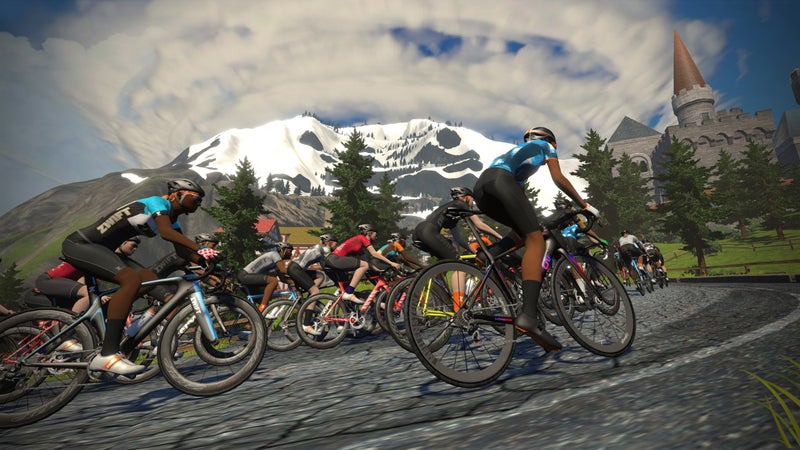 On the Slowtwitch forum, a popular site for endurance athletes, Min read about an online game created by Jon Mayfield, a Long Beach–based cyclist and video-graphics engineer who had figured out how to translate pedal power into a video avatar riding down an animated road. Min arranged a meeting with Mayfield at his California home, where the engineer had spent weekends and evenings creating the proto Zwift. The presentation took place in Mayfield's spare bedroom, where a stationary bike was perched in front of a monitor. Mayfield was nervous. Min represented a massive opportunity, backed by serious investors, and he'd have to either nail the presentation or it was back to Kickstarter. Mayfield forgot he was wearing his heart-rate monitor, and Min and his development partner, Scott Barger, could see his heart rate spike to 110 on the video screen as he anxiously explained the program. The jitters didn't matter; Min knew he'd found what he was looking for.
"I couldn't believe there wasn't something like it already," Min says. "There was no legacy. This was a blank canvas."
By any metric, Zwift's growth has been extraordinary. The platform has nearly doubled its users every year since its launch. This has invited comparisons to online spin-class juggernaut Peloton, which claims around a million users. But Min says Zwift isn't trying to chase the general fitness market—people looking for a good workout but who aren't necessarily cyclists. At least, not yet.
"We are consciously going after cyclists, triathletes, and runners who care about performance, about improving their fitness and measuring that improvement," Min told me. "That's very different than Spinning. But that's just the tip of the pyramid. Further down, we want to reach people who are not very active. Maybe their introduction to cycling will be indoor cycling. We haven't even targeted that market yet, which is a huge opportunity."
Last year, Zwift hosted more than 1,000 races, including national championships in 15 countries (you must verify your location and nationality). The rewards now include more than KOMs and bragging rights. In 2016, the platform launched a talent-search program called Zwift Academy that ultimately delivered a Canyon-SRAM pro contract to Leah Thorvilson, a 38-year-old former elite marathon runner with almost no competitive cycling experience, after she beat out 1,200 other women. Last April, Carey Conabeare, 42, a gardner in the UK, won $7,800 in a Zwift race. Zwift also partnered with Specialized in 2018 to launch a triathlon team, providing full support to four athletes ramping up for the Ironman championships in Kona, Hawaii. 
---
There have been some growing pains, including, incredibly, digital doping—that is, fudging your avatar numbers to gain an advantage. Zwift calculates performance based on rider weight and height, and trainer resistance, which is easy to manipulate. Online forums are full of complaints about cheating in races and rides, which in many cases rely on the honesty of the riders. In 2018, a man posed as a woman to nab a win in a women's stage race. In spring 2017, an amateur rider made headlines after he attained a coveted, but bogus, Strava KOM on Alpe du Zwift. He later explained that he'd been using rollers (a type of trainer that doesn't involve removing the back wheel, providing more of a natural-feeling ride) and thus hadn't been subject to the right resistance. But he shrugged off critics, saying he was "just having some fun."
Still, as more serious racing has evolved on Zwift, more serious steps have been taken to manage the legitimacy of an individual's performance. Most of that falls to ZADA, which was originally called the Zwift Anti-Doping Agency, but has recently been, er, toned down to Zwift Accuracy and Data Analysis. A third-party organization, Zwift Power, verifies a rider's Function Threshold Power, or FTP, Zwift's main metric. They also certify final race results. Riders who attempt to tweak their numbers to go faster are dubbed "fliers" and quickly stand out. World-class men can sustain around six watts per kilogram of bodyweight, women around five. Riders buzzing along the courses with suspiciously high numbers will see a "flier alert" pop up next to their avatar, with the message: "UH OH! Either you've missed your calling as a pro cyclist or your equipment is not set up properly." Most cases are innocent mistakes stemming from incorrect calibration, but the message is clear: Zwift and its partners are watching you. 
On Facebook, in addition to Zwift Riders and Zwift Racers, there are dozens of other groups, including Zwift Coders, Zwift Ladies Only, Zwift TGIF Beer Ride, and Zwift Team Vegan.
As Zwift becomes more social—growing interactivity on the app, via Facebook and other platforms, is a big part of the current mission—even inadvertent cheating will be harder to pull off. Strava profiles and previous Zwift rides combine to make up your performance history. Min compares it to a credit score. "The game will provide a lot of information about you," he says. "It may be wrong at times, but mostly it will be right." This will be vital as the game matures. There's already talk about it joining e-games in the Olympics someday. Min says he believes we'll soon see large, live Zwift events featuring world-class athletes. (Peter Sagan in the Esports Arena, anyone?)
For now, though, Zwift is being propelled by its robust online community. Beyond the activity within the game itself (Zwift has peaked at more than 13,000 players riding simultaneously), there are numerous user groups discussing every conceivable topic. On Facebook, for example, in addition to Zwift Riders and Zwift Racers, there are dozens of other groups, including Zwift Coders, Zwift Ladies Only, Zwift TGIF Beer Ride, and Zwift Team Vegan.
In February 2018, Zwift rolled out its companion running app—a similar concept to road riding but using a treadmill and wireless footpod to transmit power data. I tried it, and it's cool; you run through the same worlds as the cyclists. This past October, Zwift Run added an exclusive 5K route to Watopia, and more dedicated routes will be arriving this year. Runners have been slower to flock to the platform than cyclists (for extra incentive, Zwift Run is currently free to join) but growth has been brisk: Zwift runners have logged nearly three million miles, according to the company.
Meanwhile, thanks to $120 million in recent Series B funding, developments have been surging ahead at a 1,000-watt pace. That windfall, one rarely seen in the often financially challenged sport, has helped Zwift launch the first eSports pro cycling league—the KISS Super League—which debuted in January and includes teams like Cofidis, Team Novo Nordisk, and Bradley Wiggins's Le Col squad. 
As for amateurs, there will be more new roads released this year, more (virtual) swag to snag, and more freedom to ride in the world of your choice. And the updated Zwift Companion app makes it easier to meet up with friends for social rides and runs.
I was skeptical when I first tried Zwift, but I now consider myself a convert. I recently set up a Zwift trainer near my desk, not to catch up to mega-miler Tim Searle (who could?) but to hop on and go for a quick spin up Alpe du Zwift—or through London, or around Central Park—when the real weather isn't cooperating. As Min put it, "We're not trying to compete with riding outside. We're trying to compete with not riding." 
Corrections:
(06/09/2023) A previous version of this story incorrectly stated that Strava's 2018 year-end report indicated that virtual rides outnumbered real rides. The story has been updated. Outside regrets the error.