Behind the Scenes: The Sherpa Education Fund
The first graduate of the Sherpa Education Fund talks about how the program changed his worldview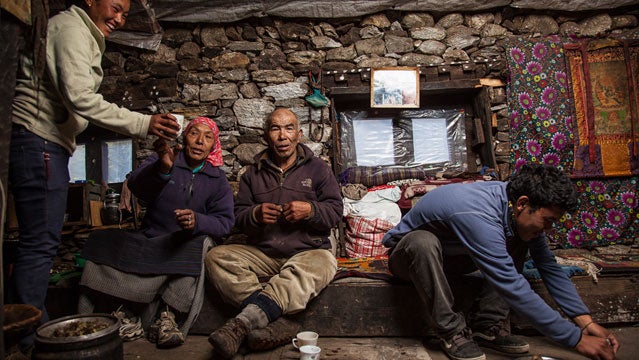 Grayson Schaffer(Photo)
Heading out the door? Read this article on the new Outside+ app available now on iOS devices for members! Download the app.
"Sherpas don't want their sons to become mountaineers," says my guide Tsering Tenzing Sherpa, 22, who was tasked with delivering me from the airport in the Himalayan town of Lukla to Everest Base Camp. "They want them to be engineers and move out to the Western world."

Tsering is the son of a climbing Sherpa and also happens to be the first graduate of the Sherpa Education Fund, a non-profit scholarship that pays for local children from the Khumbu region to study at a boarding school and then go to college in Kathmandu. Currently, the scholarship supports 13 kids. The fund was launched by Seattle-based Everest outfitter Alpine Ascents International and administered by AAI's owner Todd Burleson and his Nepalese counterpart Jiban Ghimire.
While the program was originally targeted toward children who'd lost their fathers in climbing accidents, it also provides schooling for poor children in the region who otherwise lack the means for an education. Several kids in the program have lost their fathers to the mountains. 
Tsering was eight and in third grade at the Namche Primary School in his hometown of Thamo, about an hour's walk up the Bhote Kosi River from Namche Bazar, when his parents told him he'd be going to boarding school in Kathmandu along with five other children from the Khumbu. That was 1999, the first year of the program, and shortly after his father fell, broke his leg, and never received proper medical attention. 
"I was so small that I didn't want to leave my parents," says Tsering. "I hadn't even seen an airplane or a car or motorcycle. They were so mysterious." His parents delivered him to Lukla, site of the precipitous airstrip built in 1964 as a show of goodwill by the late Sir Edmund Hillary. "We were crying when our parents dropped us in Lukla," he says. "Now I want to leave the Khumbu so I can do something with my life."
One thing he knows he doesn't want to do is work as a climbing Sherpa. "Climbing for interest and climbing for livelihood is very different," he says. "Climbing for interest, you do with joy and excitement. Climbing for employment, you're taking really big risk for your family. There are Sherpas who are adventurous who are really adventurous in mountaineering. But mostly they just carry the loads. I want Sherpas to be known as more than just great climbers."
With another year before he finishes his degree in environmental sciences, Tsering is doing the same thing that most college kids in the U.S. are doing—wondering what's available to him. "I wanted to be a doctor until the recession hit," he says. "Dreams remain dreams."
To commemorate the 50th anniversary of the first American ascent of Everest and its then-unclimbed West Ridge, Eddie Bauer has sent a team of seven mountaineers to repeat the historic climbs. Outside Magazine senior editor Grayson Schaffer is currently embedded with the team at Base Camp, sending back daily dispatches, including stories, photos, and videos. A team sponsored by The North Face and National Geographic is also planning on ascending the notoriously treacherous West Ridge, a route nearly as many climbers have died on as have summitted. Schaffer will be covering both attempts, as well as everything else that happens at Base Camp, until early June.
Lead Photo: Grayson Schaffer