Bones, Bombs, and Barbed Wire
The Making of Vie Ferrate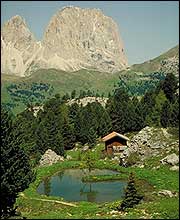 Heading out the door? Read this article on the new Outside+ app available now on iOS devices for members! Download the app.
Mountain folk have been scaling the Dolomites since prehistoric times—first Mesolithic man, later nineteenth-century English and Austrian mountaineers. But the most notable chapter in the region's climbing history is its role in the First World War, when Austrian and Italian alpine troops established a high-altitude theater along the Austrian border and, over a period of two and a half years, blasted the hell out of each other, with neither side making much headway. The Kaiserjager (a specialized unit of Austrian riflemen), first to seize position at 8,500 feet in the Dolomiti Di Sesto, controlled the most strategic passes along a 60-mile front through the central Dolomites. The Italian Alpini slogged determinedly upward, commanding high positions of their own and attacking the Austrians with artillery and hand-delivered bombs. Both sides, but especially the Italians, used picks, shovels, and dynamite to tunnel deep underneath enemy camps and then blast their adversaries to kingdom come.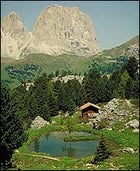 Today, many vie ferrate follow the supply routes and ridge—walks used by the mountain troops, who bolted miles of iron climbing fixtures into the rock and then died by the thousands from exposure and enemy fire. (The government-backed organization Club Alpini Italiano now maintains the routes.) Some of the most sobering encounters with carnage residue come along the via ferrata on the Sesto massif's Torre di Toblin, a 400-vertical-foot route still littered with shell fragments, barbed wire, weathered wood from bivouacs, and bits of bone. Likewise, on the approach to the Via Tomaselli, a challenging, 1,100-foot vertical climb on the Fanis massif near Cortina, you'll pass trenches and foxholes that the Italians excavated 85 years ago. The start of the route scales a vertical wall on iron ladders that were jammed into hairline cracks by the Kaiserjager, who eventually joined the Italians in abandoning the mountain posts after the catastrophic 1917 Italian defeat at Caporetto, 70 miles east of the Dolomites.