The Daily Rally
Timmy O'Neill Will Get You Up That Wall
After his brother was paralyzed from the waist down, the climber was determined to make big adventures accessible for everyone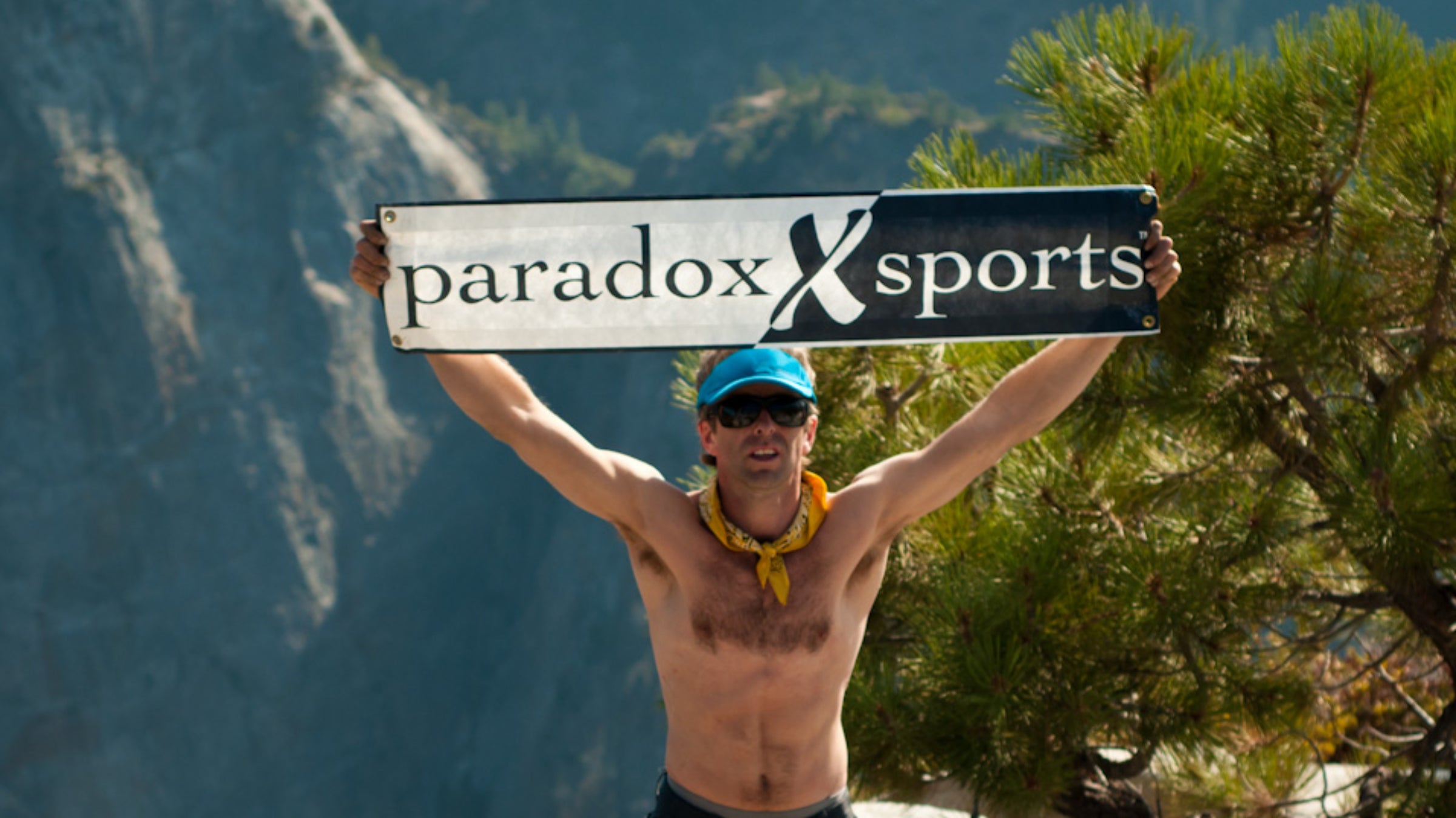 Courtesy Paradox Sports
Heading out the door? Read this article on the new Outside+ app available now on iOS devices for members! Download the app.
Timmy O'Neill told his story to producer Cat Jaffee for an episode of The Daily Rally podcast. It has been edited for length and clarity.
It hit me so hard that I'm tearing up now just thinking about it. Because it was such a painful thing to hear. I remember really inconsolably weeping on the phone and then hanging up and going back to bed, and of course not being able to sleep, just wondering what would become of my brother.
I got two nicknames when I first got into climbing. One was YST, because there was another guy climbing in Joshua Tree called YSD for Young Strong Dave, but mine was for Young Stupid Timmy. I really loved risk, and that's because of how we were raised—I'm one of seven kids in a family of kayakers. So at an early age, we were able to do really risky rivers and participate in rowdy experiences in whitewater. That informed my way forward.
I grew up right outside of West Philadelphia in a large Irish Catholic family. Seven kids in ours, seven kids next to that, seven kids next to that. It was like basically growing up in a rabbit hutch.
Sean is my oldest brother. He was a unique kid in that he had the chemistry set and the erector set growing up. He was that classic bespeckled, curly-haired, wiry, little nerdy boy. He would really do a deep dive into the intellectual aspects of life, which was really impactful for me because he could demonstrate and define and explicate these wild ideas that I would take later and really run with when I moved out west and became a climber.
I was climbing in Joshua Tree, and I was actually working at a job site and didn't own a car. I didn't own many things. Summer in Joshua Tree is unmercifully, boiling hot. And I get this call, it's nighttime, and I remember my mom saying, "Get ready. I have bad news." I hadn't had much bad news in my life up until this point, so it was like losing my innocence. I remember it really clearly. She said, "Your brother isn't dead, but he's paralyzed from the waist down."
He had jumped off a bridge for fun that was quite high, because we grew up jumping off of bridges together as a family. He happened to break his spine at the T-12, which is where your thoracic meets your lumbar, right about at your belly button. He would be confined to a wheelchair for the rest of his life.
He went through rehab. He learned to be in his wheelchair. And it would be maybe a couple years later that I was home for Christmas, and I wrote out a gift certificate to Sean that was good for one ascent of El Capitan with me. I didn't know if we would ever do it. I hadn't climbed El Cap myself yet, but I wanted to put something out there for him that would inspire him and inspire me.
Our first climb we did was Devil's Tower in Wyoming. It's the nation's first National Monument, in fact. We drove there from Philadelphia, and it was like the great American road trip. Here we are, two brothers, and we're just driving across the country in new terrain for both of us. Sean had never climbed at this point. We figure out at the base how to do this. So we take duct tape and newspaper and create these pads around Sean's lower extremities to preserve them. And then we figure out how to do the pull-ups up the rope.
We spent a day going up and down the Durrance route on Devil's Tower. It was amazing, because we didn't know what was gonna happen, but that was the point—that we would have this experience and find out.
Then we did Castleton, and then we did a couple of other climbs, and then eventually we went to El Capitan. We spent seven days living above the ground, and it was beautiful because you're all experiencing a disability on a wall because you can't move very much. You're all tethered. You have to be really careful about how it is you navigate. So there was a sort of immediate equality between us.
Sean's climb definitely changed his life forever, and mine. Suddenly I had this body of information that others wanted to experience, and others wanted to trade in, and I started doing more and more of these climbs, until we formed an organization called Paradox Sports. It is an organization that does adaptive climbing clinics, adaptive climbing programming, and adaptive climbing training. It certifies gyms and groups. We basically created a body of information that could enable and empower other people to have that experience.
As a result of my brother Sean's paralysis, I think it underscores for me that discomfort is inherent in life. And if you can grow accustomed to it and trade in it, then you're much more capable of dealing with it with yourself, and then you're much more capable to assist somebody with their own.
Sean gave me the permission to feel OK about his paralysis. By him helping me understand that I can't stop him from being paralyzed, but what I can stop is feeling bad about him being paralyzed, I could shift the way that I see it and release him and I from grief.
In 2009, Sean and I were in Anchorage, Alaska. We had just climbed in the Ruth Gorge in the Alaska deep wilderness, and we had a successful trip. Sean rolled back into the hotel room we were sharing and he goes, "Hey Tim, what's up?" I go, "Hey Sean." He goes, "How you feeling?" And I say, "I'm doing OK." You know, I was a little depressed about something. And I go, "How are you doing?" And he goes, "I'm doing well. And I believe that." And it was a fundamental shift for me when he said, "And I believe that." You get to choose how you feel about how you're feeling.
If you could shift yourself to say, "I'm OK with it, and I believe it," that was the biggest takeaway, and I apply that to my life all the time. Because life is already so hard and seemingly against you, why would I aid and abet that? So I'm gonna let myself off. And not get out of jail for free, and turn my head away from it, and act like it doesn't exist, but on the contrary, I'm gonna take a deeper look into it, understand my role, and then give myself the ability to have grace and acceptance.
Timmy O'Neill is a climber, father, husband, and the executive director of the Yosemite Climbing Association. He's also the co-founder and former executive director of Paradox Sports, a nonprofit that integrates individuals with disabilities into outdoor recreation. You can learn more about Timmy at timmyoneill.com.
You can follow The Daily Rally on Spotify, Apple Podcasts, or wherever you like to listen. Subscribe to our newsletter and nominate someone to be featured on the show.
Lead Photo: Courtesy Paradox Sports
Trending on Outside Online