The Battle for Inclusivity at Brooklyn Boulders
Brooklyn Boulders said it provided "climbing and community for all." Employees said that couldn't be further from the truth. Now the company is rolling out a series of changes to work toward its DEI goals.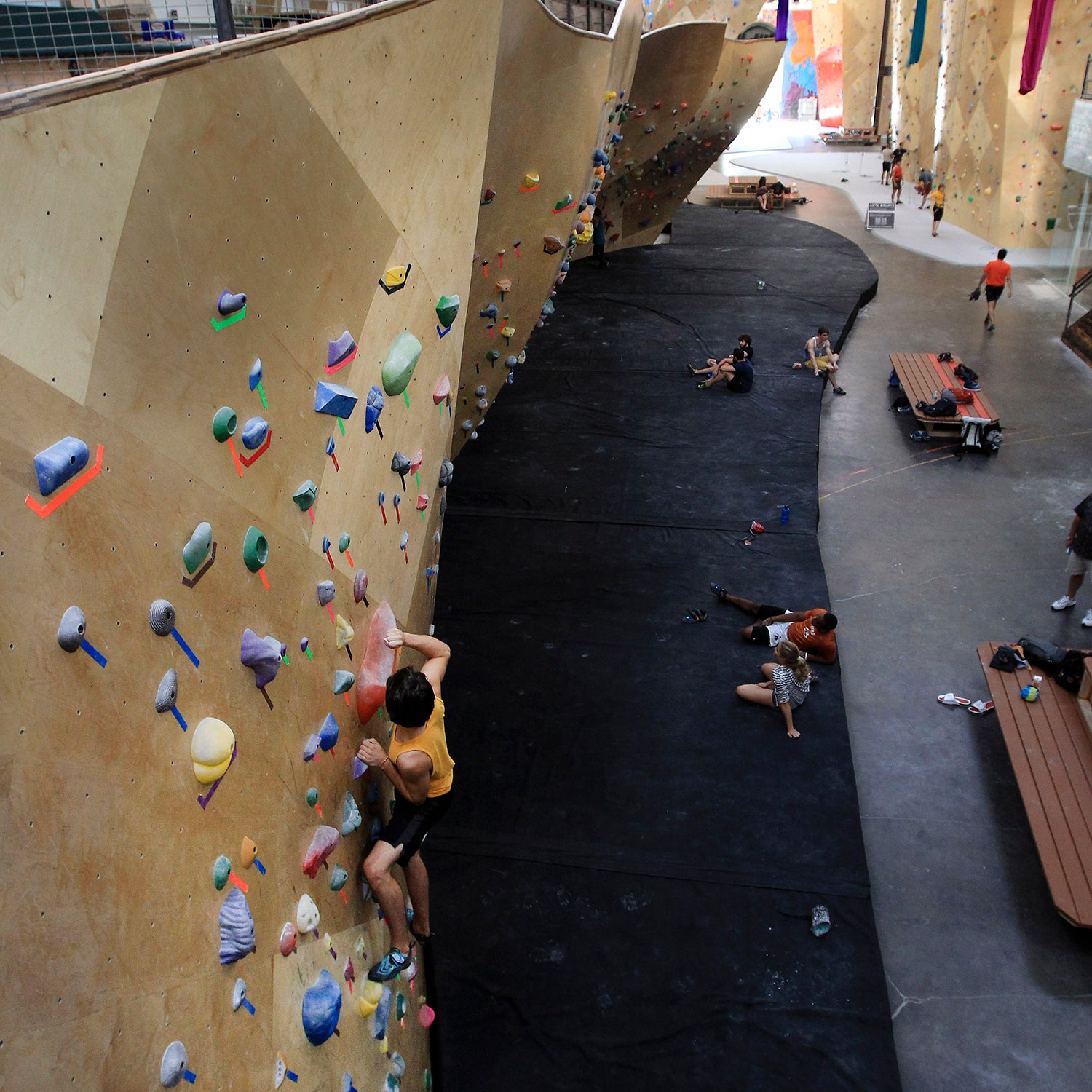 Essdras M Suarez/The Boston Glob(Photo)
Heading out the door? Read this article on the new Outside+ app available now on iOS devices for members! Download the app.
In late 2012, just a week after Hurricane Sandy flooded the streets of the quickly gentrifying Gowanus neighborhood in Brooklyn, Outside sent a reporter to an obstacle race at Brooklyn Boulders (BKB) as part of a story on indoor climbing called "The Next Urban Sports Craze." The raucous scene at the gym, as described by Outside, was peak millennial cool, with the theme song to Teenage Mutant Ninja Turtles blasting over speakers, climbers and slackliners competing for prizes that included free beer, and eager climbers turned away at the door because the event was full, despite the recent destruction from Sandy.
"We brought partying to climbing, and voilà," said Lance Pinn, who Outside described as "the gym's former-frat-boy cofounder."
Investors wanted in. Nine months after the party, BKB opened the doors to its second facility, in the Boston suburb of Somerville; one in Chicago and another in Queens soon followed. In 2015, the private-equity firm North Castle Partners, which invests in Barry's Bootcamp, Crunch Fitness, and Equinox, inked a deal with BKB. And last year the company opened its first boutique fitness studio in Boston's Allston neighborhood, which its website calls "part of the Brooklyn Boulders 'Adventure Lifestyle Ecosystem.'"
From the start, BKB members were sold on not just having walls to climb but also a cool place to belong: its five gyms are located in gentrifying urban areas, with a unifying faux-graffiti-decor theme. The company's facilities include full cardio and weight rooms, conference rooms, and Wi-Fi areas for members to stretch out and work. "We tried to create an environment where you don't want to leave," Pinn said in 2014. "We want you here for five or six hours."
As the indoor rock-climbing scene exploded—before the coronavirus crisis, the industry was projected to be worth $1 billion in 2021, up from $600 million in 2017—BKB's approach made it a media darling. The New York Times ran three pieces on the Gowanus gym in its first three years of operation and featured the company prominently in an article last fall on indoor climbing's popularity.
But in June, a group of more than 90 BKB employees sent an open letter to management describing a "toxic culture" that they said "protects top executives with a history of racism, misogyny, and discriminatory actions." The letter listed a series of demands, including a majority turnover of the executive leadership team, increased investment in Black communities where BKB has built its gyms, and an end to at-will employment, which they say has allowed for the targeted termination of Black employees. A "complete failure of leadership," employees wrote, "has put the company at risk of losing its entire member base and completely eroded the climbing community's trust in Brooklyn Boulders." In the weeks that followed the letter's release, more than a dozen former and current employees told Outside that racism and sexism have long existed in BKB's work culture and that company managers have been aware of these issues for years.
Climbing gyms around the country experienced similar reckonings after the death of George Floyd kicked off the summer's nationwide social-justice protests. In North Carolina and Virginia, climbers at Triangle Rock Club formed a petition and an Instagram account in an effort to hold that company accountable to DEI goals, which include hiring more BIPOC employees. Hoosier Heights, a gym chain in the Midwest, has faced allegations of racism and sexism from its members and employees. But Brooklyn Boulders is the most high-profile gym in the country, and the company's response is being watched closely.
On July 1, BKB responded to the employee demands in a public statement, when the company declared that it "will not tolerate discriminatory practices of any kind, and is committed to investigating and resolving any reported instances of past undue terminations." That same month, Martin Adler, then BKB's vice president, told Outside that Pinn and his cofounder, Jeremy Balboni, who met as fraternity brothers at Babson College, would be "stepping back" from their roles as president and CEO, respectively—a move Adler said had been in the works for several weeks.
Balboni declined to comment on any specific allegations made by the BKB Collective, but in an interview with Outside in August, he stood by Brooklyn Boulders' record for creating a diverse and inclusive workplace over the past decade. "My personal belief is to have a team that's as diverse and inclusive as possible, because as it's been demonstrated time and time again, that's a higher-performing team, period," he said. He also stated that 60 percent of the company's managers are BIPOC or women, and that for years the company has had committees for hiring, promoting, and firing employees to make sure personnel decisions were fair and unbiased.
Adler told Outside that the company was working with the employee collective in a series of "listening sessions" to implement changes. On July 1, BKB responded to each of the group's demands on a public dashboard and held a three-hour meeting with the employee collective to address any concerns.
The company's leadership seemed to be signaling a real commitment to change, but employees were understandably wary: the following day, all of BKB's New York employees, who had been furloughed since the pandemic began (with health insurance if they'd had it prior), were informed via email that they had been laid off.
In an email to Outside, Adler attributed the layoffs to the company's struggle with delayed reopenings due to the coronavirus, and he said their hope was to rehire the majority of those who were laid off when the gyms were once again able to reopen. (In fact, several have since been hired back after gyms reopened in New York in early September.) But the timing of the layoffs, announced right after a key listening session with staff on diversity issues, left many employees feeling blindsided.
"We're pretty upset that they just dropped this on everyone without any notice," an employee involved in the collective told Outside. "The timing and lack of communication is just insane."
---
For many BKB members, the first sign of any trouble at the company came from a June 1 Instagram post made after George Floyd's death.
"It's hard to climb with a knee on your neck," read the first slide, posted on the official BKB account. The next: "It's hard to train when you can't breathe."
Concerned members posted comments with questions, some demanding an explanation for what was largely seen as a tactless message. But the post stayed up. A week later, the company doubled down, writing in a separate post that the first response "was spearheaded by a Black woman" at the company. That post prompted a second wave of outrage in the comments. ("[I]f you think this post will make me feel safe coming back to BKB Somerville as a respected member of the community, you are wrong," read one member comment. "Yikes," read another.)
Many current and former employees say the George Floyd responses on social media were emblematic of larger issues that have been simmering at BKB for years. Samantha Lopez, who worked at the Gowanus gym between 2012 and 2018, wasn't surprised when she heard about the controversy. "I thought, This is BKB treating it like a trend instead of actually caring about what's happening," Lopez said.
Another employee, Maria, who asked to go by a pseudonym for this article and who worked at the Gowanus location, laughed when asked if she felt Black employees like her were treated differently by the company than their white coworkers. "A million percent," she said.
Maria recalled an HR employee telling her she "didn't smile enough"—a comment she never heard made to her white colleagues—and her supervisor constantly reprimanding her for arriving late. She and other employees who spoke to Outside said they routinely saw white employees arrive late with little to no pushback from management.
"All people had to do when they were white was use the excuse that they're tired and couldn't make it in, and that would be fine," she said. "But for me, showing up late was a problem."
The open letter sent by the employee collective echoed Maria's experiences. "Brooklyn Boulders … has a troubling history of targeting Black people for termination unrelated to job performance, as well as passing them over for promotions and valuable training opportunities in favor of white employees," the letter read. In response to questions about BKB's treatment of Black employees, Adler told Outside in June that the company "takes these concerns very seriously" and is "rebuilding" its HR department with the intent to "deeply dive into our labor practices."
Cyrena Lee was hired as a content strategist in 2014 at the Gowanus gym, where she wrote for the company's blog, which included posts featuring Black climbers and mansplaining in climbing. BKB, she said, was undergoing a rapid expansion following the opening of the Somerville location, and she moved to the company's Denver headquarters after being promoted to a manager role.
Lee, who was the only woman of color in Denver, said she felt underpaid and undervalued, which made her anxiety spike to a point where she was crying every day, while the "fratty environment" enabled jokes about her race and gender to become a routine—and unwelcome—part of her work life. When Lee asked if she could join the executive team's yearly trip to Japan, she recalled Pinn saying she could come "if I step on their backs." (Pinn did not respond to Outside's request for comment.)
In 2016, Lee worked with the women's climbing group Flash Foxy to produce a survey on sexism in climbing. Brooklyn Boulders publicized and distributed the survey to its mailing list, but after it was completed, Lee said, Balboni pulled BKB's name from the published results, saying the questions had been "leading." (Balboni declined to comment on the survey.)
"I suppose it is not too surprising, given that sexism is present even in our own company culture," Lee wrote in an email to a director at the company after getting pushback about publishing the survey's results. "There have been many people who have referred to BKB as 'fratty' or 'bro-like' (internally and externally)."
The company, according to Lee, didn't listen—even while posts echoing her concerns piled up on the workplace review site Glassdoor. "I don't think they see how their attitudes impact their people," Lee explained. "The outdoor industry is so entrenched in racism and sexism that they can't see it." (When asked about Lee's allegations, Brooklyn Boulders responded to Outside in a statement: "While we cannot comment on specific instances, we have a strict HR documentation process to record and handle questions, comments, and concerns.")
In 2017, Lee helped REI produce a short film called Brothers of Climbing, which has since been viewed more than 300,000 times on YouTube. The film documents how a group of young Black climbers found each other at BKB. In it, the Black climbers—including one long-term BKB employee who was later fired—are interviewed in BKB's New York gyms about their experiences with racism in climbing, clips that are interspersed with prominent shots of the Gowanus gym's exterior. Brooklyn Boulders contributed $5,000 to help fund the film.
But BKB employees who are also members of the Brothers of Climbing group say the company never offered further financial support to the group, such as paying for participation fees to the annual Color the Crag festival. Competing New York gym the Cliffs, on the other hand, offered scholarships for climbers to attend the festival, while brands like the North Face and Patagonia are sponsors of it.
Some employees say that BKB's lack of support stands in contrast to its annual Pride celebrations, which last year featured parties with live music at all of its gyms, with proceeds going to LGBTQ charities. "Brooklyn Boulders was committed at a very early point to the LGBTQ movement, because it represented so many of the people within our gyms," Adler said.
However, other employees questioned the sincerity of Brooklyn Boulders' support of the LBGTQ movement. In interviews with Outside, one anecdote—referred to as "the tampon incident"—came up repeatedly. In 2018, Somerville employees placed tampons in the men's restroom in response to member requests to make the gym more welcoming for trans people. When BKB executives arrived at the gym for an annual all-staff meeting, employees say a now-former member of the leadership team entered the men's room and found that its cleanliness and out-of-date posters did not meet the company's standards, then threw the tampons in the trash and yelled at the staff. The following day, according to employees who were there, the executive began the meeting by saying he had "gay friends" and explaining that he didn't have a problem with the tampons, just with how they were displayed. Though the tampons in the men's room were restocked, many BKB employees said the incident signaled that the company's commitment to social causes had less to do with core values than it did with advancing the bottom line.
"I'm scared Black Lives Matter will give BKB just another opportunity to make money and prove it's this elite, worthy climbing gym," Lopez said.
---
Nearly two weeks after the initial George Floyd Instagram posts, BKB posted an apology and archived the original images on its public dashboard—a move that effectively removed the hundreds of comments from climbers and former employees on the site.
That month was a busy one at BKB. In a resignation letter sent to employees in late June, Balboni named an executive committee of Adler and four other white-presenting men to "lead the team" moving forward. The company hired a diversity consultant, made Juneteenth a company holiday, created the public dashboard, and launched a series of diversity initiatives that included hiring a new vice president of culture, creating funds and scholarships to make its gyms more inclusive, and instituting anti-racist and anti-bias training for its staff.
Two months later, at the end of August, I called Adler to check in after the company's tumultuous summer. Adler had recently been named interim CEO, and the company was preparing to reopen its gyms in Chicago and Boston—including a new facility in Chicago. (The company's locations are now all open and operating at limited capacity.) Balboni and Pinn were no longer on the operating executive team. Adler had just been through anti-bias training and was part of a CEO DEI working group, and he spoke with the fervor of a new convert. "I've been able to move through life not having to wrestle with systemic racism," he said. "This period is bringing to the fore things that, once you see them and understand them, they cannot be ignored."
Adler filled me in on his various DEI-related initiatives. Under his leadership, he said, BKB is granting half a million dollars in access value that will allow for sliding-scale gym memberships, while another half-million dollars will be earmarked to offer access for local nonprofits in each gym's neighborhood. More money was being committed for youth team-climbing scholarships. A "big subset of the organization" had gone through DEI training, and the company was working to elect staffers from each gym to serve on committees to advise Adler on various diversity projects, including which local nonprofits should receive funds from the company.
"We want to be equitable and representative within our communities, but also: How can we be part of the wider solution in the outdoor-sports world?" Adler said. "If you go to the big outdoor-industry conferences, I see a lot of people that look like me."
I asked him why it had taken this long for the company to come to a reckoning. Why were executives just now addressing structural racism and bias inherent in the climbing industry, when the company's own employees had been vocalizing concerns for years?
"I think it's a fair question," he said, pausing. "I think culture fundamentally comes from the top. I think that most organizations for years fundamentally focused on growth and profitability. I think there's a renewed understanding within the organization, that we want to run our business in a way that's much more socially responsible. I can't speak exactly to why those issues did not previously get the traction, but I do think that there's been a marked change in our society's understanding of the significance of these things."
Adler also told me that BKB was in the process of reaching out to the New York staffers laid off in July to inform them that the company was once again hiring, in hopes of getting the "top performers" back. Despite the company's considerable efforts with its new DEI initiatives and the offer to restore jobs, however, employee relations remained rocky. A day after our conversation, the BKB Collective filed a complaint with the National Labor Relations Board, saying it believes the July layoffs were "retaliatory and done in order to prevent the continued organizing efforts of facility level employees."
Lead Photo: Essdras M Suarez/The Boston Glob
Trending on Outside Online