The Do's and Don'ts of Taking a Date Climbing
Rock gyms are about socializing as much as they're about fitness these days. But before you take your Valentine's Day crush on an indoor climbing date, there are a few things you should know.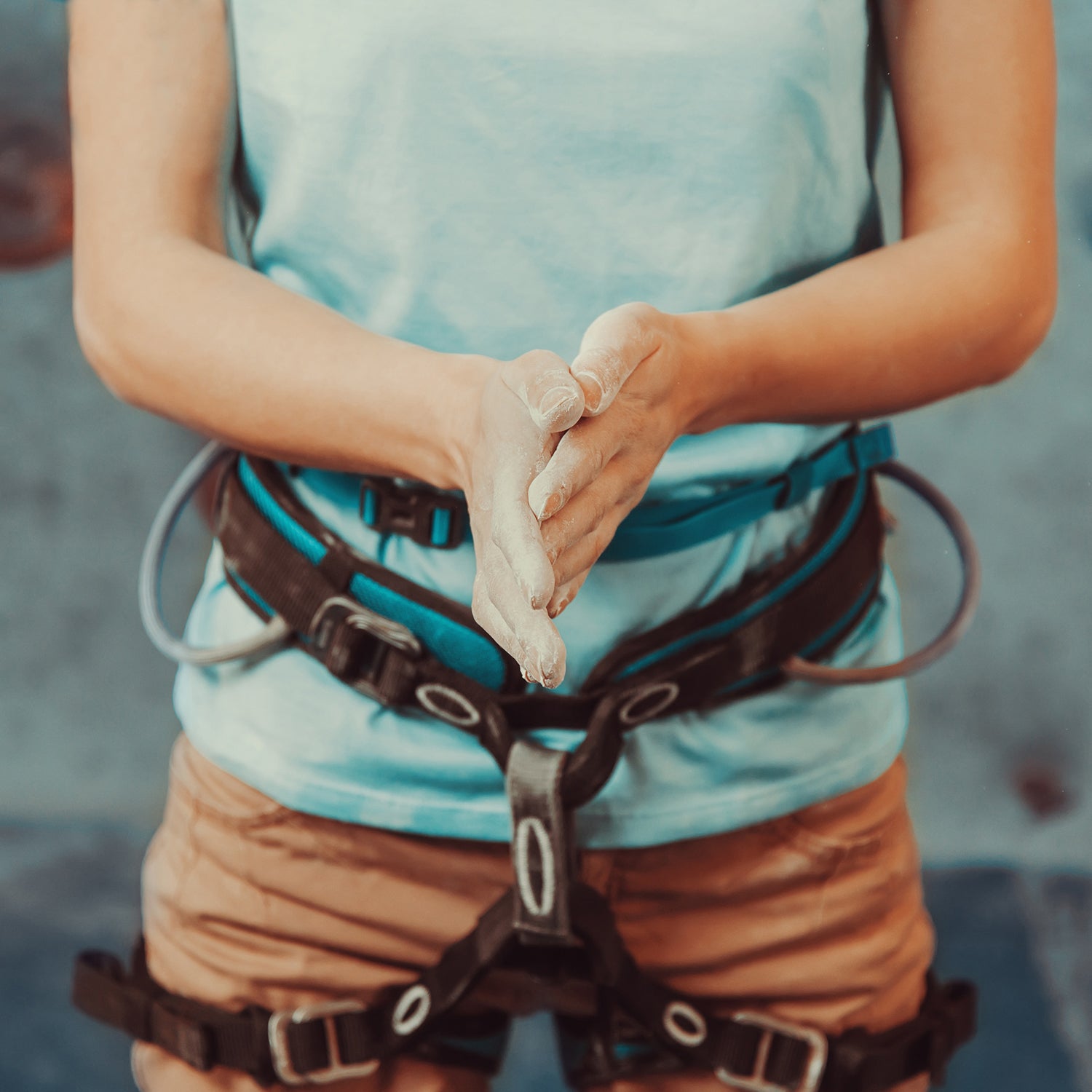 Getty Images/iStockphoto(Photo)
Heading out the door? Read this article on the new Outside+ app available now on iOS devices for members! Download the app.
When I am at home in Boulder, Colorado, I often climb at a gym called Movement. A friend of mine, James Lucas, nicknamed this place "Movement Dating and Fitness" to keep up with the climbing-dating trend. After five'o'clock any day of the week, it is social hour, and the gym is buzzing. This phenomenon is palpable, especially in a place like Boulder where people train for the sake of training: you're the odd man out if you don't run marathons or cycle like you're preparing for the Tour de France.
That said, it is really obvious to spot the awkward first dates taking place. Typically, the duo is wearing rental harnesses, flat rental shoes with socks, and in some cases, helmets. If the date is going well, there is a lot of banter and positive encouragement taking place. The two take turns climbing and there is no hazardous behavior like putting the GriGri into the rope backwards or climbing with a loop of slack below the knees. On the contrary, I have definitely witnessed some icy conditions, like the ones in which only one of the two is climbing the entire time and the other has an annoyed fixation on the belay device as he or she pulls the rope through the belay device on the ground. Or, even worse, the climber yells "TAKE!" or "PAY ATTENTION!" to the belayer on the ground.
The good thing about taking a date climbing is that you learn very quickly about how that person reacts to stress, nerves, and being outside of their comfort zone; you find out how they respond to critiques and how much they can trust you. And, you learn it yourself.
To help you navigate the approach to taking a date climbing, here are my seven do's and don't's for making a climbing date work.
Do: Be Considerate
First consider if the person is up for adventures and stepping outside of their comfort zone. If they're afraid of heights or not very enthusiastic about sports, then climbing may not be the best activity. Have patience and accept that first-timers and climbers less experienced than you will probably look sloppy on the wall. Be encouraging but don't pressure your partner to climb much past the point of what they want to scale.
Don't: Be Arrogant
If you are at the gym looking to pick someone up, don't walk up cold and project your beta on them. Instead, if you see someone attractive struggling on a climb near where you are bouldering, casually move over to where they are climbing and work on a climb nearby. Increase proximity but avoid being omnipresent or arrogant.
I have been bouldering before and been approached by someone who tried telling me how to do the climb that I was working on, and I just internalized it as condescending. If I ask for help, I'd love it, but don't bother telling me how to climb if I don't ask.
Do: Know the Style
Wear tight clothes that are stretchy. You want freedom in movement and you also want to show off your muscles. Socks in climbing shoes make you look like a gumby. Guys: don't wear boxers. If you're planning on putting on a harness, make sure you wear boxer briefs. Otherwise, the harness can get complicated. Women: I recommend workout tights. Don't wear short-shorts because climbing involves a lot of high-stepping and stretching of the limbs. You want to be classy, not trashy.
Don't: Compare yourself.
One of you is going to be better than the other. That's the reality. So don't get frustrated and forget that you're just at the climbing gym to have fun. I have been in a couple relationships with climbers before and the most toxic thing that can happen is if you find yourself not happy about the other's success. I have been in a situation in which I have done a climb before one of my ex-significant others and I felt awkward being happy about it. Don't put your partner in that position, regardless of who is typically the better climber. 
Don't: Get a Fresh Manicure, Ladies
If you get your nails done before the date, make sure to get a gel manicure. I climb almost every day but I love nail polish, and I have found that gel nail polishes are the only kinds that don't chip. Also, spare the rings and heavy earrings. If I wear jewelry, I stick to my Bellabeat health tracker, which I can clip on to my top, and stud earrings.
Don't: Make Dirty Jokes
There are a lot of sexual innuendos that we can draw from climbing, especially in trad climbing, like using "nuts" and climbing cracks. If you're taking a date out, get to know his/her humor first before cracking the types of jokes that can lead to feeling insecure or uncomfortable while climbing. Or hold it for the second date, at least.
Do: Communicate
Establish communication that will keep you from having to yell back and forth and making a scene at the gym. Watch and listen while the other is climbing. Think of this as a trial run for your relationship: if you can communicate well on the wall, you'll have a better chance of communicating well when things get tough in the relationship. Some of my deepest-rooted connections in my life have been made through shared experiences climbing. I have my specific climbing partners that I know I can trust my life with and this can create a great segue for a relationship.
Overall, taking a date out climbing is a risk, but often in life, the greater the risk, the greater the reward. 
Lead Photo: Getty Images/iStockphoto