Easy Does It in the Dolomites
The peaks of the Italian Alps may look daunting, but climbing them is la dolce vita.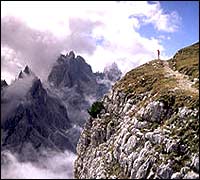 Heading out the door? Read this article on the new Outside+ app available now on iOS devices for members! Download the app.
I followed my climbing partner, a bumptious 56-year-old Catholic priest from Glasgow, Scotland, up our fourth alpine face in three days. Father David Trainer, with whom I've climbed often in the last ten years, had that wide-eyed, excited-dog look he gets when he's having mountain fun—as for example in the Himalayas, where he trekked the Everest massif, and the Swiss Alps, where he's been posting routes for more than 30 years. This time it was 8,856-foot Mount Collac in the Dolomites, the Italian Alps, that got him riled up. "Hah, it's just brill-yunt," he kept yelling back in my direction. "Jings, look at that rrrauck," he added, as we traversed beneath a gloomy overhang on smooth, snow-white slabs. "I'll be sayin' me mummy-daddies any minute!"
Bones, Bombs, and Barbed Wire
The Making of the
Vie Farrate
.

Our route on that warm, clear day—one of a string of silken, see-forever days last season—ushered us up long vertical sections and along narrow traverses, with precipitous glimpses down to miniature villages and up along ranks of massive, stony ridges. We were delightfully unencumbered: We carried almost no equipment, just a couple of carabiners apiece, plus a short length of rope attached to a harness. But we weren't free-climbing: We were on a via ferrata ("iron path"), one of the region's 140-plus climbing and hiking routes outfitted with steel cables, cast-iron steps, and the occasional ladder bolted permanently to the rock by Austrian and Italian troops during World War I and by Italian climbers from the 1930s to 1950s.
On vie ferrate, climbers with little or no experience can waltz up routes with a thousand feet of vertical gain by simply clipping into the fixed cables and other features. This means that you can often stand at the base of a peak, decide to climb it by a classic line, and be back at the hotel in time for an afternoon glass of Merlot del Trentino. (This, as opposed to the arduous approaches, permit hassles, and huge racks of climbing gear—ropes, slings, camming devices, nuts, etc.—required of comparable backcountry routes in the Sierra Nevada, where I often climb.) Wise novices will first tackle the more gradual, less exposed routes of the Dolomites, such as Via Alberto Bonacossa, on the Tre Cima, or Via Ivano Dibona, on Monte Cristallo. Only climbers with technical-terrain experience—specifically on Class 5 routes—should attempt the region's more difficult paths: Via Tomaselli, on Punta Sud; Via Ferrata Cesare Piazzetta, on Piz Boè and Via Ferrata Bolver-Lugli, on Cima della Pala. All of which, of course, are spectacular.
In fact, the Dolomites—their name comes from Deodat de Dolomieu, the French mineralogist who first identified the composition of the mountains' namesake rock in 1789—are among the most ragged and vertiginous peaks in the world. For more than a century, Europe's best rock climbers have flocked to the 14 separate massifs and eighteen 10,000-foot-plus summits that stretch over a Delaware-size chunk of northeastern Italy from the Trentino-Alto Adige region north to the Veneto region. Pervasive fractures and sculptings in the white and gray calcium- and magnesium-stratified limestone—the residue of coral and sponges from the ancient tropical sea that once existed here—make for plentiful handholds and footholds. Having had more experience with the monolithic simplicity of California granite, I found the Dolomite stuff chalky and unnervingly crumbly-looking, but I quickly discovered that it's solid and hard to the touch and learned to trust it.
Far less trustworthy, however, is the weather: Clouds and mist can blow in quickly, obscuring routes and walk-offs; midsummer travelers should be especially cautious, since afternoon thunderstorms, always a risk in the mountains, tend to strike here, most often in July. Apart from the obvious dangers, a system of iron cables leading down a rock face is essentially a lightning rod, so keep abreast of weather forecasts and set out early in the morning if afternoon storms have occurred on previous days.
Canazei
Many of the best peaks in the Dolomites surround the small, tourist-packed, west-central mountain village of Canazei, which is within 200 miles of both Milan and Munich. Marmolada, the highest summit in the Dolomites; the Gruppo di Sella, a massif full of dramatic and challenging vie ferrate; the Catinaccio-Rosengarten massif, also crisscrossed with many good routes; and Mount Collac are all less than a half-hour's drive of Canazei on winding mountain roads. In our quest for the most challenging and daunting routes, Father David and I had settled on Collac and the Gruppo di Sella for our first climbs.
The north face of Collac, split by a vast vertical chasm, loomed ominously above our hotel. In preparation for our ascent, we rolled out of bed at about 8 a.m., grazed on pastries, fresh fruit, and caffe lattes, and drove for seven minutes in our rented Lancia hatchback to a cable-car station where we boarded (vie ferrate often rely on local cable-lifts, which in winter serve the region's ski areas) along with an Italian family, a German couple in wool knickers, and a lone Frenchman wearing corduroy hot pants. From the top of the lift, a 20-minute walk through the wildflowers of a honey-scented meadow brought us to the start of the climb, a slabby gray incline that, within 200 feet, radically steepened. The great chimney included long vertical sections, even some overhangs, but there were always cables to clip into for safety. (Some climbers pull on the cables for assistance, whereas others climb mainly using the rock.) By 1 p.m. we had summited.


The next day we drove north of Canazei for 30 minutes to the Gruppo di Sella, where we climbed one of the most challenging vie ferrate, the Cesare Piazzetta route on Piz Boè (10,338 feet). Again the weather was gauzy, mild; our approach hike took 40 minutes through steeply pitched fields full of sassifrage, campanula, and grazing sheep. We clipped to the cables at the base of the route and ascended a vertical wall for 250 feet, with sections equivalent to 5.7 or 5.8 in technical climbing. Soon the steepness decreased, but the climbing remained strenuous for the next two hours as we shinnied up complex chimneys and followed jagged ridges. At the summit, where I finally began feeling the altitude, we found a rustic hut jutting out over the abyss. Inside was a café, staffed by a small crew who spend the summer serving schnapps and chocolate to the rock weary. We joined a handful of young German climbers drinking celebratory doses of herbal tea in delicate blown glasses.
Cortina
Mountains and chalky crags abut the broad, deep-green swale of larch forests and hay-meadows of the Ampezzo Valley, just an hour's drive east of Canazei. There, you'll find an old mountain town tucked in the middle—Cortina, population 8,000—and some of the most history-rich vie ferrate, among them the famed Cinque Torre (Five Towers), now a magnet for European free-climbers. The town, a ski resort in winter (and site of the 1956 Winter Olympics), is a kind of anti-Aspen: elegant and luxe yet warmly human, full of comfortable old hotels built in a blocky chalet style.
Many of the most famous first ascents of the Cortina crags were claimed by Englishmen in the 1860s and '70s. In a burst of nationalistic pride, Davide Alberti Cuciarin, a guide born and raised in the valley, told us why. Rich English sportsmen asked Italian climbers to lead them for large fees; the Italians, who had summited the mountains many times already, obligingly hid the pitons that they'd placed on previous climbs.


About 60 years later, another sort of assault took place: Italian and Austrian troops battled it out in the Tofane Group and Fanis Group, three miles west of Cortina, during the First World War. Many of the paths the soldiers relied on to carry supplies into the mountains were later adopted by via ferrata pioneers. Thus, on the Fanis Group's Via Tomaselli, you begin by scaling straight up an immense, rough-textured vertical wall of black-streaked rock, past ladders jammed into cracks by Austrian troops who fought the Italians to a bloody standstill over three years. After you reach the long, narrow summit, the world drops away in all directions and you realize that avoiding a fall is challenging enough—engaging in combat is inconceivable.
The Treaty of Versailles, in 1919, finally sorted things out, giving Italy control of the formerly Austrian-held Dolomites. These days, the main signs of the region's mixed heritage are peaceful, and many are positive boons to the traveler. In Cortina, the charming shop girls speak Italian, the tourists in the cafés are mostly Italian, and the bookstore (Libreria Alberti) and stylish department store (Cooperativa) are unmistakably Italian in a casually chic way.
But just 20 miles north, in the town of Dobbiaco, the language of the streets and in the shops is German. The natives here think of themselves as Sud-Tirolese, not Italian, and will remind you that the Dolomites belonged to Austria for 800 years.
The food is neither Italian nor Austrian, but something hearty and rich and at home in both traditions. Don't be turned off by the names of some of the local delicacies: krapfen, a doughnut filled with jam or whipped cream, and stinco, a seasoned roasted shank of pork or veal. Wash yours down with Austrian beer or with glasses of Sylvaner, a regional white, or the local red called St. Magdalener. The wine, especially, will put you in high spirits for planning the next day's ascents.
On the morning we climbed Collac, my Scottish friend had forgotten his helmet. Looking up at the daunting climb, Father David seemed to be having second thoughts, perhaps about the people already above on the route, who might kick rocks down on us. I suggested that we back off, save this ominous line for another day, but he looked at me as if I were crazy: "Ach, the beauty of it—the raw severrre-ity!" he cried. "You canna hold back in the presence a sooch byoo-tee!" Soon we were off and climbing, clipping to cables as needed, passing a few people, slowing down only as we entered the fractured chasm, with its dead-vertical rock sections.
Summiting about noon, we found other climbers blissed-out in the sun, eating crackers and drinking from little silver flasks. To the east of us, its snowfields glittering, was the Marmolada. Father David pointed out its west ridge to me: "A luvly line, requiring ice ax and crampons, but if the weather holds, and if ye can awaken yerself before noon tomorrow…."
Step Right Up: All the Guidance and Gear You Need to for a True Dolomite Adventure
Getting There

The Dolomites run in a northeasterly direction across the pocket of northern Italy that's east of Switzerland and directly south of Innsbruck, Austria. From the U.S., fly to Milan ($860 from New York, $1,010 from San Francisco, peak season) or Munich ($758 and $970, respectively) and proceed by train, bus, or rental car, or a combination of the three, to Canazei (200 miles from Milan and Munich) and Cortina (also 200 miles away). You can get around the Dolomites by bus or taxi, but a car ($274 per week from European Car Reservations at Milan's Malpensa Airport) allows for maximum flexibility.
Lodging

Most towns have hotels and small, family-run pensioni, as well as tourist offices that provide detailed information about local room rates and availability. One of the glories of the Dolomites is the well-ordered system of 100-plus rifugi, or mountain huts, where climbers and hikers can wait out inclement weather and overnight in dormitory-style bunk rooms for a nominal fee, usually about $10 (stop in any local tourist office for information). In Canazei, the tourist office can be reached by phone (011-39-462-602-466). For Cortina accommodations, call 436-3231.


Rates are lower during prime summer climbing season—mid-July through late August—than during the winter ski months, but early July and September offer even less-expensive prices and fewer tourists. In Canazei, the four-star Astoria hotel (601-302) lets rooms for $110 per person per night, including breakfast, before July 15 and $75 through late August. In Cortina, the Hotel Menardi is an elegant three-star establishment whose owners are knowledgeable about vie ferrate ($60 per night before July 15, $95 through August, plus breakfast; 436-2400).
Gearing Up

For vie ferrate, you'll need a helmet and a harness, as well as a self-belay device consisting of two locking carabiners, ten feet of climbing rope, and a "kinetic impact shock absorber" (also called a KISA, or dissipatore to locals). The KISA functions like a climber's standard belay-plate, dissipating the impact of a fall by offering resistance to the climber's tie-in rope, which has been threaded through it. All of the above—including $40 self-belay kits—can be purchased in equipment shops in Canazei and Cortina.
In the Dolomites, sunny romps can turn into stormy epics. Purchase and study a good guidebook (the best, and to date the only one in English, is Via Ferrata: Scrambles in the Dolomites, $22 through Adventurous Traveler Bookstore, 800-282-3963). Also be sure to invest in a "Kompass" series map on a scale of 1:25,000—available in bookstores in the region.
Guides

To learn about weather, routes, and techniques, many first-timers hire area guides. For the west-central region of the Dolomites, the booking office is in the town of Campitello di Fassa at 462-750-459. In the east-central village of Cortina call 436-868-505.