Erin Parisi Is a Pioneer for Transgender Mountaineers
Parisi tackled three of the Seven Summits this year, and now she's a few steps closer to likely becoming the first publicly transgender person to complete the famous challenge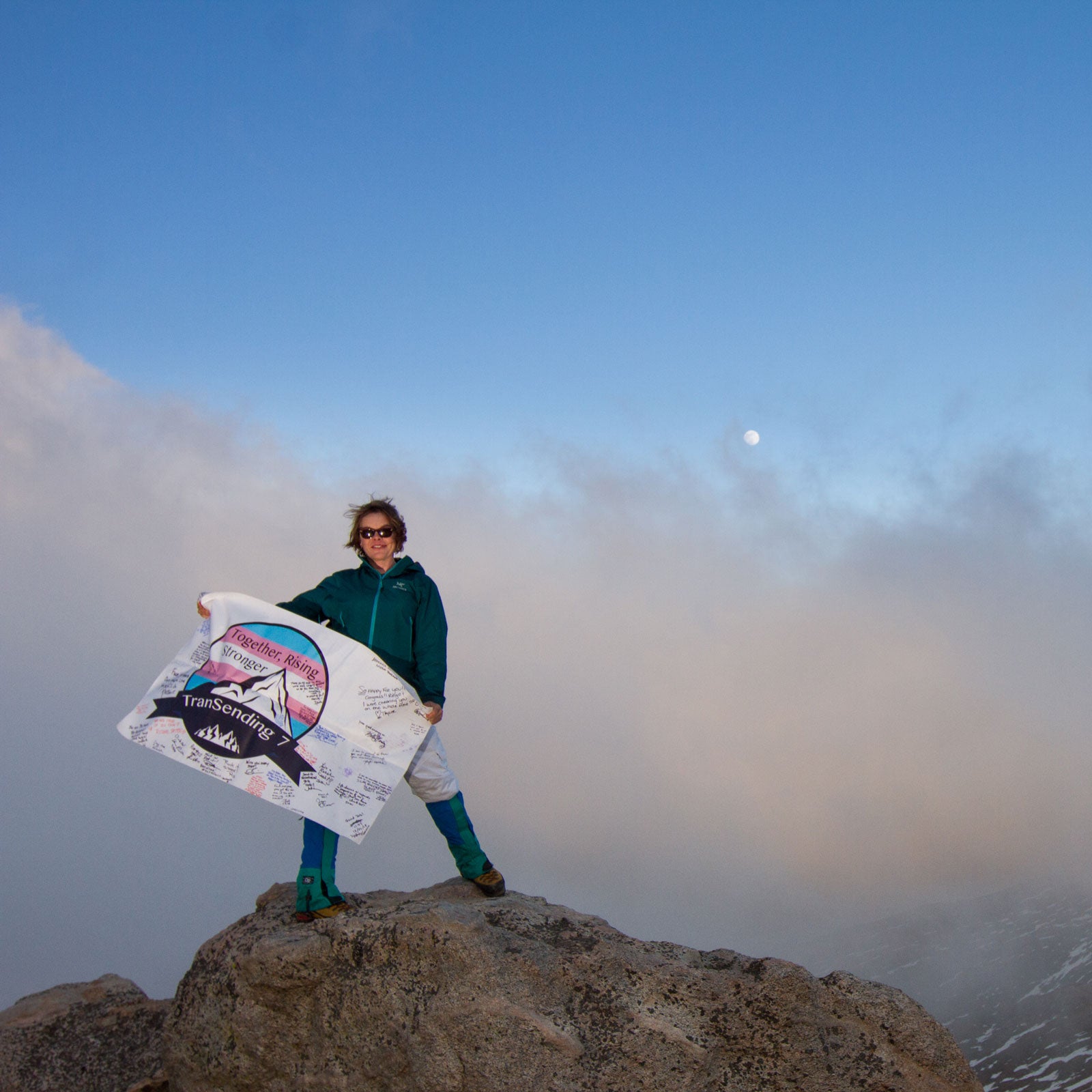 Charissa Pilster(Photo)
Heading out the door? Read this article on the new Outside+ app available now on iOS devices for members! Download the app.
Erin Parisi's trek up Mount Kilimanjaro last March wasn't easy. Recovering from food poisoning and contending with almost continuous rainfall and the aches and fatigue that accompany six days of climbing, she tried to maintain a positive attitude as she sat in her tent at Barafu camp, approximately 15,358 feet above sea level and 36 hours from the summit.
After all, she had done it before. But the first time Parisi ascended the 19,340-foot peak, in 2011, her name was Aron.
In 2016, at age 39, after living as a man her whole life, Parisi came out to the world as a woman, went through a complicated divorce, and underwent facial feminization surgery and larynx reconstruction, the latter of which left her mute for a month. It was during her month of silence, buoyed by the support she received from her family and community, that the Denver resident set herself a new goal. Parisi wanted to complete the Seven Summits, climbing the highest peak on every continent.
Parisi had done her fair share of mountaineering before her transition, summiting fourteeners in Colorado and making winter ascents in Canada. "I don't consider myself a technical route bagger," she says. "Being in the mountains is more important to me than keeping a list."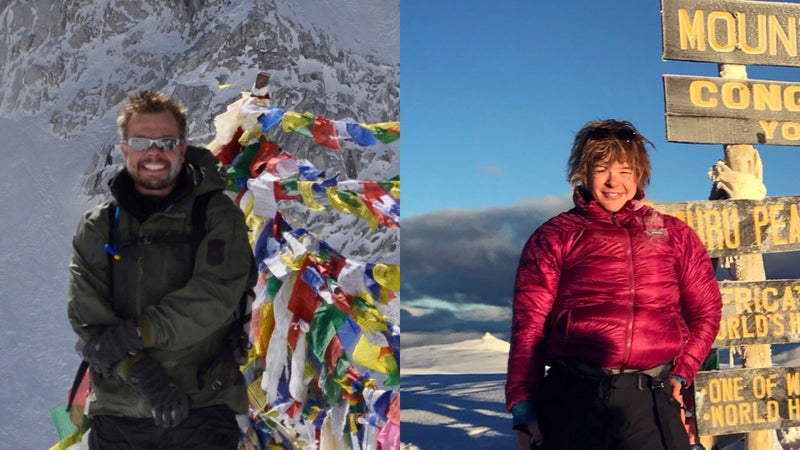 In March 2018, Parisi also started a nonprofit, TranSending 7, to advance transgender rights and encourage other transgender people in sports. "It's important for us to show that we have the same goals and aspirations that we had before," says Emma Shinn, the board chair of TranSending who is also a lawyer, a former infantry leader and judge advocate in the Marine Corps, and a transgender woman. "We may look different, we may sound different, but we're still the same people underneath."
The organization will also help fund future summit attempts for Parisi, who works at CenturyLink and has so far self-funded her trips. She summited her first peak in February 2018: the 7,319-foot Mount Kosciuszko, Australia's highest point. She topped out on Kilimanjaro on March 8, International Women's Day. In June, Parisi stood atop Europe's highest peak, the 18,510-foot Mount Elbrus.
Since 1983, when American Dick Bass conceived of the idea, hundreds of people have undertaken the quest for the Seven Summits. According to the most recent list, published in 2016, 416 people have succeeded; of those, 71 have been women. It's hard to say with 100 percent certainty that Parisi will be the first transgender person to complete the Seven Summits, but it is likely. "One factor that makes my push unique is I am pursuing the Seven Summits under the IOC guidelines for a trans athlete to compete in the female category," Parisi says. "This means I've suppressed testosterone and documented those levels for a year. At these levels, the IOC has determined I have no athletic advantage for being pronounced male at birth."
When Parisi underwent her transition, some people asked if she would still be able to do what she loved—traveling and climbing—now that she's out as a woman. "Oftentimes, cisgender friends feel like they didn't really know you, because you had this identity that wasn't really public," Shinn says. "People ascribe all of these gender norms immediately to you and say, 'Well, girls don't like hiking or backpacking.' Those gender norms are part of what we're fighting against. Not just 'women can be climbers,' but 'trans women can be climbers.'"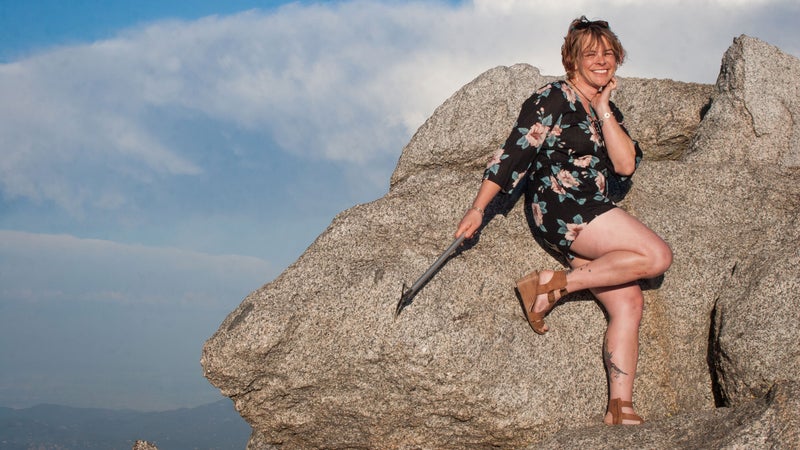 Parisi had apprehensions when she returned to Kilimanjaro in March. Tanzania is not friendly to the LGBTQ community, and she was worried about being discovered. In a twist of fate, she ended up trekking with the same tour leader and cook who had accompanied her up Kilimanjaro seven years earlier—but they didn't recognize her. Parisi's summit attempt was an even more emotional journey than anticipated, but at the top, she gleefully unrolled her TranSending7 banner and took photos.
"It takes a special person to bite off a task like this," says Kim Hess, an American who completed the Seven Summits in February 2018. "[Parisi is] taking on physical, mental, and financial challenges, but she's also walking a life that not everyone accepts or understands, and that's unnerving."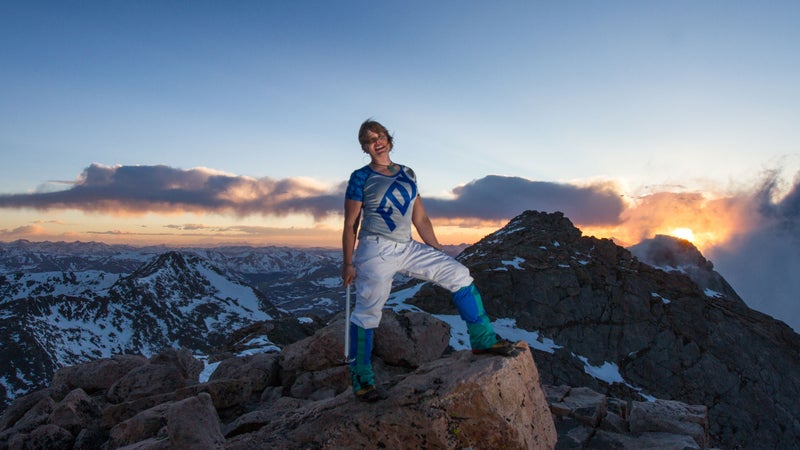 Parisi underwent surgery again on her larynx in September; the first procedure didn't work due to complications during recovery. After another month of silence, she'll spend the next 100 days training and preparing for her next peak, Argentina's 22,837-foot Aconcagua, in February 2019. From there, she's shooting for Denali in May or June 2019, Mount Vinson during the Antarctic summer (November through February), and Mount Everest in 2020.
Parisi believes that mountaineering—the quest to summit the highest peaks—allows society to, quite literally, lift itself up. She hopes that her Seven Summits bid will do the same for the transgender population.
"You can't accuse me of hiding if I'm standing on the top mountain of every continent saying, 'Here I am,'" she says. "For a population that has, to some extent, been pushed into the shadows, going to the place where there is nothing to cast a shadow on you and saying 'I'm here, and I'm proud to be here,' that's the message I want to send out."
Lead Photo: Charissa Pilster
Trending on Outside Online