How to Fix Everest
The deadly 2019 climbing season prompted a worldwide demand to reform management of the world's highest peak. Is change really possible? Mark Jenkins, a veteran alpinist who reached the summit in 2012, lays down an emphatic yes.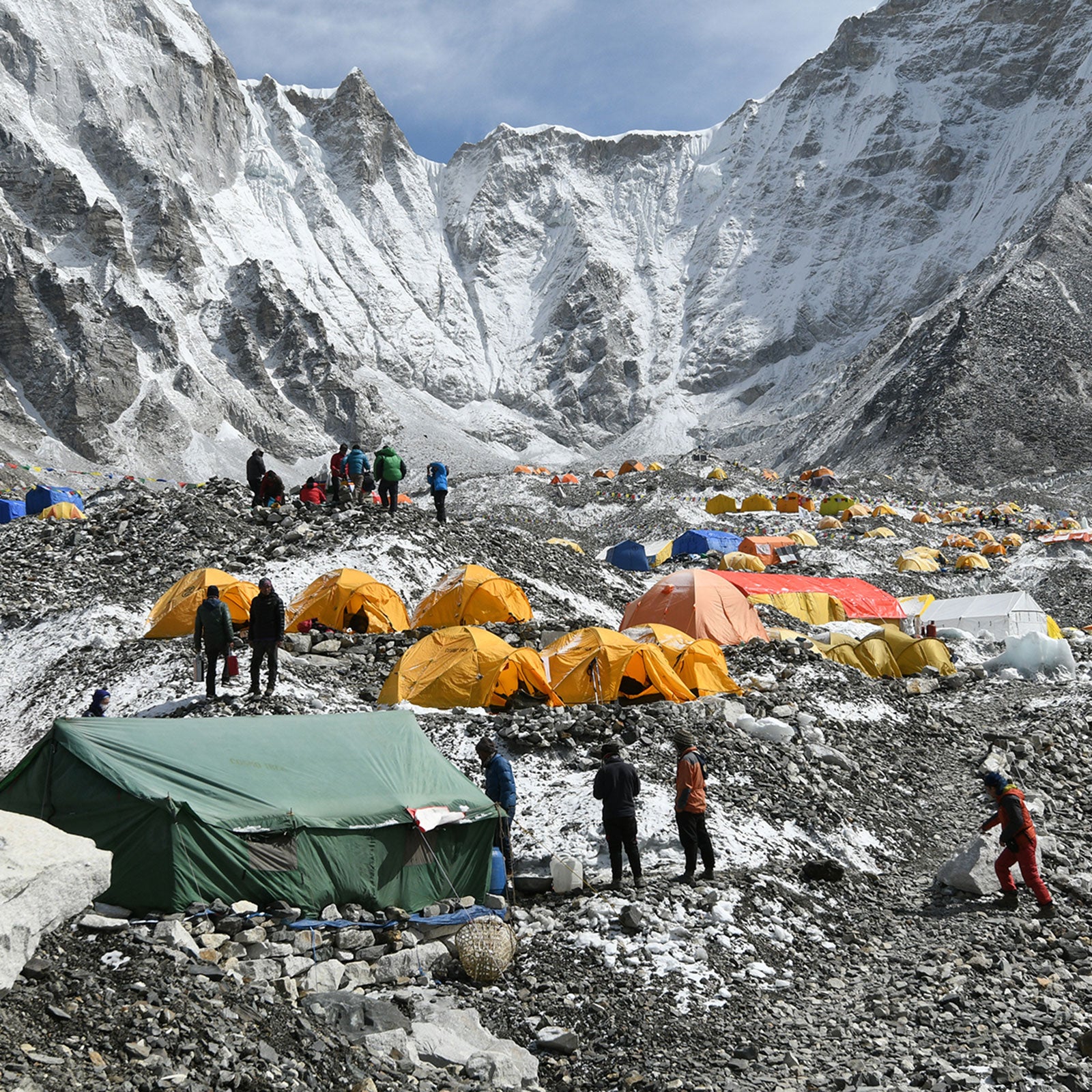 Heading out the door? Read this article on the new Outside+ app available now on iOS devices for members! Download the app.
Déjà vu. A herd of humans waiting in line for their 15 minutes of fame on top of the world—their flesh beginning to freeze, strength waning, oxygen running out. As in years prior, the grimly unlucky and the overly egotistical will perish; their bodies, frozen solid as monuments, left on the mountain as gruesome harbingers of next year's mistakes.
Eleven people died on Everest this spring. Not from avalanches or earthquakes or even unexpected snowstorms, but rather, in some part, from the consequences of overcrowding. Nine of the eleven climbers died on the way down, after summiting. Why? Although each death was a unique and tragic case, many of the victims died from altitude sickness, a condition that easily could have been related to spending an unacceptable amount of time in the Death Zone—between Camp IV at 26,000 feet and the summit, above 29,000 feet. This slowdown was caused by a human traffic jam near the summit.
How many years will this senselessness continue? Everest today is the ugliest antithesis of good mountaineering. Driven by arrogance, ignorance, or avarice, bad judgment abounds and blame must fall on all Everest participants—the climbers, the guiding companies, and the Nepalese government.
I first went to Everest 33 years ago as a member of the 1986 U.S. North Face Everest Expedition. Back in the eighties, everyone who went was an experienced mountaineer. To get a spot on the team, I had to submit a lengthy climbing résumé. All of us had already summited another 8,000-meter peak; all of us had climbed hard rock or hard ice in Yosemite or South America or the Alps. With no porters and no Sherpas, we did everything ourselves. We humped loads, camp to camp, for weeks. We cooked for ourselves; we led every pitch ourselves. We spent 75 days on the North Face, never used oxygen, and didn't summit. But we all came home, with all our fingers and toes.
In the decades that followed, I climbed all over the world, making first ascents from Afghanistan to the Arctic, Kham to the Congo. I returned to Everest in 2012 as a member of National Geographic's 50th Anniversary Expedition. We took the standard Southeast Ridge route, as the first Americans had in 1963, and summited, but I didn't feel good about it. In fact, I was both appalled and vaguely ashamed. With all the Sherpa support and bottles of oxygen and fixed lines, it wasn't a fair fight.
It's only gotten worse in the past seven years. Everest is clearly broken. Here are the ways to fix it.
Limit the Number of Permits
Judging by this year's ghastly pictures of the conga line snaking up to the summit, it's obvious that there are too many climbers going for the top at the same time. Why are they all going at once? There are a number of reasons, but the most salient is that they're all using the same remarkably accurate weather forecasts. Twenty years ago, forecasts on Everest were little more than Nostradamus-like prognostications, and teams decided to go for the summit when they were physically and mentally ready. This tended to spread out their attempts over several weeks. Now, through vast technological improvements, the windows of good weather—lower wind, higher temperatures, no precipitation, when the chances of reaching the summit are most probable—are forecast down to the hour.
Even so, there are still far too many people on Everest's standard route, and a lot of the responsibility lies with Nepal's Ministry of Culture, Tourism, and Civil Aviation. For the 2019 pre-monsoon season—April, May, and June—the ministry issued a record 381 individual Everest climbing permits at $11,000 a pop. This brought in more than $4 million, which doesn't appear to go to Everest or Sagarmartha National Park (where Everest is located). With all the support staff and Sherpa help, this put at least 750 people on the south side of Everest this year. This is beyond the carrying capacity of the mountain if we hope to maintain safety, not to mention an aesthetic mountaineering experience.
So the first and most fundamental way to reduce traffic jams, frostbite, and death on Everest is to radically reduce the number of permits. Put bluntly: the ministry should issue just 200 climbing permits a year, 100 for the pre-monsoon season and 100 for the post-monsoon season, which happens in October and November.
"The post-monsoon season has been all but forgotten," says veteran New Zealand mountain guide Lydia Bradey, who became the first women to climb Everest without oxygen in 1988. "On that trip I summited in October." She's right. Over the years, the process and infrastructure for climbing Everest with Sherpas has shifted to the spring season, but the post-monsoon season offers some of the finest weather. Days are shorter and sometimes colder, but storms are less frequent.
There's already a good precedent for limiting numbers at highly attractive adventure locations. The Colorado River, at the bottom of the Grand Canyon, runs a lottery every year for nonguided boaters. Often people will wait years to get a permit. The Southeast Ridge Everest lottery would need to include guided and unguided teams, and the results for each climbing season should be announced at least 18 months in advance to give everyone time to prepare.
This obvious solution will be deeply unpopular with the guiding companies on Everest (less money), the Nepalese government (less money), and the Sherpas (less money). I can already hear them howling. But is Everest merely about money? If we want to restore the meaning of mountaineering on the planet's highest peak, overall numbers have to be reduced.
Given that only 400 people attempt to climb Everest from the Nepal side every year but almost 30,000 trekkers hike to Everest Base Camp every year, neither the Sherpas nor the tea houses nor the government would lose out that much if the number of Everest climbers was cut in half. Nepal's government is sensitive about its reputation, so international pressure could push it to limit permits.
Part two of reducing numbers would be for the ministry to reduce team size to a maximum of eight climbers. Since client climbers today are paired with one or sometimes two Sherpas, this would ensure that every climber has adequate support.
Establish a Concessions System for Guiding
There are clearly guide services on Everest right now that should not be allowed to operate. They lack technical skills, sufficient support staff, and proper mountaineering and environmental ethics. The Ministry of Culture, Tourism, and Civil Aviation must create an international board that vets all commercial guide services, giving licenses only to those that meet the highest standards of safety, professionalism, and client support.
Grand Teton National Park and Denali National Park, both coveted climbing destinations, use this kind of process to keep their mountains from becoming madhouses.
Require Complete Leave No Trace Practices
Parts of the Southeast Ridge route have become downright disgusting. At Camp II, at 21,000 feet, there are hundreds of three-foot-high pyramids of frozen human feces. Climbers should be required to use wag bags and carry their own excrement off the mountain.
There are tents at every camp loaded with detritus that teams simply refuse to remove. There's already a penalty for not carrying your trash off the mountain, but it isn't enforced. Sherpas need to be paid well to remove all the legacy garbage from every camp. This would cause the price tag of an Everest expedition to go up, but so what? If you're willing to pay 50 to 100 grand to have Sherpas hump all your heavy loads up the mountain, you should be willing to pay them to hump it all down.
Fix Lines Earlier in the Season
The Sagarmartha Pollution Control Committee (SPCC), deploys a select group of Sherpas called the Ice Doctors to put the lines and ladders up through the Khumbu Icefall every spring. Twenty years ago, ropes to the summit were fixed by the end of April, but these days the ropes sometimes aren't in place until the middle of May. This shortens the opportunities to summit by at least two weeks and contributes to overcrowding. If the ropes were ready by May 1, some climbers could take advantage of an early weather window.
Most important, the SPCC should place two fixed lines from Base Camp to the summit. Right now, on many parts of the Southeast Ridge route, there's just one line, which is like having a one-lane bridge on an Interstate highway—someone always has to stop and wait to let the other go by. There should be an up line and a down line. Putting in these lines in both early spring and early fall will require twice the amount of rope and twice the amount of time for the Sherpas, so the expedition price tag would again go up. (See: So what?)
Licensed Guides Need to Do More
All guiding companies should require prospective Everest climbers to have solid mountaineering skills, which can only be obtained by climbing mountains. Prospective Everesters should be required to have climbed at least a dozen other big mountains and at least one 7,000-meter peak. When I mentioned this to Bradey, she upped that to at least one 8000-meter peak on your résumé. "This would completely change the makeup of Everest climbers," she said. "They would be technically prepared and capable of moving faster. The Everest clients I've had who previously climbed an 8,000-meter peak were dialed. They knew what they were doing. There are clients on Everest today who don't even know how to put on their crampons, let alone walk in them."
This experience requirement would be a boon to guiding companies and the Nepalese government alike—both of whom would rake in money for permitting and guiding ascents of peaks all over the country.
Everest Climbers Must Take Responsibility
Everest is the highest mountain on earth. Majestic, magnificent, malevolent. Every prospective Everest climber must ask themself if they deserve to climb Everest. Climbing Everest is a privilege, an honor, not a trophy. Do you have the depth of mountaineering experience necessary to attempt Everest? If not, you're disrespectfully endangering the lives of others. Do you have the physical stamina to ascend Everest (how many stadium stairs have you been running and for how many months?) If not, you're selfishly endangering the lives of others. Do you have the grit, what we used to call "intestinal fortitude," to stick it out when the going gets nasty? If not, you're unfairly endangering the lives of others.
"We live in a culture of blame," Bradey says. "If something goes wrong, especially on Everest, everyone is always looking for someone else or something else to blame. But it's mountaineering for God's sake. Things go wrong. It's part of the game. What ever happened to taking personal responsibility?! If you choose to climb Everest, you should take responsibility for yourself and your team."
It's the ethical and moral obligation of every mountaineer to stop and help a fellow mountaineer in trouble—no matter if it decreases one's own chances for the summit. This is the immutable mandate of mountain climbing, the unbreakable bond of the rope. Human life is more important than any silly summit.
Bradey and I were attempting a new route on an unclimbed mountain in Tibet a few years back. We'd climbed up the east face, tunneled through a cornice on the north ridge, and suddenly found ourselves with overhanging ice walls ahead of us and a black storm approaching. We could see the summit. It was just right there. It would only take us a few more hours.
I looked at Bradey. She didn't say a thing. She shook her helmeted and goggled head and stabbed her mitten downward. The storm struck an hour later, but we lived to climb another day.
"There is only one way to survive mountaineering," Bradey says. "That is to know when to turn back."