A 3,530-Mile Human-Powered Ascent of Denali
Here's what it takes to get yourself on top of Denali, from Salt Lake City, without a single motor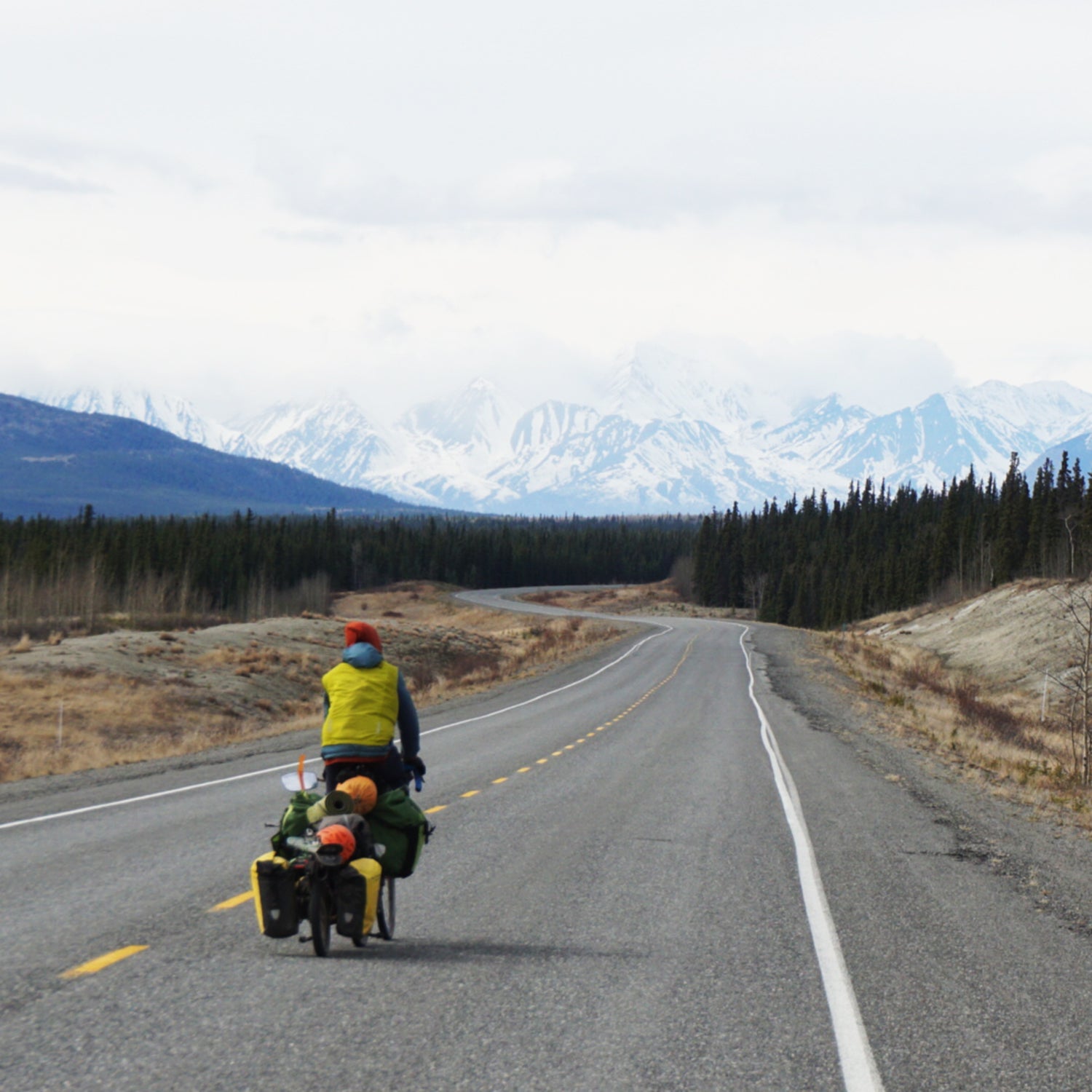 Cody Hughes(Photo)
Heading out the door? Read this article on the new Outside+ app available now on iOS devices for members! Download the app.
On June 22, Clay Hughes and Cody James confirmed on Instagram that they'd summited Denali, completing an 81-day quest to climb the highest peak in North America using human power alone. Hughes, 28, is a backcountry ski guide and an avalanche educator in the winter and a rafting guide in the summer, and James, 27, is the manufacturing manager at DPS skis. The trip involved a total of 3,530 miles by bike, 63 miles by foot, and 37 miles by ski, and the men carried all their own food and gear. They ascended 20,310-foot Denali from the north side, via the Muldrow Glacier route, which is the same path taken by the men who first climbed the mountain in 1913, although it's less commonly used today. Then they skied off the summit. "I wanted to earn it," said Hughes. 
Neither of the two are professional athletes, although both are accomplished ski mountaineers with significant experience on big lines in the Wasatch, Sierra, and Tetons. Hughes is also an avid bikepacker who recently cycled 3,000 miles from Salt Lake City to Florida with his dog, Sierra (who rode in a storage crate attached to the back of his extended-frame cargo bike).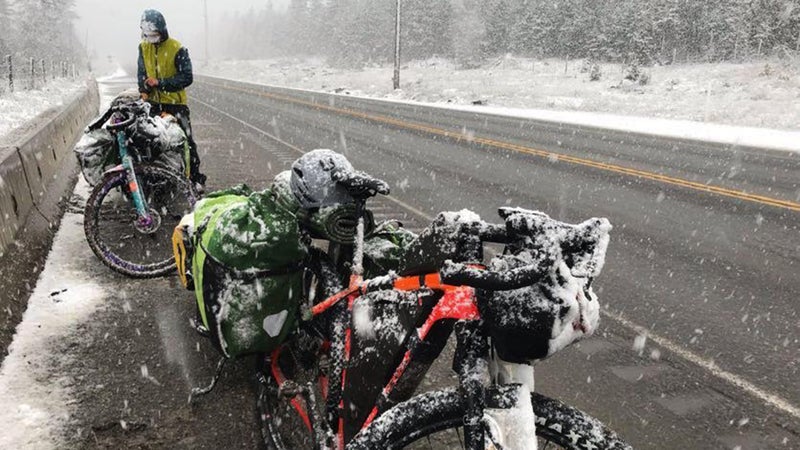 Hughes and James departed from their front doors on March 20 by bike, each carrying panniers and towing a trailer with 160 pounds of ski-mountaineering equipment, camping gear, and food. They averaged 60 miles per day, pedaling through Idaho, Oregon, Washington, British Columbia, and the Yukon to reach Denali National Park. En route, Hughes dealt with a cold followed by a mild bout of giardia, and James suffered a body-bruising crash on a steep downhill. But the hardest part was an eight-day stretch without any services in isolated northwest British Columbia; the two expected to be able to resupply at their intersection with the Alaska Highway, just across the Yukon border, but the store there wasn't yet open for the season. They ran out of food, except for Krusteaz pancake mix, which they used for two and a half days before running out of fuel to light the stove. "I had to flag some people down on the Alaska Highway to get some unleaded gasoline," says Hughes. "Those were some of the darkest moments of the trip for me."
Fortunately, the weather was in their favor most of the time. "It was a bad snow year in Canada, and that was good for us," says Hughes. They encountered very little snow, even in the northernmost reaches of their bike route—places where it's often four feet deep in the late spring. They faced their biggest logistical challenge in Denali National Park, where the road ends at the Wonder Lake campground. After biking 3,530 miles, only a 21-mile stretch of tundra remained between them and Muldrow Glacier, the starting point for their Denali ascent. But it was land they could neither bike nor ski, which meant their supplies could not be towed by bike trailer or ski sled. They had to carry it all across, which took two trips. The 21 miles became 63 and a six-day effort. On day four, the sky unleashed a downpour that continued for two days, soaking everything that wasn't secured in a drybag. Hughes and James waited another two days at the tongue of the glacier for the sun to dry them and their equipment out.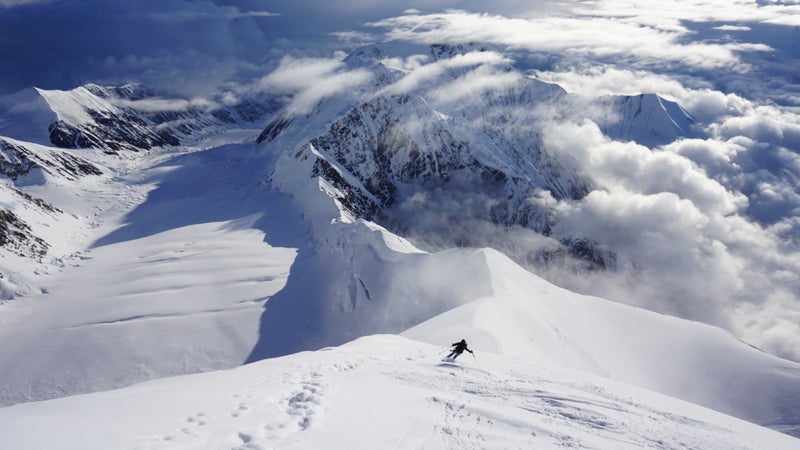 As soon as they began skinning up Denali, they made good time, even with their sleds full of supplies. They summited in eight days, which was half the time they'd allotted. Hughes credits cooperative conditions. "Every day we kept waiting to get stormed in—we'd heard stories of people getting stuck up there for like two weeks—but we never did," he says. "We had two weeks of bluebird. It was incredible." 
The weather and ski conditions were so good that they stuck around for another eight days to ski more "steep-spine, bluebird-glittery pow." But they couldn't ski off the mountain completely—it was too difficult to descend with all their gear, about 80 pounds each at that point. So when it was time to go, Hughes and James put everything on their backs and walked down the West Buttress route. By the time they reached the bottom, both of Hughes's feet were infected from the strain of the lengthy downhill coupled with a pair of gritty, filthy socks. Ultimately, though, it worked in his favor, as it meant he didn't mind traveling out "the way everyone else does it," by bush plane and automobile.
Corrections:
(10/01/2023) An earlier headline for this story mistakenly claimed this was the first human-powered ascent of Denali. It's not—Erden Eruc made the trip from Seattle, Washington, in 2003, and biked home.
Lead Photo: Cody Hughes
Trending on Outside Online