The First Obstacle: Navigating the Deadly Khumbu Icefall
The Khumbu Icefall has already claimed one mountaineer this season, but the obstacle is no more dangerous than most years. Here's the one place that has Everest climbers on edge.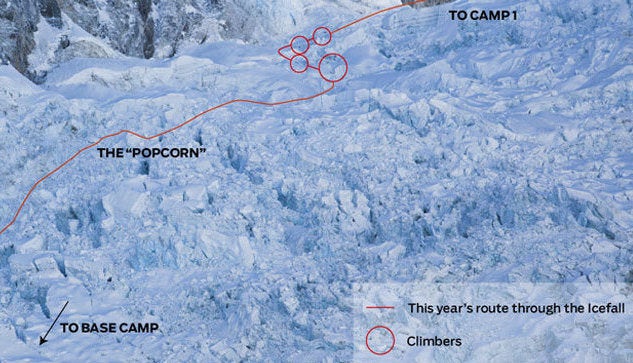 Heading out the door? Read this article on the new Outside+ app available now on iOS devices for members! Download the app.
The Khumbu Icefall—a chaotic tumble of ice blocks, towers, and crevasses between the Western Cwm and Base Camp—is always among the most dangerous obstacles climbers face on Everest. Each year, the Icefall Doctors, a crew of Sherpas employed collectively by every Everest, Lhotse, and Nuptse expedition on the mountain, sets the route of ladders and ropes through the mess.
Typically, they try to keep the route off the walls of the Everest and Nuptse, which are both rimmed with dangerous seracs that regularly calve off. Last year, the icefall formed in such a way as to push the route uncomfortably close to Everest. This year's route swerves even closer to Everest and, right at the top, passes directly beneath an actively calving serac with no crevasses below it to help swallow up avalanche debris.
A couple of well-known climbers have already voiced their concerns to the Icefall Doctors that the route is unsafe. But the center of the icefall is completely shattered, and the skyscraper-sized ledges at the top would present a different, if equally dangerous, hazard. "It's a bit close to the wall," says veteran Everest guide David Morton and First Ascent West Ridge team member. "I've seen better—and worse. There's the potential for it to be even more dangerous if you move it out into the middle."
To commemorate the 50th anniversary of the first American ascent of Everest and its then-unclimbed West Ridge, Eddie Bauer has sent a team of seven mountaineers to repeat the historic climbs. Outside Magazine senior editor Grayson Schaffer is currently embedded with the team at Base Camp, sending back daily dispatches, including stories, photos, and videos. A team sponsored by The North Face and National Geographic is also planning on ascending the notoriously treacherous West Ridge, a route nearly as many climbers have died on as have summitted. Schaffer will be covering both attempts, as well as everything else that happens at Base Camp, until early June.
Trending on Outside Online