Get Schooled
How to Be a Better Mentee
Looking for an outdoor mentor? So is everyone else. Here's how to make yourself a little more competitive.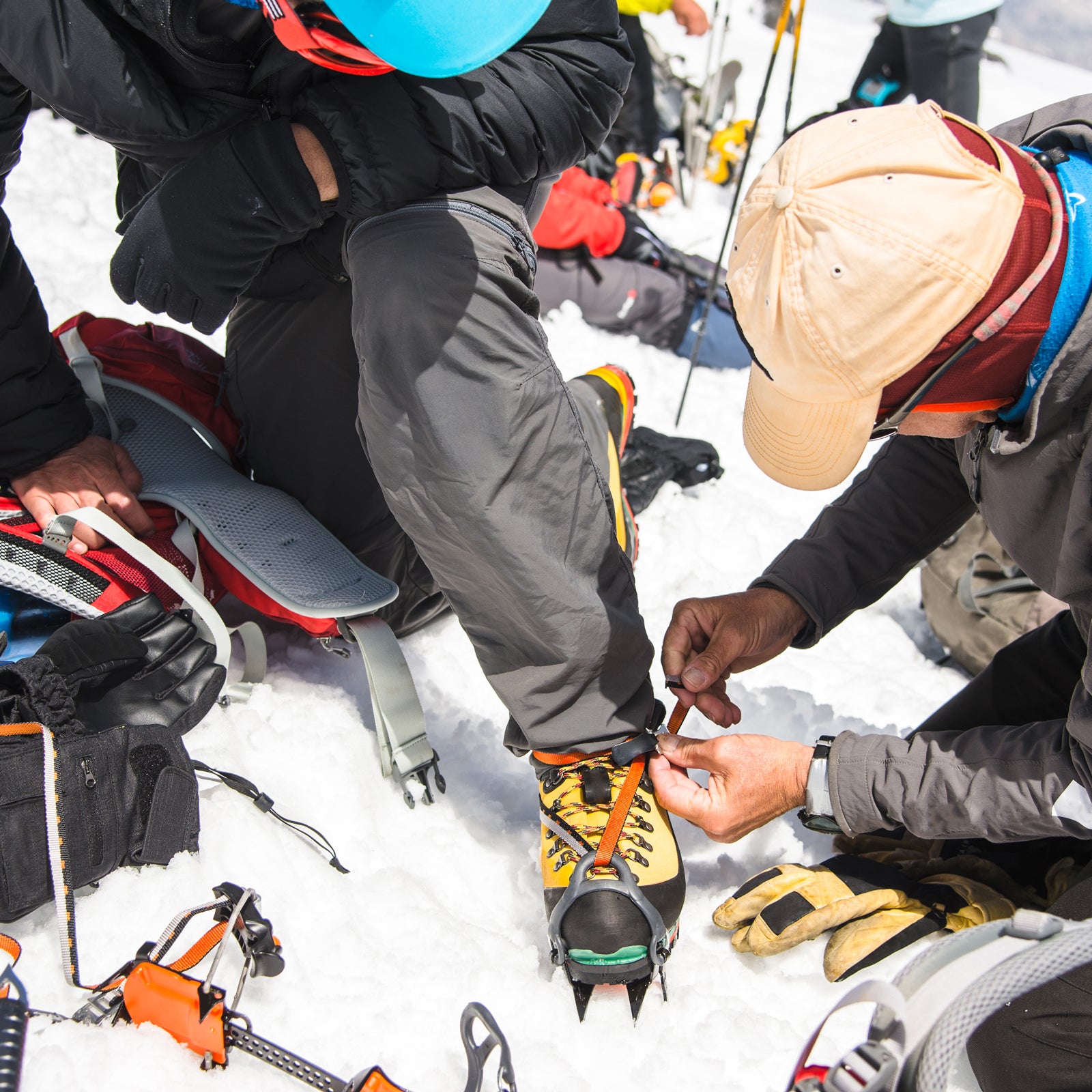 yanik88/iStock(Photo)
Heading out the door? Read this article on the new Outside+ app available now on iOS devices for members! Download the app.
"Climbers are so elitist," a friend recently seethed. "They all refuse to climb with beginners." As a relatively new climber, she was looking for backup, but I couldn't give it to her. In the past few years, technically demanding sports like rock climbing and backcountry skiing have exploded in popularity. There are hordes of new participants clamoring to get appropriate instruction in everything from avalanche safety to movement skills—and not enough qualified mentors to teach them. Demand is outpacing supply, which means the few willing mentors who do exist need to be picky. 
As someone who's been climbing fanatically for about six years, I've amassed a good amount of technical skill. I probably get a text once a month from someone asking me to teach them how to climb. If I said yes to all those requests, I wouldn't have any time to work toward my own goals. Plus, mentorship is mentally and emotionally taxing, doubly so in a dangerous sport where your mentee's life and limb depend on your teaching ability. While mentorship can be tremendously fulfilling, that stress isn't something I—or the veteran explorers who contributed their advice below—are willing to go through for just anyone.
If you're in the market for a mentor, rise above your competition with these tips.
Commit
Having a mentee is like having a houseplant: it's only rewarding if you get to nurture and witness steady growth over the years. Conversely, there's nothing more gutting than pouring your heart into a little fledgling climber or mountain biker just to watch them decide they prefer trail running three months later. Spare us the heartbreak; dabblers need not apply.
Have a Clue
While some mentors are happy to start with you at ground zero, you'll be a more competitive candidate if you already know some basics—especially where safety is concerned. Want to learn backcountry skiing? Take an AIARE Level 1 avalanche course—most skiers won't head off-piste with someone who doesn't know how to dig them out if they get buried. Glacier travel? Ditto—try an online course, like guide and alpinist Mark Smiley's Crevasse Rescue for the Modern Climber. Want a climbing mentor? Start by reading a book (I recommend Marc Chauvin and Rob Coppolilo's The Mountain Guide Manual) or signing up for a clinic. You can find high-quality classes through your local guiding outfit or climbing festivals. The American Alpine Club's Craggin' Classic and the annual Arc'teryx Academy are two examples of education-focused fests that offer great opportunities to network with other potential partners and mentors. 
Date Around
Successful mentorship relies on a really solid personality fit, says high-altitude mountaineer Melissa Arnot. Because outdoor adventure requires so much discomfort, fear, and tense decision-making, it's an intimate relationship, and it's worth taking a few shorter outings to feel things out before you commit to one person. "Your mentor doesn't have to become your best friend, but I sure think it helps," Arnot says. And if your mentor of choice says you're not a good fit, don't take it personally—you'll find someone else.
Do the Dirty Work
If you want to be a good mentee, you have to learn how to be a good partner first. That means paying for gas, offering to carry the bigger load, setting up the tent, or coiling the rope at the end of the day. If your mentor is doing all the leading and handling the tough, technical aspects of the climb, find other ways to pull your weight. One gold-star example: when Arnot brought 21-year-old mentee Maddie Miller on a quest to summit all 50 U.S. state high points in 50 days in 2016, Miller took charge of all navigation for the trip. "It was a good learning project for me, and helping out made the partnership feel less one-sided," Miller says.
Be Ready to Suffer
"Mentorship isn't free guiding," Arnot warns. "It's a different relationship, and it requires being really uncomfortable most of the time." Part of that is because the outdoors can be totally unforgiving in terms of weather and exposure, and the other part is because being a beginner and getting a constant stream of constructive criticism is exhausting, Arnot says.
Communicate
Any kind of partnership is about problem-solving, and that requires clear back-and-forth communication. "People have bad days. It's just inevitable," says polar explorer Eric Larsen. "You need to be able to communicate clearly and talk through your differences. For me, that's the most important thing I look for." Your mentor won't make perfect decisions all the time, and even when they do, you won't always understand them right away. Speak up when you have questions, and be prepared to discuss your concerns. 
Ask the Dumb Questions
"Be really upfront about what you know and what you don't know," Arnot says. "That will fast-track you more than you can imagine." Pretend to know more than you do, and you risk wasting everyone's time, not to mention missing out on learning opportunities.
Bring the Fire
"I never want to be in a situation where I have to motivate someone else to accomplish a goal," Larsen says. Whether he's considering taking on a new mentee, intern, or trip partner, intrinsic motivation is at the top of his wish list. That means wanting to develop your skills out of pure passion and desire for your own personal self-improvement—not for the accolades or the Insta pics.
Do Your Homework
Part of being intrinsically motivated is being willing to learn even when you're off the clock. Between outings with your mentor, practice the skills you learned and work on developing new ones. You'll progress faster, and your mentor will feel like she made the right decision to invest her time in you.
Have a Dream
Cultivate resiliency by keeping a long-term goal in mind—whether that's planning and executing a big alpine climb or finally skiing the Grand Teton—and not fixating on the hiccups that occur along the way. "One of the things that makes Maddie such a good mentee is that she doesn't get caught up in the pettiness of not being good at one little thing," Arnot says of Miller. Instead, Miller chooses to focus on her overall progress, embracing the mistakes and criticisms as part of that progress. "That's really the secret sauce right there," Arnot says.
Lead Photo: yanik88/iStock