The Trials of Hosting a Dinner Party at the Top of the World
Fine dining on Everest? Only $1,050 per person.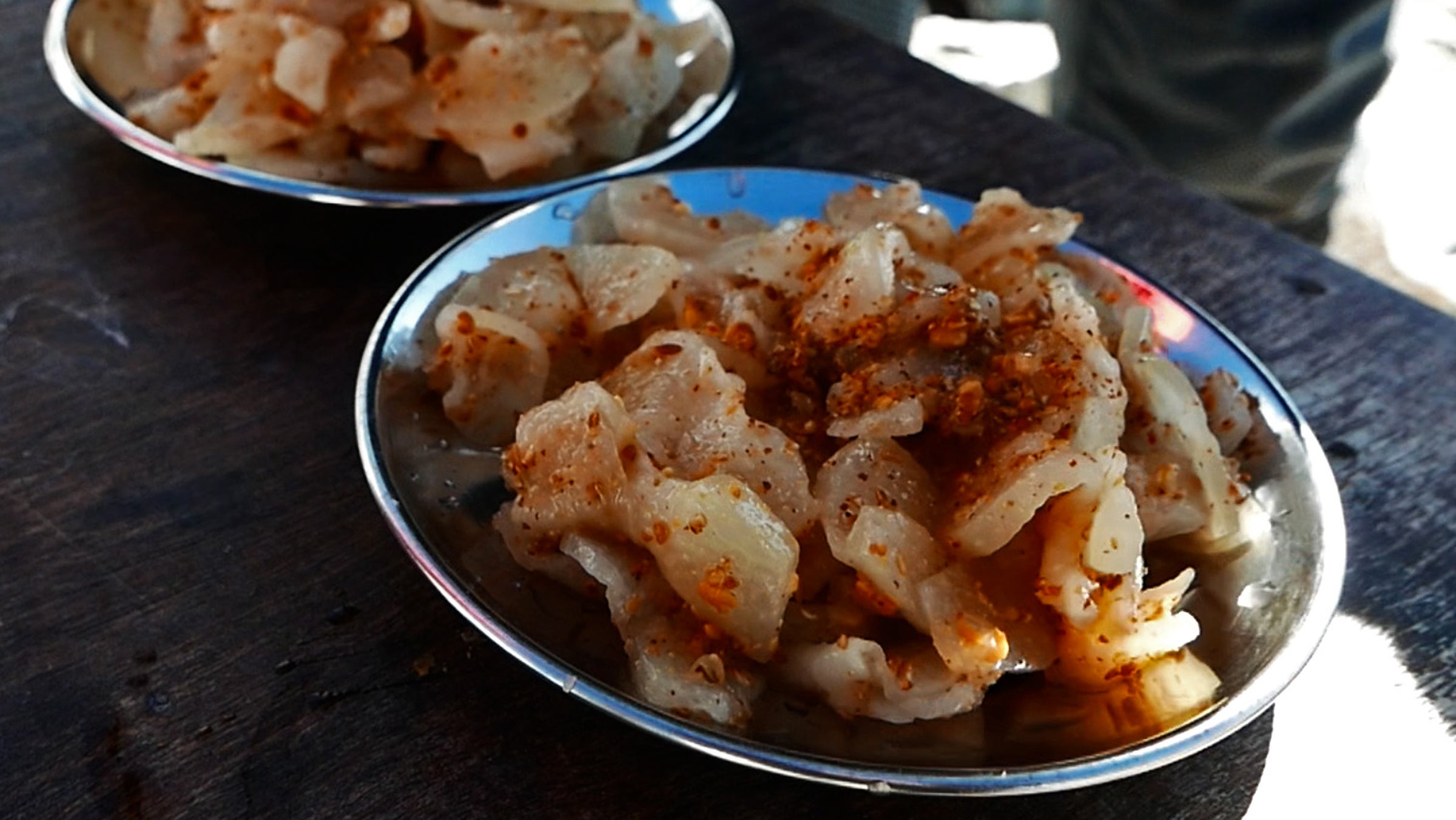 Heading out the door? Read this article on the new Outside+ app available now on iOS devices for members! Download the app.
James Sharman, a veteran of some of the world's best kitchens, knew the logistics of hosting a dinner party on Everest were going to be difficult, but by the time he arrived at Base Camp, north of 17,500 feet, the plan seemed like it was verging on madness. Sharman, with four chef friends and eight porters, had just hauled up 16 blue plastic chairs (one for each paying customer), three wooden tables (two for dining, one for prep), and enough cooking supplies to feed 25 people. As the culinary team surveyed the craggy outcrops for an ice-free, level-enough patch of rock on which to serve dinner, a small avalanche cascaded down the mountain above them.
Such are the difficulties of hosting a Michelin-quality dinner at the foot of the tallest mountain on earth.
Sharman and company—all chefs and hospitality pros, not mountaineers—knew their plan was preposterous from the get-go. The whole enterprise was part of One Star House Party, a roving pop-up restaurant Sharman and a few chefs started last year. Before Everest, the team had hosted high-end, short-lived restaurants in Beijing, Bangkok, and Ho Chi Minh City in Vietnam. In each spot, dinners were sold out, partially thanks to the team's spotless culinary credentials. (Sharman has cooked at Noma and The Ledbury, two European restaurants that often top the world's best list, and his colleagues have similarly impressive CVs.) But nothing, of course, prepared them for Everest. "You build a restaurant at Base Camp to make a bang," Sharman said afterwards. "But it was quite humbling."
This isn't the first time a famed chef has tried to host a dinner party on Everest. Last year, another British cook, Sat Bains, tried to prepare a fancy meal on the mountain and garnered tons of press in the lead-up. But the chef had to back down after showing signs of altitude sickness on the ascent.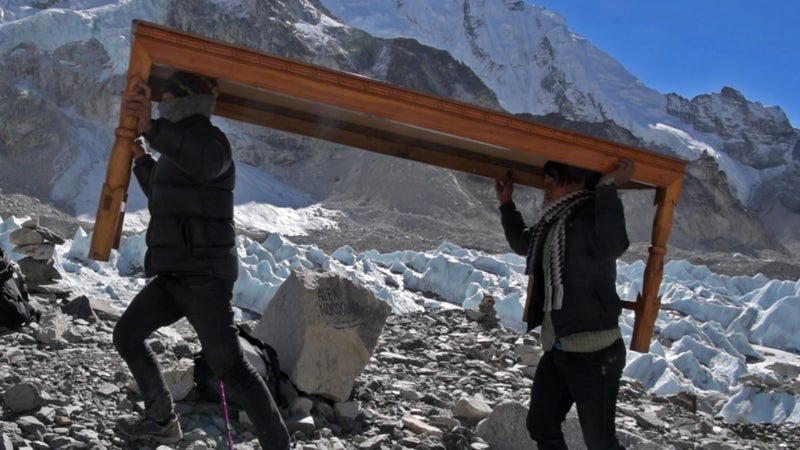 For Sharman's group, the logistics of the meal were daunting. Bains' plan to feed climbers involved freeze-drying food in civilization, then rehydrating the meal at Base Camp. But the pop-up crew wanted a fresher approach. On each leg of their tour through Asia, they'd pulled together menus after eating at local restaurants and haunting the city's fresh markets. In Bangkok, they served local beef sundried with homemade fish sauce, cured egg yolk, and charred Thai eggplant. In Vietnam, diners got water buffalo heart and fish brined in coconut water. But in addition to the challenge of high altitude cooking, Sharman and the team also aimed to learn the ins and outs of Nepalese food, a cuisine the chefs said they knew little about before the trip. 
"Nepalese food gets lost in Indian food in the Western perspective," Jack Donahue, a chef with the pop-up said before the ascent. "They have their own distinct style— it's a lot milder. There are dal dishes and curry dishes, but the spices are much more subtle and less furious."
In Kathmandu in late December, ten days before the ascent, the team began research in earnest. "We've eaten out twice tonight—and I've tried like eight things I've never had before," Sharman said at the time. "We ate goat spinal cord today and honestly it was so delicious—it was like bone marrow."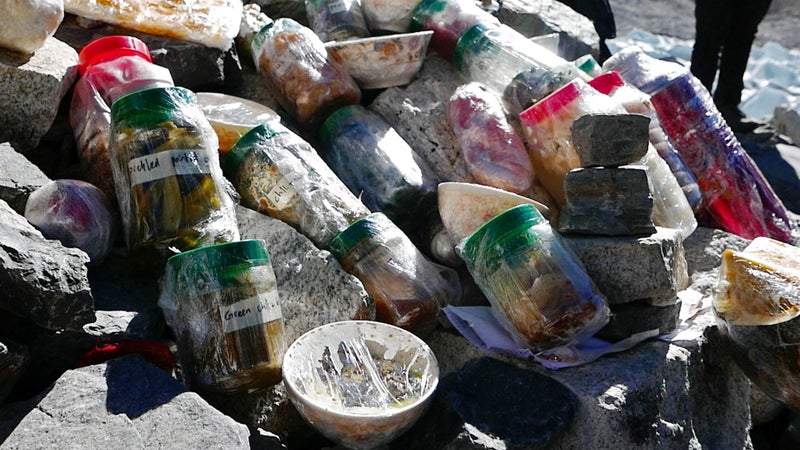 They spent the next week and a half building a menu based on what would keep fresh over the course of the nine-day hike to Base Camp. The key to unlocking the menu, Sharman said, was when "we started to look at the nine days we needed to hike with the food as an advantage, not a disadvantage." They tried traditional yak yogurt—"unbelievable," Sharman said—and decided they could ferment their own during the trek. They discovered Sukuti, a buffalo jerky that's air-dried in the cold, a process that has "profound effects on the flavor." As their menu came together, it slowly became more and more "Himalayan," the chefs said. "It's food designed against the odds," Sharman said.
The 15 diners—a band of "regulars," as Sharman puts it, or high-flying foodies who have gone out of their way to jet to previous pop-ups in multiple cities—paid $1,050 for food and lodging over the course of a 14-day journey from Katmandu to Base Camp and back. The hike was uneventful, if slow, Sharman says, but not without logistical difficulties. What really weighed the restaurateurs down were the late additions: local plants foraged on the trek to add freshness took up precious pack space; firewood collected at 13,000 feetwas a drag; and a barbeque that chef Kevin McCrea became enamored of had to be disassembled and divvied up between the hikers.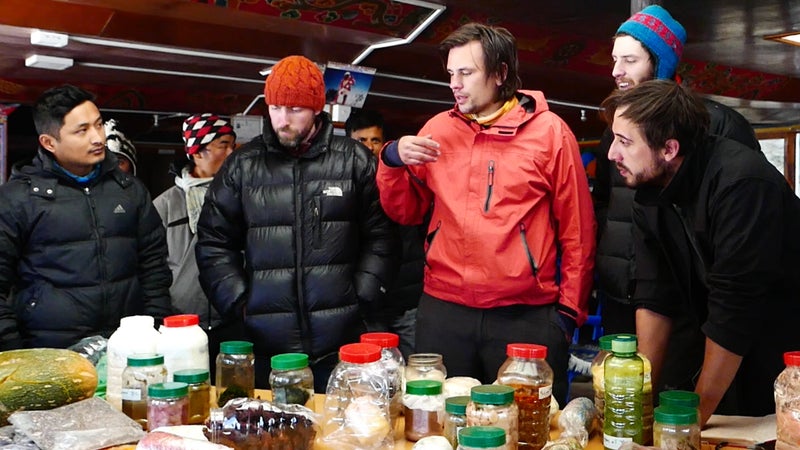 The night before the dinner, the whole crew stayed at a guesthouse in Gorak Shep, just over a half-mile from basecamp, where owners agreed to let the party borrow three wooden tables and 16 blue plastic chairs. The next morning at 5 a.m. the chefs and porters were up and beginning the arduous process of hauling a full dining set up the mountain. The chefs assembled the kitchen and began cooking two hours later.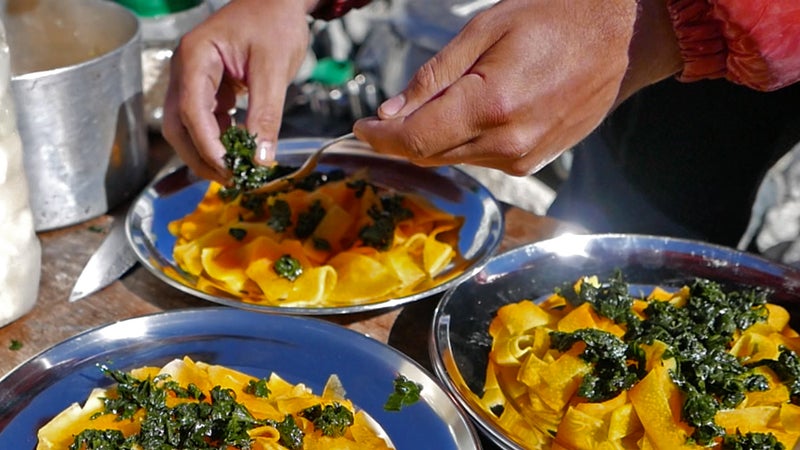 The meal was simpler than any other the One Star House Party had made, with hearty roots and pickled vegetables playing key roles. It was served in simple bowls, accompanied by cans of beer. The highlight, Sharman says, was a riff on Sukuti, the buffalo jerky found throughout Nepal. The chefs made a "dry curry" of the jerky by reheating it in ghee with copious spices and onions. "It had this amazing depth of flavor," he says. 
The Menu
Potatoes grown in Dingboche, steamed and cooked with turmeric, black mustard seeds, cassia leaf
Turnips, long gourds and mustard leaf fermented in Indian black salt and cumin
Carrots & radish fermented in wheat husk and beer
Thinly sliced raw pumpkin, frozen and thawed to change the texture, fermented in mustard leaf dressing
Rice cooked in the style of congee with green onion, turmeric, and cumin
Fermented sauce of hot green chili and tamarind 
Preserved, grilled and tea smoked aubergine
Pickled long gourds
Sukuti (buffalo jerky) wood fired for 2-3 days, hung to dry with chili seeds then lightly fried with cumin seeds and onions
 
"Looking back, I can't believe all the things that came together," Sharman told Outside in January. The crew was already in Mumbai, preparing for their next restaurant. 
Lead Photo: Courtesy One Star House Party