How to Overcome Climbing Fears
Smart ways to strengthen your mental game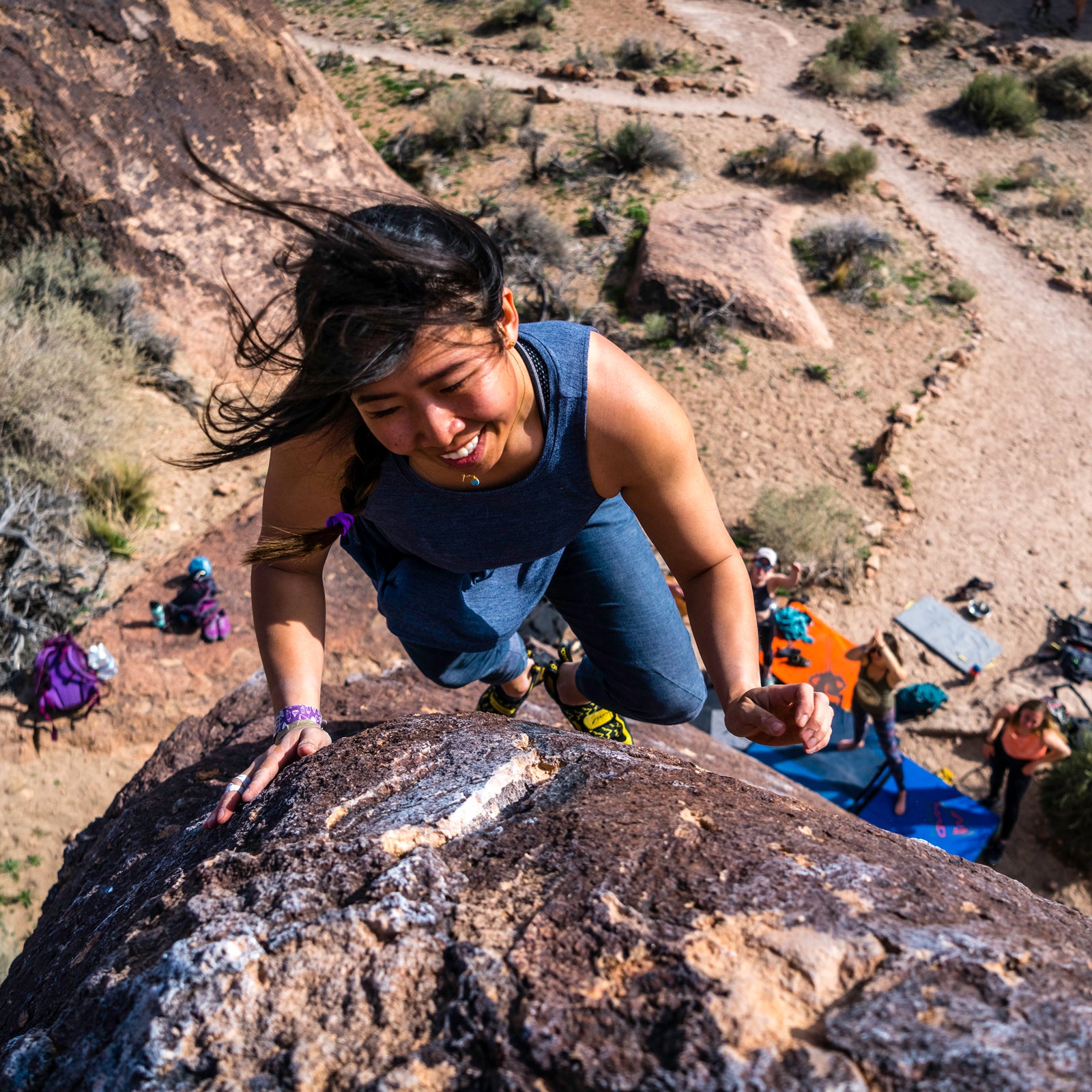 Vikki Glinksii(Photo)
Heading out the door? Read this article on the new Outside+ app available now on iOS devices for members! Download the app.
As a professional athlete who's been climbing for more than 20 years, I know how tough it can be to manage fear when you're on a wall. How to train your brain was a main focus of the Women's Climbing Fest (WCF) in late March this year. "Start a journey with mental training," said pro climber Hazel Findlay. "If we start to become more aware of our psychology in uncomfortable situations such as climbing, there is much to be learned."
Professional athletes, guides, and panelists shared their strategies and insight in workshops and discussions. We compiled the best tips so you can improve your mental game too.
Climb for Fun
Why do you enjoy climbing? Becca Droz, athlete, guide, and WCF instructor of this year's Sending the Psyche clinic, says, "It's important that we take time to identify these reasons for ourselves, independent of what our friends and climbing partners think." If you seek adventure, it's important to remember this when you get nervous about the unknown. If you like hard moves, perfect—when you fall off, you get to try hard again. Remember: you choose to climb for the challenge.
Set Goals with Intention
Choose goals that fit your passion. Process-oriented goals (like finding more flow in your movement or getting more comfortable with falling) are as important to acknowledge as achievement goals (sending that 5.12c). Intentionally work toward both types of goals when you climb. Do your warm-ups and training with those goals in mind, and really go for it, says Laura Sabourin, an instructor who teaches methods based on The Rock Warrior's Way, a book dedicated to mental training.
Acknowledge Fear
Fear goes hand in hand with the uncertain outcomes that are inherent in climbing. It's easy to feel like fear holds you back, but it's important to remember that it also serves a purpose: it can keep you safe. Understanding how you experience fear and exactly what you're afraid of can help you work with uncomfortable situations without taking unsafe risks. Professional climber and coach Nina Williams advises listening to and acknowledging inner voices to help you navigate fear. She says you have multiple styles of self-talk, including the "gremlin" that tells you you're not good enough or shouldn't be here. Instead of quieting the gremlin (or fear), Williams says to tune in to these internal voices. Noticing and acknowledging them will help you discern which fears are important and which can be discarded.
Make Tiny Changes
We all have habits—conditioned and comfortable ways of responding to particular situations. But these habits can hold us back. "Discomfort is something that is welcome," says Erynne Gilpin, founder of Indigenous Womxn Climb. Big change starts with rethinking small habits. The next time you climb, set an intention to approach a small behavior differently. For example, instead of saying "take" the next time you're pumped or scared, vow to yourself that you'll climb through it and make one extra move before taking a break.
Stay Present
The best way to train for climbing is to climb. And the best way to train our minds for climbing is to climb intentionally. Jillian Yatsko, founder of the Hazel Foundation for Athletics, an organization for adaptive athletes, at-risk youth, low-income families, veterans, and other nontraditional athletic groups, says to embrace the physical, mental, and emotional challenges of the sport, and remember that this is a rare moment of genuine, undistracted time in your life. Having trouble staying present? Try this: Notice each hold under your fingers. From the temperature to the texture to the type of hold, think carefully about what the rock feels like. Take inventory of the strength in your body positions. Hold tension only as much as is necessary. Relax when you can. And most important, smile. (I swear it helps.)
Slow, deep belly breaths can also help you stay calm. Powerful exhalation can help you channel extra strength on hard moves. No matter the type of breath, paying attention to it helps you focus. "Unlike our thoughts, our body is always present," Findlay says. "We can't connect to a breath that happened two minutes ago. We can only connect to the breath that is happening now. If you practice shifting your attention to your breath, you will find that the thoughts fall away."
Celebrate the Process
Reflection is part of training, so write down your thoughts and experiences through all of these steps. Your notes will remind you of what motivates you and how far you've come.
Whether you send or bail, remember that you chose the adventure because it had an uncertain outcome; you chose the project because it challenged you. Falling or bailing on a route will make it that much more rewarding when you finally send it. Reflect on your process. What did you learn? Why was it fun? Acknowledge that this is where you are now and that it's likely to change. "It feels great to step into the unknown, fail, learn, and try again," says Jean Tucky, a professional yoga teacher and local Bishop climber. "Acknowledge that you are a perfectly imperfect human. It allows you to have fun with the challenge at hand."
Lead Photo: Vikki Glinksii