How Sasha DiGiulian Learned to Ice Climb in 12 Days
The stud sport climber dropped everything, picked up her first ice axe, and is on the roster to compete at the nation's top ice climbing festival.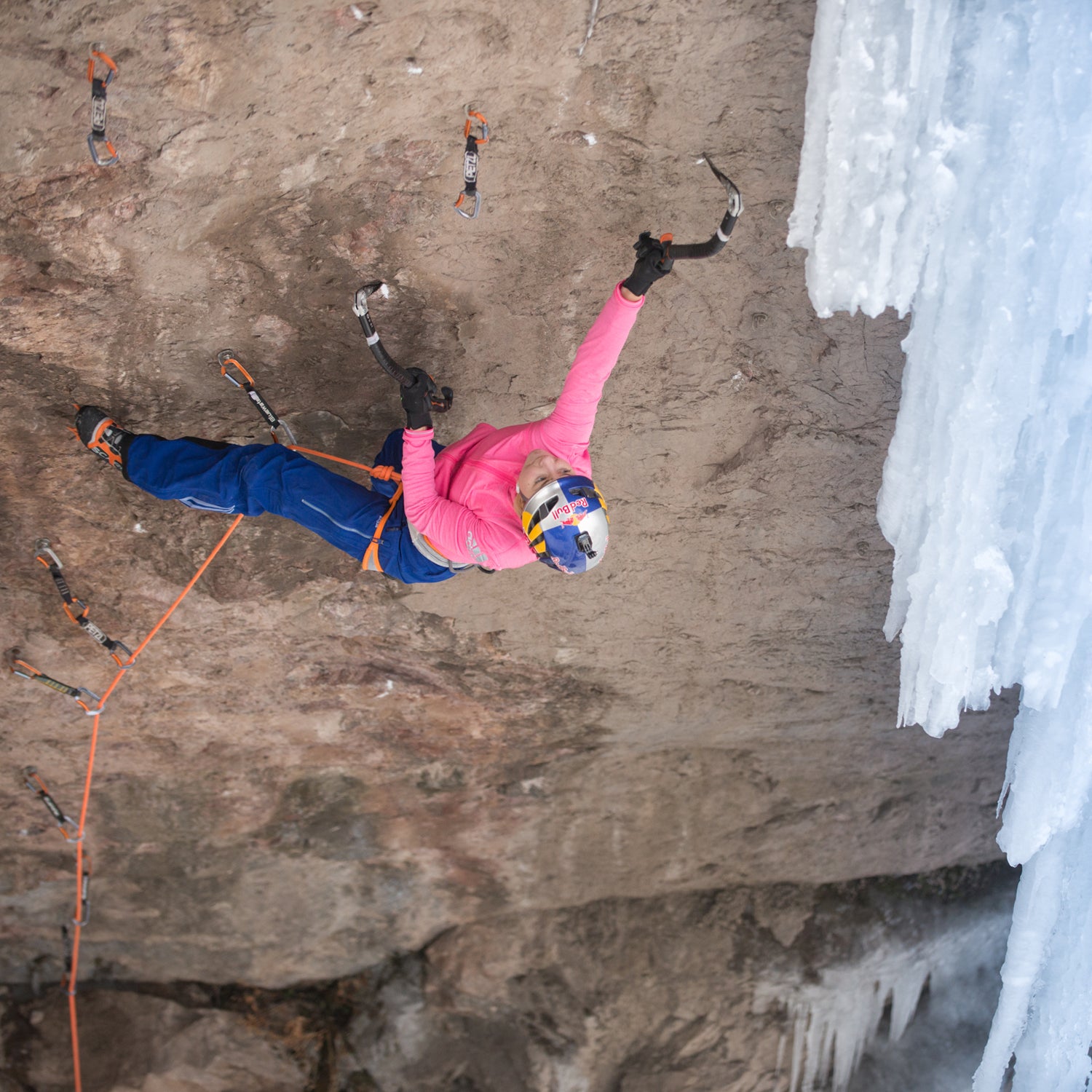 Andy Mann(Photo)
Heading out the door? Read this article on the new Outside+ app available now on iOS devices for members! Download the app.
Before two weeks ago, Sasha DiGiulian had never handled an ice axe. But that didn't stop the 22-year-old from signing up to compete Saturday against the strongest alpine climbers on the planet in the nation's biggest ice and mixed climbing competition, held annually in Ouray, Colorado.
At five-foot two and 105 pounds, the petite DiGiulian is one of America's top sport climbers and arguably the country's strongest female climber. Four years ago, having conquered more than her share of indoor climbing competitions, DiGiulian set the standard for female sport climbers by redpointing—free-climbing on lead after practicing the route—"Pure Imagination," the famous 5.14d route in Kentucky's Red River Gorge. (When she's not on the wall, DiGiulian is working on her bachelor's degree in creative writing nonfiction and business at Columbia University, where she is a junior.) But to prepare for the Ouray Elite Mixed Climbing Competition, where she will face-off against seasoned ice climbing veterans like Ines Papert and Dawn Glanc, DiGiulian ditched the hand chalk and picked up her ice tools.
"Ice climbing is very brutish. People fall not because they can't hang on any more but because they can't swing any more. It's more like manual labor or carpentry than like a sport."
"I was excited to explore a new dimension to the sport," DiGiulian says. "Just my limited experience already feels like I have come across a whole new frontier of opportunities in climbing."
Rock climbing and ice climbing are about as similar as skiing and snowboarding. Both involve tying into a rope and hauling yourself up a wall but the skills and techniques required are vastly different. Sport climbers clip themselves into pre-set bolts drilled into the wall. Ice climbers, however, rely on ice screws, which aren't nearly as sturdy or dependable as bolts driven into rock. It's often years before they lead routes or attempt mixed climbs because of the steep learning curve and inherent dangers. Ice climbing can mean dealing with blizzards and hauling a lot of sharp equipment that could easily sever a rope. The ice tool, a technical kind of ice axe climbers use to ascend steep, technical terrain, requires brute strength and pinpoint precision to wield effectively.
"It's the swinging that's challenging," says Will Mayo, an accomplished ice and mixed climber and Ouray competitor who's been training DiGiulian over the past 10 days. The muscle groups involved in ice climbing are more "shoulder and core intensive" than the grip strength that helps sport climbers achieve success, Mayo says. "Ice climbing is very brutish. People fall not because they can't hang on any more but because they can't swing any more. It's more like manual labor or carpentry than like a sport."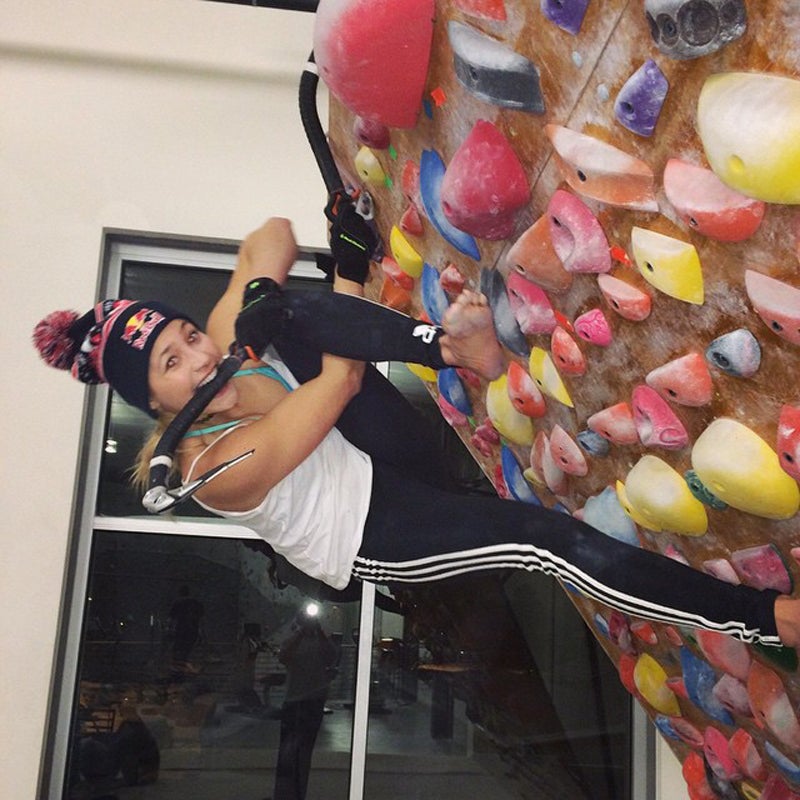 If anyone can handle it, DiGiulian can. She flew into Colorado on December 29 to begin her training under the tutelage of Mayo and Maury Birdwell, a fellow climber and attorney. DiGiulian connected with Mayo through a mutual friend, and Mayo was immediately hooked by the experiment of turning America's top sport climber into one of the world's top mixed climbers.
"I was, first of all, fascinated," he says. "I was curious to see what would happen—Sasha DiGiulian wielding ice tools." It's a pretty drastic transition to manage in less than two weeks. DiGiulian admits it's been trying.
"My worries before beginning were splicing myself with the tool, mainly," she says. "I am nervous leading ice, and I still have hesitation getting too close with the tool because of this back-in-the-mind fear of it coming back to hit me in the face."
In spite of the difficulty, DiGiulian hasn't disappointed. Mayo says her mental drive and strength as an athlete are impressive. Together, the pair have been practicing hanging off of tools on the rock, switching hands on tools, and how to hang from tools in technical positions known as figure-fours and figure-nines (in which you hook one leg over an arm that's gripping a tool).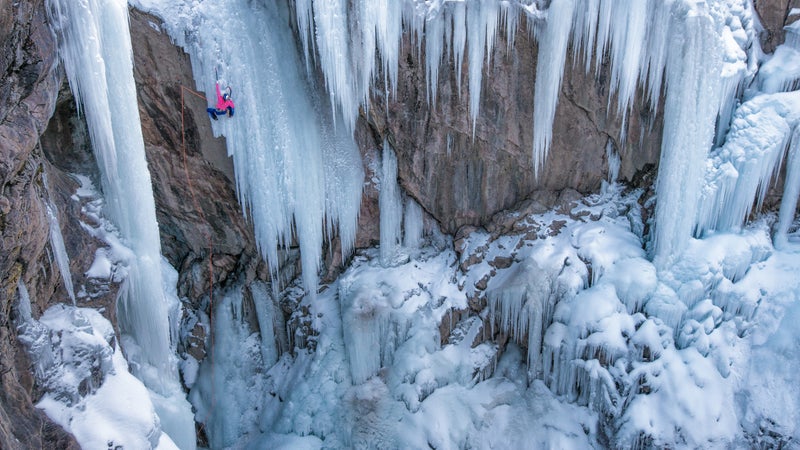 "She doesn't really get pumped," Mayo says. "It's remarkable. She has such a high level of fitness from sport climbing that she can hang on forever."
On her fifth day using tools, DiGiulian climbed a hard M10 route (the equivalent of a 5.12 sport route on the Yosemite Decimal System) in the Ouray Ice Park. After scaling the rock portion of the route, she finished strong and climbed up a hanging icicle to the top. "It's really exceptional she would be able to redpoint that on her fifth day," Mayo says.
After finishing her boot camp with Mayo this week, DiGiulian will lace up her crampons, pick up her ice tools, and give it a go in one of the hardest mixed climbing competitions out there. Who knows, maybe she'll surprise the entire festival. And if she doesn't, there's still new-routing in China and multi-pitch climbing in Madagascar to look forward to. She's Sasha DiGiulian, after all, and she's going to keep pulling down hard.
Lead Photo: Andy Mann