Inside the Emergency Tent on Everest
Base Camp ER founder Luanne Freer talks triage, altitude illness, and body recovery.
Heading out the door? Read this article on the new Outside+ app available now on iOS devices for members! Download the app.
When Everest ER opens for its 13th operational season this April, last year's disaster—the avalanche that killed 16 Sherpas—will hang heavy in the thin air at Everest Base Camp. Nonetheless, the team's four field physicians and logistics manager will continue to do what they've been trained to: care for climbers in the harsh environs of the world's highest medical clinic.
Over the course of the two-month climbing season, the team will treat an estimated several hundred patients—trekkers whose final destination is Base Camp, climbers making a bid for the summit, and Nepalis supporting these expeditions. Some of the Nepalis will have awaited the clinic's opening for the better part of a year, as it will be their first opportunity for medical treatment they can access and afford. Treating people in need is what clinic founder Dr. Luanne Freer feels most passionate about; she's used the word "destiny" to describe her path to medical treatment in Nepal.
In 1994, five years before Freer's first medical mission to the Himalayas, she was captivated by the challenges of high-altitude medicine. She researched Acute Mountain Sickness in Yellowstone National Park before finding her way to expedition medicine and what she calls, "the best job in the world." This is her 15th medical mission to Nepal and her 28th trip to the country. (She's volunteered in other capacities, including instructing mountaineering first aid courses at the Khumbu Climbing Center.)
Outside caught up with Freer, 57, as she was en route to Nepal from her hometown of Bozeman, Montana. Just before boarding a plane in Seattle, she spoke about life inside and outside of Everest Base Camp and what she anticipates for the 2015 climbing season.
OUTSIDE: By now, you must have your pre-Everest routine down to a science. What do you do to prepare for two-and-a-half months above 17,500 feet?
FREER: I've kind of screwed my altitude approach this year—I've just returned from an Ebola treatment hospital in Sierra Leone [near sea level]—and I expect trekking up the mountain may be a bit more difficult. I've also been busy with other projects like collecting equipment, including a new ultrasound machine provided by our sponsors. It's a lot of preparation and in the midst I've got a full-time job. It was a very harried packing process.
What are the logistics involved with getting staff and supplies to Base Camp? 
The climate and conditions are so hard on equipment that you can't really rely on anything working from season to season. This year we're going up with a brand new custom-designed solar energy and communication systems. The tonnage involved is stunning. Making sure that everything makes it onto planes and helicopters before it's carried up is a big project. I ask our designers to make no piece heavier than 30 kilograms (66 pounds) so that porters or yaks can carry it up. 
"We've had people brought down to the clinic where they've been pronounced dead, but nobody has died at our clinic."
What are some of the common illnesses and injuries you treat?
The reality is we have a very selected population at Base Camp—if you think about it, nobody chooses to climb Everest until they've had a little bit of experience on high mountains—so we have a kind of pre-destined community that doesn't suffer altitude-related illnesses as commonly as you would think. The majority of what we see is high-altitude cough—we call it Khumbu cough—and it's caused by a combination of high altitude and low relative humidity. It can be severe enough to result in broken ribs. Nobody's immune. Nobody's bronchial tissue lining is designed to live at that high and dry of an environment. 
We also treat viral infections—viruses are easy to spread when you're sharing a tent for meals—and gastrointestinal conditions. There are hygiene issues on the mountain that make people here more susceptible to illness. We treat altitude-related illnesses like HAPE [high altitude pulmonary edema] and HACE [high altitude cerebral edema] as well.
Everest ER is a project of the Himalayan Rescue Association (a Nepali NGO) run in conjunction with a U.S.-based nonprofit called the Himalayan Rescue Association-USA. How is it funded?
The bulk of the money in the nonprofit account comes from my motivational speaking in the past. Currently the money that helps the season operational funding break even comes from the $100 that most climbing operators opt to pay per non-Nepali team member. If the entire non-Nepali team donates, the Nepali team members enjoy unlimited doctor consults. Slightly more than half of the patients we treat are Nepali. All of our patients pay a very low fee for medications as used.
Can you describe a medical treatment that went really well, a patient with a particularly severe illness or injury that had an unexpectedly good outcome?
The one that first comes to mind, just because it was so unusual, involved a 2009 epidemic of illegally and improperly sold alcohol that was causing people to die of methanol poisoning. A Sherpa who almost died—he was found unconscious, his breathing was irregular, and he'd suffered frostbite—was saved by his buddy's quick thinking and collaboration between different teams. He was treated by our doctors and not only survived but came back the following year to thank me for having our doctors on the mountain because he surely wouldn't have survived if he'd been farther from medical care. It was a really heartwarming thank you. There are tons of them. 
How about a patient you treated that was particularly tough for you personally?
It's hard to find somebody at Base Camp that we don't know, so it's really hard whenever there's an accident on the mountain. Of course, every life is important, but it seems to hit even harder when it's a Sherpa struggling to support their family. Unfortunately, it seems like every year somebody who might not have the choice to do a less risky job loses their life. It really makes you realize the devastation that lies in wait. 
That said it's worth mentioning that we have never had anyone die in our clinic. We've had people brought down to the clinic where they've been pronounced dead, but nobody has died at our clinic. The reality is that most of the really big problems, injuries, and illnesses happen up higher, and because we don't have a technical rescue team on Everest, they're not able to reach Everest ER in time for us to provide advanced life-saving care.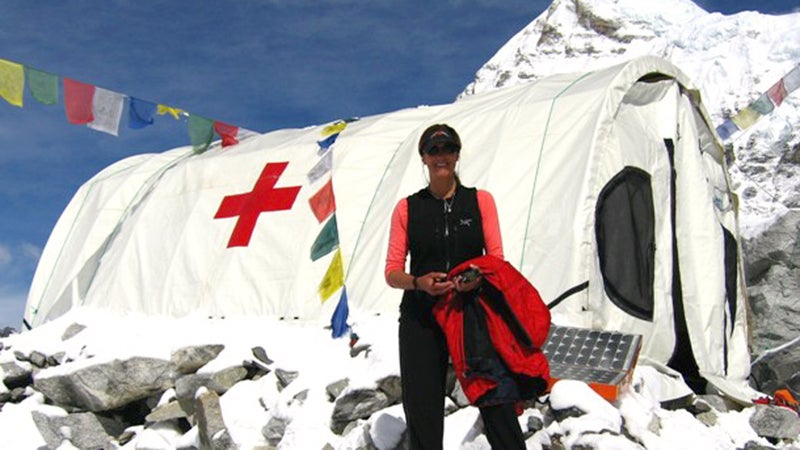 What happens when somebody dies higher up on the mountain, where it is more difficult and risky to get people down?
A lot are still up there. I don't know if it's changed this year, but my understanding is that in past years, there's a rescue deposit that each team has to pay and they're required to bring down all of their human waste and garbage and that includes the bodies of the deceased. The Sagarmatha Pollution Control Committee [the organization responsible for both waste management on Everest and fixing the Khumbu Icefall Route] has basically put a financial incentive on bringing everything down, including the bodies. Of course sometimes that is not possible, and I know that they leave some up there, but I think there's been a renewed effort to bring them down, especially now that we have helicopters powerful enough to extract them.
Are bodies ever carried down by hand?
Absolutely. I think any way you shake it, it's a fairly expensive proposition to get them down and ultimately the family decides if they want to hire "X" amount of team members to retrieve the body or involve a helicopter. Last year, Everest ER's logistics manager Lakpa Norbu Sherpa was involved in helping package the bodies because he is one of the few technically trained in long-line helicopter rescue. We are otherwise rarely involved with body recovery.
The Nepalese government has said that they're improving rescues and medical care this year. How do you think it will play out?
I read the same news report that you did. I'm anxious to see what turns up. The four doctors they're talking about are my four doctors at Everest ER. I received a very generous donation so that we can better protect the national workers and respond more quickly in the event of a rescue situation. I'm going back with donated and purchased rescue equipment. 
I've been lobbying for a Sherpa-run technical rescue team for years. If there's a silver lining to last year's tragedy, it's that there's growing support for a fully trained and equipped technical rescue team. 
Lead Photo: Grayson Schaffer