Will New Rules Reduce Crowds on Mount Everest?
The country's Ministry of Tourism unveiled a series of proposals aimed at avoiding another disastrous, overcrowded year on the world's highest peak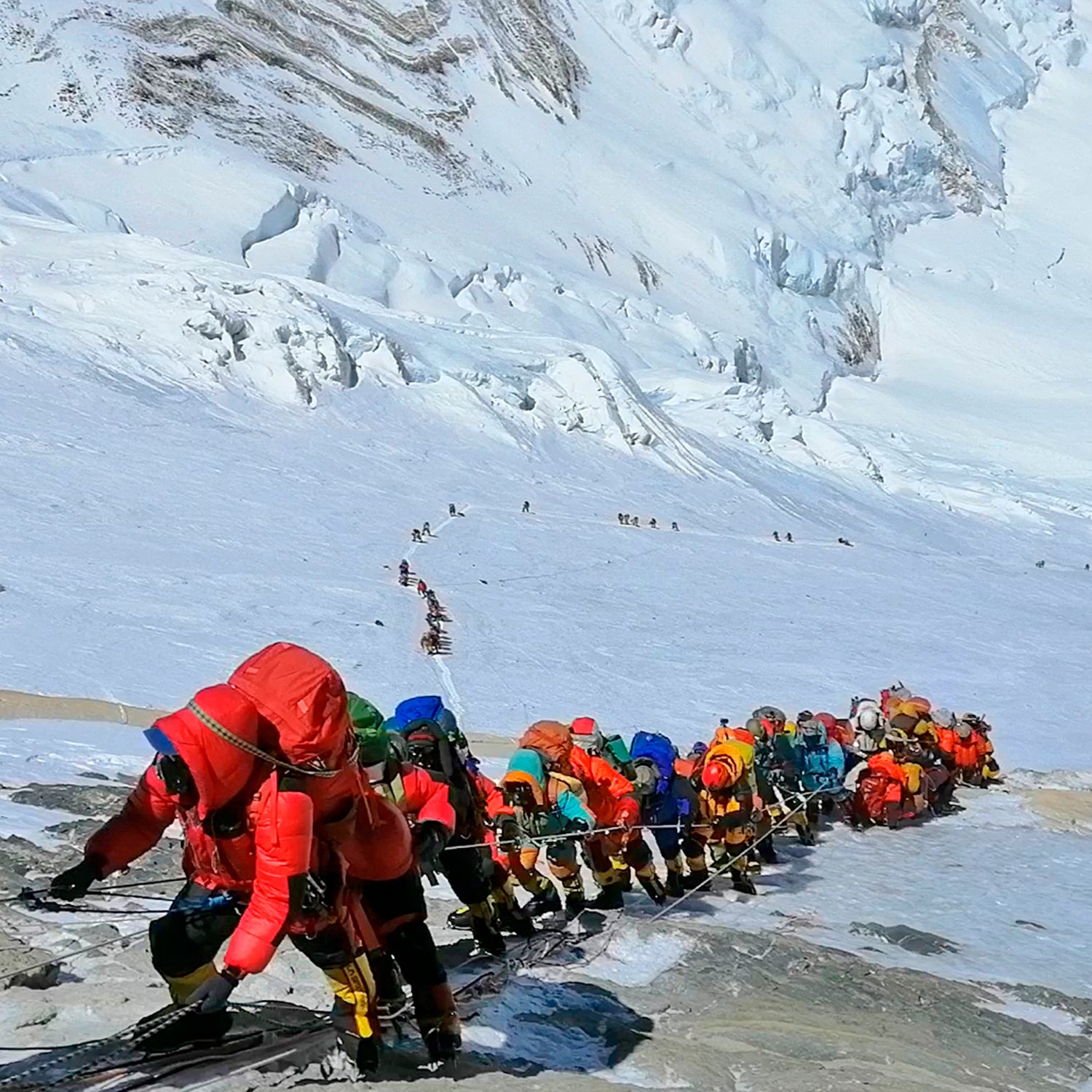 Rizza Alee/AP(Photo)
Heading out the door? Read this article on the new Outside+ app available now on iOS devices for members! Download the app.
Nepal's Ministry of Tourism announced proposed changes for guiding and climbing Mount Everest at a press conference held in Kathmandu on August 14. The new regulations would drastically cut back the number of permits issued, following a season that saw record crowds and traffic jams on the world's highest peak, along with 11 deaths that made it the fourth-deadliest season in history.  
The government plans to present the new rules to the country's parliament for approval in enough time for them to take effect for the spring season next year.
Here are some highlights from the 59-page report:
Expedition companies must have a minimum of three years' experience organizing high-altitude climbs before guiding on Everest.
Climbers will have to submit proof of summiting at least one 6,500-meter (21,325-foot) peak.
Guide companies must charge a minimum of $35,000 per client. (My understanding is that this includes the current $11,000 permit fee.)
Officials also reiterated current rules that require climbers to have a valid health certificate and hire a trained Nepali guide.
However, there was some vague language included in the report. For example, the proposal says that "climbers to Sagarmatha and other 8,000-metre mountains must undergo basic and high altitude climbing training," but it does not give a standard for what that looks like or how it will be regulated. 
Other areas addressed with scant details included a call for improvements in the rope-fixing process, primarily with respect to getting them installed earlier, and some type of improved weather-forecasting system. Both of these points were highlighted by the government during the 2019 spring season as a reason for the traffic jams. 
"Everest cannot be climbed just based on one's wishes," tourism minister Yogesh Bhattarai said at a news conference reported by The New York Times. "We are testing their health conditions and climbing skills before issuing climbing permits."
The new price floor of $35,000 is still unlikely to deter inexperienced aspirants like doubling or tripling the permit fee would have. This seems to have been a move aimed at calming local operators, whose businesses could be hurt by a permit increase. The median price Nepali operators charged in the 2019 spring season was around $40,000, according to my polling, but deep discounts regularly took the price down to less than $30,000—or even lower.
While a step in the right direction, the two major rules can be easily bypassed and lack teeth.
The requirement of three years' experience guiding at high altitude is something any Sherpa can claim. This falls short of actually requiring guides to be qualified by a legitimate training organization, like the Khumbu Climbing Center, or being certified by the Nepal Mountain Guide Association with International Federation of Mountain Guides Associations credentials.
As for proof of summiting an 6,500-meter peak? We've seen forged Everest summits before, including this season, so faking a certificate for another qualifying mountain is possible. It could create additional problems if the Nepalese government delegates it to the guides, who have a vested interest in signing clients, to verify someone's experience. China requires climbers to have previously summited an 8,000-meter peak before climbing on the Tibet side and has an independent agency review all applications. I had hoped Nepal would follow suit. 
Most reputable guide companies like to see Everest applicants with successful summits of Aconcagua (6,962 meters) and Denali (6,168 meters); other popular peaks above 6,500 meters include Muztagh Ata (7,546 meters) and Ama Dablam (6,856 meters). The best in class require a summit of an 8,000-meter peak like Manaslu or Cho Oyu.
Whether or not these proposed rules end up taking some of the crowds off Everest ultimately comes down to enforcement. Thus far, I've not seen a willingness from the Nepalese government or the less reputable guiding services to do this.  
Lead Photo: Rizza Alee/AP