First Winter Summit of Gasherbaum II
For three top alpinists, pulling off one of the most difficult ascents in mountaineering history required speed and daring. Getting down alive took a miracle.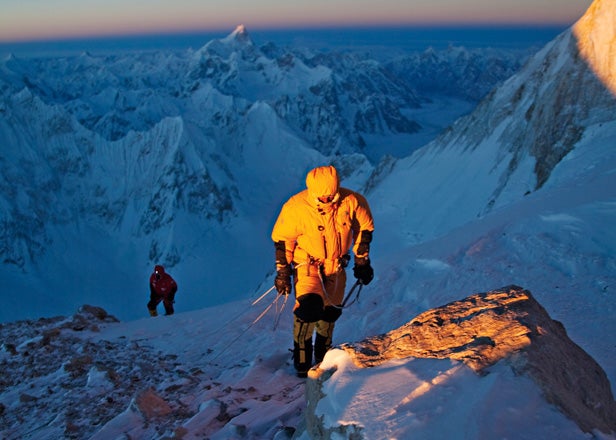 Heading out the door? Read this article on the new Outside+ app available now on iOS devices for members! Download the app.
SIMONE MORO stepped to the top of Paki­stan's 26,360-foot Gasherbrum II, held his hands aloft, then finally collapsed, placing the point of his ice ax into the summit and ­resting his forehead on the adze. He shook there, sobbing like he'd just won Wimbledon, with the whole of the Karakoram Range sweeping around him in a swirl of incoming clouds. It was 11:38 A.M. on February 2—the dead of winter.
Gasherbaum II avalanche

Site of the avalanche
Urubko, Moro, Richards, Gasherbaum II

Urubko, Moro, and Richards at the summit
With the 43-year-old Italian were his climbing partner, Kazakh army lieutenant Denis Urubko, 37, and American alpine photographer Cory Richards, 29. The three men congratulated one another in English, Moro and Urubko with the thick accents of their native tongues. Urubko, the stoic of the group, had trouble appreciating the moment. "I was not able to switch off my mind," he recalls. "Any additional minutes up there could be somebody's life."
Even in the mental stupor produced by climbing without supplemental oxygen in the Death Zone, each man understood both the groundbreaking nature of their accomplishment and the perilous descent ahead of them. Over the years, 16 teams had attempted winter ascents of Paki­stan's 8,000-meter mountains K2, Broad Peak, and Nanga Parbat. All of them resulted in failure. No team had ever attempted Gasherbrum II in winter.
Moro and his teammates had finally succeeded at one of mountaineering's last great firsts—a winter climb in the Karakoram; now they had to get down alive.
Descending through the gathering storm wouldn't be easy. Like all of the Karakoram's peaks, Gasherbrum II, or G2, is steeper, colder, and more muscular than the 8,000ers in Nepal, all of which have been summited in winter.
Climbing G2 in summer is hard enough, with crevasses, avalanches, rockfall, and good old gravity to contend with. Climbing it in winter raises the challenge exponentially. Besides the cold—temperatures of 40 below are the norm—and the absence of hired porters to set ladders across crevasses, haul gear, and fix ropes, there's the weather. Winter in the Karakoram, 600 miles northwest of the Nepali peaks, offers a never-ending lineup of fearsome storms, with winds often topping 100 miles per hour. Unstable snow piles high on the mountains' steep faces, covers up tracks, and frequently avalanches under its own weight. When weather windows do appear, they require speed and precise timing for success, yet everything about the season conspires to slow climbers down.
To reach the top that morning, Moro and his teammates had relied on Karl Gabl, a 64-year-old Austrian mountaineer who works at the Central Institute of Meteorology and Geo­dynamics in Innsbruck. In addition to standard global weather models, Gabl, who has advised Moro on several climbs, had access to data from balloon-based radiosonde instruments launched twice daily from nearby ­locations like Srinagar, India, and Lhasa, Tibet, and by coalition forces in Kandahar and Kabul, Afghanistan. The self-destructing balloons rise to 100,000 feet, transmitting an exact profile of atmospheric temperature, humid­ity, and air pressure, along with wind direction and speed. Four days before the team's summit, Moro called Gabl on his sat phone from base camp. Gabl told him that a rare 36-hour window of calm, partly cloudy weather was headed their way. "I know what Simone can do in the mountains, so I gave him a forecast," says Gabl. "With others I would have been very frightened."
His anxiety was warranted. There were big storms on either side of the calm, and the men, who'd just returned to their base camp from 21,000 feet, weren't properly accli­matized. What's more, there were only four days before the window would appear. "We counted backwards and realized that if we were going to go, we had to leave the next day," says Richards. Without acclimatization, they would be markedly slower and even more susceptible to the ravages of altitude, including edema, the potentially lethal buildup of fluid in their lungs and brains.
Despite the hasty start, they'd made good progress. After crossing the icefalls pouring into the Godwin-Austen Glacier, they'd slipped past the teetering seracs and powder bowls in the runout below 24,019-foot Gasherbrum V and set their first camp at 19,300 feet. From there they'd ascended a series of ridgelines, camping again at 21,000 and 22,300 feet, before making a final 4,000-foot push up the 60-degree summit pyramid. But now, as the three men finished their brief celebration, conditions deteriorated rapidly. In the short summit video, you can see the weather rolling in around them. "Something felt a little sinister," says Richards. "It was almost like the mountain was pissed that we climbed it. Then everything went to hell."
They started back down the standard southwest-face route, their goggles icing up so badly in the wind-kicked snow that their only option was to take them off. They were paying for their risky ascent, wandering blindly for several hours on the mountain's upper slopes. Visibility dropped to less than 20 feet and winds reached a sustained 60 miles per hour as the men carefully kicked their crampons into the crusted snow. At last, Moro lifted his head in a lull just long enough to spot their high camp, 150 feet farther down, through a hole in the clouds. "It's the tent!" he shouted.
Urubko, at that stage highly disoriented by the blinding descent, was certain his partner was mistaken. "This is not our tent!" he called back. Moro and Richards exchanged confused glances. There was nobody else up there.
Finally, the three climbers piled into their tiny shelter and, for a little while at least, a sense of calm returned. Around 5 P.M., Moro began giving sat-phone interviews to the ­Euro­pean press. Reinhold Messner quickly sent an e-mail of congratulations.
Moro also called Gabl, who was very concerned that the men hadn't descended below their high camp. "I told them to go as far as they could, because 80-mile-per-hour winds were on their way," says Gabl. If they'd been climbing in peak season, the team might have stayed tent-bound for a few days and waited for a lull. But this was no summer squall. They would have to get moving again the next morning.
The climbers were alone on the mountain, enveloped in a storm that was deteriorating into chaos with each hour. Urubko lay awake, going over their escape route. "All night it was a calculation in my mind," he recalls, "how to do, how to do …"
UNTIL 1973, there was no such thing as winter mountaineering in high Asia. That was the year the late Polish alpinist Andrzej Zawada climbed Afghanistan's tallest peak, Noshaq, in February. Before then it was considered crazy to stack the deck against yourself by climbing out of season. But the last of the world's 8,000ers, Tibet's Shisha­pangma, had been climbed in ideal conditions nearly a decade earlier. Zawada and his country­men saw winter mountain­eering as a way to wipe the slate clean.
Led by a seemingly endless roster of legendary hard men, including Zawada, Krzysztof Wielicki, and Jerzy Kukuczka, the Poles established themselves as the undisputed kings of winter climbing. Whereas early Brits climbed for the glory of the empire, the Poles seemed to pursue the sport as a release from constant invasion, subjugation, and forced deportation. In the 1994 anthology Heroic Climbs, Voytek Kurtyka credited the Poles' almost masochistic drive to scale mountains in winter to "centuries of suffering and danger [that] have bred an appreciation for such qualities as fortitude and tenacity."
Beginning with Everest, which two of Zawada's teammates summited on February 17, 1980, Polish teams notched seven winter first ascents of 8,000-meter peaks in just eight years. In 1988, the same year Zawada led the first winter ascent of 27,940-foot Lhotse, the Poles set their sights on 28,250-foot K2 in Pakistan, the world's second-highest peak. Even with 14 tons of gear and a full staff of porters, Zawada and his team only reached 24,000 feet. It was the first of 16 unsuccessful, mostly Polish winter expeditions in Pakistan, and after that defeat, the Poles would be denied any winter summit above 8,000 meters for the next 17 years.
Simone Moro, who grew up in the Italian Alps, near Bergamo, was the first climber outside Poland to make a name for himself by opening new routes in winter. In 1993, he pulled off the first winter ascent of Argentina's 22,834-foot Aconcagua via its treacherous south face, followed by a string of more traditional Himalayan ascents. And he would eventually help the Poles break their streak of bad luck, joining Piotr Morawski on a successful first winter ascent of 26,289-foot Shishapangma in 2005.
But even today, Moro is perhaps best known for being the longtime climbing partner of Anatoli Boukreev, the legendary Kazakh climber and guide who was at first demonized and later praised for his actions during the Everest 1996 disaster, which he chronicled in his book The Climb.
In December 1997, Moro, Boukreev, and their Kazakh cameraman, Dimitri Sobolev, were attempting a winter ascent of 26,545 Annapurna when a serac broke loose from the summit ridge. As the slide approached, Moro would later write, Boukreev looked up at him "with determination" and "immediately started moving as though following a familiar and well-rehearsed script." But it was too late; Boukreev and Sobolev both perished in the slide.
Moro, who was roped to both men, had his down suit partially ripped off of him but survived with badly torn hands and a severe concussion. He descended alone. "I never found so strong and friendly and so pure a person as Boukreev," he says.
Moro took the next year off, but when he was ready to climb again, he knew there was only one place he could find a suitable partner. In 1999, he flew to Almaty, Kazakhstan, in the shadow of the Pamir Mountains, near Kyrgyzstan, and visited the same army sport club where Boukreev had once worked. Moro asked the brass to find him their best climber. "They organized six months of selection and competition in the different disciplines of alpinism," he says. "The winner of this com­petition was Denis Urubko."
The two became inseparable over the next decade. By the time Urubko was planning their escape from Gasherbrum, he'd already become the eighth person to climb all 14 of the world's 8,000-meter peaks without oxygen and made the first winter ascent of 27,766-foot Makalu, with Moro in 2009.
Compared with Urubko, Richards was a promising yet relatively unknown alpinist and photographer. He'd grown up climbing with his father, Court, a ski patroller at Utah's Alta resort and a rope mate of the Himalayan pioneer George Lowe. He'd run into Moro in 2010 while on a photography assignment to document the receding glaciers around Everest. Moro was climbing Everest, which shares a base camp with Lhotse, the mountain Richards had just summited. It was the only 8,000-meter peak Richards had ever climbed, but Moro liked what he saw. "Simone and I were talking one day in his tent," recalls Richards, "and he said he was going to G2 this winter and maybe I should come along." Moro needed a talented photographer like Richards, knowing that if he succeeded it would be one of the most difficult ascents in mountain­eering history.
AT DAWN, Gabl's prediction proved to be spot on, as usual. A steady 80-mile-per-hour howl buf­feted the tent, but the team was determined to go. Moro searched blindly in the whiteout for the bleached and tattered fixed lines of previous expeditions to guide them through the blizzard. "It was a miracle that he found the one piece of rope," says Urubko. The men downclimbed past the site of their second camp, taking more than twice as long to descend as they had to climb up. They reached the low camp, at 19,300 feet, at 3 P.M. on February 3.
Moro again called Gabl, whose latest forecast was no more encouraging: the weather would stay the same or get worse. Still, rather than attempt a night crossing of the icefield below them, they decided to dig in and eat the remaining stores of tortellini, Parmesan, and tomato soup that Moro had bought at a supermarket in Italy. By now, their sleeping bags were so crusted with ice that the men could only drape them over themselves like frozen blankets. "We slept embracing each other," says Moro, "wearing only our down suits."
When they set off for base camp the next morning, they believed the worst was behind them. "It was the first time we knew we weren't lost," says Moro. Though a pair of crevasse-riddled icefalls lay ahead, they'd carefully flagged a safe route through them with 200 bamboo wands during their ascent. The wands were still visible, but their tracks were buried in new snow. They took turns breaking trail, postholing through the fresh, hip-deep drifts. Forward progress was again painfully slow. Worse, they were crossing directly beneath Gasherbrum V.
"I immediately had this bad feeling in my stomach," says Richards. "We were spending too much time under G5. It was one of those classic terrain traps. All of a sudden I heard a big crack, and coming out of the cloud layer was—it's one of those things I couldn't exaggerate. It was so big. I just knew innately—I think we all knew—that we were going to die."
A serac had broken loose some 3,000 feet above them, creating a billowing Class 4 slide that quickly accelerated to 80 miles per hour and took only seconds to reach them. "Denis heard us screaming and started to run," says Moro. "But how can you run in snow to your waist? It is comic." In an instant, each of their worlds became a dark tumbling frost coffin.
According to Peter Schaerer and David McClung in their Avalanche Hand­book, a Class 4 serac avalanche generally contains a grapeshot of boulder-size ice chunks that "could destroy a railway car, large truck, or several buildings." And just like the avalanche that had killed Anatoli Boukreev, this one started above them, allowing it to gain crushing momen­tum as it roared down at them. Surviving a direct hit from a slide that big and then ending up at the surface would require either blind luck or divine intervention, and that morning the team seemed to have both. The massive avalanche had also touched off a more traditional slide of the recent storm's new snow, which likely cradled and cushioned the ice chunks. How the climbers remained at the surface, though, defies explanation.
When Richards stopped tumbling, about 30 seconds and 150 yards later, his first realization was that he could breathe. His second was that he was the only survivor: "Fuck, I have to get out of this and descend alone, because those guys are dead."
But then a voice—Moro—with Urubko answering him.
Urubko was also buried but had already taken stock. "It was not emotional," he recalls. "It was a computation of tasks."
"I was the only one who was more or less free on the surface," says Moro. "I ran to Cory, who was completely covered. I lost my gloves, and so I excavated with my bare hands." When he'd freed Richards's upper body, he turned to Urubko. Richards, meanwhile, got out his camera and began filming while still partially buried. As he turned the camera on himself, he began to cry uncontrollably.
"We militantly got out of the snow, sorted our shit out, and started going," says Richards. As they turned to head down, Moro shouted and pointed to where a gaping 12-foot-wide crevasse loomed just above them. The speed of the slide had slung all three of the climbers across it. Any slower and the avalanche would have deposited the men in the slot and buried them.
BACK ON THE Godwin-Austen Glacier, base-camp manager Hassan Zhulan, a 65-year-old guide with multiple 8,000-meter peaks to his credit, had already begun to worry about the climbers. They'd now been on the mountain, without oxygen or support, for six days, and Zhulan had last heard from them as they prepared to descend from Camp 3. They should have been back by now.
There had even been a bad omen. That morning, sometime after 10 A.M., a crow walked into the kitchen tent. Zhulan saw the bird as a sign that something terrible had happened. "I felt it in my heart and my mind," he recalls. "Today something is going bad."
Zhulan, along with his cook, Saeed Jan, set out to find the team. They packed drinks and headed toward the icefall, breaking a trail.
By that time, Richards had taken the lead and was also breaking a trail, away from Gasherbrum V, which he viewed as the greatest threat. "When you are breaking the trail, you get to choose where to go," says Moro, "because you are doing the biggest effort."
But Moro and Urubko wanted to stay with the wands, even though their old bootprints through the crevasses had been covered. "I said, 'Cory, Cory, we need to go near G5,'" recalls Urubko. "But he was very afraid about the avalanche. I said, 'Come here!'"
"I turned around, and I really barked at him," says Richards. "I was like, 'We're not going underneath that face.'"
Then he turned and took a few steps onto a rounded hillock of snow. It exploded underneath him like a land mine. "He fell into the biggest crevasse I've ever seen," says Moro.
Urubko, who was roped to Richards, immediately dropped to the ground, kicked in his crampons, and buried his ax in the snow. A second later, the rope came taut as Urubko broke Richards's free fall, leaving him dangling 20 feet beneath a roof of snow and ice.
"I could hear Denis grunting at the surface," says Richards. "I was confused because I'd purged so much adrenaline in the avalanche. It was a moment of surrender." Richards pulled it together and attached a mechanical ascender to the rope, shimmied up, and chopped through the lip of the cornice with his ax. In the span of 15 minutes, he'd survived the mountain's two deadliest hazards.
"When he came out," says Moro, "we said, 'OK, Cory, stop; we will do the trail.' He was completely silent after that."
JUST BEFORE DARK, the team met up with Zhulan and Jan. "Finally, we were out of danger," says Moro. The three embraced while Zhulan produced some hot tea and a Pepsi from his backpack, welcome treats from civilization. More important, the Pakistanis had broken trail all the way from base camp. They were down by 6 P.M.
That night after a hot dinner, they crawled into fresh sleeping bags, finally able to reflect on their achievement. While Richards had become the first American to ascend any 8,000-meter peak in winter, Urubko and Moro had added another historic feat to their partnership. To survive, all three had miraculously endured everything the mountain could throw at them.
Less than a month later, as if they hadn't suffered or risked enough, the men began planning another winter ascent in the Karakoram, either Broad Peak or Nanga Parbat, for January 2012. But that night in base camp, they were still reveling in their success. They were exhausted, but none of them could sleep. Urubko heard Moro call out to him from his tent.
"He asks me, 'Denis, why are you not sleeping?' I say, 'Sorry, Simone, I don't know. I wake up.' And I ask Simone, 'Why you don't sleep?' And Simone tells me, 'I am getting pleasure from the life.' And I tell him I am also getting pleasure from the life at that moment."
Winter 8,000-Meter First Ascents, an Unabridged History
1980 EVEREST Krzysztof Wielicki, Leszek Cichy (Poland)
1984 MANASLU Maciej Berbeka, Ryszard Gajewski (Poland)
1985 DHAULAGIRI Andrzej Czok, Jerzy Kukuczka (Poland); CHO OYU Maciej Berbeka, Maciej Pawlikowski, Jerzy Kukuczka, Zygmunt Heinrich (Poland)
1986 KANCHENJUNGA Krzysztof Wielicki, Jerzy Kukuczka (Poland)
1987 ANNAPURNA Jerzy Kukuczka, Artur Hajzer (Poland)
1988 LHOTSE Krzysztof Wielicki
2005 SHISHAPANGMA Piotr Morawski (Poland), Simone Moro (Italy)
2009 MAKALU Simone Moro, Denis Urubko (Kazakhstan)
2011 GASHERBRUM II Simone Moro, Denis Urubko, Cory Richards (United States)
Unclimbed K2 (two attempts), NANGA PARBAT (nine), GASHERBRUM I (one), BROAD PEAK (six)
Trending on Outside Online