Can Climbing Mountains Make You Crazy?
A new study says yes, and scientists are trying to find out why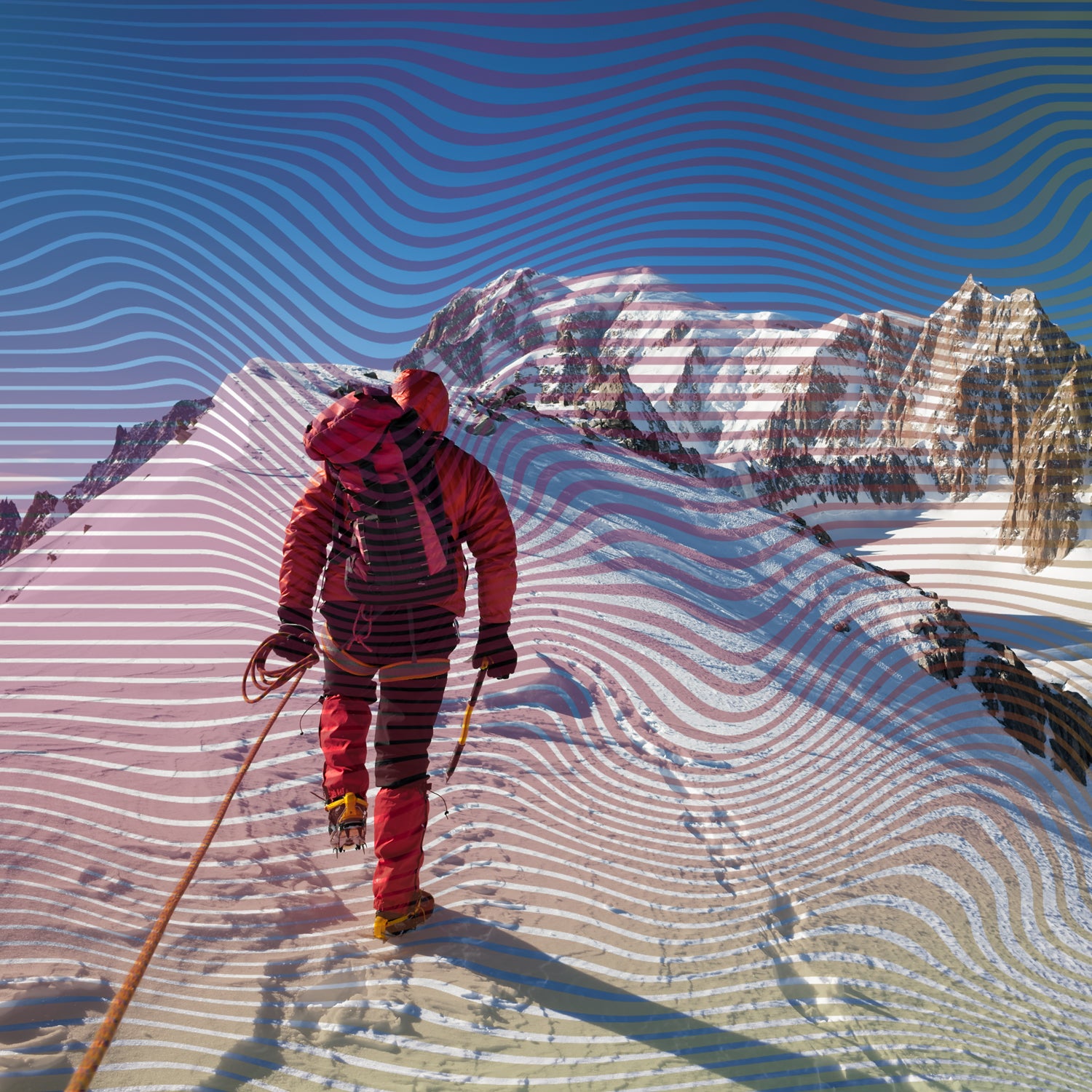 iStock/Outside(Photo)
Heading out the door? Read this article on the new Outside+ app available now on iOS devices for members! Download the app.
In the winter of 1987, Slovenian mountaineer and doctor Iztok Tomazin attempted Nepal's 26,795-foot Dhaulagiri with his climbing partner, Marjan Kregar. The summit of the world's seventh tallest peak lies in the so-called death zone: the area above 8,000 meters where the air no longer contains enough oxygen to sustain human life.
After 17 hours of nonstop climbing, Tomazin reached the summit. He was exhausted and vomiting. It was bitterly cold and windy, but Tomazin waited for his partner to arrive. Kregar topped out only 20 minutes later, but in Tomazin's state of mind, he was convinced he would've waited for him up there forever.
The pair started to descend together, but it was dark and they got separated. As Tomazin made his way alone, he encountered some mountain guides on the route. They gave him advice he didn't want to follow—cajoling him to rest when he needed to push on, among other things—making him angry in the process. Soon Tomazin found himself at the top of Dhaulagiri's east face, a sheer 6,500-foot drop—he'd gone the wrong way.
"I was in great distress, very exhausted, dehydrated and hypothermic and trapped in difficult terrain without knowledge where to descend and with great wish/need to find a shelter where I could rest and sleep," wrote Tomazin in an account of the episode. But the mountain guides had followed him. They talked kindly to him and offered more advice. They urged him to jump down the east face. "In few seconds you will be on a flat, safe place 2,000 meters lower. This will solve all your problems."
It sounded like a good idea. Tomazin moved closer to the edge and prepared to jump.
But the mountain guides weren't real.
---
According to a new study by a team of researchers in Europe, Tomazin—a a co-author on the study—was suffering from high-altitude psychosis, a condition that's long been described anecdotally by mountaineers. While symptoms of psychosis can and do appear in conjunction with other serious high-altitude medical conditions, like high-altitude cerebral edema (HACE), it can also exist on its own. It's not a side effect of altitude sickness, per se, but rather a side effect of high altitude. The researchers posit that high-altitude psychosis is its own separate condition and should be treated as such.
To conduct their study, the team combed mountaineering literature and ended up with a sample of 83 potential episodes of psychosis for analysis. These included cases from notable climbers such as Reinhold Messner, Peter Habeler, Gerlinde Kaltenbrunner, and Jon Krakauer. To identify psychosis, the researchers used criteria from the American Psychiatric Association's diagnostic manual. The episodes were then analyzed and separated into three categories: no psychosis (51 percent), psychosis with other mental status change like HACE (22 percent), and isolated psychosis without symptoms of mental status change or HACE (28 percent). In 23 of the episodes they studied, psychosis was the sole symptom.
Tomazin wasn't suffering from HACE, where the brain swells with fluid. Those with HACE are often lethargic, disoriented, have difficulty walking without stumbling, and will die from the condition if it's left untreated. Once Tomazin descended to a lower altitude, which he could do unaided (unlike most people suffering from HACE), his hallucinations vanished, and he had no permanent neurological abnormalities.
Sometimes on-mountain hallucinations can be helpful, like when they follow the principles of "third man syndrome," where a presence provides comfort or aid during a traumatic experience—say, in the form of a force that guides a struggling climber back to the safety of camp. (This occurred in 22 of the cases in the study, including 14 of the episodes of isolated psychosis). But more often the psychosis proved dangerous; researchers found it increased the rates of accidents and near accidents.
---
While standing on the edge of the east face of Dhaulagiri in 1987, Tomazin decided to do a test jump first. He hopped six feet down to a small ledge. The pain he felt told him that the mountain guides were wrong. He decided not to jump farther. This is an example of a cognitive strategy called "reality testing," which the researchers recommend climbers employ. And while the research doesn't offer an in-the-moment method to help climbers differentiate between HACE and high-altitude psychosis, they're working on it.
The researchers are also conducting a follow-up study where they plan to collect more experiences of psychosis at altitude. (If you have a story to share, you can email the researchers here.) Once they've collected a representative sample, they hope to establish a questionnaire for measuring high-altitude psychosis and then complete a field study in the Himalayas.
"We think that it will be very important to have a simple questionnaire to measure high-altitude psychosis (just as there is one available to measure symptoms of somatic conditions such as acute mountain sickness) because this will allow the climbers to identify subjects with psychosis," says Katharina Hüfner, lecturer at the University of Innsbruck and one of the study's authors. "If a climber shows symptoms of psychosis on the mountain, he or she cannot be left alone and can absolutely not take any decisions regarding the climb. We hope that this will help to prevent accidents on the mountain and lead to more safety."
Lead Photo: iStock/Outside