Split Decisions
When the weather turns ugly and conditions get rough, every mountaineer must make the ultimate choice: storm the summit, or call it quits.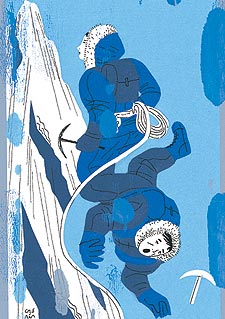 Brian Cronin
Heading out the door? Read this article on the new Outside+ app available now on iOS devices for members! Download the app.
PERHAPS I'M ALIVE ONLY BECAUSE WE TURNED BACK.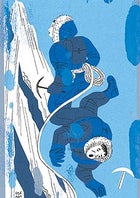 This realization so startles me that I turn the key and the windshield wipers halt in mid-slap. I'm sitting behind a line of cars waiting for a road crew to clear away a mud slide blocking the coast highway. I sit listening to the pounding rain, a downpour so copious the car feels submerged, as if I were inside a one-man submarine.


Perhaps I'm alive merely because I was denied the opportunity to make the wrong decision.


IT'S BEEN POURING NONSTOP since I arrived in New Zealand. I'd been forewarned.


"We have a rather wet weather pattern at the moment," e-mailed Allan Uren, a sardonic Kiwi ice climber with whom I had hoped to do an enchainment of the three highest peaks in New Zealand—Mounts Tasman, Dampier, and Cook. "Over 250 mm. of rain in the last week. This may sound quite grim, and it is, but things over here can change quickly."


But they didn't. When I arrived in Fox Glacier, the tourist hamlet on the West Coast of New Zealand's South Island where Allan lives, the gutters were running like rivers. I half expected to see trout jumping. The West Coast is a rainforest to rival the Olympic Peninsula—sphagnum practically hangs in the air. Fox Glacier, like Talkeetna or Grindelwald, is the starting point for many mountaineering expeditions; it's only a dozen miles from Mount Cook. But the clerk at the backpacker's hostel told me it had now been raining for six weeks straight. "All the climbers have skedaddled," he said, "and the rest of us are starting to go a wee bit mad." Allan had booked a helicopter to fly us into the mountains, but it wasn't to be. We considered walking in, but reports from climbers up in the alpine huts were dismal: No one had been able to move for two weeks; the glacier had dropped six feet.


After a few days of waiting, I abandoned Allan and Fox Glacier in search of sunshine. I drove down the coast, curled up over Haast Pass, and dropped into Wanaka, the Interlaken of New Zealand's Southern Alps.


New Zealand has made the most of its stunningly diverse geography. Canyoneering, mountaineering, trekking, sea kayaking, parapenting, skydiving—the place is a South Pacific Adventureland. (Bungee jumping was invented in NZ.) And the Kiwis have done such a bang-up job of marketing these attractions around the world that you can hear a dozen languages just while strolling the streets of Wanaka. Disregard the cottonball sheep dotting the verdant hillside—they're picturesque, but that's all. Mutton and wool mean nothing: Tourism is what makes New Zealand tick.


I arrived in Wanaka (population 3,000) in the evening, ate dinner at a Turkish café where dreadlocked Lonely Planet travelers were humming along with a guitarist mangling Dylan, had dessert in an Indian restaurant crowded with noisy Spaniards, and drank beer in an Irish pub full of ornery British climbers.


In the morning the sun was shining. Like everybody else, I'd come to New Zealand for an adventure. I frantically called Allan. He claimed the sun was trying to sneak out in Fox Glacier, too, and if I drove directly back we'd fly in and start climbing.


"The sun vanished right after you hung up!" Allan shouted from his porch as I drove up. Water gushed off the tin roof like a spillway. He pulled on his gum boots and we tramped over to the Department of Conservation office to check the satellite weather reports for the umpteenth time. Climbers in New Zealand live, day to day, on these weather reports. They have become meteorological masters at interpreting the concentric squiggles out over the Tasman Sea. Studying isobars is as much a part of a Kiwi mountaineer's morning as coffee.


Allan divined that there was some chance of a momentary clearing early the next morning. For the third, maybe fourth time, we organized our gear, sorted our food, reloaded our packs, and went to bed with idiotically high hopes.


The next day it was raining especially hard. It seemed almost spiteful. I hung around in Fox Glacier for two more days—still hoping, watching the trout spawn in the streets—and then left again.


To end up simply driving around in the rain after flying halfway around the world with the grand intention of climbing glaciated, blue-sky peaks is plain depressing.


Perhaps if I were from Seattle or Portland. They're used to rain. Some even claim they like it, although I suspect that had any outdoor veteran from the Northwest been advised between the isolines not to come over, as I had been, he or she would have wisely stayed home, knowing what interminable precipitation can do to a trip.


One thing I will admit: Rain does make one contemplative. You start thinking about things. In my case, if you're in New Zealand and have failed over and over to even get close to the mountains of your desire, you begin mulling over the other mountains you've failed on.
I WAS ON THE 1986 U.S. North Face Everest Expedition. There were 11 of us, and I was the youngest. Most of us had high-altitude Himalayan experience. The Great Couloir route on the North Face of Everest, a merciless mile-and-a-half-high wall of blue ice and rotten rock, had been climbed only once, two years before, by an Australian team.


We paid for the expedition out of our pockets—$6,000 apiece, a whopping sum for dirtbag climbers. We brought our worn-out 11-millimeter ropes to use as fixed line. Mail—handwritten letters on thin blue aerograms—was sent and received via yak. We were on the mountain for 75 days. We all came home. We came home with all our fingers and toes. And we all came home friends. But we didn't summit.
And this remained stuck in my craw for 15 years—until I was driving around in the rain in New Zealand. Which is perhaps no surprise. New Zealand and Everest are inseparably linked by the greatest triumph and the worst tragedy the mountain has ever witnessed. Sir Edmund Hillary is a Kiwi. So was climbing guide Rob Hall, one of the eight men and women who perished on Everest in May 1996.


Squinting through the rain-battered windshield, I was replaying for the thousandth time our attempt at the summit. We had managed to fix lines from 21,000 to almost 26,000 feet, an exhausting, time-consuming job that had to be led one pitch at a time, most of it up solid ice. We'd fallen behind schedule, and by mid-May the monsoon began creeping into the Himalayas. Avalanches were starting to sweep the North Face. It was now or never.


This is my memory of what happened all those years ago: Four of us made the attempt—Dana Coffield, Sandy Stewart, Carlos Buhler, and me. Our high camp was at 25,000 feet, 4,000 feet from the top. Our only chance was to forgo establishing a final camp, carry a minimum of gear and supplies, and just start soloing beyond the last fixed line. One two-man tent for all four—one of us carrying the poles, another the tent body. One stove—one of us carrying the stove itself, another the fuel. The plan: Climb from 21,000 to 25,000 the first day, sleep, summit the next day, pitch a one-night bivy at 27,000 on the descent, and then downclimb all the way to our 19,000-foot base camp the following day.


We set out in single file in the dark, jugging the lines up the face in the dim light of our headlamps. It was snowing hard, and we were soon lost to one another. Shove one ascender up the ice-coated rope, then the next, step up one foot, then the next. Do it again.


Spindrift avalanches began hitting us, plummeting from far above. Hearing one coming, we would brace ourselves—hunch our shoulders, flatten our bodies against the ice, clamp our mouths shut, and cling to our ascenders. When they hit, we would be blasted right off the steep ice, momentarily lifted out into mid-sky in a swirling, breathless maelstrom, then slammed back into the face as the gust of snow rushed on.


We had planned to regroup at a camp at 23,000 feet—a miserable shelf surrounded by snow walls graffitied with urine. Two tents clung to the edge. Carlos arrived first, and I was second. We ducked into a tent, squeezed into our sleeping bags fully clothed, and waited, conserving energy, knowing Dana and Sandy were right behind us.


They didn't arrive. An hour passed, then another. After three hours we started to get worried. Carlos tried to raise someone on the radio. Nothing.


Careful not to drain the batteries, Carlos began calling once an hour. It was after dark when we heard a scratchy, faint reply. It was Sandy.


"Where are you guys?" Carlos shouted.


The static was so fierce we could only make out snatches of what Sandy was saying.


"…glacier camp…"


"Are you OK?" Carlos yelled.


"…"


Carlos repeated the question.


"…yes, we are, but…"


More static and clicks. Then one complete utterance got through.


"We decided it was too dangerous," Sandy said. "We turned back."


I couldn't believe it. But the ramifications were clear: Without the crucial components of the tent and stove that Dana and Sandy were carrying, Carlos and I weren't equipped to continue. We couldn't go on.


For us, the expedition was over.
TECHNICAL CLIMBING may be practically impossible in the rain, but hiking is not. I decided to go for a walk.


New Zealand has the finest hut-to-hut hiking system in the world. The huts themselves are immaculate wonders, featuring shimmering, stainless-steel kitchens with gas burners, heat-radiating coal stoves surrounded by benches, bunks as tidy as at the finest summer camp, and head-shaking views you'd pay millions for in Jackson Hole or Zermatt. Paper, plastic, tin, glass, and organic waste are choppered out and recycled or safely disposed of.
Still, given the extraordinarily disagreeable weather, I assumed that even the most famous hut-to-hut tracks would be practically empty. How stupid am I? New Zealanders apparently can't imagine anything on earth more pleasant than hiking through freezing rain. They're worse than the Scots. They wear rough wool sweaters and heavy sailor's slickers and mushy boots and yet remain unyieldingly good-humored and eager. Many of the huts are booked up months, even years in advance. When I called the Department of Conservation, I learned that virtually every single bunk in every hut along the Milford Track had been reserved until I become a grandfather.


The Routeburn Track, however, did have a few spaces left in one or two huts. One of the classic fjordland treks in the southern end of the South Island, it's meant to be a three- to four-day excursion. But when I added up the total distance, even with side trips, it was no more than 25 miles.


I hiked up the Routeburn Track the first day, spent the night in the Howden hut, and hiked out the Caples Track the next. It rained remorselessly. The New Zealanders I met on the trail were grinning and enjoying the hell out of their hike, and almost every foreigner was hypothermic and whining. I met a Kiwi wapiti farmer in the shelter on Harris Saddle. "'Tis indeed possible to drown just standing up in this gorgeous green land," he said with pride.


The hike was a respite from dwelling on an expedition that had long ago passed under the bridge. But back in the car, I found myself once again chewing on my Everest experience. I stopped at one of the dozens of landslides that road crews were trying to clean up. A loader and a grader, working in methodical harmony, were trying to carve a path through an avalanche of mud and debris spilling across the highway.


That's when I had my epiphany.


For the first few years after the expedition, I had harbored the sullen conviction that if Sandy and Dana hadn't turned back, we could have been the first Americans to summit Everest via the North Face. I was so strong, so naively self-confident. Then, after more years of mountain experience, after the deaths of friends and fellow mountaineers, I came to accept that we probably wouldn't have made it, no matter what. But somehow I'd never taken it any further.


In New Zealand, staring through the foggy windshield at a deep river of mud that had cut the road in half and killed all traffic, my thinking took the final step. Say Dana and Sandy had come up and we'd all carried on. Above 26,000 feet we would each be soloing, attached to the face only by the teeth of our ice axes and crampons. Were a spindrift avalanche to have hit any one of us, we would have been torn off the mountain, plucked into space a mile above the glacier. It would have been exactly like jumping out of a plane without a parachute. By turning back, our two teammates had made the right call.
I TRIED TO GET INTO the high peaks four more times while in New Zealand, twice by helicopter and twice on foot. It was a no-hitter, a shutout. I drove back to Christchurch to fly home having never even seen Mount Cook.


En route to the airport I stopped in to see Guy Cotter, Rob Hall's old partner and now the owner and operator of Adventure Consultants, Hall's guiding business. I knew that Cotter and Hall had been close friends. They started climbing together as teenagers, became guides together. Cotter himself has led 15 expeditions to the Himalayas. We had corresponded but had never met, and I wasn't certain why I was going to see him. Sometimes we are guided by intuition we don't even know we have.
We hit it off immediately. We went out for breakfast, a great heap of eggs and bacon, and talked about kids and guilt and climbing and Asia. About loss and lessons. We talked straight into the afternoon. We left the café and went out to his house in the country, and sat for hours drinking tea in a living room filled with mementos from Nepal. I told him about my own shadows of Everest. And Guy told me how, in 1995, he guided a client, Doug Hansen, up to the south summit of Everest before making the decision to pull the plug. Hansen died with Hall the following year.


It was a painful subject, and we quickly moved on. But the conversation eventually circled back. It had to. Guy Cotter had spent his entire adulthood trying to determine when to push on and when to turn around. One of his best friends had died on the crux of the dilemma. His wisdom was hard-won.


"To be a successful mountaineer," Guy said, "you've got to be very conservative. But also very pushy. You've got to be able to be objective about what's happening. A mountain is always giving you signals and you have to have the knowledge to know what those signals are telling you. The mountain calls the shots. Not your sponsors or your clients or your emotions. I'm constantly thinking through the what-ifs. When all the conditions are favorable, that's when you push. If not, you must always, always, be prepared to walk away."


It took him almost a half-hour to itemize for me an expedition-honed checklist he uses to determine whether a summit push is safe or not. Snow conditions, weather, wind, temperature, team strength, team attitude—on and on.


Guy set down his cup of tea and stared out the window at the drizzle.


"Mountaineering is the one sport in which you don't learn from your mistakes," he said. "If we're lucky enough to live through the ambition of our youth, one day we realize that it takes more guts to turn back than to push on."


WE ARE ALL FED HEROIC slogans from an early age. A quitter never wins and a winner never quits. Never give up. Never cry uncle. Never say die.


But encouraging kids to excel in schoolrooms and on soccer fields, in careers and team sports, doesn't impose mortal stakes. Mountains do.


Let me be hypocritical and blasphemous and honest.


The truth is, mountains aren't worth dying for. Democracy, social justice, the environment—these are causes worthy of your life. A mountain is not. Your death on a climb does nothing for the world. It merely scars your family and friends forever.


Yes, mountains are worth climbing, which admittedly entails risk, but the important thing is to clearheadedly recognize when the tables have turned and it's time to do precisely what we have all been brainwashed to consider defeat: Turn back. Give up. Go down. Go home.


Sleep with your beloved, play with your kids or your nieces and nephews, take your parents out to dinner. Accept that quitting was exactly the right move. I did, finally.