A Tenacious 87-Year-Old Tames a Towering Climb
When he set a new record up Wyoming's Devils Tower last month, Robert Kelman confirmed what experts say about aging and athletics: use it or lose it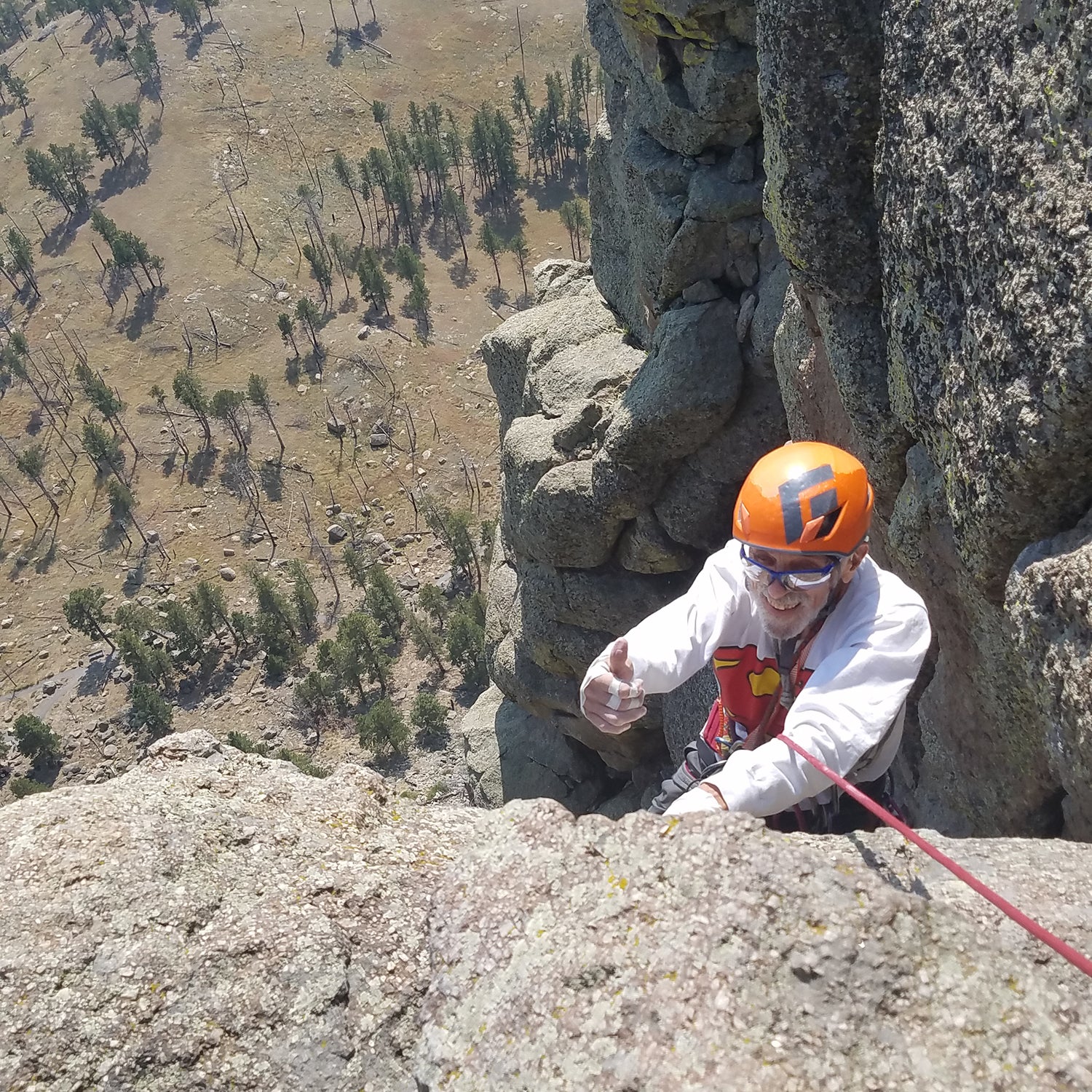 Taylor Lais(Photo)
Heading out the door? Read this article on the new Outside+ app available now on iOS devices for members! Download the app.
Figure it one way, and the news that Rob Kelman, who's been climbing half his life, recently summited Wyoming's iconic Devils Tower is unspectacular. Lots of experienced climbers bag the basalt-like, 900-foot monolith. But Kelman started climbing in 1971, at age 41.
Do the math. Kelman is now 87, and officially the oldest climber ever to bag Devils Tower. He's a retired mathematician who worked in the Eisenhower Administration's White House, in the 1950s. Kelman tore up his left knee and lost his entire meniscus before the invention of arthroscopic surgery. He lost his ACL in that same knee while bouldering in the 1970s. He had his first heart surgery 20 years ago. He had his second in 2015, and at age 85, Kelman emerged from that procedure with resolve. "I thought it would be nice to have a goal," he says. "Devils Tower kind of popped up."
Huh? What does the bright-eyed and articulate Kelman drink, swallow, inject? What's his brand of mattress? His secret?
To which Kelman replies: Climbing and exercise.
"All this attention is a bit unexpected," says Kelman, a Loveland, Colorado, local whose achievement quickly became a feature on Denver TV news. "I didn't realize how things spread around the Internet."
When it comes to aging and athleticism, Kelman has long practiced what researchers and doctors now preach: always keep moving. No matter your age, continue running, skiing, kayaking, downward-dogging…everything. As best as you can, and at different speeds, angles, and intensities.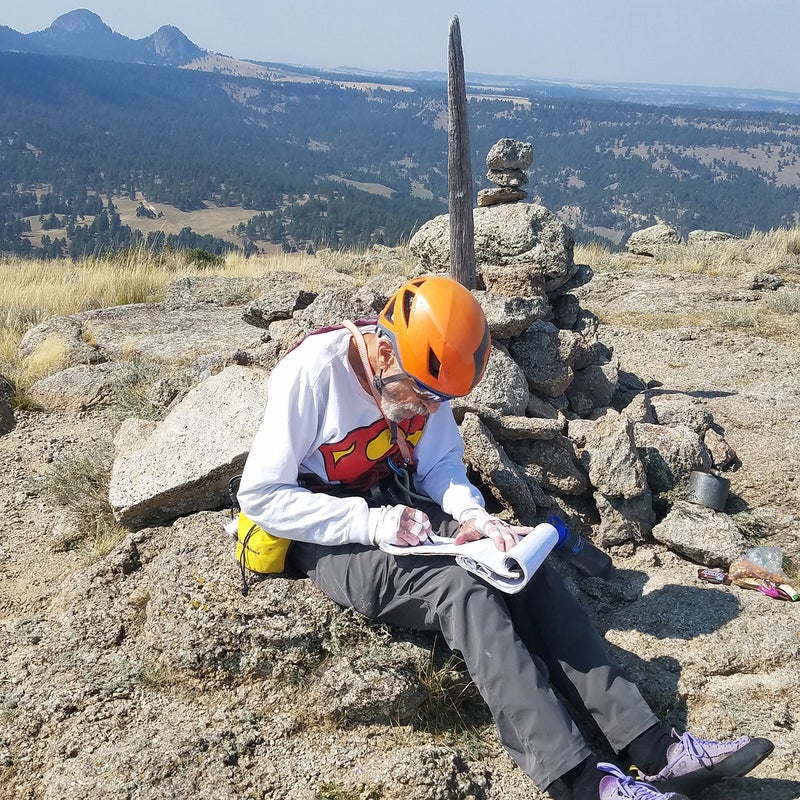 "The main thing with these older athletes? They've stayed with it," says Michael Joyner, a physician and faculty member focused on human performance at the Mayo Clinic. "They've kept their muscle mass up, they're not overweight. They go at their sports just about every day."
Research has proven that athletic tenacity begets athleticism. An ambitious, UK-based study, published in 2011 by the American Journal of Preventive Medicine, found that performance during physical challenges like "chair rises" and "standing balance" was superior among 53-year-old subjects who characterized themselves as moderately active or most active. The study's 3,000 subjects had been tested with the same challenges years before, at ages 36 and 43. The research also indicated that those who were active earlier in life tended to remain active in middle age, too.
"I'm always preaching lifestyle activities as lifetime activities," says Kelly Rice, an associate professor of Activity and Health at Eastern Oregon University in La Grande. "We'll decline with age, but we can slow that decline."
Enter the 87-year-old, 5-foot-6 Kelman, who's a lifelong gym rat. Often thrice weekly, you'll find him in his 425-square-foot weight room at home. Kelman performs presses, squats, power cleans, and the like. "I do chin-ups, palms both forward and reversed," he says. "I'll do ten with no weight. I'll do some with 30 pounds on my back." 
Over the decades, Kelman has climbed in various corners of North America. He wrote a guidebook to Vedauwoo, a granite outcropping in southeast Wyoming. But as time passed, Kelman increasingly found himself to be his tribe's consummate graybeard. "I've lived long enough for four of my climbing partners to die of cancer," he says. "Another one died of a heart attack. But these are just life's exigencies."
Kelman does have DNA on his side. His mother lived to 99 and he had aunts who lived into their 100s. The experts, however, say not to make too much of biological inheritance. "Genetics may tell us something about potential," says Rice. "But behavior and lifestyle decide if we'll ever reach our potential."
Kelman set his mind on Devils Tower, which is less than a day's drive from his home and has an easy approach, several months after his 2015 aortic valve replacement. He also liked that the landmark is widely revered—and that he might set a record. "I did want to break it," he says. The Mayo Clinic's Joyner finds swagger in a lot of truly old but dedicated athletes. "They're pleasantly aggressive," he says. "In a sort of crazy, paradoxical way, they have the attitudes of 16-year-olds."
The valve replacement, however, initially left Kelman feeling puny. After the surgery, he spent months lifting virtually nothing. He wouldn't let himself return to the rock before meeting self-imposed goals: complete 12 chin-ups; perform six somersaults. "The body needed to be sturdy enough," he says.
Kelman returned to the rock in spring 2016. His high-stepping was weak. His endurance lacked. He went to Devils Tower, which he'd last climbed in the 1990s. While Kelman is an experienced crack climber who once climbed 5.11, the 5.7, crack-filled wall turned him back. "I remembered clearly how to do every move," he says. "But I'd put my hand there and my foot here, and pull—and nothing would happen."
So he went back to the gym. 
---
Last month, when Kelman again stood at the base of Devils Tower, alongside hired Sylvan Rocks climbing guide Taylor Lais, he was a vastly improved athlete. Yet Lais had concerns. In the walkup and pre-climb prep, Kelman had moved slowly. In a way, he acted his age. "I just thought, if the shit hits the fan, what would that be? How am I going to deal?" Lais later told me. He's previously guided upwards of 40 trips up Devils Tower. Obviously, Kelman was his oldest client.
But soon Lais was relieved and impressed. The rock had a Midas effect on Kelman: he touched it and was transformed. "I could immediately tell that Rob has been doing this for a long time," says Lais. "Really it was like, holy cow. He has his technique down."
Research has proven that athletic tenacity begets athleticism.
In the spirit of added rest and greater oversight, the pair agreed to break up the ascent into a numerous eight pitches. The temperature climbed, the rock heated to the point of feeling less sticky, and more chalk was sought for sweaty hands. The climbers kept climbing. "I took a couple falls, but the protection was good," says Kelman. "I was mostly annoyed with myself."
Halfway up, though, Kelman felt his strength ebb. He drank from the water that Lais had hauled up the wall, and ate an energy bar meant for kids. "You're not going to stop now," he told himself. Lais said the turning point came at the end of the sixth pitch. He truly believed that his 87-year-old client still had enough left to finish the Tower, and rightfully claim that he did it all on his own. "I told him, it's going to happen, Rob. You'll make it," says Lais.
About five hours after he started out, Kelman reached the top and posed next to the summit post. The whitish-gray beard and slightly stooped stance said old man. The orange helmet, sunglasses, and long-sleeve T-shirt with a huge Superman logo said kid. 
"At the top, I said a little prayer of thanksgiving," says Kelman. "I'm here. That's good."
Lead Photo: Taylor Lais
Trending on Outside Online