A Turkish New Yorker Quietly Summits After Everest Brawl
We met Aydin Irmak last year when he was attempting to summit Everest with his bike. This year, he surprised us by returning to the mountain, summiting early—and finding himself in the middle of the brawl on Everest.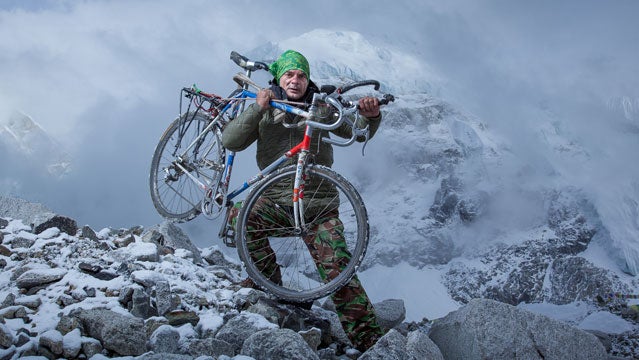 Heading out the door? Read this article on the new Outside+ app available now on iOS devices for members! Download the app.
Late last night I received an email from from Aydin Irmak, asking me to call him at a Nepalese cell number. "I summited May 10 with the fixing Sherpas," he said when I reached him. This was more than a little surprising.
You may recall that Irmak is better known as the Turkish New Yorker who last year attempted to climb Everest while hauling his touring bicycle with a porter's tumpline. Sagarmatha National Park officials ultimately scuttled that plan, but he did summit and was discovered "sleeping" on May 19 near the feature known as the Balcony by Thamserku Trekking Sherpa Pemba and his Israeli client Nadav Ben Yehuda. Irmak was widely criticized for attempting Everest with literally no mountaineering experience, and he suffered moderate frostbite that required months of treatment.
I had no idea he'd returned to the mountain, this time with Seven Summit Treks. Not only that, he claimed he'd befriended the fixing team which had been involved in the widely publicized skirmish at Camp II on May 1 and that they'd invited him to climb with them to the Summit. "I am a kind of a white Sherpa," explained Irmak.
Though Irmak gives the first impression of being a fabulist—the sort of wild-eyed guy you try to avoid making eye contact with on the street—his claims have more or less checked out in the past.
He said he was at Camp I during the Everest brawl and saw Simone Moro, Jon Griffith, and Ueli Steck come into camp on their way down—Steck bloodied after being hit with a rock. A short time later came the Sherpa team that was involved in the fight. They were worried that the government would send soldiers to arrest the three instigators.
"I said, look, if the government comes here, I'll tell them I fought with Simone, and I will fight again," says Irmak. "But everything is OK because Simone came out and said I apologize for this."
For more on the fight at the roof of the world, read our interview with Ueli Steck.