Turning Climbing Into Philanthropy
Heading out the door? Read this article on the new Outside+ app available now on iOS devices for members! Download the app.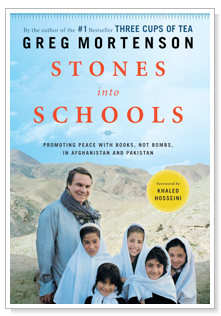 Last night, mountaineer and philanthropist Greg Mortenson received a standing ovation after a talk in Santa Fe sponsored by Garcia Street Books. We attended and filmed the event (coming soon to outsideonline.com), and left inspired. 
Perhaps no one else this century represents a more powerful transition from adventure to philanthropy. Mortenson traveled to Pakistan to climb K2 in honor of his sister, Christa. He failed in his goal to summit the mountain. Weary and sick on his return to civilization, he stopped in a small rural town in Pakistan for help. They nursed him back to health and he promised to build them a school, setting a new mountain to climb in honor of his sister. That school has now become more than 130 schools in Pakistan and Afghanistan. Mortenson's accomplishments have led heads of state and high ranking military officials to call on him. Some have changed their foreign policies in response to his message. One of our facebook fans recently suggested that Mortenson, and not Obama, should have won this year's Nobel Peace Prize. The details of Mortenson's story are detailed in Three Cups of Tea, and his new book Stones Into Schools (reviewed here).
Though Mortenson is perhaps the most famous now, many other climbers turned do-gooders exist. Presenting a list of our favorites.
Greg Mortenson
Pennies For Peace
The Central Asia Institute
No Bachcheh Left Behind, December 2008, By Kevin Fedarko
Conrad Anker, Jennifer Lowe-Anker, and Alex Lowe
In honor of Alex Lowe, Anker and his wife Jennifer Anker-Lowe started a school to teach Sherpas avalanche forecasting, crevasse rescue, how to tie into a rope properly, English, and other skills to improve work safety.
Khumbu Climbing School, The Alex Lowe Charitable Foundation
High Altitude Altruist, December 2005, By Conrad Anker
Dr. Geoff Tabin
The doctor, who has climbed Everest multiple times, brings a unique energy and skill to remote places around the world to provide free eye care. He may conduct thousands of surgeries (which he rates by difficulty on a climbing scale) an expedition to improve sight in poor, rural areas.
The Himalayan Cataract Project
The Light of Seven Mountain Suns, December 2005, By Nick Heil
Erik Weihenmeyer
The first blind man to summit Everest (beautifully chronicled in the film Farther Than The Eye Can See) turned his attention to taking other blind people on adventure expeditions (Blindsight).
Touch the Top
Tenacious E, December 2001, By Erik Weihenmeyer
Rick Ridgeway
The first American to summit K2 teamed up with Patagonia, made movies, and wrote to raise awareness about the value of preserving wilderness and slowing climate change.
Freedom to Roam, Earth Cinema Circle
Below Another Sky, December 2000, Rick Ridgeway
Edmund Hillary and Tenzing Norgay
The New Zealand beekeeper and the Sherpa became the first people to summit Everest on May 29, 1953. Tenzing grew into the people's champion and Hillary built the Sherpas airfields, roads, and schools through a non-profit of his design.
The Himalayan Trust
The Man Who Knocked The Bastard Off, October 1999
Apa Sherpa
The man who summited Everest a world record 18 times announced last April that he was starting a new charity dedicated to improving education in the Khumbu region of Nepal.
The Apa Sherpa Foundation
The Lucky 13, May 2003
Know any we missed? Please add them to the comments section below.
Heather and Harris commented with two excellent additions, Marshall Ulrich and Todd Burleson. Read what they wrote in the comments section below. Do you know any more?
–Joe Spring
For more adventure icons turned philanthropists, check out our December issue.