Ueli Steck and Freddie Wilkinson Share Their Everest Plans
Ueli Steck and Freddie Wilkinson reveal how Nepal's permitting system is holding climbers back in the Khumbu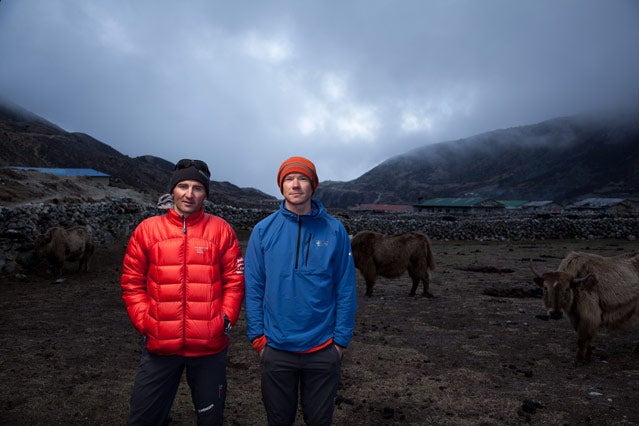 Heading out the door? Read this article on the new Outside+ app available now on iOS devices for members! Download the app.
A four-hour march south of Base Camp, out on the braided and windy flats of the upper Dudh Kosi, lies the small yak herder and tourist outpost of Pheriche. It's here, holding court over the nearly empty Mountain Guide's Lodge and Restaurant, that I find the Swiss Machine, Ueli Steck, 35, and his fellow Mountain Hardwear athlete American Freddie Wilkinson. Steck was the subject of a profile, "Speed Freak," in our April 2012 issue, by Tim Neville, and Wilkinson recently won the coveted Piolet d'Or for an alpine-style ascent of the world's second-highest unclimbed peak, India's Sasser Kangri II (24,664 ft.). As in years past, the pair have come here to avoid the crowds in Base Camp and to climb some of the upper Khumbu Valley's smaller, but more difficult routes, and to help Steck get used to the altitude.
Ueli Steck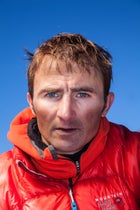 The unchanging face of Steck
Freddie Wilkinson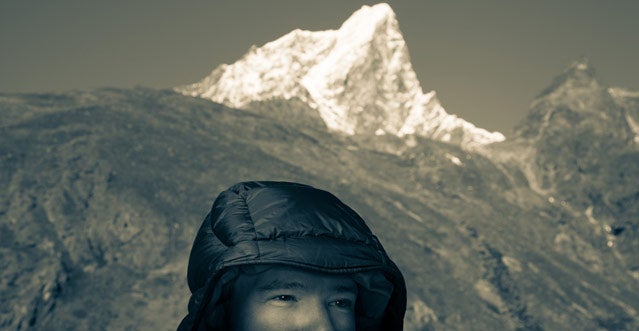 Wilkinson beneath the northeast face of Taboche (right side). The line directly up the center of the triangle is the route pioneered by Jeff Lowe and John Roskelley in 1989.
"It's much nicer around Pheriche," says Steck. "After you're acclimatized, you can go to Everest and just start climbing."
"The expedition model, where you set up base camp and you need a generator, and you have a cook in a mess tent—that's pretty old school," says Wilkinson.
Steck holds no fewer than five climbing permits this season. Two—Cholatse (21,129 ft.) and Lobuche (20,075 ft.) are easier trekking peaks. Two—the northeast face of Ama Dablam (22,493 ft.) and the north face of Taboche (21,463 ft.)—are serious alpine mixed routes that he and Wilkinson plan to tackle without fixed camps. And then there's Everest. With two high-profile expeditions attempting the West Ridge this season and Steck being cagey about his plans, rumors have swirled that he'll try everything from a speed ascent of the normal Southeast Ridge route to a whopper that he'll try to bag a mind-bending enchainment of Everest (via the West Ridge), Lhotse, and Nuptse . The route, known as the horseshoe, has never been done–even in pieces.
So which route up Everest is Steck going to try? "I have a permit for the Southeast Ridge," he says. "My goal is just to climb the mountain without oxygen." Last year, Steck had made plans for multiple 8,000-meter peaks but got cold feet (literally) at 8,700 meters, while climbing the North Ridge route. "A sherpa offered me some oxygen," recalls Steck. "If I'd taken ten or fifteen minutes worth, my feet would be warm again." But Steck is principled about his abstinence.
So if the conditions were right, I press him, would he deviate from his plan and try the West Ridge? "Just go for it," he says, nodding. "Take your tent and just leave."
"Do you think the Nepalese would hassle you about it?"
"I don't think so," he says. "The whole thing with these permits is just not right."
His gripe is one that's shared by many top alpinists. The Nepalese government doesn't just issue climbing permits for a region; they require climbers to pay for each peak they plan to climb. And those permits are expensive, ranging from $350 to as much as $70,000.
"It sucks, and it's really holding back this whole valley," says Wilkinson. The reality is that the ultra-specific permitting system is more of an issue for climbers who want to try the lesser peaks of the Khumbu, but the penalties for breaking the laws are serious. Mountaineers caught climbing peaks without the proper permit risk being thrown out of Nepal for five to ten years (though most are just fined double the cost of their permit).  
"Climbers should just be able to come here and do all of these mountains," says Wilkinson of the Pheriche area. "But the reality is that it costs tons of money in permits. The ministry of tourism doesn't care about the dirtbags."
And, according to Steck, the cash the climbing permits bring generally doesn't flow back into the Khumbu: "The money just stays in Kathmandu. On the other hand I'd rather take four porters than three just so they can have work. That's the biggest problem in countries like Nepal. The bureaucrats make all the money."
Still, Steck, Wilkinson, and their sponsors appear willing to pony up for the extra permits and enjoy creature comforts of Pheriche instead of setting up at Base Camp. "It's much more appealing to hang out here until the weather is good and then try to blast up something," says Wilkinson.