The Ultimate Weekend Escape
Just because it's theoretically possible to climb and ski off North America's tallest volcano in 24 hours or less, including travel time from the airport, doesn't mean you should.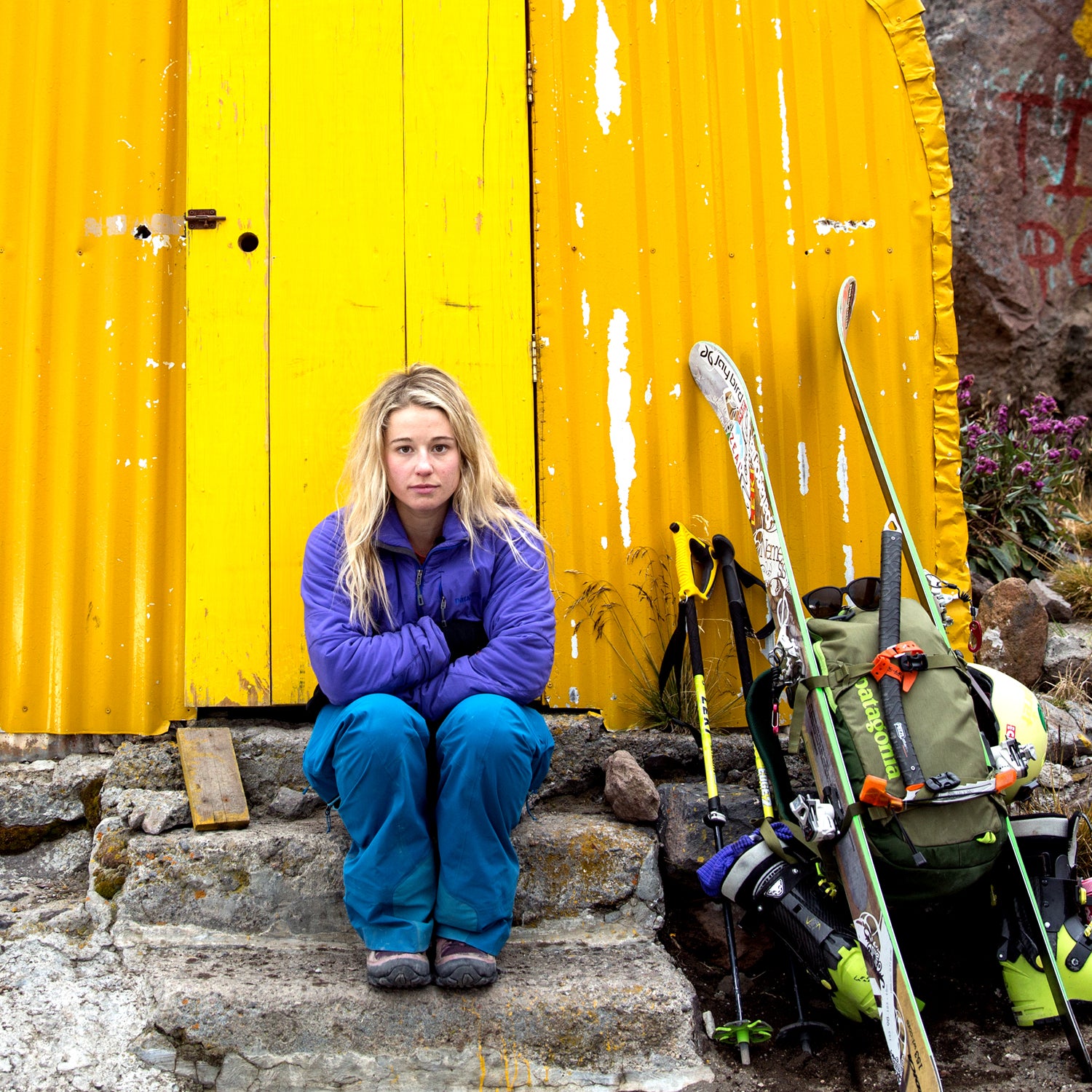 Grayson Schaffer
Heading out the door? Read this article on the new Outside+ app available now on iOS devices for members! Download the app.
High-altitude mountaineering is typically the domain of the far-off and the frostbitten. Climbing a big mountain usually takes at least three weeks. But most people don't realize that North America's third-highest mountain, Pico de Orizaba, is in south-central Mexico, just two hours by air from Houston or four from Atlanta. It usually takes three days to climb. 
Ascending the glaciated, roughly 18,500-foot stratovolcano is pretty straightforward and a good opportunity to strap on crampons for the first time and see how you perform at altitude. Last November, I wanted a bigger challenge—to do the whole thing in a day. I invited Patagonia-sponsored athlete and ski mountaineer Caroline Gleich, a 29-year-old, five-foot-one blonde with a fierce wit who's a regular ski partner at home in Salt Lake City. She's been the face on Ski Utah's brochures for the past couple of years and lately has taken to ski mountaineering in Ecuador and Slovenia. And I called Outside senior editor Grayson Schaffer, who doesn't need much urging to get out of the office. "I'm in. But I won't be fast," he warned. 
The idea was to climb up and ski down the mountain quickly enough to fit the expedition into a long weekend, including air travel. Our hurried itinerary—skipping the acclimatization—made us wildly more susceptible to altitude sickness and elicited admonishment from our more reasonable mountaineering friends. But hey, we wanted to ski it before the Monday-morning office coffee was brewing.
Wednesday, November 19 4 A.M. (Altitude: 15 feet)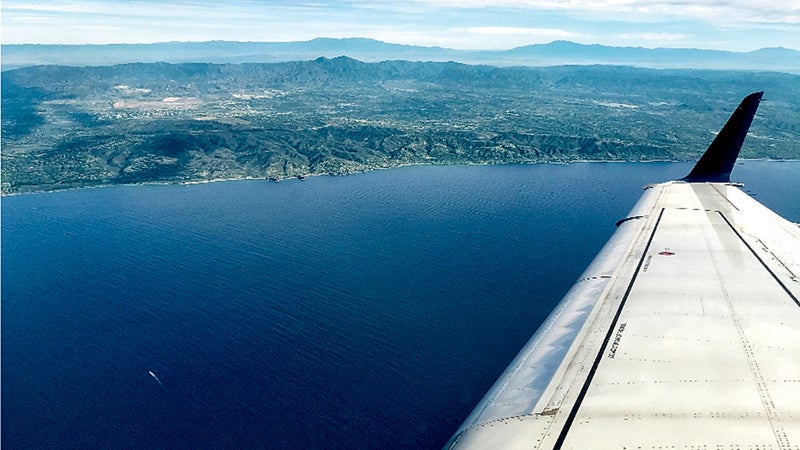 Caroline and I spend the night lobbying for climate-change action on Capitol Hill in Washington, D.C., for Protect Our Winters, a snowsports-industry nonprofit, right up until we grab an Uber to Reagan National Airport for a 5:30 A.M. flight to Puebla, Mexico. I haven't slept.
---
2:35 P.M. (7,085 feet)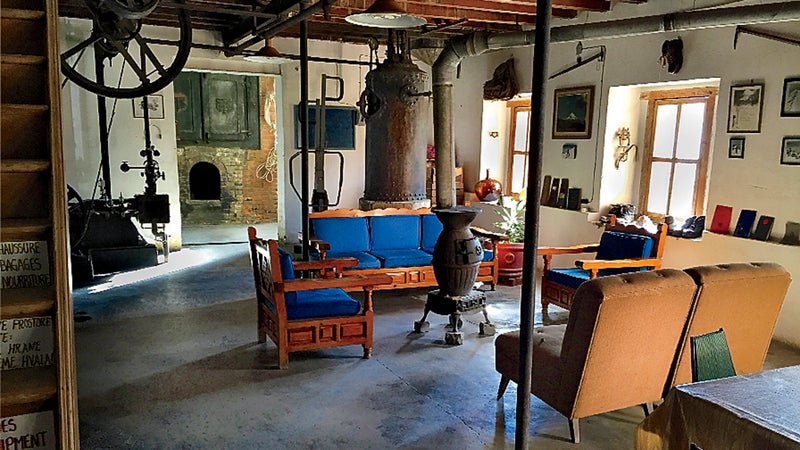 A driver from Servimont, an 83-year-old guiding service housed in an old soap factory in the town of Tlachichuca, near Pico de Orizaba, holds a sign in the Puebla airport that reads Welcome My New Friends in Spanish. We pick up Grayson at the Holiday Inn and head to Servimont HQ. 
---
5:17 P.M. (8,614 feet)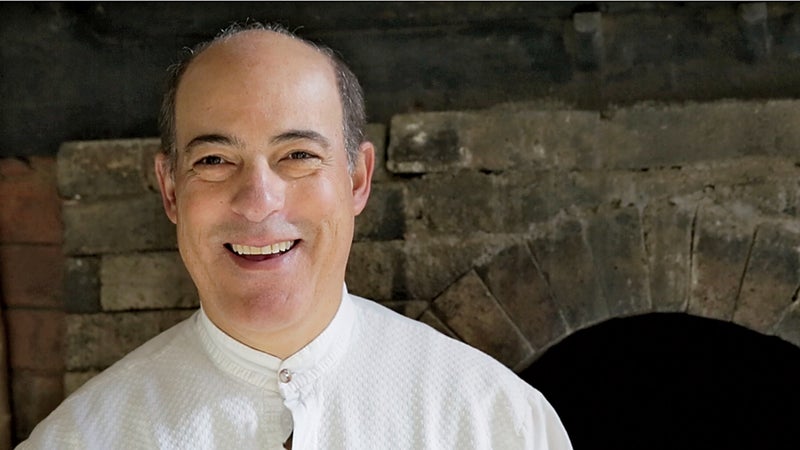 Gerardo Reyes, a third-generation Pico de Orizaba climber and second-generation owner of Servimont, meets us at the tiny entrance to the compound. We've hired him to provide a driver to take us to Refúgio Grande, a cinderblock climbers' shelter on the slopes of Orizaba, and to watch our stuff while we're on the mountain. We eat a quick dinner of beans and tortillas, during which Reyes calmly discloses his doubts about us climbing and skiing the peak in one night. He thinks it best if we pay for the driver up front, because "Quién sabe lo que va a pasar." Which means, essentially: he isn't sure we'll make it back alive.
---
7:09 P.M. (13,976 feet)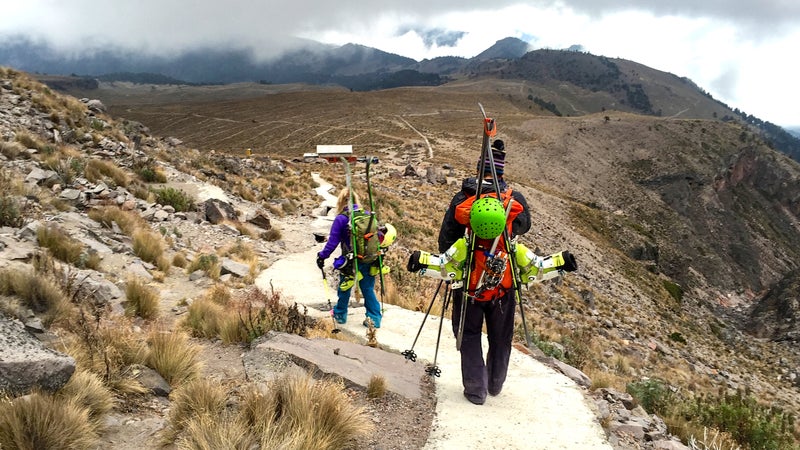 We pile our gear into the back of Reyes's new Dodge Ram pickup and bounce up the 15-mile 4×4 track toward the refúgio, which is at 13,976 feet, sleeps 40 people, and is maintained by Mexico's park service, the environmental organization Grupo de los Cien, and local taxi drivers. We had planned to ski a very steep couloir off the east side of the mountain, but now Caroline and Grayson are leaning toward the more traveled trade route. "It's our first time on skis this year, above 18,000 feet, without any acclimatization, on an unknown route," says Grayson. Caroline adds, "I think there are a few strikes against us. I'd rather have a good shot at the summit." We'd discussed all this weeks ago, but the sudden reality of it is giving them pause. 
I am wildly disappointed. We organize our gear on a big tarp, enter the brick hut at 9:01 p.m., and fall into our sleeping bags on wooden racks beside 20 snoring climbers from all over the world.
---
Thursday, November 20 1 A.M. (13,976 feet)
I can't sleep. Instead, I lie awake with a painful stomach ache on the third-level slats, above Caroline and Grayson. I prepare to crawl out of my sleeping bag and tell them I am too sick to climb. Yeah, irony. But then my stomach settles a bit. I shake their feet, and they rise quickly. Multiple teams of guided climbers speaking different languages are rummaging through duffels and tying boots. "I just threw up on the way to the outhouse," Caroline announces. Grayson, who was sure he was the weakest member of our team, is suddenly the only one who is healthy. At 2:01 A.M., we start up the trail.
---
4:07 A.M. (15,100 feet)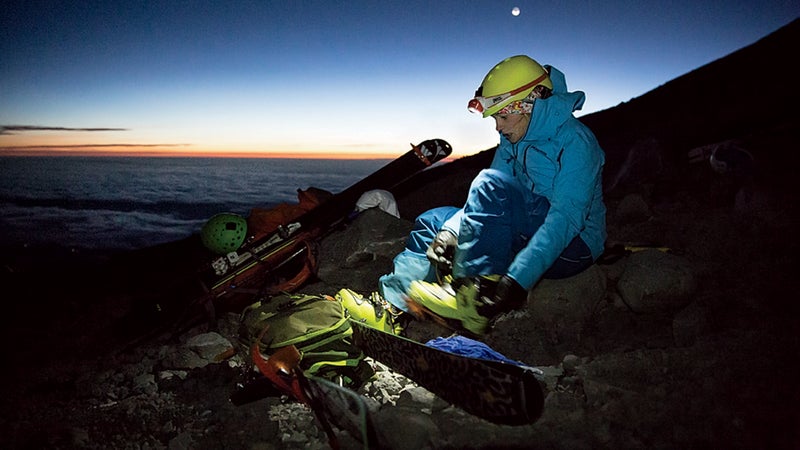 It's still dark and we're moving well, chatting as we go. My stomach hurts, but it isn't slowing me down. We make our way through a confusing web of sandy moraine trails called the Labyrinth. We haven't yet seen the mountain we are trying to climb, but we have faith that it is there. "My head is starting to hurt," I tell my partners. "I need to slow down a notch." Grayson checks my pulse. Our skis and ski boots are attached to our backpacks. There is no snow in sight.
---
6:25 A.M. (16,400 feet)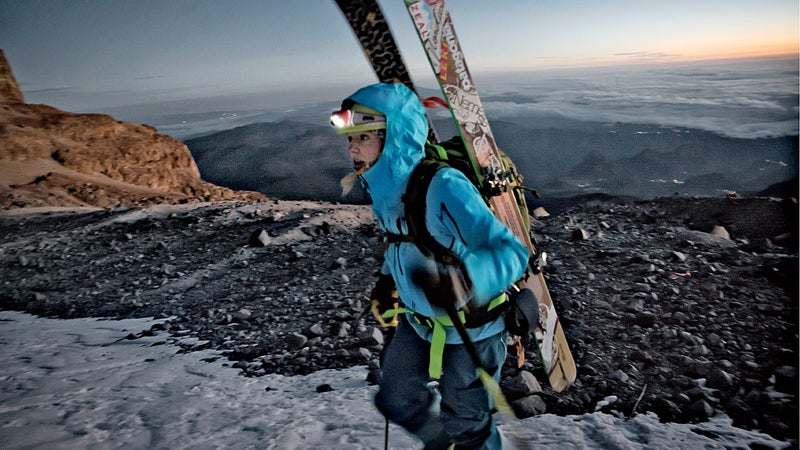 There is a sliver of new moon above the eastern horizon. We sit on a cluster of boulders at the edge of the permanent snowfield. "We have lost over 60 percent of the glacier," Reyes would later tell us. "I think in the next 20 to 30 years, we will see it disappear." With the summit in view, we strap on crampons and tromp upward as the gathering shadow of the peak's massive triangle stretches out into the pinkening sky. Around us guided groups begin to emerge onto the glacier, climbing in rope teams of four. We are ascending unroped because we want the freedom to go off-trail to take pictures, and nobody wants to be the one who trips and pulls the other two off the mountain. 
---
7:59 A.M. (17,900 feet)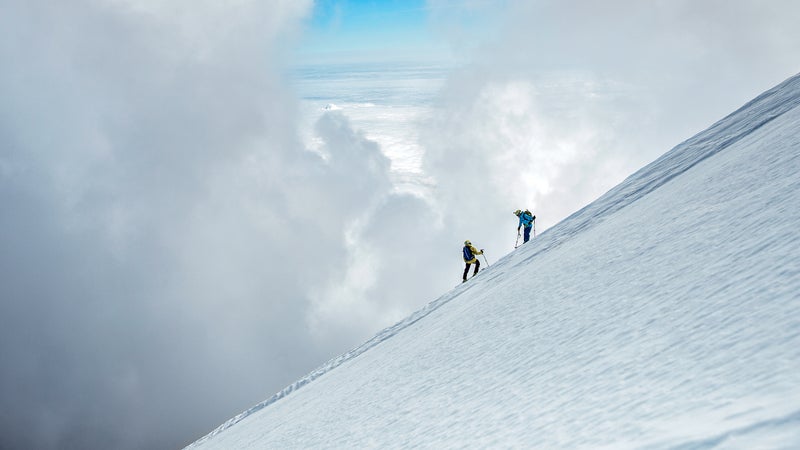 My head hurts. A lot. It feels like my brain is about to explode. If it gets worse we'll descend. "Honestly, I thought this was going to be a gimme," Grayson says. But around 17,900 feet, the altitude has finally hit him, too, and he's slowed to a crawl. Caroline stays with him. I'm not sure if she's tired or just keeping an eye on him. This is exactly the challenge we came here to find.
---
8:30 A.M. (18,200 feet)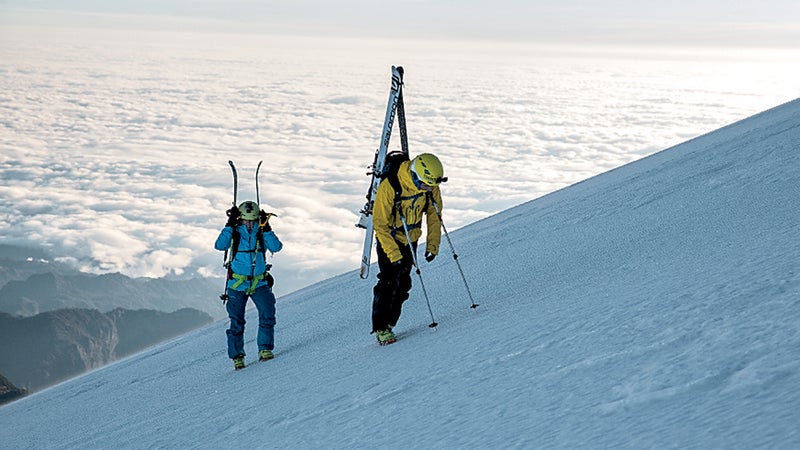 I doze off on my feet, my forehead propped up by my poles. I risk an uncontrollable tumble down the glacier and into the moraine 2,000 feet below. At this elevation, the glacier is steep enough to require concentration. Caroline has a reputation for being the bubbly girl with the blond ponytail in the Patagonia catalog, but she's powerfully built and is counting out steps with mechanized regularity. We spend enough time together on Instagram that people think we're dating, but she actually friend-zoned me. "I did have to think about it," she said, which was something. Grayson sits down and tries to will himself to eat and drink. He looks bad enough that one of the mountain's other climbers tells him to stay alive. "You stay alive," Grayson spits back.
---
9:11 A.M. (18,500 feet)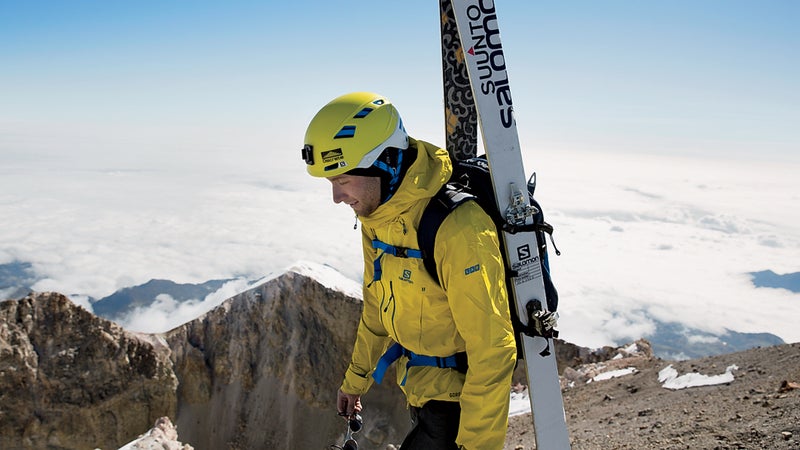 Summit. Caroline and Grayson arrive nearly 30 minutes behind me. The altitude got exponentially worse for Grayson with each foot of elevation, but Caroline helped him through it. We snap summit photos, but Grayson knows that he needs to start heading down. "Wow, there isn't much snow," Caroline says. It looks like a beach-volleyball court.
---
9:20 A.M. (18,470 feet)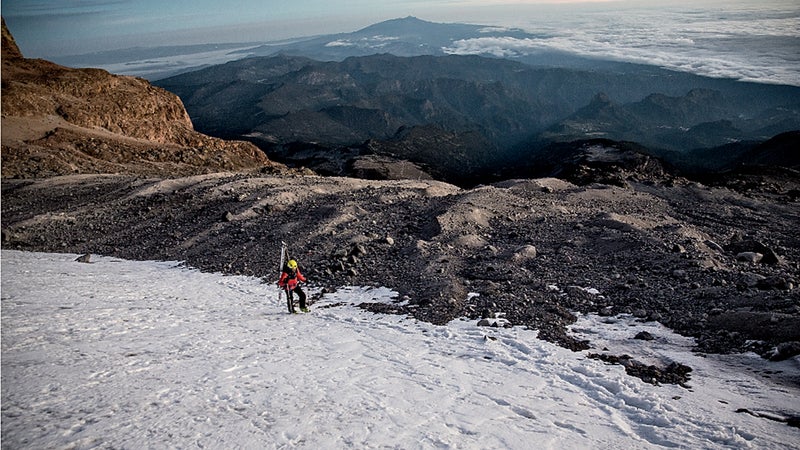 Grayson makes his way to the snow slope, clicks into his skis, and barfs on them. 
---
9:29 A.M. (17,600 feet)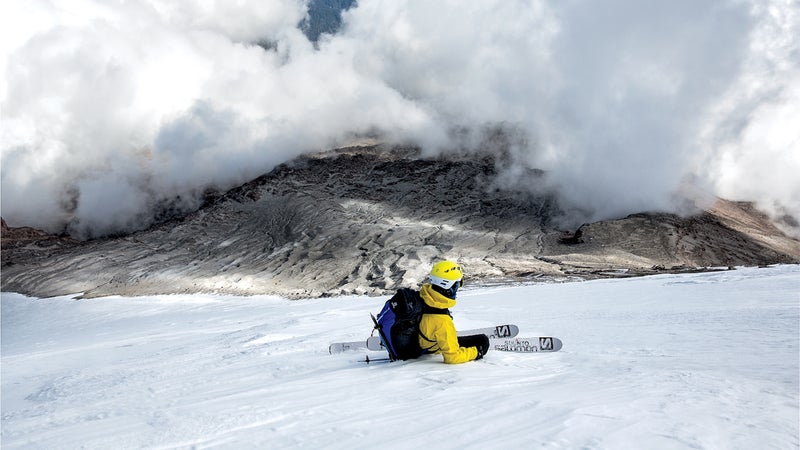 The skiing is terrible—blue ice on a 35-degree pitch, and it's nearly impossible to hold an edge. We are mostly sideslipping and scraping. The clouds roll in below and around us, making it seem like we're skiing at jetliner altitude. My headache improves. Grayson is snapping photos but feeling awful. We ski about 2,000 vertical feet—similar to the descent at most major Rocky Mountain resorts—but the snow has the consistency of hockey-rink ice.
---
11:45 A.M. (16,000 feet)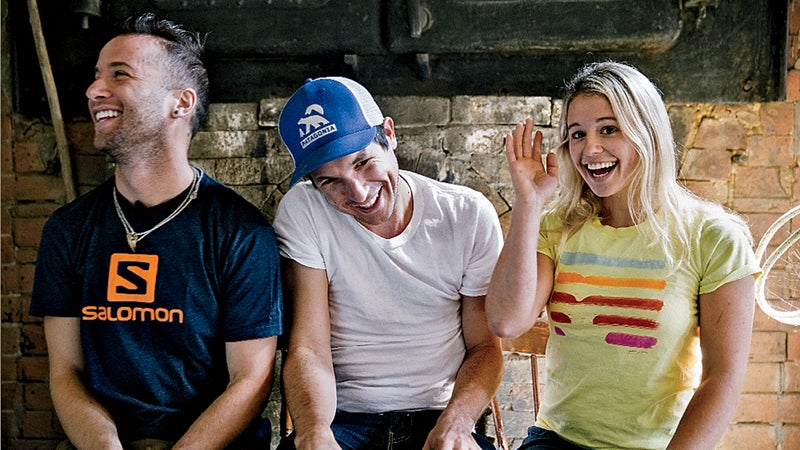 Success? We feel decent enough. Grayson is eating and drinking. "It feels like a terrible hangover," he says. Then he pukes again. We turn our backs. "If either of you were puking," he says, "I'd be in your face with the camera and microphone." "No, Grayson! We want you to get better!" says Caroline. We pushed it hard—really hard—but I don't think too hard.
---
2:31 P.M. (13,976 feet)
Exactly 24 hours after our plane touched down at the Puebla airport, we take off our backpacks at Refúgio Grande, having climbed and skied the tallest volcano in North America in a day. Caroline and I give each other high fives. We gather our gear and throw it into the truck.  
Brody Leven, an adventure skier sponsored by Salomon, skied Alaska's Denali in 2013. 
---
Plan Your Own (Slightly Less Ambitious) Weekend
Pico de Orizaba is heavily guided from October to March (the dry season) but can be climbed year-round. Servimont is based in Tlachichuca, two hours southeast of the closest international airport, in Puebla, and is the perfect base to launch a saner three-day climb. It offers fully guided trips or can set you up with a driver and camp minder.
How to Get There: United Airlines offers direct flights from Houston to Puebla for about $500. From the East Coast, fly Delta through Mexico City, three hours from Tlachichuca. 
Where to Stay: The bunkhouse at Servimont is clean and well appointed. If you need to overnight in Puebla, we recommend the Holiday Inn Puebla Finsa (from $69). It's a short taxi ride from downtown, where you'll find the Casareyna restaurant, which makes a mean mole and stocks every tequila you can name.
—Grayson Schaffer
Trending on Outside Online