What are Europe's top ten active adventures?
I am currently stationed in Naples, Italy for another year and a half. Can you list ten things that I should accomplish in Europe while I'm here? I love to travel and fish and I am more concerned with seeing the natural beauty of the continent than anything else.BlakeNaples, Italy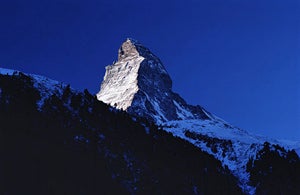 Heading out the door? Read this article on the new Outside+ app available now on iOS devices for members! Download the app.
As much as I enjoy living in the mountains of western North Carolina, I have to say I'm a little jealous of your zip code (or "codice di avviamento postale," as the locals might say). So you're basically looking for a manlier, outdoorsier, version of Eat, Pray, Love huh? Well, how about a top ten guide for someone who wants to Sweat, Play, Rove through Europe? (That sound you hear is me patting myself on the shoulder for the clever play on words.) Here goes:
The Matterhorn

The Matterhorn
1. Ski a Glacier
In the winter, there's nothing more liberating than carving down the wide-open high glaciers of the Alps, with the rest of the world stretching below you. In the summer, it's simply awesome to be able to ski. Stubai in Austria is one of Europe's premier on- and off-piste glacier destinations, just outside of Innsbruck.
2. Drive a Canal Boat Through Southern France
There isn't a more romantic vacation than driving a boat for a week down the magnificent, tree-lined 300-year-old Canal du Midi, which connects the Atlantic and Mediterranean through Southern France. Le Boat, plans tours and offers boat rentals starting at $567 per week.
3. Learn to Cook in Tuscany
Sip wine from a basket bottle and master the simple techniques that transform staples like tomatoes, pecorino cheese, beans, olive oil, and mushrooms into high cuisine (and you into a cooking dynamo). The Italian Cookery Course runs a seven-day cooking school and culinary tour, starting at $2,950 per person.
4. Conquer the Matterhorn
This 14,690-foot shark's fin of gneiss on the Swiss-Italian border is Europe's most imposing peak. International Mountain Guides will lead you to the top, if you dare. You'll train with them for nearly a week on similar mountains beforehand. Prices start at $3,500.
5. Walk in the Footsteps of the Great English Poets
The stark beauty of the Lake District in England has inspired artists and poets since the likes of Coleridge, Wordsworth, and Tennyson wandered its bare, rolling hills in the 18th century. Take an inn-to-inn walking tour, eating pub grub, and visiting the haunts of these legendary figures along the way. Plan your own trip to save money, or use a service like English Lakeland Ramblers, which organizes seven-day walks for $3,175, all-inclusive.
6. Drive the Autobahn in a Porsche
Porsche. Autobahn. Need I say more? Auto Europe rents them for $750 a day.
7. Flamenco Dance in Spain
Flamenco, the dramatic, foot-stamping exotic folk-dance of Southern Spain. The company Go Learn To leads several different excursions to Andalucia for flamenco dance lessons—lasting from a weekend to week-long, and starting at about $200 per person.
8. Land a Salmon fit for a Viking God
Fly-fishing in the frigid, barren rivers of Iceland is truly Beowulf-worthy, with salmon that grow larger than 20 pounds and fight like a shark. The season runs from June to September. Iceland Angling Travel will lead you, starting around $500 for a one-person trip (or $300 each for a two-person trip).
9. Yodel from the Top of the Alps
You'll feel like you've been dropped into The Sound of Music as you ascend the flower-filled alpine meadows of the Alps in summer, and when you reach a ridge crest, you can't help but want to break into a yodel (and then brag to everyone at home that you did it). One of the best starting points for a day hike is Zermatt. Follow the ten-mile round-trip Höhenweg Höhbalmen from town, offering glimpses of the Matterhorn. Stay at the Coeur des Alpes, a swanky B&B carved into the mountainside, which starts at $174 per night.
10. Make a Crop Circle, and Freak out an Entire Continent
Nothing like sneaking into a wheat field at night, making a crop circle shaped like Ned Flanders, and watching the alien conspiracy theories spread across all of Europe the next day. Good times. The web site How Stuff Works diagrams the way to do it properly.
Trending on Outside Online