The World Reacts to Ueli Steck's Death
The man known affectionately as the 'Swiss Machine' lived life on the cutting edge. Here, we gather the remembrances of those who knew him best.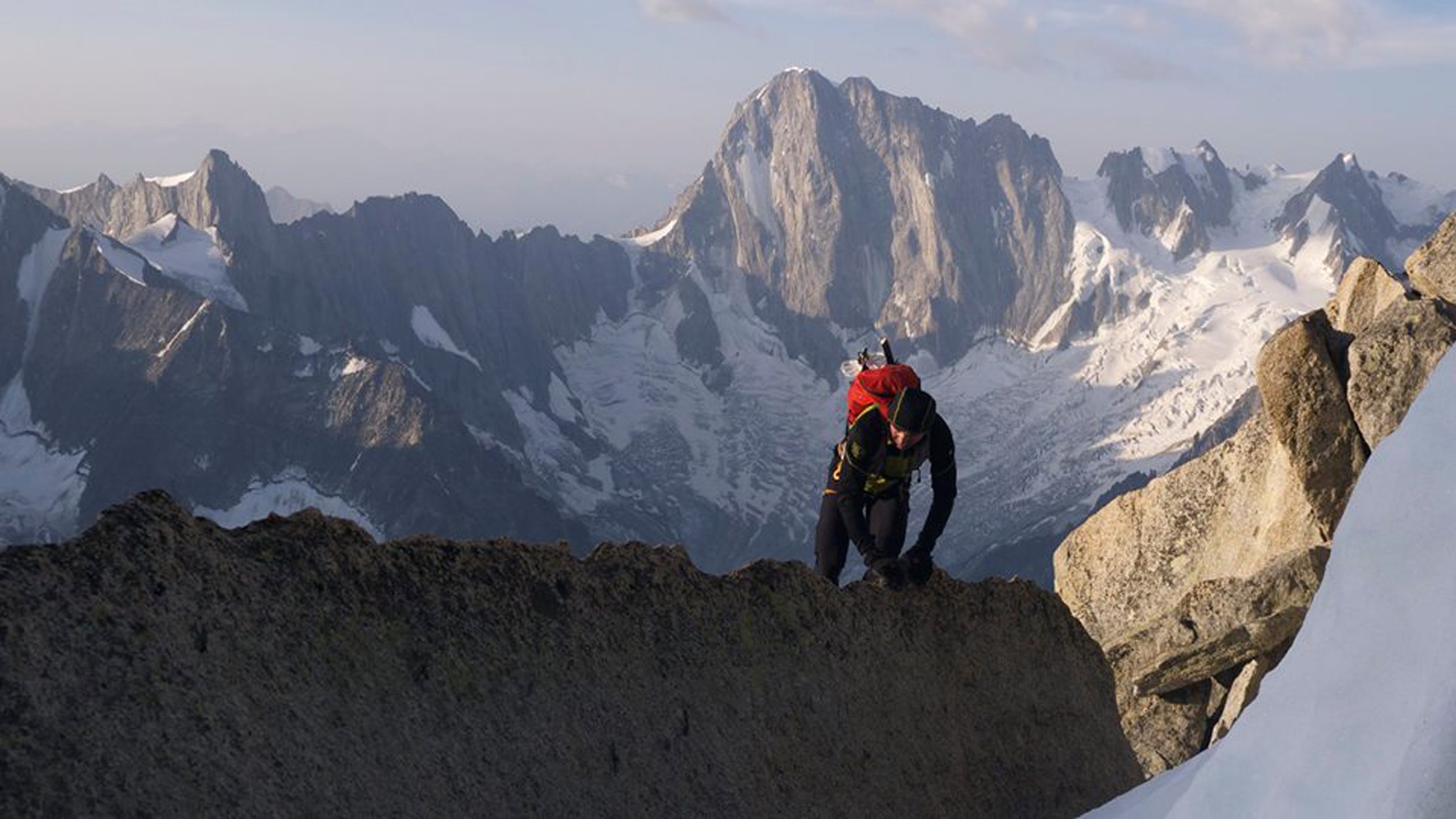 Heading out the door? Read this article on the new Outside+ app available now on iOS devices for members! Download the app.
On April 30, while climbing on Nuptse, near Everest, alpinist and speed mountaineer Ueli Steck fell to his death. In the hours following, notes and remembrances from the climbers and athletes who knew him best began pouring in through social media and emails to Outside. Here's how the man known as the "Swiss Machine" will be remembered by the community.
Kilian Jornet, professional ski mountaineer and mountain runner, via Facebook:
Thank you Ueli for being a mentor in alpinism and a constant source of inspiration. Every climb with you was a learning to keep improving along with a mountain lover. My thoughts are with Ueli's family and friends. In loving memory Ueli Steck
Phil Powers, CEO of the American Alpine Club, via Facebook:
Ueli was one of those rare people who changed our ideas of what is possible in the mountains. His fast ascents of giant peaks inspired us all. Mostly though, I will remember Ueli as a kind and generous man with whom I was honored to share a rope. I'm terribly sorry for his wife and family.
Alex Honnold, professional rock climber, in a phone call to Outside:
Last summer, I was in Switzerland and we climbed together. It feels like we were just at his house having dinner. We had some rice and veggie dish. Fondue was not his jam. It's fair to call him one of the most cutting-edge climbers and certainly one of the fastest. He was the first to bring Olympic-style training to the sport. I think the thing that I took away from spending time with him was his dedication to training. Climbing is a lifestyle, but he was one of the first to systematically take the sport to another level. He was at such a high level and so disciplined. We'd go climbing together, and he'd be climbing as hard as we were, but then he'd go for a really long trail run. The climbing was just one tiny piece of his day. He'd be the first to tell you he wasn't the most talented climber, but he worked and worked at it until he became the climber he wanted to be. Ueli was so solid. I'm starting to realize, though, that doesn't matter. I though the same about Dean Potter. There's always a degree of randomness involved.
Dan Patitucci, photographer and Steck's training partner, in a phone call to Outside:
Before Ueli left, I'd never seen him so happy. He was by far in the best shape I've ever seen him. The guy was never not fit, but this was a whole new level. He was so comfortable in his own skin and had just recognized how hard he'd been working. A message came through a few days ago that he'd run from base camp to Camp II in 4.5 hours. It'd take most people days to do that.

We trained a lot together. I remember one time, I passed him on a run up the Harder (a steep ridge run over Interlaken). I joked, "You're getting passed by a 48-year-old man!" and he grumbled something. Who knows, maybe he was having a slow day.

Sometimes, after he came back from big expeditions, he'd kind of go through an almost PTSD period. He'd question what do to next. Should he retire or become a professional in the working world, thoughts like that. His training would drop off for a bit. His coach would tell him to rest. Then all of a sudden, he'd get this idea, and it would come out of the blue—I know what I'm going to do next!—and it'd be full-steam ahead again. Everything was 100 percent.
Adrian Ballinger, mountaineer and Everest guide, via Instagram:
Today we climbed 12 miles and 5,000 feet of vertical back up to 21,000 feet, without connectivity. We walked into ABC tired and worked, and then received the news that took the light out of the day. Ueli inspired every climber I know. His fitness, passion, talent, and ultimately his dedication to the mountains were something I could only aspire to, never reach. Thank you for pushing us through your example. We will continue to strive.
Melissa Arnot Reid, mountaineer, in an email to Outside:
The first time I believed in myself in the mountains was when Ueli told me he believed I could climb Everest without oxygen. He said he saw the drive and knew I could do it. That season (2013), we shared Swiss rostis and a lot of laughs. The most important thing about him, to me, was that he truly felt happiness even without success, he loved the pursuit. Last season, as I was on my way to summit Everest without oxygen, I texted his sat phone (he was on Shishapangma) and told him I was going for it. He said, "Do it!" and I knew he was with me.

This season, he was pursuing a longtime goal. I was planning to meet him at BC, and we had been exchanging text messages, mostly me calling him the Eiger Tiger and telling him he was pretty fast for an old guy (both of which annoyed him in a friendly way). He asked me to wait for him to come down today, Sunday. My life is immeasurably better for having known his passion and encouragement. There is a place in climbing and in life that no one can fill.
Jonathan Siegrist, professional rock climber, via Instagram:
I had the pleasure to spend some days climbing and bullshitting with Ueli last year while I lived in Switzerland. I was struck by his generosity, his enthusiasm, and his kindness. He inspired me. Apart from his absolutely legendary resume, Ueli was a damn good human. One of the good ones. You'll be missed my friend.
Sasha DiGiulian​, professional rock climber, via Facebook:
The Swiss Machine. Forever a Legend. R.I.P. Ueli Steck. He was in the process of establishing a new route up #Everest without the supplemental aid of oxygen. Ueli was one of the most recognizable #alpinists in the world. His stamina and strength were unparalleled, yet nothing is certain. The mountains are unpredictable. Ueli lived his life to the limit. Each day, anything can happen; whether you are crossing the street or have a sudden health issue. Live each day being the person you want to be and surrounded by the souls you love. You never know when it will be your last. #legendsneverdie
Peter Mortimer, founder of Sender Films, in a phone call to Outside:
I've made so many films with Ueli and spent time with him at his house. "The Swiss Machine" was the first film we made of him. Then we did one on him and Simone on Everest with the Sherpas. We did a couple of ad campaigns and just interviewed him for another movie we're working on right before he left for Everest. I always held him in this echelon with Dean and Alex and Chris and Tommy as one of these true visionaries of our time. He wasn't just a great athlete and not just incredibly capable; he also had this gravitas. He was one of the few people would could really carry a story, a big film.

To do those alpine speed ascents, the stuff he was doing, requires you to be such an all-around athlete. You have to be at the highest level in so many disciplines. He's mixed climbing, he's moving over snow, over ice, even rock climbing. He was running marathons to train for some of this stuff as well as climbing. You also have to have this incredible knowledge of the conditions. You have to know when you can move fast and when you need to move gingerly.

Ueli was, in a way, that classic Swiss who treated the mountains around his home the way we treat our local bouldering area or climbing gym. He would get up at 3 a.m. and hop on the tram and do a solo ascent of a mountain and fly off the summit and be home by 10 a.m. It wasn't a thing for him. He just lived and played in the mountains all the time, sort of like me and you hitting some pickup basketball.

One of my favorite things about Ueli was that he had that attitude of, "Aw, you stupid Americans! You make it so dramatic when it's not so dramatic!" We're the first ones who named him the Swiss Machine. He absolutely hated it. But then he came over to America, and I remember we were at a trade show and he was doing a poster signing. He had 500 posters and went through them faster than he could sign them. It was right after that film had come out. We went and got some food after and he says, "Maybe the Swiss Machine thing isn't so bad. It's so simple. You know how to play to this American crowd." I think he kind of came to love it. There can only be one Swiss Machine.
Writer Tim Neville contributed reporting for this article.