The 10 Most Incredible Tornado Videos Ever
There are endless twister videos out there. These are the man-eating, building-splintering best.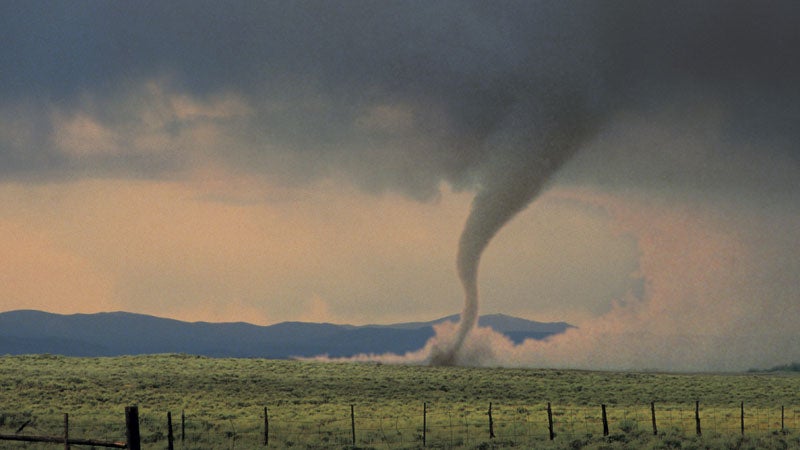 Heading out the door? Read this article on the new Outside+ app available now on iOS devices for members! Download the app.
While I was reporting "When the Luck Ran Out in El Reno" I watched a lot of torn porn. Pretty quickly, I noticed that good tornado movies share some common elements. First, you need close-up footage of a tornado. The closer the better. This year saw a record number of videos that were actually recorded inside of tornados. (Yeah, insane, but you really can't see all that much.)
In the best tornado videos, there's always a steady hand on the camera. This is important both for the sake of the footage and for the commentary. That's because the passengers in the car are almost certainly scared out of their minds and pleading with the cameraman and or driver to get out of there. The tension between the two is always a recipe for brilliant unscripted drama.
A background soundtrack of a weather radio calmly predicting a tornado in the area often produces a delicious sort of irony, like, "There's a tornado in the area…" Oh, you don't say.
Lastly, if you're filming, you need to be concerned with the hapless people who are actually caught (unintentionally) in the tornado's path. If you see damage, you've got to shout it out along with a forceful, "Oh no!" Not only does this establish empathy, it produces critical narration for footage that is often difficult to make out clearly.
With these things in mind, these are the ten most insane tornado videos of all time.
10. Kansas, May 27, 2013
https://youtube.com/watch?v=LobCDYO78Us
Imax filmmaker Sean Casey and his crew managed to get their six-wheeled armor-plated Tornado Intercept Vehicle (TIV) into a violent wedge tornado that hit north-central Kansas on May 27. As with other video shot from within tornadoes, it's difficult to see much, but you get a sense of just how much power is at work. During this intercept, a door wasn't properly latched and was blown open. Debris shot through the vehicle but luckily didn't hit anybody.
9. Illinois, November 17, 2013
This one's from the November 17 outbreak that hit Illinois. Scott Simms was extremely lucky to survive this direct hit while chasing. Watch his windshield wipers get ripped off just before a full-sized tree flies by.
8. Oklahoma, May 31, 2013
If you followed news of the El Reno tornado that killed Tim Samaras, his son, and chaser Carl Young, then you've no doubt already seen Brandon Sullivan's amazing escape from the outer edges of that storm. His Tornado Titans team drives through a rain of hay bales and exploding structures.
7. Nebraska, June 17, 2009
Reed Timmer and co intercepted this tornado in Aurora, Nebraska, in 2009. Timmer's window blew out, and he was struck in the head with debris.
6. Mississippi, February 10, 2013
The tornado that destroyed portions of Hattiesburg, Mississippi, on February 10, 2013, was among the most destructive storms ever to touch down in the offshoot of Tornado Alley that's known as Dixie Alley.
5. Oklahoma, May 20, 2013
https://youtube.com/watch?v=0L-XExpb3pY
Storm chasers Chance Coldiron & Justin Cox were in perfect position to capture the birth of the deadly May 20, 2013 EF-5 that devastated Moore, Oklahoma. Watch as the storm produces first a rope, then an elephant trunk, and finally the apocalyptic wedge tornado.
4. Oklahoma, May 4, 2007
Reed Timmer shot this amazing stovepipe in Ellis County, Oklahoma in May 2007. The funnel is small, but the winds at its tip are spinning like a drill bit.
3. Manitoba, June 2007
Two dudes on a road trip through Manitoba in June 2007 happen upon a perfectly formed elephant trunk. The radio warnings of a tornado in the area really make this one.
2. Illinois, November 17, 2013
Marc Wells and his daughter Josie weather a tornado that destroys their home in Washington, Illinois November 2013.
1. South Dakota, June 24, 2003
Reed Timmer's video of the June 24, 2003 tornado that leveled Manchester, South Dakota, set the standard for Tornado videos. It's got all the requisite elements: A fearful foreign exchange student who pleads with Timmer to drive away; Timmer's overconfident assertion that they're OK; a house that gets torn from its foundation; and Timmer's screams that he hopes the residents inside are alright. In his memoir Into the Storm, Timmer wrote that Alex had a nervous breakdown as a result of witnessing such destruction. Timmer, of course, needed to see more. Much more.
Also: Look out for Reed Timmer's new web series Tornado Chasers.