A Yellowstone Visitor Tried to Help a Baby Bison—and Caused Its Death Instead
The sad situation is a reminder to visitors to avoid handling wild animals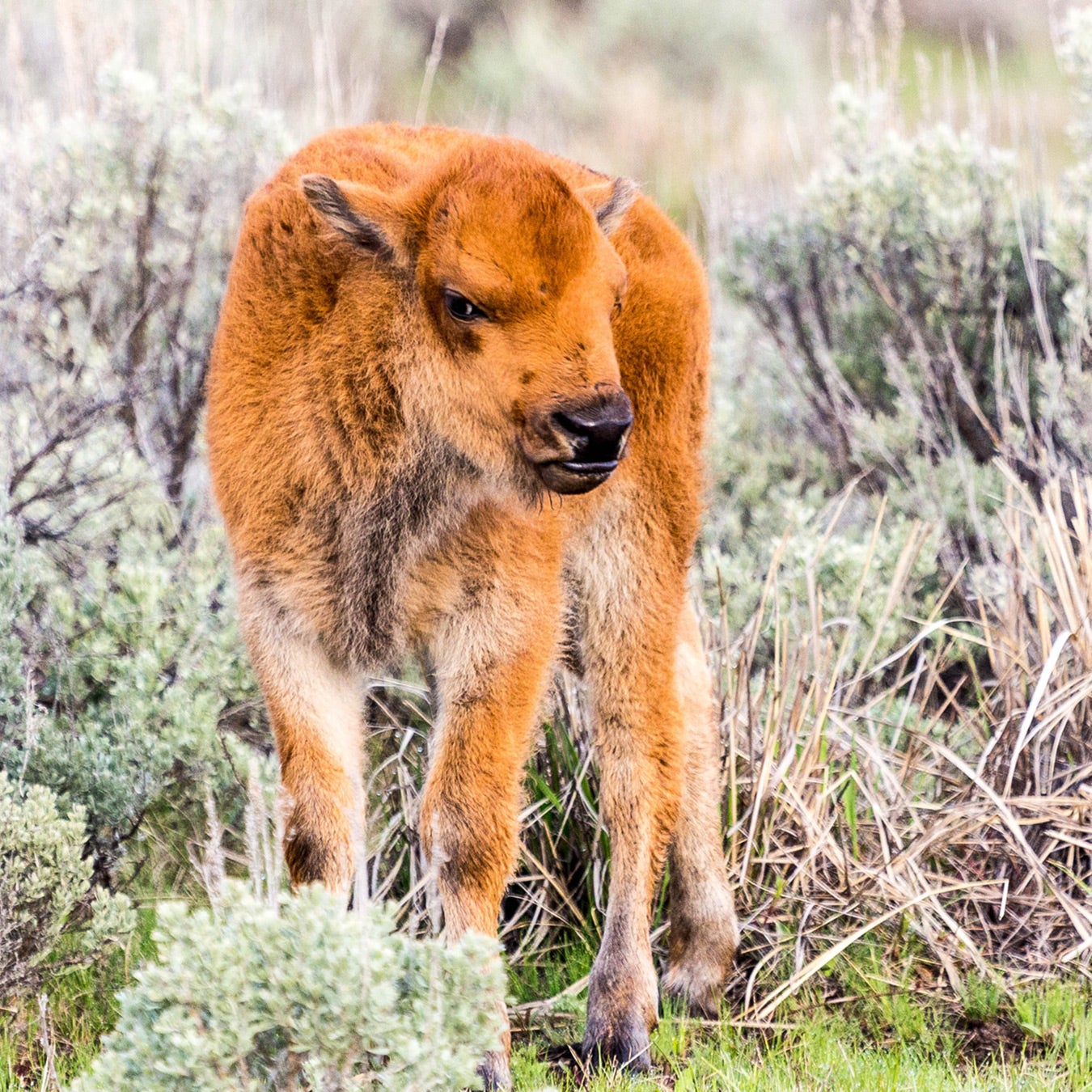 Curtis aka Tupulak / Getty Images
Heading out the door? Read this article on the new Outside+ app available now on iOS devices for members! Download the app.
It's tough for most people to see a baby animal in distress, even a wild one, and the urge to step in and help can be overwhelming. But one visitor's recent attempt to save a struggling bison calf in Yellowstone National Park backfired when it led the herd to reject the animal, forcing the National Park Service to euthanize the animal.
On Saturday, May 20, visitors in the Lamar Valley area of the park saw a newborn calf get separated from its mother as a herd of bison crossed the Lamar River. In response, witnesses said a tourist, described by the park service as a "white male in his 40-50's, wearing a blue shirt and black pants," approached it and "pushed the calf up from the river and onto the roadway."
However, there was no happy ending in store for the calf, which began walking up to visitors rather than returning to its mother. Though the NPS said in a release that staff "tried repeatedly to reunite the calf with the herd" afterward, they were unsuccessful, and eventually ended up euthanizing the animal after it continued to approach people and cars in the road, "causing a hazardous situation." 
May is the heart of Yellowstone bison's calving season, which runs from April to early July, and the newborn animals are common this time of year. The sight of the fuzzy, gangly young can provoke some head-scratching behavior by visitors more accustomed to caring for domestic animals than managing wild ones. This is not the first time that a Yellowstone bison calf has been euthanized after an encounter with a tourist who wanted to help it. In May 2016, a father and son visiting the park put a calf in the back of their car and drove it to a ranger station because they believed it was cold; instead, rangers ticketed the pair and put the calf down after they too repeatedly failed at reintroducing the animal to its herd. (The NPS is currently trying to identify the person involved in this weekend's incident, though it hasn't said yet whether it plans to fine them or otherwise pursue charges.)
There are deep-seated evolutionary reasons for the very human urge to help baby animals, a fact that biologists and psychologists have understood for decades. In the 1940s, Austrian zoologist Konrad Lorenz suggested that most young animals, including human infants, share a "baby schema" of characteristics that intrinsically captures people's attention, like rotund bodies and small noses and mouths. As psychiatric researcher Eloise Stark told the BBC, research has since found that the mere sight of a baby animal causes activity in the orbitofrontal cortex, the part of our brain involved with reward, motivating us to approach or interact with it.
But fight that biology, backpackers, because the cold, hard truth is that baby wild animals aren't like little humans or even domestic animals. Whether you're a hiker on a weeklong trip or a tourist driving a lap through Yellowstone, your encounters with them will last a few minutes, while they'll need to rely on their families for weeks, months, or even years if they're going to survive. Anything that jeopardizes that relationship is liable to put them in danger, and, as the NPS noted in its release, that includes "interference by people."
Yes, seeing nature take its course can be hard to watch—it's impossible to say if the bison calf in this latest incident would have lived even without the human "help" it got. But untrained, inexperienced people are poor judges of what wild animals' needs are, and in this case, they did more harm than good.
Lead Photo: Curtis aka Tupulak / Getty Images
Trending on Outside Online