Adventure Word of the Week: American Bison
Heading out the door? Read this article on the new Outside+ app available now on iOS devices for members! Download the app.
American Bison: A bovine mammal (Bison bison) of western North America, having large forequarters, a shaggy mane, and a massive head with short curved horns; a buffalo.
If you were on the internet this week you probably saw the picture of the torn-up buffalo thundering away from a grizzly bear in Yellowstone National Park. The picture left its hoofprints all over the web, from adventure blogs to facebook. The stampede of sharing and comments makes sense. Images don't get much more life and death than this, but the story behind Alex Wypyszinski's picture isn't as clear cut as it seems—click below to see why the animal's legs were torn up.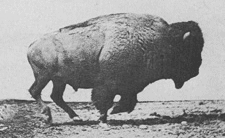 Though bison once roamed all over the American Prairie in the tens of millions, Yellowstone is the only place in the lower 48 where the wild bison has continuously existed. If one trots past the park's borders, it can be shot for fear of spreading brucellosis (a disease brought to bison by European cattle) to livestock outside of the park. Bison do exist in increasing numbers in the U.S., but more as beefalo than tatanka. Just something to think about as you watch other thundering herds on this week's Great Migrations.
Here's the long and short story of Wypyszinski's photo.
Alex Wypyszinski had just dropped off his wife at work and had a few hours to kill one morning last April…It all started when he was driving in the Fountain Flats area, located between the Madison Junction and Old Faithful, when he heard an unusual sound. But Wypyszinski says any noise is unusual on that particular highway at 7am. "I thought it was a horse and carriage," said Wypyszinski. "That was the kind of noise that I heard."
—KTVQ, The Bison Got Away
Interpretive rangers told him the bison must have fallen into hot water, burning its skin and causing the large bare patches of skin.
—Billings Gazette, Just Another Day in Yellowstone
A bison is agile and quick, and can run more than 30 miles per hour.
—Yellowstone National Park, Frequently Asked Questions
In North America, the wild population once numbered in the tens of millions. The herds were gradually being reduced by hunting pressures before the Civil War, and after the war, with westward expansion, American Bison were pushed almost to extinction. In the 1880s, when only 541 animals were counted, conservation efforts began in earnest. Now there are more than 150,000 animals, 90 percent of which live on private lands.
—Encyclopedia of Life, Bison
Among the earliest waves of settlers were trappers and traders, people who made their living selling meat and hides. By the 1870s, they were shipping hundreds of thousands of buffalo hides eastward each year: more than 1.5 million were packed aboard trains and wagons in the winter of 1872-73 alone. The commercial killers, however, weren't the only ones shooting bison. Train companies offered tourists the chance to shoot buffalo from the windows of their coaches, pausing only when they ran out of ammunition or the gun's barrel became too hot. There were even buffalo killing contests. In one, a Kansan set a record by killing 120 bison in just 40 minutes. "Buffalo" Bill Cody, hired to slaughter the animals, killed more than 4,000 buffalo in just two years.
—PBS, American Buffalo
In addition, the U.S. Army held a campaign in the late 1800s to eliminate bison as a way to control tribes that depended on bison. Yellowstone was the only place in the contiguous 48 states where wild, free-ranging bison persisted into the 20th century. Ironically, the U.S. Army, which administered Yellowstone at that time, protected these few dozen bison from poaching as best they could. The Lacey Act was passed in 1894 to allow stronger punishment for poachers. Even so, Yellowstone's bison were reduced by poaching to approximately two dozen animals in 1902. From that small herd has grown the two large herds now occupying Yellowstone National Park.
–Yellowstone National Park, FAQ
Wypiszinski says once in the safety of the woods the bison out maneuvered the grizzly, escaping to live exactly one more day. Park rangers had to put the bison down due to the injuries it sustained.
– KTVQ, The Bison Got Away
–Joe Spring
@joespring
Trending on Outside Online