The Alaskan Pilot-Biologist on the Front Line of Climate Change
Heather Wilson monitors migratory bird populations for the U.S. Fish and Wildlife Service from the captain seat of her amphibious Cessna 206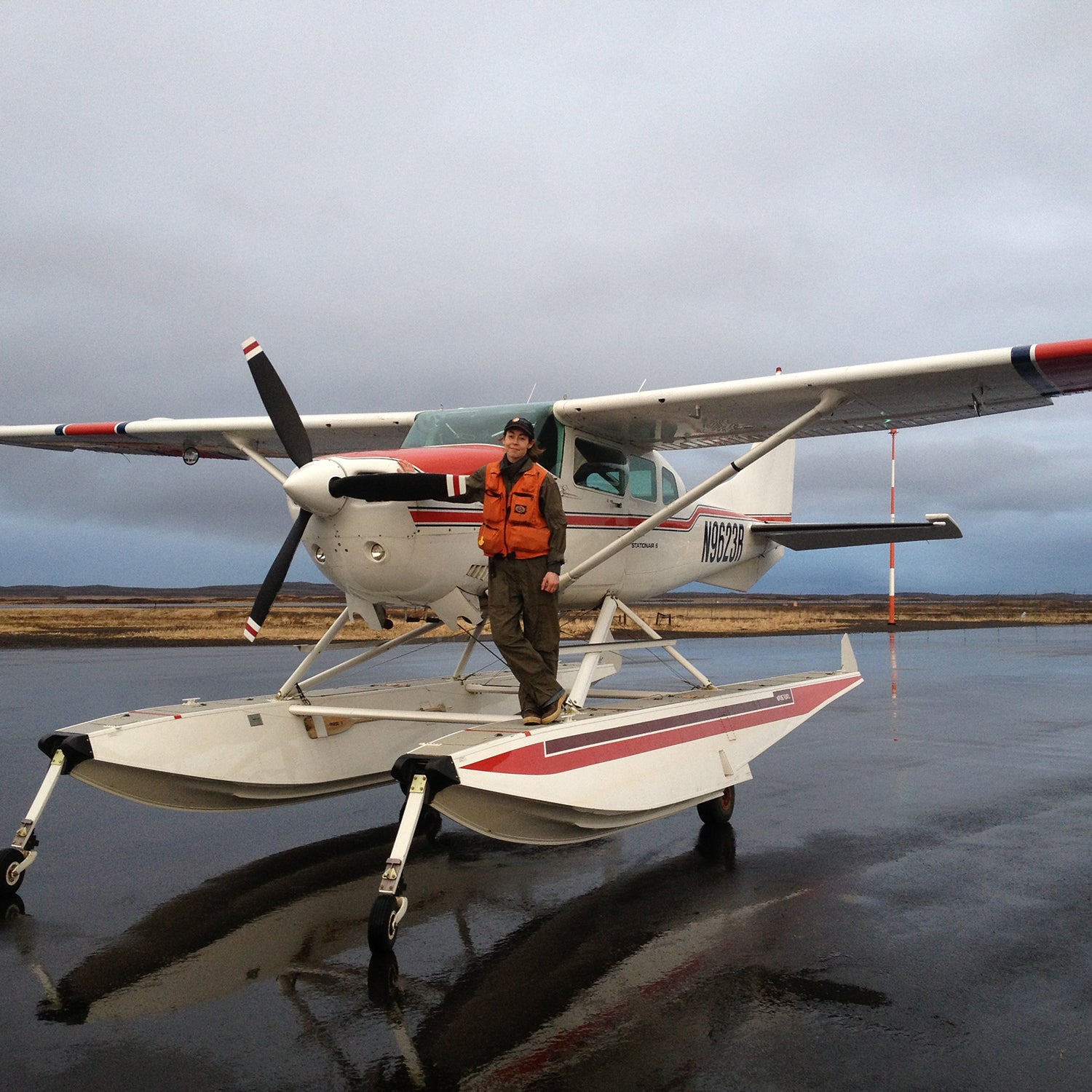 Heading out the door? Read this article on the new Outside+ app available now on iOS devices for members! Download the app.
"Biologists are so lucky to see the things we see," says Heather Wilson, 40, a wildlife biologist and pilot for the U.S. Fish and Wildlife Service's Division of Migratory Bird Management. "But pilot-biologists are even luckier."
Wilson is one of five female pilots flying remote landscapes for the FWS. She conducts aerial surveys to keep tabs on migratory bird populations for species management and to set sport hunting regulations. When the weather's good, she spends hours in the air and calls the job "unbelievably satisfying." There are challenges, of course, not least of which is the changing climate. "In just the past 15 to 16 years, I've documented longer fall seasons, shorter and less severe winters," says Wilson. "I've had to adjust when the aerial surveys are conducted—not by days, but by weeks."
Age: 40
Hometown: Anchorage, Alaska (by way of Yreka, California)
Day Job: Pilot-biologist for the U.S. Fish and Wildlife Service's Division of Migratory Bird Management
Mode of Transportation: For work, an amphibious Cessna 206 (owned by the Department of Interior). For play, a PA-18 Super Cub (built by her husband).
Ground Covered: All of Alaska. Primary survey areas include the Arctic Coastal Plain, the Yukon Delta, and the Alaskan Peninsula.
Work Hours: "In summer, whenever there's good weather and daylight." Her longest flight was 7.5 hours. The rest of the year, Wilson clocks a typical nine-to-five day.
Favorite Midflight Snack: "My husband thinks I'm crazy, but I sometimes crave rock salt in the airplane on long flights." She also snacks on baby carrots, chocolate chip Clif Bars, and Moose Country Brand Pepper Sticks, which Wilson claims are also great fire starters in an emergency.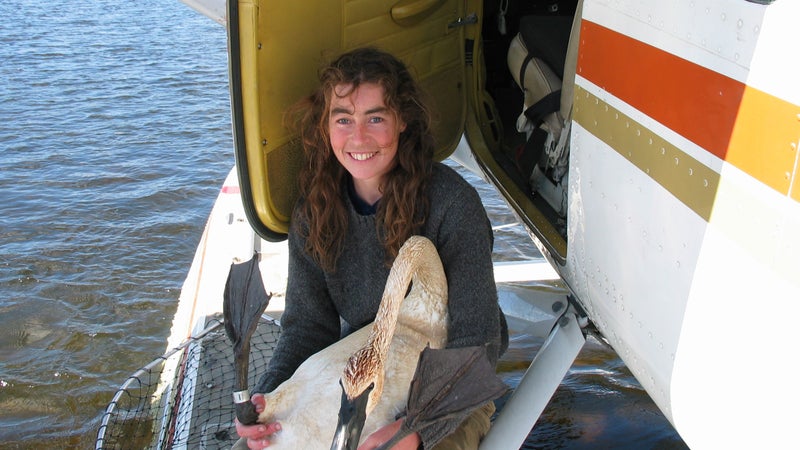 Biology Beginnings: While Wilson was getting her PhD in population biology at the University of Alaska, she met her future employer at the U.S. Fish and Wildlife Service. They were both doing field work in Fairbanks. "Russ Oates, the head of migratory bird management at the time, ended up in my field camp where I was doing my research. We ended up talking over dinner." Initially, Wilson thought being a pilot-biologist wasn't for her because she "wanted to do more than just fly an airplane." But as she wrapped up her research over the following summer, she decided to try it out. "Oates put me on every aerial survey they had, so I got to fly with all of these old guys who were great and had been doing it for 20 or 30 years," says Wilson. "In the end, I decided it was much more challenging than I thought it would be."
The Off-Season: Working as a migratory bird biologist is a highly seasonal position. Winters are spent compiling data and reports based on surveys completed earlier in the year. "Once spring arrives, we're prepping the airplanes, getting safety plans ready, staging fuel," says Wilson. "We're making sure everyone has their required training for emergency evacuations in the water, wilderness first aid, etc. In early May, we start flying nonstop."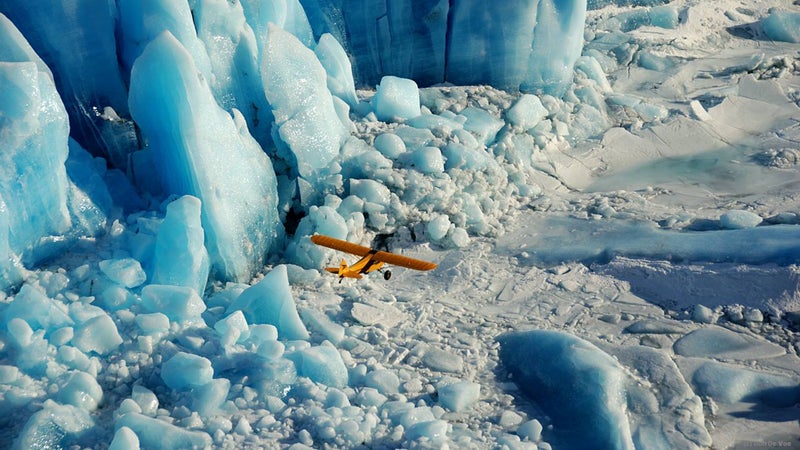 Up in the Air: "When I first started, it seemed overwhelming, and I'd be exhausted after just a few hours. But with more time and experience blending and managing all the tasks at hand, I started to look forward to it," says Wilson. "When I'm flying the plane so viscerally—making constant small adjustments to maintain 125 feet above the ground, staying on transect, scanning for obstacles, scanning the instruments, staying ahead of traffic and radio calls—all while letting the bird observations flow in, instantaneously translating them to vocal observations I record through my helmet microphone, it feels good."
Counting Birds: "Most of our surveys are done during the breeding season. With ducks, for example, we're counting only the brightly plumaged males and assuming they each have a camouflaged female on a nest somewhere." During nonbreeding season, when flocks of waterfowl take to the skies, Wilson estimates the number of animals, which she says "can be a bit of an art and is definitely a learned skill." To practice, she uses computer simulations and flies extra surveys.
Climate Change's Co-Pilot: Wilson monitors wetlands and coastal areas from the Arctic Coastal Plain on the northern edge of state all the way to the tip of the Alaskan Peninsula. In the past couple decades, she has seen glaciers rapidly receding, coastal erosion advancing, permafrost degrading, and interior lakes drying up. "Areas on our old maps are simply gone now," says Wilson. "Villages and fishing sites are slumping into the sea."
And then there are the shifting seasons: "We joke that winter is not coming to the north anymore," says Wilson. "Freeze-up comes later and later. We can't count on snow and ice throughout the winter the way we did even ten years ago, and there are more frequent warm low-pressure systems, which leave the landscape more open, thawed, and unpredictable."
These warm winters are changing migration timing of the birds Wilson studies, making it difficult to match historical data with current breeding schedules. Some species, like Pacific brant geese, have acclimated to the warmer winters and no longer migrate as far as they used to because the weather is mild enough to allow year-round access to their Alaskan sea-grass feeding grounds. "Scientists are hypothesizing that as tender grasses start to outcompete the more traditionally cold-tolerant vegetation like lichens, geese may win while other species like caribou may suffer," Wilson says.
The Best of Both Worlds: "I feel very lucky to have found my job. Airline-style flying would have never been for me, and neither would lab work. Finding a position that blends field biology and natural resource flying—the type of low-level flying that entails looking out the window more than in the cockpit—has been unbelievably satisfying. Looking back, I can see how lucky I've been to have a direct supervisor, work team, husband, extended family, and now kids who all wanted to see me succeed and were willing try most of my crazy plans to balance motherhood and career—some of which were epic failures!"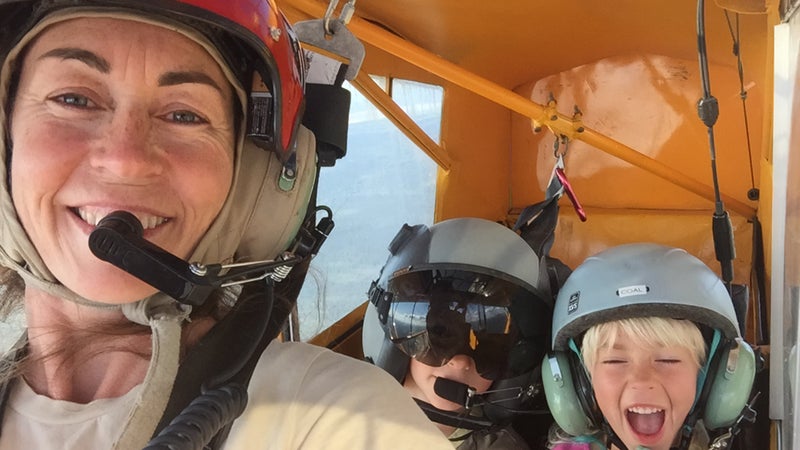 Working Mother, Redefined: "I've had moms ask me, 'You put your kids in the airplane?' And I respond, 'I'm a professional pilot. Are you kidding me? Yes!" Wilson and her husband, Paul, often take their kids—Coal, 7, and Teal, 5—out for flights as a family, landing in some of Alaska's most remote wilderness to hike, hunt, and fish. Wilson relies on a support system made up of family, friends, and fellow pilots' wives, "who come up and babysit my kids in the field," to help her balance having both a family and a challenging career.
Paying It Forward: Several years ago, Wilson's close friend and fellow wildlife pilot-biologist Shelly Szepanski passed away from a rare form of melanoma. Wilson took the proceeds from the sale of Szepanski's airplane and started the Shelly Szepanski Memorial Flight Scholarship for female pilots pursuing flight training for careers in either natural resource management or remote Alaska services.
Lead Photo: Courtesy of Heather Wilson