Our Editors Produced 32,508 Pounds of Carbon Emissions While Skiing This Winter
We added up the miles we drove and flew to ski this year—and discovered just how terrible our obsession is for the planet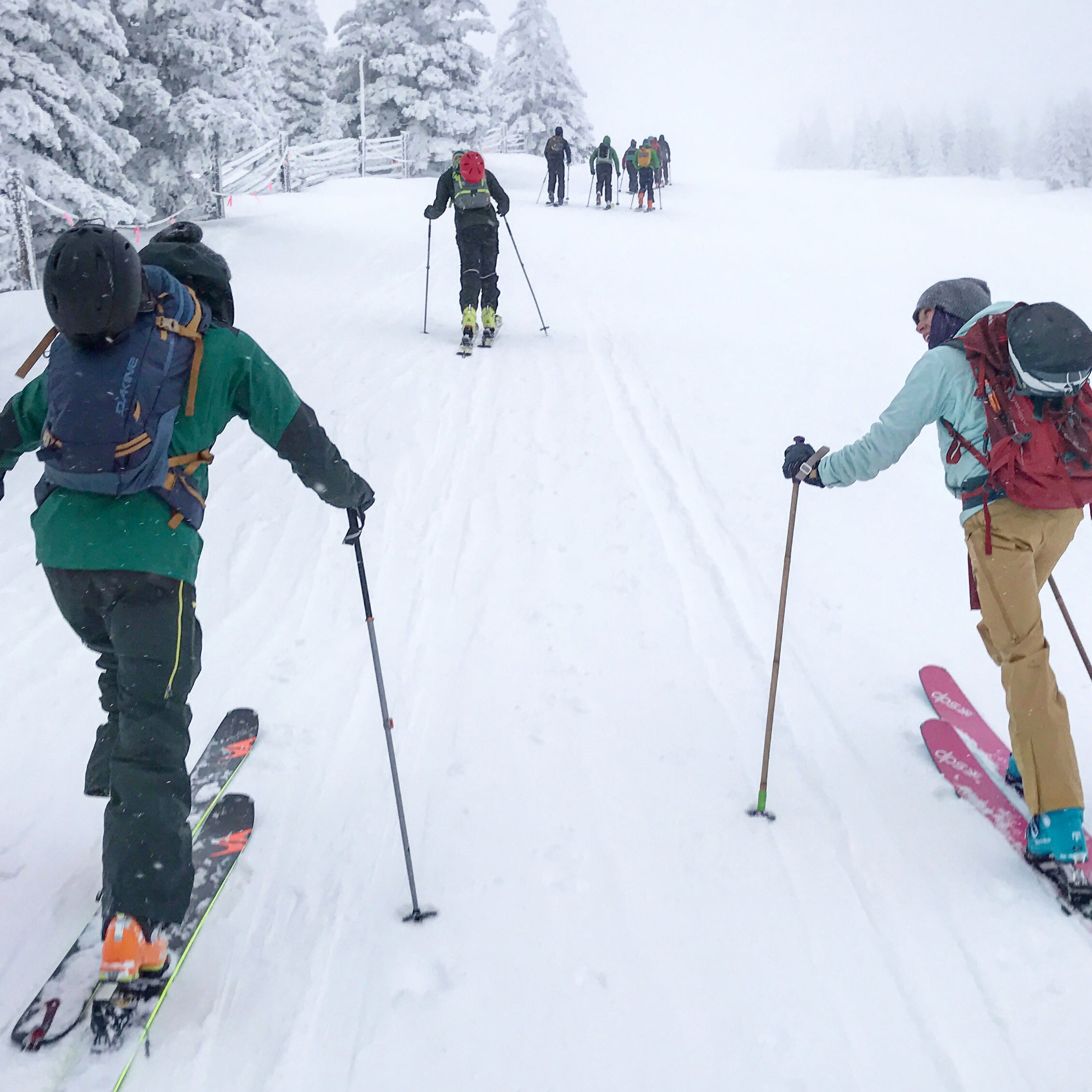 Heading out the door? Read this article on the new Outside+ app available now on iOS devices for members! Download the app.
Here at Outside, we love to ski. In terms of favorite pastimes, only running and competitive margarita making come close. Yet we're acutely aware of how harmful the sport is to the environment: the water used to make snow, the commercial development at base areas, the energy required to run chairlifts and snowcats and ski lodges, and the vast distances we're willing to travel for access to the best conditions. 
To see just how damaging our obsession is to the planet, we asked the dozen staffers who ski most to track their travel during the winter 2016–17 season, from the first storms in November through northern New Mexico's last hurrah during the first week of April. Then we talked to Nick Facciola, director of carbon projects for 3 Degrees, a company that helps businesses offset their carbon output, to help us understand just how terrible we should feel. We made a few exceptions, like not logging a short drive from a vacation rental to a ski area, so the numbers are probably at the low end. Here are the results. 
---
We Drove 21,631 Miles
That's just 3,300 miles shy of the circumference of the earth. Those miles came mostly from the dozens of trips we made up to Ski Santa Fe, located 16 miles from the office. One skier braved the long drive from New Mexico to Jackson Hole, Wyoming, and 26 of us embarked on a late-season, multi-car excursion to Crested Butte, Colorado. 
---
Of Those, 3,324 Were While Carpooling
That's 15 percent. Way to go, people! 
---
We Flew 14,322 Miles
Including trips to Utah, Denver, and Hokkaido, Japan.
---
We Burned 1,655 Gallons of Gas
For cars, we calculated this by multiplying an individual's total miles by their car's average MPG rating. For flights, we consulted Department of Energy data that uses something called "passenger miles per gasoline gallon equivalent." According to that data, you get 51 miles per gallon, on average, when flying, though the standard isn't accepted across industries.
"It's slightly misleading," says Facciola. "We just don't know how to track aircraft mileage very well. The only way to really get in the ballpark is to track the fuel purchases on those airplanes." 
---
We Produced 32,508 Pounds of Carbon Dioxide
According to the U.S. Energy Information Administration, each gallon of gas creates 19.64 pounds of carbon dioxide. Facciola says that the industry standard for a gallon of jet fuel is somewhere between 22 and 24 pounds. (We went with 23.) 
The real question is how big an impact that amounts to. "It's about what I'd expect," says Facciola, noting that it's in line with what a small office might produce in a year of doing business. Except that our impact reflects just a few months of hooting and hollering down black-diamond runs at ski hills, and we weren't doing any business to speak of. We were just skiing. 
---
We'd Have to Plant 704 Trees to Sequester All that Carbon
That's according to Washington, D.C., conservation organization American Forests, or approximately one acre of mature forest. 
But that's not quite the best measure of how to offset our carbon. Even if we were to plant hundreds of trees today, they wouldn't reach maturity (and full carbon-eating capability) for decades. Meanwhile, our carbon would be out in the atmosphere, doing its dirty work. 
A much better way to mitigate our damage is to buy carbon offsets through a business like 3 Degrees. "The first step is to do the accounting and try to get a sense of what effect you're having on climate change," says Facciola. "The second step is to reduce that amount." For us that might mean more carpooling, skipping low-snowfall days, or avoiding quick flights to Denver, which are far less efficient than long-distance flights. 
"The third step in offsetting is to reduce your emissions somewhere else that is more cost-effective," he says. Carbon offsets are sold in units of one metric ton and created as credits by companies taking steps to eliminate their carbon footprint. "Let's say you have a dairy-farm operation that changes its manure management so that it's being collected in a digest tank," he says. "It can make carbon credits, because it's not emitting methane." 
We could then buy that farm's credit to support its work. How much does a credit cost? Ten dollars. And because our 33,000 pounds of carbon comes out to 15 metric tons (or 15 units), we could offset our ski habit with $150, according to Facciola.
Even if we pass the hat, though, offsetting fails to get at the true impact. "The social cost is probably a lot more than a carbon credit," says Facciola, "but it's pushing us toward a better accounting of fuel consumption. Eventually, the low-hanging fruit of carbon offsets will be gone, and we'll be forced to come up with more expensive options. It's relatively affordable to do right now, but the true cost is out of reach."