Man Peeing in Portland's Mount Tabor Reservoir
Should Portland have drained its reservoir after a drunk, 21-year-old man peed in it?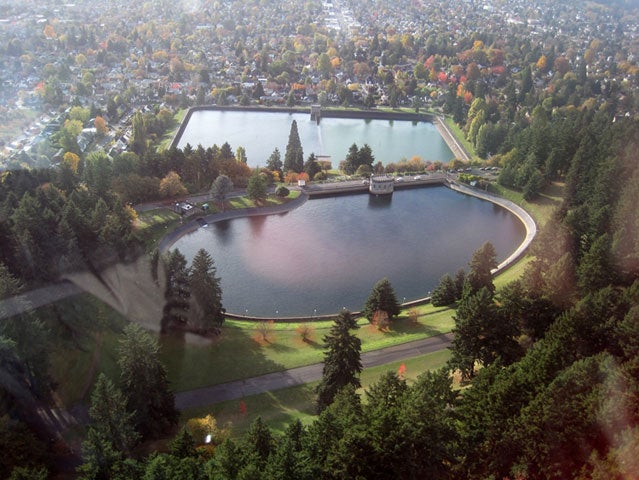 Heading out the door? Read this article on the new Outside+ app available now on iOS devices for members! Download the app.
Maybe not, but there's a bigger question here. Should cities still be storing their water in open-air reservoirs?
Dead duck, Mount Tabor reservoir

A dead duck being pulled from Mount Tabor reservoir. The drinking water was not drained after its removal.
Let's back up. At 1 a.m. on Sunday, June 15, Joshua Seater, a drunken 21-year-old man, walked up to Portland's Mt. Tabor reservoir, unzipped his pants, and peed through a fence into the city's water supply. The act was caught on tape, and so later that day the city water manager decided to drain the entire 7.8 million gallon reservoir at a cost of $36,100.
"We drained it for the 'yuck' factor," says Jimmy Brown, the information manager for the city of Portland. "I don't want to be responsible for 200,000 people drinking pee."
Almost immediately, press from CBS News to the Huffington Post jumped on the story. David Shaff, the city's water administrator, got hundreds of emails. Some people called him an "idiot", others wrote, "What a waste of water. . . the entire country is laughing at you."
Locally, citizens were angry that tax dollars were spent to address an issue that was largely political. The urine existed in the reservoir at a negligible concentration. Nationally, people were upset because droughts, which have led to megafires and ranching disasters throughout the south, have limited their ability to do simple things like water their gardens or wash their cars. Scientists predict those conditions will only get worse in parts of the country.
"Fifty years from now, southwestern cities may not have a water source," says Olga Naidenko, a senior scientist at the Washington, D.C.-based Environmental Working Group.
The government spends $29 billion a year testing, filtering, treating, and transporting the water supply. Water conservation organizations like the EWG argue much of that money literally goes down the drain. Of the 225 billion gallons Americans consume every day, about 70 percent goes to outdoor uses (lawns), 20 percent is divided between household chores, and 10 percent is used for cooking and drinking. Much of that treated water also leaks out of old pipes that transport it to your faucet, or evaporates in places where it is exposed to air.
One water-saving solution is to stop storing finished water in open reservoirs that are prone to evaporation. The EPA is currently phasing such reservoirs out, but 29 are still used by a small handful of cities—Philadelphia, New York City, and Los Angeles among them. The EPA plans to phase them out by 2022, and we'll no longer have to worry about the odd tinkler polluting our drinking water.
Not that it was a big deal in the first place. Portland had the water to spare. On the day of the incident, the region's rivers were running high. The city was already spilling eight million gallons of un-treated water every 35 minutes to keep its source reservoirs from overflowing.
"Were we in a 100-year drought, I might have made a different decision," says Shaff. "We have the luxury of not drinking water contaminated with pee."