The Green New Deal Is a Great Deal for the Outdoors
The initiative, led by Alexandria Ocasio-Cortez, is ambitious, but some in the outdoor industry argue it's the only hope for saving wild places from climate change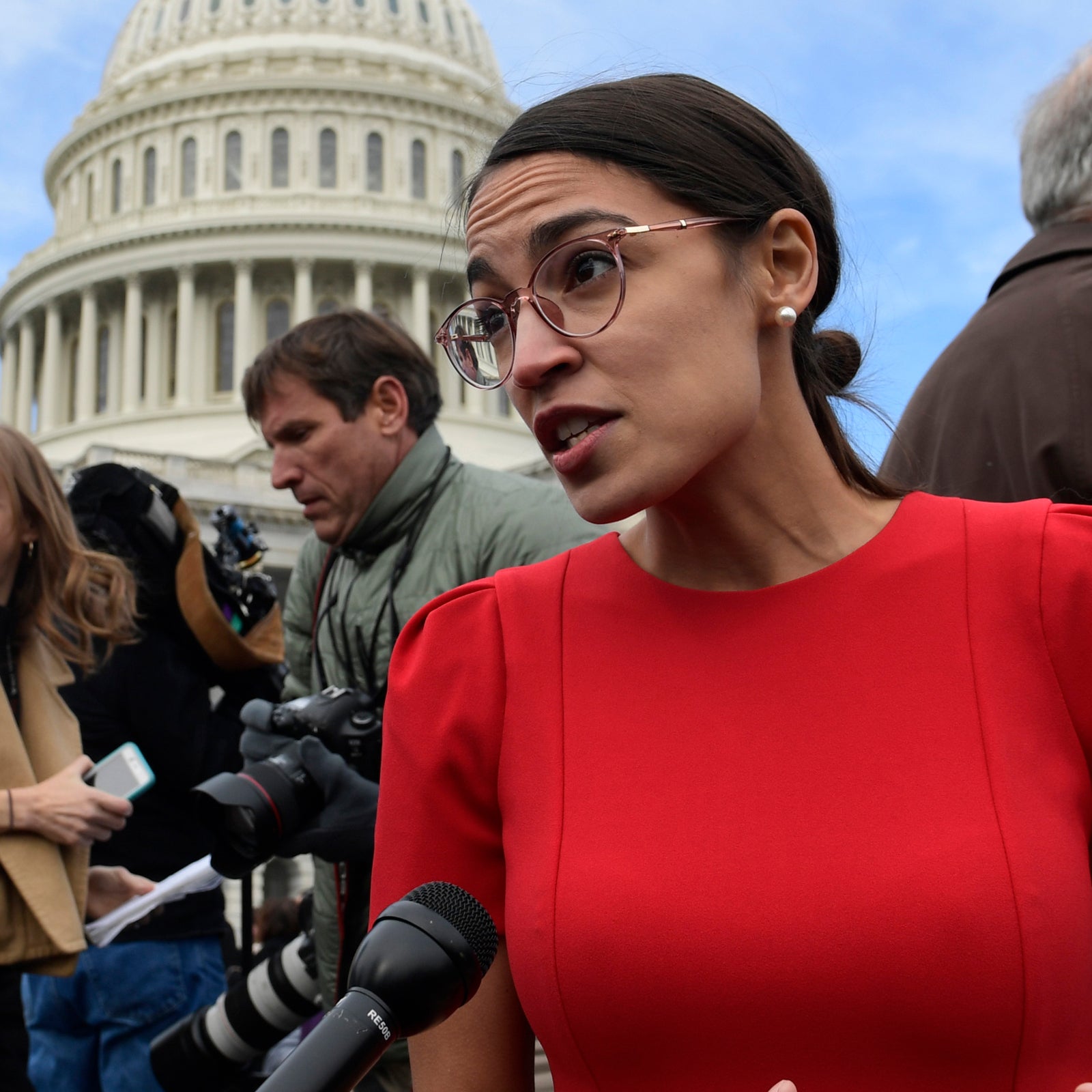 Heading out the door? Read this article on the new Outside+ app available now on iOS devices for members! Download the app.
When 27-year-old climate activist Evan Weber thinks about climate change, he thinks about his childhood in Hawaii. He spent those years in the mountains, on beaches, and in the ocean. "Now the beaches that I grew up on don't exist anymore," he says. "Sea-level rise has swallowed them into the ocean. The mountains are green for much less of the year. The coral reefs are dying from ocean acidification killing both marine life and surf breaks."
That's what brought him, on November 13, to march on soon-to-be House Majority Leader Nancy Pelosi's Capitol Hill office with around 150 other activists from a progressive group he cofounded called Sunrise Movement. They were demonstrating for a sweeping policy plan championed by congresswoman Alexandria Ocasio-Cortez called the Green New Deal. It is pitched as an economy-wide climate mobilization to connect environmental, social, and economic policies through legislation and would create everything from investment in federal green jobs for all who want them to a massive green-infrastructure program. The end result would be an overhauled national economy run on 100 percent renewable energy.
While these are lofty goals, and many are skeptical of the plan's feasibility, advocates see it as setting the bar for a sufficient response to climate change that politicians can be held to. And the proposal is already gaining steam in Washington, D.C., as a platform to rally around heading into 2020: more than 40 lawmakers have endorsed Ocasio-Cortez's call for a congressional select committee to map out the Green New Deal. Many in the outdoor industry are also paying attention to what could be the best hope to save our ski seasons and protect our public lands.
"It's an approach that's so comprehensive that it could be a way for the United States to lead in the direction of stabilizing the climate at two degrees Celsius," says Mario Molina, executive director of the advocacy group Protect Our Winters. According to a climate assessment put out by the federal government last month, warming above that threshold (3.6 degrees Fahrenheit) could shorten ski seasons by half in some parts of the U.S. before 2050.
Climate change is already impacting snowpack, and ski resorts across America are scrambling to adapt. This past year, Aspen Snowmass launched a political campaign called Give a Flake to get its customers engaged in climate action, Squaw Valley spent $10 million on snowmaking equipment in 2017, and Vail is pursuing a sweeping program to weatherproof its operations. But, Molina explains, there's a long way to go to address the ski industry's fossil-fuel-intensive operations. He believes that something like the economy-wide transition to renewable energy proposed in the Green New Deal is the best way ski resorts will be able to significantly lower their carbon footprints. It would allow them, for example, to hook their resorts up to a central power grid that would spin their lifts with renewable energy and create more sustainable transit options to and from the slopes.
Warming above that threshold (3.6 degrees Fahrenheit) could shorten ski seasons by half in some parts of the U.S. before 2050.
Amy Roberts, executive director of the Outdoor Industry Association (OIA), also sees the opportunity to link this kind of large-scale climate action with the outdoor economy, especially when it comes to public lands. An economy powered on 100 percent renewables would obviously erase any incentive for fossil-fuel companies to drill in places like the Arctic National Wildlife Refuge and Bears Ears National Monument. But the OIA is still watching to see how the politics around the Green New Deal shape up. The early support from lawmakers is encouraging, but they're mostly Democrats. Roberts insists that policies to protect the climate and public lands need bipartisan support, but she thinks that the outdoor industry can help make that happen. "When you look at who takes part in our activities, whether it's hiking, camping, hunting, or fishing, there are both Republicans and Democrats," she says. "That's an opportunity to unite and bring a compelling message that's separate and apart from what the environmental community is doing."
As proof, she points to the Georgia Outdoor Stewardship Act. In November, Peach State voters passed the measure, in which sales tax from sporting goods and outdoor equipment is used to fund parks and trails, with 83 percent support. In the same election, the governor's race was so divided that it went to a recount.
Even with glimpses of bipartisan support for the environment, Molina worries that the main hurdle Green New Deal legislation will face is influence from the fossil-fuel industry. Its lobbyists donated more than $100 million to campaigns in the 2016 election, and in 2018 raised $30 million to defeat a Washington State ballot measure that would have added a modest carbon tax on emissions and used the revenue to fund environmental and social programs. Additionally, former oil lobbyist David Bernhardt was tapped to replace Ryan Zinke as interior secretary in December.
But activists like Weber are not giving up. As part of their push for a Green New Deal, they have called for members of the Democratic leadership to reject campaign contributions from fossil-fuel interests. And a few weeks after Weber was in Nancy Pelosi's office, he and more than 1,000 young people were back in Washington, D.C., this time storming Capitol Hill in a daylong push to get lawmakers to endorse the Green New Deal, an effort that resulted in nearly 150 arrests. They remain unfazed by claims that the plan's goals are too large. "A Green New Deal is the only proposal put forth by an American politician that's in line with what the latest science says is necessary to prevent irreversible climate change," Weber says. "It could mean the difference between whether future generations around the world get to have the same formative experiences in nature that I did—or not."
Corrections:
(06/06/2023) A previous version of this story misstated what two degrees Celsius of warming translates to in Fahrenheit. Outside regrets the error.
Lead Photo: Susan Walsh/AP