Here's What It Took to Fight Alberta's Massive Wildfire
The strategy behind taming the province's biggest conflagration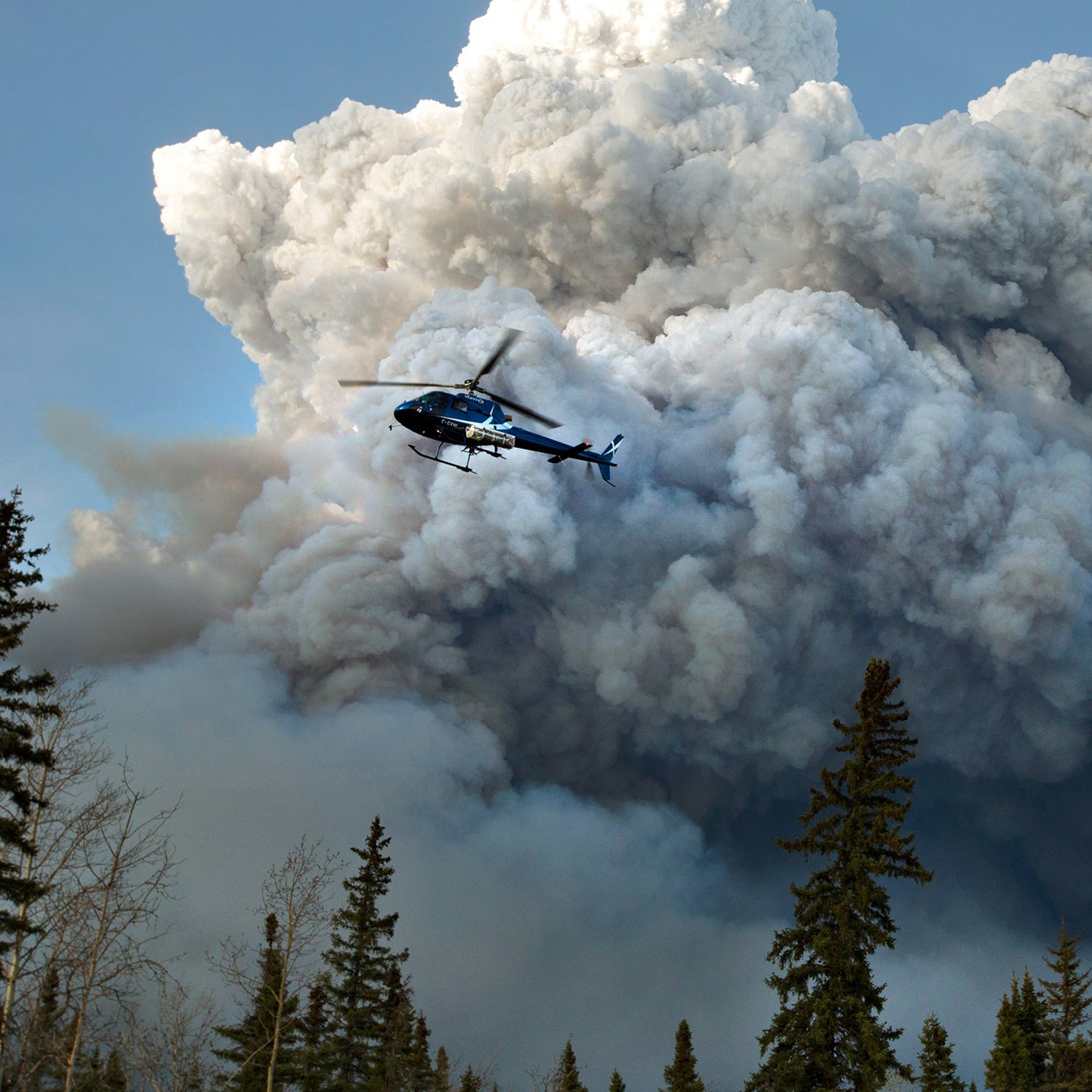 Associated Press(Photo)
Heading out the door? Read this article on the new Outside+ app available now on iOS devices for members! Download the app.
Last week, massive wildfires in northern Alberta threatened to obliterate the city of Fort McMurray, and curbing the conflagration seemed impossible. More than 88,000 people fled from advancing flames that now span 884 square miles—larger than Great Smoky Mountains National Park. 
But ultimately, firefighters were able to save the city. Deploying 1,110 firefighters, 145 helicopters, 138 pieces of heavy equipment, and 27 air tankers, responders lost just 2,400 homes out of 29,000 (about 8 percent of the city). "Frankly, it's incredible," says Wildfire Manager Chad Morrison. Still, the Horse River Fire (its official name) ranks as the costliest, most impactful wildfire in the province's history, and it's expected to burn for months more. (It's big, but the Horse River Fire won't go down on record as Alberta's biggest. That distinction goes to the 1950-51 Chinchaga fire, which destroyed some 4 million acres in northern Alberta and British Columbia and ranks as the largest wildfire in North American history.) "It's rewriting the books in some areas for us," Morrison says. 
Here's how crews wrestled it into submission.
Immediate Response
Ninety-five-degree temperatures after two rainless months had created extreme fire danger in northern Alberta, so fire crews were on high alert last week, conducting helicopter surveys of the province's boreal forest. A fly-over on May 1 spotted the Horse River Fire shortly after it ignited, when it measured just five acres in size. Firefighters hammered it with four air tankers, but by 6 p.m. (two hours after it was spotted), the blaze had ballooned to 148 acres.
"Up in the boreal forest we have a lot of black spruce, and its chemical makeup makes it very, very volatile," explains Morrison. Compared to black spruce's explosive burn potential, stands of aspen and poplar trees typically act as fire barriers. But, says Morrison, "Even they've seen crown fires moving through." Eighty firefighters responded.
Air Battle
By Tuesday morning, more tankers and helicopters were called in to fight the 10-square-mile wildfire from the air. "Usually, we'll try to put a tightline in on the first day," says Morrison. The technique encircles the fire with a "road" of churned-up earth that acts as a barrier by eliminating fuels. Some mountainous regions tightline fires by calling in unit crews, but northern Alberta soil is so thick and deep that it stymies human diggers. Bulldozers work better—but the intensity of this fire made tightlining useless. "This fire would've jumped any tightline we might've tried to create," says Morrison.
River Jumping
As the fire grew in size and intensity, Fort McMurray's survival seemed to depend on the half-mile-wide Athabasca River, which buffered the community from the wildfire. "You can't ask for a better firebreak than that," says Morrison. But when the blaze jumped the river, "we knew we would be in trouble." That's when Morrison called in the best of the best: Canada's Type 1 management team, capable of waging military-scale battle on wildfires. The team established command posts around the edge of Fort McMurray, then had to conduct tactical retreats to pull them back, away from the advancing fire. "It is a possibility that we may lose a large portion of the town," declared Scott Long, Alberta Emergency Management executive director. 
Lightning Propagation
By the time the flames reached the city, the wildfire had grown so intense that it was visible from space. It created pyrocumulus clouds that generated its own winds and lighting, which ignited four additional fires. They soon connected and grew the total size to 328 square miles. 
"During big, explosive fires like this one, air tankers can't fly over the head of the fire," says Morrison. Their only safe tactic is to work the perimeters, and even that is "very, very dangerous flying," Morrison says. A phalanx of 50 air tankers dropped retardant on homes along the city's northern edge and kept the damage to around 1,600 structures. Along with firefighters on the ground, helicopters dumped 185-gallon buckets of water on flames encroaching upon key infrastructure, including Fort McMurray's hospital and airport, which were saved.
Weather Relief
The weekend's cooler temperatures and weaker winds helped firefighters exploit the fire's first pause. Finally, bulldozers have begun to tightline the blaze, with 30 miles of dozer line already created. Eventually, that firebreak will extend for an estimated 400 miles around the perimeter of the flames. 
Lead Photo: Associated Press