How Green Is My Polder
With their nifty new windmills, tidy techno-homes, and enviro-crusading queen, the Dutch are busy creating the cutest little ecotopia on earth—while stoking a booming hypercapitalist economy. What does tiny Holland know that America is too big and dumb to figure out?
Heading out the door? Read this article on the new Outside+ app available now on iOS devices for members! Download the app.
In Holland, the queen travels in a Ford. It's a roomy dark-blue sedan, and the windows are only slightly tinted, not celebrity-style dark. Through them, on a late-May afternoon in the central Dutch city of Haarlem, you can see the queen's Princess Di hat, her toothy smile, and, of course, the regal wave that all queens learn at queen camp. A pair of punked-out motorcycle escorts ride alongside the car—tall, blond men in psychedelic orange jackets and tight leather pants. The convoy pulls up in front of 17th-century Doopsgezinde Church, where a lone, burly policeman with a ponytail and an earring is standing around, occasionally looking both ways.
It's a bit of a letdown, really. David Letterman has tighter security than this. And where's the golden coach, the huge, adoring throng? The crowd numbers a few dozen at best, including a bored pedestrian eating a sandwich and three Indonesian transplants leaning out a window above their restaurant across the street. It seems that nearly everyone in this proudly classless society has seen plenty of their 65-year-old queen officially called "Beatrix, by the Grace of God Queen of the Netherlands, Princess of Orange-Nassau, etc., etc., etc.," but more informally known as Trix and counts her as one of them. More or less.
Trix alights wearing a pink checked suit. She looks terribly pleased to be here, standing between the mayor, wearing a heavy ceremonial medallion, and the nervous, sweating teenage winner of an essay contest. The occasion is the 250th anniversary of the Royal Holland Society of Arts and Sciences, a lecture-happy outfit who will present the queen with a new book, Mappae Mundi: Humans and Their Habitats in a Long-Term Socio-Ecological Perspective. It's about mankind's dire influence on nature, one of Trix's favorite topics.
The queen is so close I can practically smell the bouquet of white alchemilla she's holding. Placid and plump, she seems completely benign as she chats maternally with the teenager about his studies. But don't be fooled: Beneath that understated pomp is an ax-wielding warrior-queen with no tolerance for slacking when it comes to healing the earth.
Who knew? The Dutch found out back in 1988, when Trix scooted over to Parliament to deliver her annual Christmas speech. The populace expected the usual bland address; instead she jolted them out of their waffle-induced holiday stupor by calling for an environmental revolution on a scale that no other nation had ever attempted. That fall, nearly 2,000 harbor seals had washed up dead on North Sea beaches, victims of distemper, their immune systems weakened by toxic chemicals. Pollution was rampant, industrial fumes were stinking up seaside resorts, and flooding rivers had everyone worried about climate change.
"At Christmas, the joyous anniversary of Jesus' birth," Beatrix began, "light breaks through in a world darkened by man's egotism and lust for domination over his fellow man and nature." Yowza. "We feel that darkness today," she intoned with Judi Dench-like authority, "in all its frightening gloom, as the future of creation itself is at stake." Scolding the Dutch about the ecological fallout of their standard of living, Trix went on to say it was high time "the position was reviewed and our way of life adjusted accordingly."
Everyone in Holland remembers that speech. And in stark contrast to what would happen if, say, Prince Charles delivered a similar diatribe in England, Parliament obediently set about converting Trix's words into action, enacting a radical 25-year plan that would, a decade and a half later, turn Holland into a world model for environmental and economic sustainability. By 1999, the country had spent more than $66 billion on the effort. Today, North Sea winds spin turbines to make electricity; toilets are flushed with rainwater; and everything from dead cars to manure gets recycled. In one of the biggest national makeovers in history, this boggy, industrialized country has become one of the greenest societies on earth.
Ecotopia exists, and it wears clogs.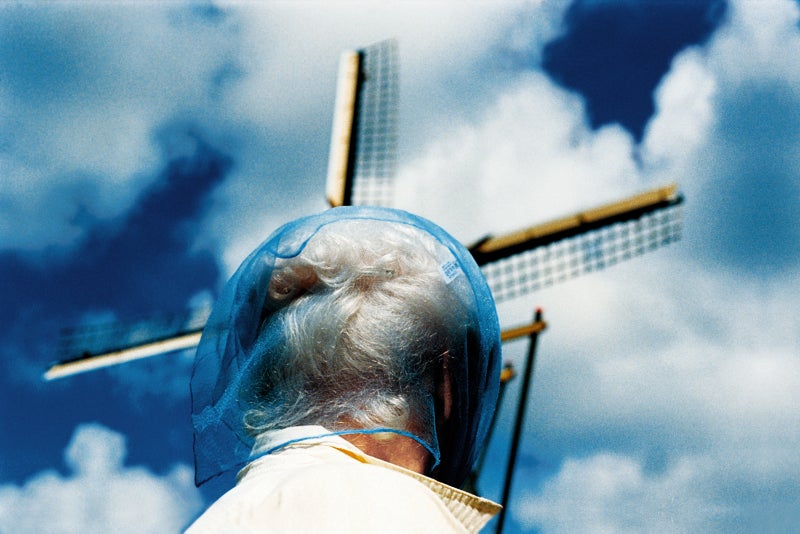 ---
The typical Dutch street scene looks like this: A young woman is pedaling past a potato field or a city canal, a happy infant strapped into a handlebar seat, a happy toddler in the rear rack, and bread and Heineken in the saddlebags. Nobody is wearing a helmet, because the cars are generally polite and bikes have separate paths anyway. At the precisely zoned urban/rural interface, Mom pedals past houses fueled by natural gas made from recycled agricultural waste, with sod rooftops and tidy permaculture gardens. It's like Berkeley on a collective dose of Ecstasy, except that it's compulsively neat and everything works. To the Dutch, doing things cleaner and smarter is just common sense.
It's also the law. When Parliament passed its sweeping National Environmental Policy Plan, a.k.a. the Green Plan, in 1989, its stated task was to create, in one generation, a society of "negligible risk" for humans and ecosystems. And the crazy thing is, they're actually succeeding. Holland is buzzing right along, meeting most of its toxin-reducing, energy-saving, and land-use goals on schedule. More impressive, it's doing so without harming a gross domestic product that totaled $419 billion in 2002.
The Little Country That Could has been churning out amazing statistics. Since 1989, industry has reduced its waste output by 60 percent, sulfur-dioxide emissions have declined by 70 percent, and pollution from volatile organic compounds like dioxin has been halved. Holland has almost completely phased out ozone-depleting chemicals, and 20 percent of its households use green power, largely solar, wind, and biomass. That's more than anywhere in Europe, and far more than the U.S., where 1 percent of households use renewable energy, excluding large-scale hydropower.
The Dutch are easily on target to meet, by 2012, their Kyoto Protocol obligation of a 6 percent reduction in greenhouse gases, relative to 1990. By comparison, under the Bush Climate Change Initiative, the U.S. will increase emissions by 32 percent over the same period. While most of the world ratified the Kyoto accord last spring, the U.S. said no, courting infamy as a surly greenhouse delinquent. The Bush administration says we opted out to protect the economy, because compliance costs money and tramples competitive enterprise.
Beneath Trix's understated pomp is an ax-wielding warrior-queen with no tolerance for slacking when it comes to healing the earth.
But there go the Dutch again, proving to be an embarrassing example of economic robustness. The country's environmental gains in the 1990s were achieved while Holland's economy grew 3.5 percent a year, the highest rate in Europe. Holland has had the lowest unemployment on the continent, and personal incomes continue to rise despite hefty eco-taxes on transportation, conventional energy, and waste disposal, which make up a quarter of the total tax burden. Meanwhile, Dutch industries now lead the world in clean technologies and super-efficient manufacturing.
Not surprisingly, other countries are paying attention. Last winter, Denmark and the United Kingdom announced similar climate-saving plans. The European Union is basing much of its emissions-reduction policy on the Dutch model. New Zealand, China, and even our own pollution-challenged state of New Jersey are mimicking parts of the blueprint.
"Holland's was the first truly successful environmental recovery plan in history," says Huey Johnson, 70, president of the Resource Renewal Institute, a San Francisco-based nonprofit that educates states and nations about green strategies. Pointing to the Green Plan's unprecedented scope, he calls it "the best in the world, bar none. It's a doorway to the future."
"The Dutch play way above their weight class," agrees Paulo Almeida, 47, an international-relations specialist for the U.S. Environmental Protection Agency. Almeida visited the Netherlands last year to learn, among other things, how the country disposes of manure, an increasing problem in the U.S., where livestock generates about a billion tons a year. The Dutch carefully regulate the stuff, dry it, and burn it as biofuel.
As Johnson and Almeida know, it's not easy getting U.S. officials to take cues from Holland, which they're apt to write off as a land where tulip-clutching hobbits run a pint-sized society that's nowhere near as complicated as ours. But that stereotype needs a rethink. Holland may be only one-eleventh the size of Montana, but it has 16 million people and is the most densely populated country in Europe. It's the world's third-largest exporter of agricultural goods, and the fifth-ranked supplier of chemicals. Rotterdam, its North Sea port, is the globe's busiest.
The bottom line is one that any U.S. administration ought to find compelling. The Dutch have figured out a way to make money while being green. More important, they make money from being green, exporting their innovative environmental technologies around the globe. America may scoff at a country that spends a significant amount of government manpower turning manure into biofuel, but it won't be us getting the last laugh.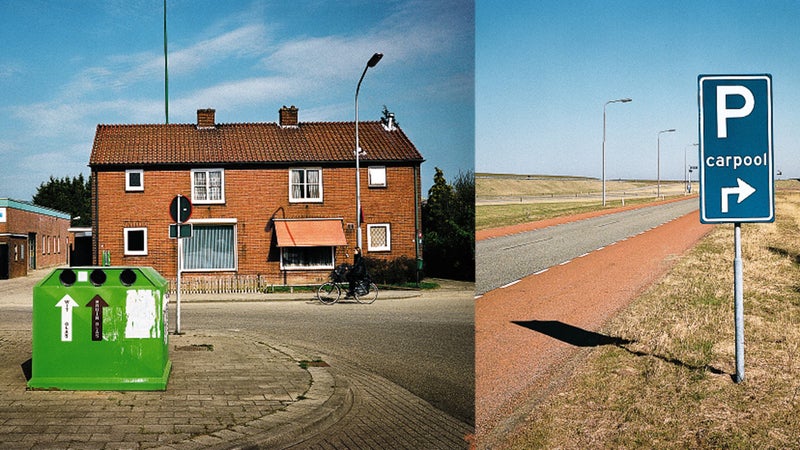 ---
In many ways, bailing out the planet is the perfect role for the Dutch. After all, they invented the nation-state, the stock market, and New York City. They also eagerly embraced the good-works teachings of 16th-century theologian John Calvin, creating a society of social tolerance and guilty self-improvement, designing a huge welfare apparatus, and spending 1 percent of GNP in aid to developing nations, a figure rivaled only by Norway and Denmark.
But there's another, less altruistic reason behind the recent environmental fervor: Almost all of Holland is below sea level, saved from the Big Dunk only by centuries of frantic seawall construction, thousands of miles of engineered canals and dikes, and fleets of pumps that keep the flat community farmlands, called polders, dry. So residents tend to worry a bit about global warming.
The Dutch have figured out a way to make money while being green. More important, they make money from being green, exporting their innovative environmental technologies around the globe.
"We've been fighting the rivers and the sea since 1300," says Jaap Jelle Feenstra, 48, secretary of public affairs for the Port of Rotterdam and a retired member of Parliament's environment committee. "It's why we're so afraid of climate change. It's why we have strong environmental policies. It's not because we're better people, but because it's necessary."
Still, that doesn't explain how they pulled it off. To get a grasp of that, I pay a visit to one of the main shepherds of the Green Plan. Cees Moons, 52, is a rumpled, somewhat sallow bureaucrat who works in the Ministry of Housing, Physical Planning and the Environment in The Hague, the Netherlands' seat of government. A dozen cigarette stubs languish in the ashtray on his desk, no doubt testing the innovative fresh-air filters in the ministry's gorgeous new modernist building. The director of external safety and a chemical engineer, Moons spends a lot of time on the road explaining the plan to other governments. He apologizes for his jet lag and then echoes Feenstra's point that green thinking works in Holland, and industries go along, because it makes good sense.
"We found out that sustainable solutions are feasible and affordable," he says. "We call it the silent revolution.' "
Moons explains that, to turn its swampy wetlands into farms, Holland has long relied on a consensus-based "polder model" of cooperation, and that officials applied this spirit to the enviro-crusade. Under voluntary but binding covenants, each industrial sector came up with its own ways to meet environmental targets. Some groused in the beginning, but in Holland, unlike America, corporate suits are comfortable with central planning.
Besides, industry got a few concessions. Corporations can trade emissions credits, negotiate subsidies for new technologies, and enjoy huge tax breaks for overshooting their environmental targets. Citizen groups like Greenpeace—to which 10 percent of Dutch households belong—watch over the process and report to government and the press. Fines kick in if targets are not met.
Given its proven successes, the major tenets of the Green Plan are highly popular with Dutch citizens and pretty much impregnable, despite recent turbulence in Dutch politics. In the last year alone, Holland has weathered two emergency elections, three different parliaments, and the assassination of Pim Fortuyn, a gay right-wing candidate for prime minister gunned down by an angry vegan who believed Fortuyn would harm Muslim asylum-seekers and scale back environmental gains. Dutch politics can seem crazy to Americans—one left-leaning administration resigned last spring after a report came out condemning the failure of Dutch peacekeeping troops to prevent a 1995 massacre in Bosnia; a right-leaning coalition fell apart last fall simply because its members couldn't stop bickering. The broader pattern of late has been a shift toward relatively conservative politicians whose main issues are lax drug laws and the continuous stream of immigrants from North Africa. Dutch military spending has been holding steady at a little less than 2 percent of the GDP, compared with the United States' 3.5 percent. But despite making other budget cuts, the country's new right has not shown much inclination to take on the Green Plan.
If anything, the plan has grown more ambitious. Updated in the fall of 2001 in a new version crafted largely by Moons that extends to 2030, the augmented plan aims to improve upon the piddling requirements of the Kyoto Protocol. Holland now intends to cut its greenhouse gas emissions by an additional 50 percent over what Kyoto requires, and to spend $430 million to buy emission-reduction credits for sustainable projects in developing countries.
"We go post-Kyoto on a global scale," Moons says emphatically. "It's just being smart."
It's like Berkeley on a collective dose of Ecstasy, except that it's compulsively neat and everything works. To the Dutch, doing things cleaner and smarter is just common sense.
To fulfill that post-Kyoto, post-Calvinist global salvation mission, the Dutch have created the most widely used climate-modeling software in the world, the Integrated Model to Assess the Global Environment (IMAGE). They've also pioneered an interlinked system of computer models to apply economic factors to environmental problems, calculating the costs of pollution in terms of sick days, disability, and adjusted life expectancy.
They are becoming, in short, the Microsoft of green thinking. "We're the biggest of the small countries," Moons declares, stabbing his desktop with a pencil. "We want to influence things."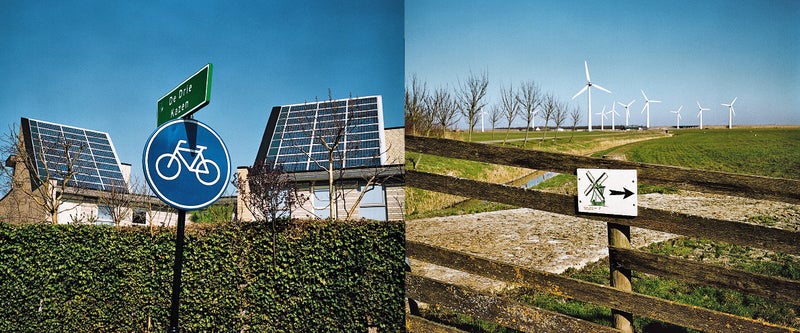 ---
It's one thing to observe Ecotopia from the lab, but what's it like to live here? One afternoon I board a high-speed train to Nieuwland, a state-of-the-art development of 5,000 moderately sized, moderately priced homes about 30 miles southeast of Amsterdam. Cleverly realizing that its citizens will go green only if doing so is easy and affordable, the government heavily subsidizes developments like Nieuwland. Beatrix herself helicoptered in during construction several years ago, and there are long waiting lists to buy property there.
A man on the train warns me that Nieuwland is way too bourgeois for Holland's hardcore greens. And indeed, when the train stops at the city of Amersfoort, I hop into a shared taxi with Lucas Vangool, a resident who doesn't look like he's ever gone near a pair of Birkenstocks. Vangool's no eco-freak, but a former Dutch marine commando whose reasons for choosing Nieuwland are mostly practical. "It's fine to save the planet," he says, "but I just like the apartment."
Passing duck ponds and a communal garden, I meander down to Nieuwland's photovoltaic-tile-topped Sports Hall looking for Bernard Verheijen, the public-relations director of the development's green utility company, Eneco Energy. I was expecting a company man in a company Volvo, but Verheijen, a middle-aged redhead, cruises up on a rusting three-speed bicycle and tells me to hop on sidesaddle.
I clutch Verheijen's heaving midriff, and we creak past Nieuwland's deli and day-care center to a quieter street lined with "energy-neutral" homes. A thousand of the houses here are equipped with power-generating photovoltaic cells, and 501 of those get half their juice from solar panels. The rest are hooked up to a natural-gas cogeneration plant, which produces heat and electricity at the same time. The government encourages wise energy use by exempting buyers from the hefty tax imposed on conventional energy, subsidizing R&D, and requiring developers to build to stringent green standards.
The house Verheijen shows me is a flesh-colored stucco job, its roof topped with neatly integrated photovoltaic tiles. It's owned by his co-worker, an engineer named Herman Eijpe, and is one of two models theoretically capable of producing as much power as it consumes.
We're greeted by Eijpe's son Dennis, a gangly teenager who quickly disappears. A computer screen is flickering in the den off the two-story atrium. Verheijen groans.
"This is why the house does not fit into our exact calculations," he says. "We projected one hour of computer use a day, and they have three computers, always downloading things." He shows me a digital meter on the wall. Just now, on this bright spring afternoon, the house is producing 2,014 watts and using only 552. This month, it has produced 50 percent more energy than it's used. But Holland is often enshrouded in fog and rain, and over the span of a year the tiles produce only 92 percent of the home's energy needs.
"We have to learn," Verheijen says. "It's all new." Is his company making money in the meantime? "Not much yet," he admits cheerfully. "But we hope it will be nice."
That's another thing about the Dutch: They're patient.
---
Under Holland's constitution, the queen enjoys three important rights: the right to be consulted, the right to warn, and the right to encourage. She also retains the unwritten right to avoid foreign journalists like food poisoning. I imagine Beatrix eating organic vegetables and dancing around in hemp skivvies, but I can't get anywhere near her. After much fruitless begging, my consolation prize is an audience with an important official named Albert Van der Beesen, 59, a senior policy adviser at the Ministry of Transport, Public Works and Water Management. We meet inside his bright, spacious office in The Hague. Van der Beesen's gray mustache is, like Dutch shrubbery, both voluminous and perfectly tidy. He wears a brown tie emblazoned with yellow tulips, and there's a fresh bouquet of the real thing by his window. The author of the Green Plan's water requirements, he offers me a glass of Holland's finest H2O, commenting that it tastes much better than ours.
"We don't use chlorine," he sniffs. "We use technology. Membrane bioreactors."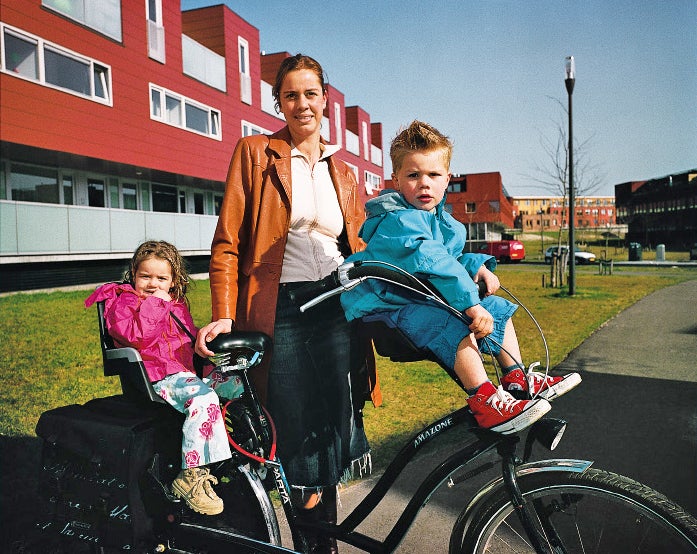 As royal speechwriter and adviser, Van der Beesen is responsible for the environmental education of Crown Prince Willem-Alexander, the dashing 36-year-old son of Queen Beatrix. Like his mom, the prince has made the environment, specifically water quality, his cause (that is, when he's not flying jets for KLM or hopping to the Antilles with Princess Maxima, his knockout Argentinian bride). Nicknamed the Water Prince, he is a member of the World Bank/UN-sponsored Global Water Partnership. At home he gives speeches on phosphate pollutants to engineers and municipal governors. Not something you'll see Jenna Bush doing anytime soon.
The environment, it turns out, is a family obsession. The queen's father, Prince Bernhard, now 91, founded the World Wildlife Fund in 1961 and is still president of the Netherlands chapter. Her late husband, Prince Claus, was a patron of historic preservation and environmental protection. Trix's younger sister Princess Irene wrote a Gore-esque book in 1995 called Dialogue with Nature, in which she recounts melodramatic conversations with trees and dolphins. "Make yourself humble and feel, breathe," the dolphins tell her. "Overcome your fear and be our ambassador."
It's hard to imagine our own ruling dynasty getting that gauzy. George W. Bush may have a solar-heated pool cabana at the White House, but let's face it, the guy is fond of fossil fuels as, of course, are many of us gas-guzzling voters. This is unfortunate, not only for the environment but also for America's future GNP. The Dutch now dominate energy technologies like cogeneration and wind turbines huge and expanding markets. Meanwhile, America's trade gap is big enough to drive an ethanol-powered truck through.
Already, some American industries are trying to play catch-up. Following in Ford's tracks, General Motors announced this winter that it was no longer skeptical about hybrid cars, and would start developing the technology. But is anyone in the U.S. really taking the Dutch model seriously? Well, yes. Good ol' New Jersey. During the 1990s, then-governor Christine Todd Whitman now head of Bush's EPA sent several delegations from New Jersey's Department of Environmental Protection to study the Dutch system. As a result, the state now has one of the strongest greenhouse gas reduction plans in the country and is working on a serious smart-growth strategy. New Jersey is on target to reduce its emissions by 3.5 percent as of 2005, while maintaining a 3.8 percent growth rate in statewide domestic product and a 4 percent annual increase in population. Like the Netherlands, the state has used voluntary contracts and rewards companies that show the most improvement.
"Our economy didn't shut down," says Mike Winka, director of the state's Office of Clean Energy. "Our industries didn't move out. We have one of the strongest economies in the country, and our businesses and residents are saving one and a half billion a year in energy efficiency. We're telling the feds, 'Learn from us.'"
---
Obviously, we can only go so far with this imitate-the-Dutch stuff. America is not Holland, nor do we want it to be. We're unruly, we like space, we hate taxes, we don't like monarchs, and we do like something that Holland lacks entirely: wilderness. The Netherlands may be neat, but it doesn't have our happy mess of wolves and craggy mountains, and it never will.
When the Dutch hit the great outdoors, their choices are pretty much limited to boating, riding bikes, skating, walking by flat canals, or wadlopen, a national pastime that involves wading through seaside mudflats at low tide. The idea is to encounter an island, a boat, or a helicopter before the tide comes back and sweeps you to Norway. It's a perfect metaphor for being Dutch: Beat the sea or die.
Americans do like something that Holland lacks entirely: wilderness. The Netherlands may be neat, but it doesn't have our happy mess of wolves and craggy mountains, and it never will.
I try it with a group of 70 pale engineers from Amsterdam on a company outing. We enter the sea from a high grassy berm, a parade of tourist Jesuses walking across the shallow water toward hazy nothingness. The plan is to march eight miles out in the Waddenzee, the sound between Holland's coast and its North Sea islands, to a nature preserve called Rottumeroog. And as we slurp farther from land, I'm feeling surprisingly great. It's warm. The sun is out and winds are from the east, so the seawater is only up to our waists.
Granted, the factories of Germany are visible in the distance, and the most charismatic carnivore in sight is a skinny guy eating a cheese-topped wiener. And biodiversity Dutch-style means crabs, sea worms, and birds—lots of birds. When we emerge from the muck and onto the island in a condensed pageant of evolution, I'm excited to see them. Long-migrating terns, three-toed sandpipers, sea hawks, ospreys, spoonbills, oystercatchers, and plovers. There is a pleasant breeze, and Holland is a pleasant country. Yes, indeed.
Then, just as we are congratulating ourselves on our good fortune, we come upon a heart-wrenching sight: a freshly dead baby seal, confirmed later to be a victim of the same distemper that started Holland's green revolution in the first place.
All that effort and another dead seal? The Dutch still have some work to do.