It's Hard Out There for a Wolf
Heading out the door? Read this article on the new Outside+ app available now on iOS devices for members! Download the app.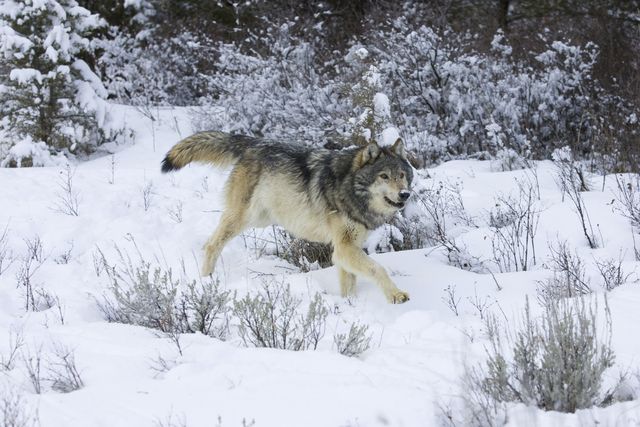 Canus lupus. Photo: S.R. Maglione/Shutterstock
In children's literature, wolves pretty much always get a bad rap. Think Little Red Riding Hood, the three poor pigs, and pretty much every cute, furry, unsuspecting critter in Richard Scarry's entire opus.
In our house, we make a point of talking up wolves and pretty much all animals, wild or domesticated. Our girls are friends to dogs, seemingly fearless about snakes, and obsessed with lizards. For them, the biggest incentive to go hiking is the chance of seeing a bear—never mind that they're both so loud they'll likely never come within a mile of one, or that if they did, they'd be terrified. Once on a hike in town, my then-three-year-old spotted a lone coyote standing under a juniper tree on a far hill across the arroyo. A year later, she's still talking about it. We're trying to instill in our girls an awe for wild animals and remind them that they are wild, and deserve our respect—and room to roam.
But stereotypes are hard to shake. The other day at Trader Joe's, four-year-old Pippa turned down the frozen-food aisle and suddenly stopped short, pointed to a tall man in front of her, and put her hands in the air. "There's a wolf down there," she said, gesturing to the guy, who looked mildly alarmed, and producing a gruff little roar for effect. Then I could have sworn she made a little shooting motion with her hands.
This was mildly embarrassing—typical kid play-acting—but also a little eerie. North of here, in Wyoming, wolf hunting season just recently opened for the first time in nearly a century. This means that Western gray wolves, which were—until seven weeks ago—protected under the Endangered Species Act, are now fair game for trophy hunters.
The other morning I went for my usual dawn patrol hike with my friend Carol and got an earful about wolves. Carol is the associate director of WildEarth Guardians, a small but mighty environmental group that's based here in Santa Fe but advocates on behalf of wilderness, wildlife, and wild places throughout the West. WildEarth Guardians' strategy is to take anyone and everyone who threatens wilderness and wildlife to task by suing them in the courts. The organization doesn't discriminate: "We believe that all species have an inherent right to life," says executive director John Horning. This even goes for little known, not-exactly-glamorous species like the Warton's cave spider, which lives in a single, dank abyss in West Texas and has never seen the light of day.
And it also goes for controversial, keystone species like the Western gray wolf. After the U.S. Fish and Wildlife Service declared the species "recovered" in late August, it de-listed the wolf and turned management over to the state of Wyoming on September 30.
Wyoming didn't waste any time. When the wolf hunt opened on October 1, the state Game and Fish Department had sold nearly 3,000 hunting licenses at $18 per tag. According to the most recent estimate, issued last December, there are about 300 wolves in Wyoming, total. Four days into the hunt, six wolves had already been shot.
The Wyoming hunt is divided into different zones. In the northwest corner of the state, outside Yellowstone and Grand Teton National Parks, the wolf hunting season runs through December 31, or until 52 wolves are shot, whichever comes first. Elsewhere in the state, wolves have been designated as predators and can be shot on sight, with few restrictions. The only mandate is that Wyoming must maintain a minimum of 10 breeding pairs and 150 wolves.
If this is giving you whiplash, it's no wonder. Just two decades ago, Western gray wolves were at risk of extinction. Then came the highly publicized, successful program to reintroduce them to the Greater Yellowstone area. Maybe too successful. The reintroduced wolves thrived and multiplied—enough so that in 2011 the Western gray wolves were de-listed in Montana and Idaho and parts of Washington, Oregon, and Utah. Hunting in that state opened that year, and 166 wolves out of the allotted 220 were killed.
Hunting advocates say that it's necessary to manage burgeoning wolf populations, but environmental organizations argue that, for a species that has just recently returned from the brink, even one wolf is too many. In southern New Mexico's sprawling Gila Wilderness, where the population of reintroduced Mexican wolves is struggling to take hold, a female wolf that has killed livestock is now being tracked by the U.S. Fish and Wildlife Service, which plans to trap and remove her from her territory. Meanwhile, in Wyoming, it's open season and hunters are racing the clock. WildEarth Guardians and a coalition of conservation groups have filed a notice of intent to sue the Fish and Wildlife Service for delisting the wolves, which may be heard as early as mid-November.
Here at home, we're doing our small part by putting a family-wide kibosh on grocery-store wolf-hunting, and are talking up a future where wild species will continue to roam far and wide, and command our respect.
—Katie Arnold
@raisingrippers