Greta Thunberg's Army at New York City's Climate Strike
Millions around the world took to the streets to protest inaction on the climate crisis. In New York City, they got to hear from the commander-in-chief herself.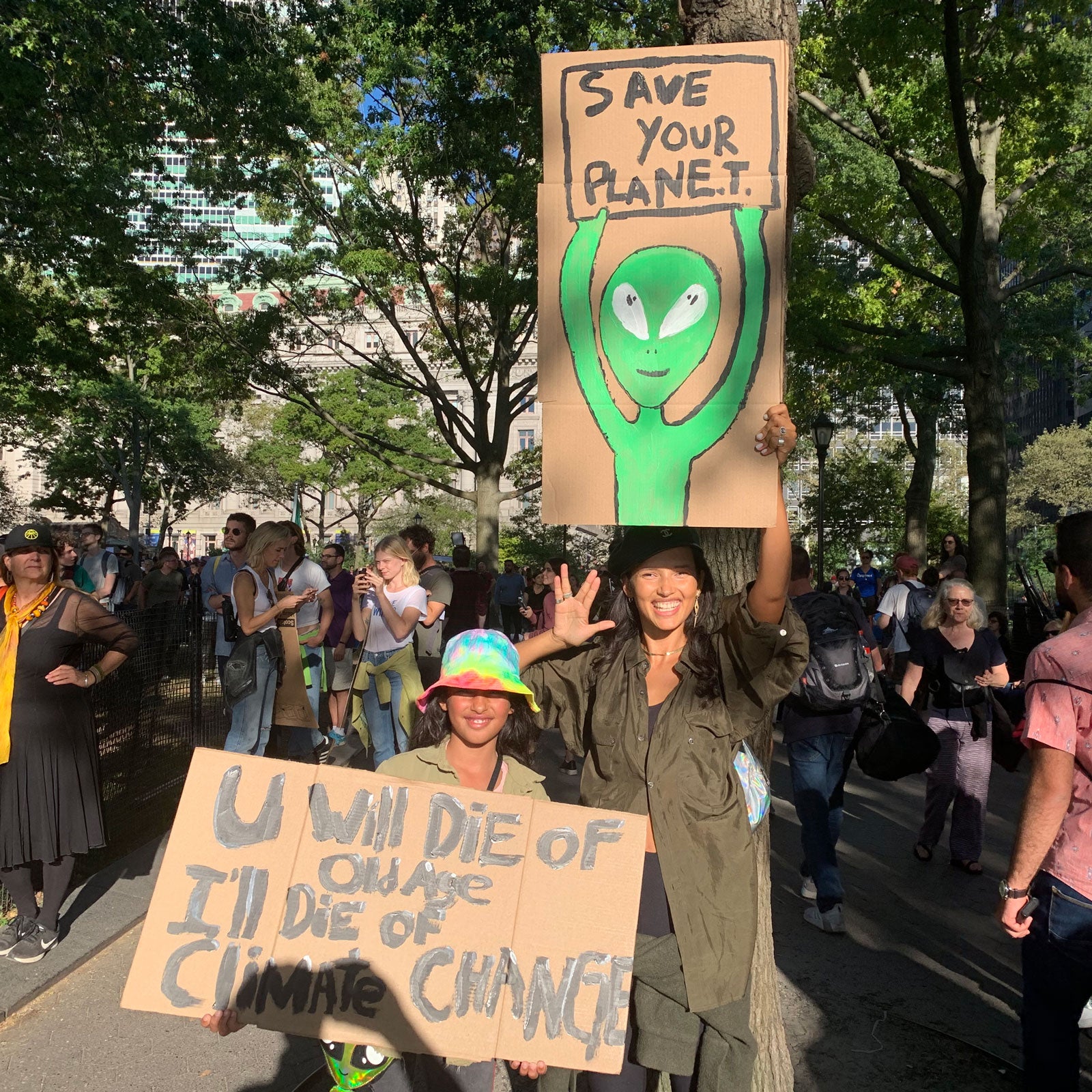 Murat Oztaskin(Photo)
Heading out the door? Read this article on the new Outside+ app available now on iOS devices for members! Download the app.
On Friday, September 20th, three days before world leaders are set to meet at the United Nations for a much anticipated climate summit, protesters gathered in New York for the first of two international climate strikes, the second of which will happen next week. Before noon, an estimated 60,000 demonstrators had crowded in and around Foley Square, spilling onto the steps of City Hall, before marching down the narrow streets of Lower Manhattan to Battery Park, on the island's southern tip. A stage was erected there, its back to the Hudson River. A little after 2 P.M., d.j.s started playing house music, and the atmosphere turned from that of a protest to that of a festival, with kids dancing in open pockets of the crowd. The afternoon was sunny and warm. Ferries traveling up the river honked their horns in support, and their passengers waved toward those gathered in the park.
The climate group 350.org estimated that the crowd swelled up to 300,000 as the day progressed. Protesters held up signs that were in turn imaginative—"Compost the Rich," "The Dinosaurs Also Thought They Had More Time"—and straightforward—"Ban Cars," "Support a Carbon Tax," "Denial Is Not a Climate Policy." Many expressed solidarity with Puerto Rico, which had been hit by Hurricane Maria exactly two years ago. Representatives of the Young Democratic Socialists of America canvassed for Bernie Sanders, kneeling down to speak to strike-goers sitting on an adjacent lawn. A performance by the Peace Poets, a spoken-word musical group from New York, engaged the crowd in a call-and-response exchange. "People!" they yelled, and the audience yelled back: "Power!" "We want—" "Justice!" "We are—" "Rising!" There were speeches by activists from a range of countries, including Brazil, Indonesia, and Bangladesh, and also from the New York Nurses Association; taken together, the messaging spoke to the expanding bounds of climate change and its intersections with human rights and health. In the crowd, Isaiah Rothstein, a rabbi with Hazon, a Jewish environmental organization with 20,000 members, advocated for a faith-based response to climate change. "If you look throughout the Bible, there's reference after reference after reference to how the world is a place for us to use, to be stewards of, but never to own, so we're pushing back," he said. "All the pertinent issues that people focus on and care deeply about . . . Without a planet, there's nothing to talk about."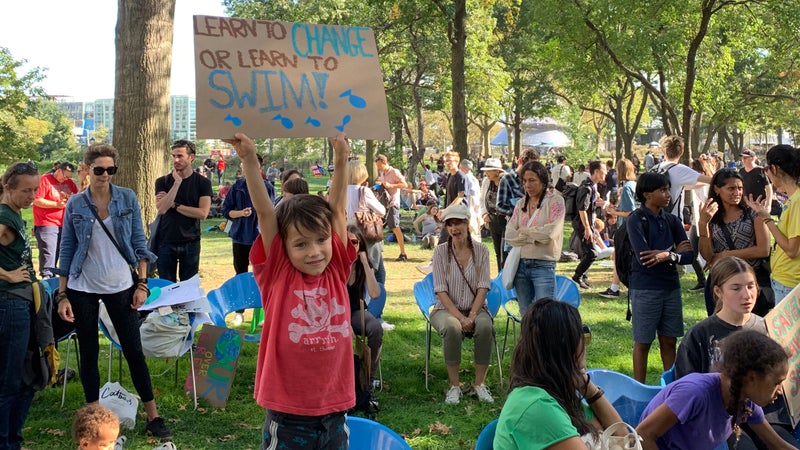 Across the lawn, I spotted two women dressed as Captain Planet, of the early '90s animated TV series "Captain Planet and the Planeteers": blue spandex bodysuits with red flares down from the elbows and knees, and blue-green hair, the only deviations from character being lipstick and large sunglasses. The elder of the two turned out to be Barbara Pyle, who co-created the show alongside Ted Turner. "We wanted to empower a generation and make them environmentally literate," Pyle said, of the show. "And now these Planeteers have grown up and they're making a change in their own communities in radical ways." The thousands surrounding us were good examples, she said, as was the woman next to her, her "buddy" Amanda Nesheiwat, the 30-year-old environmental director of the town of Secaucus, New Jersey, who described communities throughout her state coming together and collaborating on energy projects and climate education. "Seeing all these young people as activists is, like, my dream come true," Pyle said.
Greta Thunberg, the 16-year-old climate activist from Sweden, who earlier this month had sailed to New York from Europe on an emissions-free yacht, was scheduled to be the event's marquee speaker. The strike was in large part driven by activists around Thunberg's age. Xiuhtezcatl Martinez, a 19-year-old indigenous environmental activist, exhorted the crowd to "Text 'EG' to 48-48-48," to learn more about Earth Guardians, the environmental organization for which he serves as youth director. Azalia Danes, a 16-year-old activist and one of the event's organizers, introduced the singer-songwriter Willow Smith, who is 18 and who performed a song that she had written for the occasion. A banner hanging down the side of the stage bore a Thunberg quotation: "I want you to act as if our house is on fire. Because it is."
Outside the main, fenced-in area, a small boy stood on a chair holding a sign that read "Allow Me to Have a Future." Nearby, a man told passersby, "Get a good picture of that. That picture is about to go viral." "Is that your son?" someone asked. "No, but that boy is just killing it," he replied. He introduced himself to me as Ted Burroughs, a freelance consultant who helped write grants for the strike. "If you look around, almost half of this crowd is our youth. They are serious. They're not playing," he said. "We love our planet, we love our kids, we love our futures, and the only way to protect them and support them is to speak out at events like this, let our voices be heard."
Ayana Elizabeth Johnson, a marine biologist and conservationist, took to the stage and emphasized the need to continue to fight climate change "with the moral clarity of children." After speaking about President Trump opening the Arctic to drilling, disbanding scientific-research communities, and expanding emissions regulations, and the impact of climate change on climate refugees, she shouted "We need a Green New Deal!" and the crowd roared back. "We are now faced with the fact that tomorrow is today," she said, closing with a passage from Martin Luther King, Jr.'s 1967 speech at New York City's Riverside Church. "Now let us rededicate ourselves to the long and bitter but beautiful struggle for a new world."
When Thunberg was introduced, around 4:30 P.M., people began racing from the periphery into the central area in front of the stage. Thunberg began her speech with counts of participation. "Around the world today, about four million people have been striking," she said. "This is the biggest climate strike ever, in history, and we all should be so proud of ourselves, because we have done this together." She noted that similar events were occurring in more than a hundred and fifty countries, and on all seven continents, including Antarctica. Many of the strike's younger attendees were skipping school to be in attendance, she said, but that the urgency of climate action was more important than a day of school. "Why should we study for a future that is being taken away from us, that is being stolen for profit?" she said, to sustained applause. "Nowhere have I found anyone in power who dares to tell it like it is," she continued. "Even that burden they leave to us, us teenagers, us children." But, about the U.N. climate summit, on Monday, at which she'll speak, she said, "We will make them hear us."
After Thunberg's speech, an 11-year-old girl named Marina Costa posed with her mother, Camila, in the middle of a path leading toward an exit. She held up a sign reading "U Will Die of Old Age, I'll Die of Climate Change." "I want to spread the word that what we're doing is wrong. It's a hundred percent wrong," she told me, saying she doesn't understand why fossil fuels are necessary, given the range of energy alternatives. "I would enjoy if we used other materials and resources instead of the ones deep in the ground."
Around 5 P.M., as people began exiting the park, three friends from Yonkers High School, in Westchester County, stayed behind to talk on the lawn: Aisag and Mia, 17, and Julian, 15. "Right now we're not facing the consequences," Aisag said, "but when we're in the workforce, when our children are growing up, they're going to face it, so we're going to face it. And I don't want my future to be ruined, because if we can do something now to prevent that we don't have to have those consequences later."
"Seeing this unity in a time of such disunity, and people coming together for a common goal for our future—that's something that really matters to all of us," Julian added. "It's a really pressing issue, because what's the point of arguing over other things if we don't have a planet to argue on?"
Lead Photo: Murat Oztaskin